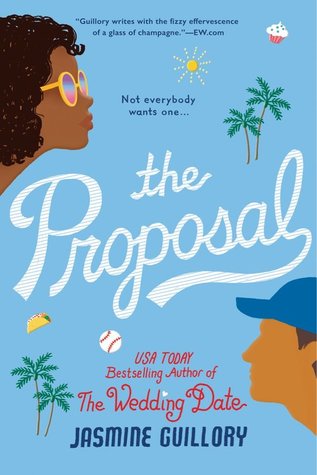 The author of The Wedding Date serves up a novel about what happens when a public proposal doesn't turn into a happy ending, thanks to a woman who knows exactly how to make one on her own...When someone asks you to spend your life with him, it shouldn't come as a surprise--or happen in front of 45,000 people.When freelance writer Nikole Paterson goes to a Dodgers game with her actor boyfriend, his man bun, and his bros, the last thing she expects...
---
Reviews The Proposal
I really enjoyed Jasmine Guillory's debut novel, The Wedding Date, so I was really excited to get my hands on The Proposal which is an even stronger, more charming novel. Nik is at a Dodgers game with her boyfriend of five months, when he proposes to her on the Jumbotron, but it's all bad. He spells her name wrong. She turns him down. The thousands of people watching are judging her, and then the handsome doctor, Carlos Ibarra and his sister Ange...

ARC provided by Berkley in exchange for an honest review. "Deciding to spend your life together shouldn't be a surprise" I loved The Wedding Date earlier this year, and when I found out that this was going to star one of the side characters I knew I couldn't resist putting in an ARC request. This was a joy to read, from the first page to the last. Both of Jasmine's books have been so intelligently, beautifully, and masterfully crafted...

4 stars!!! I fell in love with Jasmine Guillory's fresh and charming debut novel, The Wedding Date, so when I saw she had a new book coming out, I knew I had to read it. This author is not a one-hit wonder. I loved The Proposal just as much as at The Wedding Date. Carlos is an amazing man and I want to be besties with Nik and her girls! Nik is at a Dodger's game with her casual boyfriend, Fisher. The very last thing she is expecting at this g...

This book's saving grace was its superb representation: a black main character, latino love interest, black lesbian side character, and fat Korean side character.Otherwise, I wished I could love this book, but it just wasn't at all what I was hoping it to be. I'm mainly frustrated with this book because it wasn't pitched at ALL as a sequel or companion to Jasmine's first book, but literally half the book involves the two characters from her debut...

This was was a lot of fun! The writing left some things to be desired, but the Los Angeles setting and the characters (Carlos 😍🤤) made up for that and I'm not mad about it. I definitely enjoyed this one A LOT more than the Wedding Date and I recommend checking this one out when it publishes next month!I received an advance copy of this from the publisher in exchange for an honest review.

I received this book for free from the publisher (Berkley Books) in exchange for an honest review. Please note that I have not read The Wedding Date, so all the characters in this book were brand new to me. I also cannot speak to how this book compares with that book. It took me forever to read this book because I just started law school, but this was such a fun romance! First off, I loved the diversity! The main character is black. One of her fr...

ARC generously provided by Berkley Jove imprint. (Edit:Apparently the release date has changed from September 4, 2018 to October 30, 2018. Interesting.)Even though this book features a couple characters from The Wedding Date, it can easily be read as a stand-alone. This is not a sequel; it is a self-contained romance story between an independent, confident journalist, and an independent, confident doctor. Diversity is extremely well represented. ...

I had loved Carlos in The Wedding Date and was thrilled to see that he was getting his own story, so when I got The invite to read this one, I couldn't wait to get to it. I love love loved Nik. She's sarcastic and witty and smart af. Her friends Dana and Courtney were fun and I adored the scenes with the three of them together. Of course I was familiar with Carlos and he didn't disappoint. He's supportive and a complete marshmallow. I was...

The Proposal features two likable lead characters that meet under incredibly awkward but memorable circumstances. This new-found acquaintanceship leads to more opportunities to connect until a no-strings-attached romance blooms. Each have past and present circumstances that make this type of non-relationship ideal, and although the ending may be predictable, this romance trope is a winner for a reason: the journey to the last page is typically fi...

This was pretty disappointing. I completely agree with Whitney's review The only thing I really loved about this book was the diverse cast of characters. The female main character is a POC, there's a latino male love interest, and a korean side character, but that is all this book really has going for it.The writing is terrible, it reads like a bad fanfiction. There are so many cliches in this story and both of the characters were annoying me. Ev...

3.5 starsThis is my first book by Jasmine Guillory. I heard only great things about her first novel The Wedding Date and was delighted when I was able to pick up her latest book The Proposal.The Proposal was a quick and easy read.It was the perfect read for a day at the beach or sitting bundled up on the couch on a rainy day. The novel was sweet and fluffy, a cute little romance with a fun supporting cast. The heroine's group of girlfriends wer...

4.5 When Oh, So Bad Turns Into Oh, So Great Stars* * * * 1/2 Spoiler Free We have all been there...That situation where we wish the ground would open up and suck you in...only so that you would not be the center of attention and have everyone looking at you. There can be any number of reasons for that type of feeling...a small gathering of friends and something is said that causes an uproar...or your business power point is going along great and ...

This might not have been the perfect romance read I was looking for but there were a couple of things I did enjoy. First of all, I always appreciate when a book has a diverse cast of characters. I also really liked the premise of the book which involves a woman at a Dodgers game with her boyfriend and he surprises her with a wedding proposal with everyone in the stadium watching on the Jumbotron. It was very easy to relate to her feeling of horro...

This was such an adorable read, I really liked the idea of a woman who isn't desperately waiting for her boyfriend to propose and Nik most definitely was not prepared to have to turn down her boyfriends proposal in front of the whole world. I can't think of anything more awkward and embarrassing but it set the stage for a super entertaining and charming read that I breezed through.One of the strongest aspects to this was how incredibly divers...

The Proposal is such a sweet and cute read!When I first saw this book, I was in insta-love with the cover. I honestly didn't even care what the book was about, I just knew I had to read it because I was so in love with the cover. And thank goodness I was fortunate enough to receive an ARC of this book because it was SO GOOD. Nikole is a character that gives zero shits if you like her or not. She's kind of cold, especially when it comes to men an...

❝Why does it scare you so much for someone to say they love you?❞She shook her head.❝It doesn't scare me! I just know from experience that that's when everything gets bad, that's all.❞NIKOLE (NIK) PATERSON is a freelance writer who was proposed to in the grandest scale, only, this wasn't romancing at its finest, it was a horrifyingly embarrassing moment that Nik wished she could get back.CARLOS IBARRA and his sister, Angela, were at...

4 starsI honestly ended up enjoying this a lot more than The Wedding Date! Both of these books do really well on the diversity scale, which I'm really thankful for (because apparently chicklit is super white?), but The Proposal just had much more enjoyable storytelling. I found The Wedding Date to almost feel repetitive? Like, it was just a lot of back and forth between the couple to make things happen and it almost dragged in that aspect. But Th...

Release Date: October 30, 2018 Genre: Contemporary Romance Actual Rating: 4 starsA sweet and fun novel that is sure to be a hit with fans of the author! I felt myself relating to the characters and loving the banter and situations they found themselves in. Now I am ready to dive into the authors debut, which has been patiently sitting on my bookshelf waiting to be read. Full review to follow closer to release

A fun, lighthearted, summer romance read with a wonderfully diverse cast. The Cast:Nik our smart, confident, lovely black female lead. Carlos our sexy, funny, caring Latino male lead.Courtney, Nik's adorable Asian bestie who gave up her successful, stable career to open up a cupcake shop.Dana, Nik's beautiful black actress bestie, who also happens to be a lesbian.I adored the author's previous work so I went into this with pretty high hopes, ...

This is a fun romance. Lots of diverse characters, funny dialog, and the typical romance story. I thought the proposal was funny and whenever I see a proposal happening at a baseball game, in such a public place, I always wondered what would happen if the girl said no. This is not a heavy book. Not a deep book. It's a light romance that is a great read for the beach or if you just want to lose yourself in a story and not have to think too hard.

Thank you Berkley Romance and NetGalley for providing me with a complimentary copy of The Proposal in exchange for an honest review. Let me start by saying, I didn't read The Wedding Date (but I wanted too). The Proposal should be counted as a novel written within the same world. I will call it book #2. The couple from the first story is mentioned or appeared quite a few times through it.The Proposal begins with an embarrassing situation. Nikole ...

Many thanks to Berkley publishers who very kindly offered me a copy of this delicious treat of a novel that had all the charm, smarts, and heart of author Jasmine Guillory's first novel The Wedding Date and then some.Lovely freelance writer Nikole is twiddling her thumbs at a Dodgers game with her sort of boyfriend Fletcher and his posse of meathead friends when Fletcher calls her attention to the jumbotron where the message "Nichole will you mar...

This was so cuuuute! I might have liked this even MORE than The Wedding Date??? I just really love Carlos. Full review coming soon!

4.5. Really enjoyed this one. Great premise and cast of characters. Need to read The Wedding Date now!

Nikole Paterson doesn't expect her boyfriend to propose to her at a Dodgers game after only six months of great-sex-but-nothing-more dating. But propose he does---and in front of millions of people who are all horrified when Nik turns him down. After her (now ex) boyfriend storms off in a rage, Nik is left alone at her seat, overwhelmed, embarrassed, and completely unprepared to handle the camera crew that shoves a camera in her face and starts a...