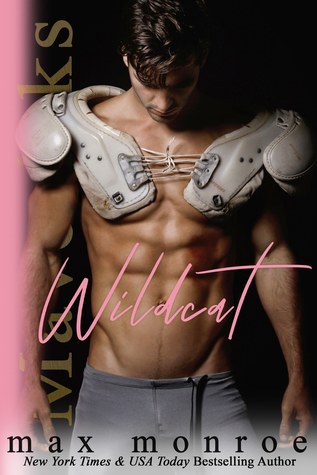 What would you do if the sexy, mysterious stranger you met by chance turned out to be a celebrity?Catharine Wild is about to find out.Quinn Bailey is one of the best quarterbacks in the country, and the instant he lays eyes on pretty little Cat Wild, he can't resist her.When the sexy football star comes aboard the flight attendant's plane, her life takes a drastic turn. Mile-high courting and an intense pursuit to win her heart are just the b...
---
Details Wildcat (Mavericks Tackle Love, #1)
Reviews Wildcat (Mavericks Tackle Love, #1)
Look. We are not asking much...You wrote a book with a black heroine? Cool! Awesome, even! Representation is awesome!But the part that makes me cringe is when you make race the CONFLICT!Why!?If it was white heroine, this would not have even been in the reader's radar.This book was going to be 3star for me, even a 4star, but then we reached the climax.The author made the main conflict of the story about the fact that the heroine is black and the h...

3.75 starsSurely the sweetest hero these authors ever wrote. Good guy.Nice likable heroine.But her mother was the best. I wish more girls would be raised with such attitude:My mother would chastise me for sounding insecure. I could literally hear her voice in my head. She'd probably say something along the lines of, "Catharine, get it together, girl. I don't want to hear that garbage coming from your mouth. You are a strong, beautiful, and ...

4.5 "You're really something, Quinn Bailey" starsOnce again Max Monroe has aced the recipe for a written romantic comedy. The MC's meet cute was... well cute. Their side characters are funny and interesting. Quinn is the perfect hero. The perfect mix of confident, self-deprecating, and swoony. Cat is sassy, fun, and relatable. Quinn and Cat together are the perfect mix of fun, sweet, and steamy! Wildcat is told from the dual POV's of Qu...

🏈🏈🏈 🏈🏈🏈Quinn Bailey. Quarterback of the New York Mavericks is flying home to Alabama for a few days of family time before the new season starts.On the plane he meets the most beautiful and fascinating and adorable woman he's ever seen. Catharine. Cat. She's a flight attendant. And Quinn is halfway in love before they even leave JFK.But Cat is not really sure what to think of this mega-hottie who is constantly looking at her. And...

This one was pretty good. I could have done without the list online of his former girlfriends- especially since it was mentioned that he hadn't had any relationships prior to the h. And after the h saw all the stuff online it was never mentioned again. Quinn and Cat were sweet together.

Release Date: January 31, 2018 Genre: Sports Romance. Humor. Actual Rating: 3 starsWildcat by Max Monroe is a good start to the Mavericks Tackle Love series. While I did enjoy the story for the most part, I felt like I have read something very similar before (hence the reason why I gave it 3 stars). For me as a reader, I crave originality in the books I read and this was missing that. It's the story of an all star quarterback who meets a wo...

Yes! Yes! A million times yes! I LOVED THIS BOOK! Gah! It's made me so darn happy. The writing duo of Max Monroe know how to write a romantic comedy. And even better they know how to write the best damn book boyfriend ever. The number one reason to read this book: QUINN BAILEY!!!! My god. I want a Quinn! Where do I find one exactly like him? He was all kinds of perfect from his southern manners, to his wit and charm, to his good looks and dirty t...

"Can I kiss you, Kitty Cat?" I'm completely, utterly, and ABSOLUTELY SMITTEN with this book! I'm a goner! I'm a puddle of FEELS! I'm head over heels! I'm too far-gone! There's no coming back from this! You haven't met the perfect book boyfriend until you meet Quinn FUCKING Bailey! That man has RUINED me for all others. This series…these characters…the HILARIOUS banter all throughout…OMG! Ya'll are in for one HELL of a SE...

3.5* rounded up and possible spoilersQuinn Bailey is the sweetest football player I've ever read. He's kind, thoughtful,considerate and everyone loves him. Cat was a beautiful,awkward shy flight attendant and the connection between these 2 was beautiful to read. From the moment I read Cat's description I was interested to see if these authors would boldly go THERE and they did! Quinn's thoughts on the matter were wonderful and exactly what was ne...

Boring characters and storyline.I loved Max Monroe's Billionaire Bad Boys series and was really excited for Wildcat because I love sports romances. Unfortunately, Wildcat fell short of my expectation. I found myself counting down the chapters until this book was over. The pace was really slow at the beginning with nothing happening in the story until about 40% in. In my opinion, both Cat and Quinn lacked any personality and I found myself wishing...

"She's so... everything. I have never met a more perfect woman."Grab your vertigo tablets and take this airborne romance which will touch your heart so deeply. When the All-American-Football Idol/quarterback Quinn Bailey sets his eyes on the caramel, delicious, shy and super cute flight attendant Katharine Wild, sparks begin to light up a blazing fire! A beautiful, healthy, whole love affair begins... a magical connection so unique, they perfectl...

This was my first book from Max Monroe duo and I am not impressed at all...2,5 stars but not 3.***********************************************The book is about the love story of an interracial couple and it begins in a very sweet way. I liked it up until their first date. The way he pursued her until she said yes to a date was good and I really had fun. But then, their first date came and it was awkward (in a studio painting pictures because she ...

Quinn Bailey stole my heart and kept it right in his pocket for the entire book! So if you read the Billionaire Bad Boys series from Max Monroe you'll definitely recognize Quinn Bailey as the playful, flirty QB from Wes's team the New York Mavericks. If you haven't read don't despair it's not necessary but it sure is fun if you recognize the mention and appearances of favorite characters in this one. I was enchanted from the meet cute and the res...

When you think that Max Monroe cant possibly create set of characters to rival The Billionaire Bad Boys - Kline,Thatch and Wes, hold on to your kindles ladies....Meet Quinn Bailey....sweet and a whole lot of swoonworthy, he is my new fictional boyfriend, ticking allll my boxes! Cat is a great character who deserves nothing but happiness and a hea. Brilliant,feel good 5 star read. I could read Max Monroe every day and NEVER get bored. Cabt wait fo...

Okay, okay. I did it. I finally read a Max Monroe book. What took me so long? Hell, I honestly have no fucking clue. Is it a lack of time? Am I afraid the books won't live up to the hype? Whatever my excuses were in the past, I have to let them go. And I need to go find me a bad boy billionaire because after meeting Quinn Bailey, I'm sure I'll love all of the Max Monroe books. ALL. OF. THEM.Quinn Bailey is the greatest quarterback ever. He's gorg...

You're in for one wild ride. . .Wildcat is another smash hit from the dynamic duo, Max Monroe! It has the feels, the laughs, the swoon-ability to sweep you right off your feet and never put you down. Wildcat has that "it" factor that takes the quintessential sports romance to a whole new playing field!Everyone loves a sexy, gorgeous, and dirty-talking male character. Come on, you can't deny it…they're irresistible. But add in charm, w...

***AVAILABLE NOW - FULL REVIEW ***4.5 Kitten & Pickle CROWNSFUN. FLIRTY. HILARIOUS. UTTERLY CHARMING! Wildcat, the first book in their new series, is all of this and more. Quinn Bailey. Quinn freaking Bailey. Where has this man been my whole life? He oozes charm and charisma. Every line that came from his mouth had me laughing or swooning. I caught myself smiling like a loon reading his chapters. I couldn't get enough of him or his romantic and...

Loved this sports romance. Max Monroe is one of my favorite authors for fun, sexy and endearing romances. Yes endearing-- because while they create some of the hottest alpha males, these men are loyal, loving, protective and go above and beyond for their women.Quinn and Cat's story was by far my favorite. I absolutely adored Quinn's southern charm mixed with his alpha assertiveness. He wasn't a D-bag or controlling but he knew what he wanted and ...

Cute and loveable but a little underwhelming at the climax. Full review to come.3.5/5

Another disappointing book by the authors! There was hardly any plot except for using cliche like the whites from Alabama being racist and anti-gay which shows the prejudices the authors have towards Southerners!!

Very very slow, surprisingly unusual from this author. Hope the next installment will pick-up to keep me interested.

4.5 @QuinnBailey + @WildCommaCat = 4ever! stars "It only takes one minute of bravery. One minute of insane, embarrassingly crazy courage to change your life. Sometimes, it only takes that one minute for something great to happen." Wildcat delivers a sweet and swoony love story that left me with a huge smile on my face. It has the classic Max Monroe humor with a whole lot of heart, and I couldn't put it down!Quinn Bailey is the quarterback f...

I really enjoyed getting to know Quinn and Cat. Quinn definitely knows how to make a girl fall for him, and max monroe wrote the book with such great description and detail that I could actually SEE Quinn smiling at Cat every time I read about it. I really enjoyed the banter and the storyline overall. Looking forward to reading about some of Quinn's teammates!!

I read this book on the heels of a completely emotionally draining novel... and it was exactly what I needed. Sweet guy, sweet girl... minimal angst. Thank you Max Monroe, I don't know exactly which authors you are, but I love almost all of your books. EXACTLY WHAT I NEEDED. :)

Solid 4 stars!I wasn't expecting this. Usually, Max Monroe is my go-to for light and fluffy romance, but the message at the end was unexpected. A good unexpected.But a really relevant and needed discussion.I don't want to spoil too much. It should be left for you to find out.

Wildcat only confirmed my opinion that Max Monroe's books should be shorter. Again, I got bored right in the middle of the story and had to use my own fake-snores to wake me up.Then, as always, the story got better and my eyes even got misty when I read about the heroine's reaction to some hater's posts (probably because I would have the same one).

Review by Lisa Kane"It only takes one minute of bravery. One minute of insane, embarrassingly crazy courage to change your life. Sometimes, it only takes that one minute for something great to happen." Quinn Bailey is the quarterback for the New York Mavericks. He's crazy talented, rich, gorgeous and…I guess he doesn't really have any drawbacks. Oh, and he loves sex. But once training starts, he pretty much stays celibate. He's got a few ...

3.75-4 stars. This was a pretty good book. Quinn is the quarterback for the NY Mavericks. Catharine/Cat is a flight attendant. The two meet on a flight when Quinn is flying home to Alabama to see his parents. During the flight, there is a storm which causes their flight to be diverted. After they land, the two of them both end up on the same train to Alabama. They sit and talk for hours on the train and find they really like each other. The two b...