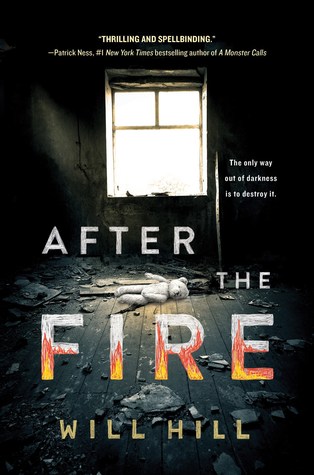 The things I've seen are burned into me, like scars that refuse to fade.Before, she lived inside the fence. Before, she was never allowed to leave the property, never allowed to talk to Outsiders, never allowed to speak her mind. Because Father John controlled everything—and Father John liked rules. Disobeying Father John came with terrible consequences.But there are lies behind Father John's words. Outside, there are different truths.Then came...
---
Details After the Fire
Title
After the Fire
ISBN

9781492669791

Author

Will Hill

Release Date
Oct 2nd, 2018
Publisher

Sourcebooks Fire

Language

English

Genre

Young Adult

,

Contemporary

,

Fiction

Rating
Reviews After the Fire
An intensely powerful story of survival after life in a cult. The story is woven into Before and After the events of the fire that ultimately lead to the death and rescue of various Holy Church of the Lord's Legion cult members. Events are slowly revealed by Moonbeam. She shares what she is able to speak aloud daily in therapy sessions so her story comes out a bit disjointed but the process is authentic and works well within the story. Moonbeam ...

5 Words: Family, belief, control, isolation, survival.I went into this pretty much blind - as usual I hadn't read the blurb. What I knew of it came courtesy of #SundayYA and from the little I did know, I was eager to get reading. Because everyone who had read After The Fire had only good things to say about it.I loved the way the story weaved between Before and After, how it was slowly revealed. It wasn't in order, there was a lot of switching ba...

This book is an absolute triumph. It's tough, moving, brace, honest. Moonbeam is an incredible main character and she is surrounded by repulsive characters and incredibly grave characters. I loved every second of this book. It's tense and intense. Totally worth reading. What a journey.

It's hard to imagine one person being able to completely control the thoughts and actions of a crowd, but it happens, the hive mentality can provide a safe haven for some. Is that a failing of society? Of parenting? Of mentoring? How does an immoral vulture choose his victims?Will Hill's AFTER THE FIRE is a raw and telling look into the power of manipulation, brainwashing of the innocents and the aftermath of "freedom." Although fictitiou...

I was immediately sold on reading this book the second I found out that it was about a cult. There is something so mysterious about a cult that really draws me in. A fascination to discover how people live in them and what it is that draws their faith. I had heard brilliant things about After the Fire and so I dived straight in after receiving the book as a birthday gift.Will Hill certainly does not mess around with his writing and this is such a...

Super intense and really chilling YA. I was hooked from the first page and didn't want to put it down until I was done.I've come to expect a lot from Will Hill's writing after loving his Department 19 series despite not particularly being a fan of vampire stories or gore he had had me hooked. This book is completely different content wise but hooked me in much the same way with the intense writing style and an intriguing storyline. Moonbeam's sto...

Thanks to Sourcebooks and Netgalley for a copy of the eARC in exchange for a fair review.I am going to keep this vague because I think it adds to the story so I won't use the main character name.She awakes in the hospital, she knows there was a fire, she tried to get the children out, and she had to rely on the government to help her. She isn't sure who to trust because Father John always said that they Outsiders lie, but she knows that he lied t...

I received this ARC from NetGalley in exchange for my honest review.Wow. What an incredibly powerful and emotional book. Moonbeam has spent most of her life with a religious cult. The book starts with a fire at the compound and a fight between its residents and the Government, whom the leader always said was out to get them. Moonbeam then spends time at a facility, where she describes her life to a psychiatrist and an FBI agent and she has group ...

This was an absolutely stunning, beautiful, OMG what did I just read, book, and I would HIGHLY recommend it to everyone. About a cult, about what happens after when everything goes up in flames, about faith, about so much more. I will try my best to write a review, but bare with me as I am still overflowing with emotions about this book.The book starts with how the cult ended, how our MC, Moonbeam, got in the care of doctors and therapists. What ...

Received an ARC in exchange for an honest review by Usborne Publishing UK.Another version of this review can be found here. Inspired by a real-life American cult, After the Fire is a story of survival of a girl who has lost everything she was brought up to believe in as her world. Read on to see just why you must pick this gripping novel up as soon as possible!"Bad and good, False and true: they're the opposite ends of a whole spectrum of behavio...

I don't think it was dealt with enough depth or research. I don't think it was even revised enough times - the last chapter where we find out what the main character actually did is kind of obvious but is not integrated into the story. The only up sides to the story were the voice of the main character, which was plausible and the overall idea, which was fascinating even if the execution kind of ruined it.

I need time to think about this!! This was all I wrote immediately after reading the book.To start with I will say I was already a HUGE Will Hill fan. I received a proof of Dept 19 whilst working at waterstones and hounded the publishers every year to receive either a proof or advanced finished copy of the next book because I was so damn invested in the characters in the series. Therefore I knew I already loved his writing and was very intrigued ...

This book! A mess of emotions and confusion and pain, I swear, but if you're up for the journey and some highkey messed up people, then it's all yours.I've been seeing this running theme between books I've been reading recently. A surge of previously less well-used narrations, that is. After the Fire is told in a past-present alternating way, with the past scenes revealed in a not necessarily effortless way. At times, I did find myself focusing m...

2018 CARNEGIE LONGLIST BOOK 19/20 Okay, so with the last book I am going to be reading on this list, I have changed my mind - THIS is now the book that I think should win the Carnegie Award 2018. And, unlike Encounters, this one has made it onto the shortlist. So, I have high hopes. I just had such a great time reading this which I can't say for many of the books on this longlist. It was a really riveting story and I think it had a lot to say f...

This was SO good. I could not put it down. After the Fire was intense, suspenseful, horrifying, tough...and honestly? Really mesmerizing. I've always been super interested in cults and how their leaders convince people to follow them, so this was a great read for me.

You can find the full review and all the fancy and/or randomness that accompanies it at It Starts at Midnight 4.5Since I basically never read synopses (or even titles apparently), I went into After the Fire not knowing it was more a psychological expose on cults and the aftermath than a thriller. This is in no way a bad thing, just worth a mention in case you are like me and pay attention to nothing. But yeah, I have wanted to read this book for...

Trigger warnings: death, gun violence, psychological manipulation, slut shaming, mentions of child abuse, suicide, misogyny, murder, fire. I've read a few YA books involving cults over the past year or so, and I honestly don't know when that became a weirdly specific sub-genre of YA, but whatever. This, as the author says in his afterword, is inspired by the events at Waco in 1993. The story begins with the FBI showing up and the members of the c...

Is this my new favourite book of all time? ... I THINK SO! I CANNOT EVEN EXPRESS HOW MUCH I LOVE THIS BOOK! IT'S SO UNIQUE, EXCITING, EMOTIONAL! EVERYONE AND THERE MOTHER NEEDS TO READ THIS BOOK! IT NEEDS TO BE TAUGHT IN SCHOOLS! I CANT I LOVE IT SO MUCH!

Gripping, emotional, and very nuanced. A unique read that fits somewhere between a mystery/thriller and a contemporary coming-of-age novel, exploring themes of faith, family, and power.

I didn't think this was amazing but it was a lot better than a lot of other books I've read!Moonbeam is a 17 year old girl living inside The Fence, ruled by Father John. Father John is a controlling man who likes rules and who knows the "truth" of what is to come. After living inside The Fence all her life, Moonbeam has begun to have doubts in Father John's rule. She wants his lies to be found out, and what better way out of the darknes...

If there is ever a moment that you think your life is hard, pick up this book for an insight into the dark side of humanity. As the saying goes, 'absolute power corrupts absolutely', and this is a perfect representation of what that looks like. From the scheming, controlling and manipulation of one man comes the unfortunate result of humanity following what they believe is right, the result will always end in disaster. Told from the viewpoint of ...

You can find the full review at my blog, The Writerly Way, here. *A big thanks to Sourcebooks and NetGalley for the eARC in exchange for an honest, unbiased review.* It's no secret that a lot of people have a sort of fascination with cults, and I'm no exception—though I don't normally read fiction about cults. But with this one? First, I read some positive reviews about it from people whose opinion I respect, and that goes a long way. Se...

When I went into After The Fire I was apprehensive. It wasn't my usual type of read and I knew it would be tough, but I'd heard a lot of good things about it so I persevered. I'm so glad I stuck with it. After The Fire is an exploration of faith and humanity, but most of all it is a story of survival. It was a privilege to follow Moonbeam's story and see her grow into the character I knew she could be. A phenomenal read, and one that will stay ...

Let's start with a few things why I loved this, the main character is called Moonbeam and it made someone think of me as she read it and decide to gift it to me. I was biased to like it. But then again I was biased to dislike it because it is a view of a cult and I am always sceptical about that. So that puts it on even ground. Also, I rarely ever give 5 star reviews. And as a disclaimer, I have read the uncorrected proof copy, not the finished o...

I first heard of this novel, via a Twitter recommendation of one of my favourite writers. She is even quoted on the cover, so I knew I was in for a treat! After The Fire, I believe is labelled in the YA genre. But if there was one word that appeared time and time again in my notes, it was the word powerful. This is without a doubt, an incredibly powerful YA novel, not to be missed my readers of other genres. The synopsis leads us to believe this ...

First off, shoutout to Sarah for doing a giveaway of this fine book and shipping it all the way across the globe when I miraculously won! You go, girl!The first thing I noticed about this book was the run-on sentences when the protagonist is in distress, and I was like YESSSSSSS. I love those little things, how a character's thoughts changes in certain circumstances. That's stylistic writing right there. I'm a sucker for that shit. It doesn...

Moonbeam has been raised in a religious cult in the outskirts of a small Texas town. In many ways this book felt similar to other books I've read about the splinter groups: enigmatic leader, unequal rules and favors, violence, people trying to leave, and of course the government spy. Thankfully Mr. Hill is able to tell the story of Moonbeam dealing with the aftermath of the brainwashing and what she thinks her part in the inevitable final battle ...