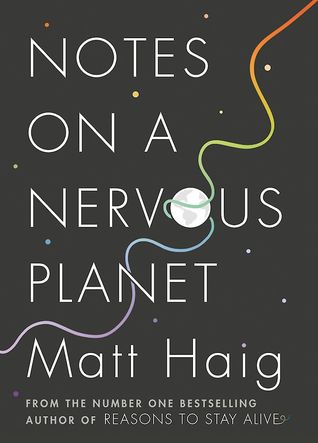 The world is messing with our minds.Rates of stress and anxiety are rising. A fast, nervous planet is creating fast and nervous lives. We are more connected, yet feel more alone. And we are encouraged to worry about everything from world politics to our body mass index.- How can we stay sane on a planet that makes us mad? - How do we stay human in a technological world?- How do we feel happy when we are encouraged to be anxious?After experiencing...
---
Details Notes on a Nervous Planet
Reviews Notes on a Nervous Planet
I'm not really going to review this properly I bought it and read it just for me really. There's nothing much I can say that I haven't said before about this author's writing and sometimes you just want to read a book to kick start your soul again. Suffice to say that as ever after reading a Matt Haig book my faith in many many things is restored. Yes indeed.

A truly timely and important book that everyone living on this nervous planet should read. Matt's honest and personal experiences shine through on every page and his writing is like a cup of tea and a warm blanket making you feel that no matter how crazy the world can get everything is going to be ok. I loved this book and have no hesitation recommending it to absolutely everyone, no one will finish this book without learning at least one importa...

His best book yet! The perfect antidote to our messy world! I love all Matt Haig's books and this was still even better than I had anticipated! Just buy it, read it, talk about and love it! This world is a better place with this book in it .

This is a world of nerves. Of nervousness (as the title rightly suggests), of anxiety and of excess. Everything is in excess and we do not know when to stop or how to control our lives. We are constantly on the edge and losing the very essence of being human. Our lives are spiraling out of control and we perhaps do not know what to do. Matt Haig's books are about mental health issues we face, the ones he has faced and continues to. The only dif...

Reasons looked inward, Notes looks back out again. Honest and applicable life lessons from one of my favourite contemporary writers and thinkers.I'd call Matt Haig 'a thinker'. As well as enjoying almost every adult and children's novel he's brought out, I can recognise my own life, thought processes and faults in his two non-fiction 'guides to life' as I think of them.Reasons To Stay Alive was a bare-all look at one man's breakdown and recovery/...

'Kindness spring-cleans the soul.'Reading 'Notes on a Nervous Planet' is like being given a new pair of spectacles. It makes everything clearer.Matt Haig writes with humility, wisdom, clarity, honesty, humour and kindness about his own mental illness and efforts to improve his mental health. In doing so he is a source of great help to others. I read this book quickly - it will stay with me for a very long time.Yet another remarkable book ...

Devoured this in a single day. Deliciously yummy. Another Haig triumph.

The world is a nervous system. Everything is connected and it's difficult to switch off, even for your own sake. Notes on a Nervous Planet makes you stop, think, consider your own interactions with the world around you and how it seeps into your life. Most of all it makes you hope it's possible to truly disconnect, whatever that means for the individual, and find your own sense of calm to catch your breath amidst the noise of the bustling world a...

The only thing I don't like about this book is that it wasn't around when I was a teenager. Firstly, I just want to say that this book is physically stunning. Beneath the dust jacket, the hardcover is all the colours of the rainbow and it's lovely. I also think the size is great, it's compact and smaller than most of the newer books on my bookcase. I'm also lucky enough to have a signed copy. This is a comforting, reassuring read for the most par...

Read this review and much more on my blogThis is an important book. Important not in the usual sense in this genre (self-development/self-help/personal growth, pick your name) that it makes you feel better after reading it. Feeling better feels good but it may not—often—be actually good for you. It is important because the message is important, and Matt Haig, one of my favorite writers, delivers it in a way only he can, although it may seem a...

NOTES ON A NERVOUS PLANET by Matt Haig is everything you need and more to help connect with your anxiety and the million different things that can enhance and make it worse. It is a manual, a guide, an escape hatch, and the kind of book that should be carried in your bag at all times for easy access when you need it.From our constant connection to the world through social media and the internet in general, yes there are fantastic upshots of this,...

Haig provides an authentic first person narrative of how the world we live in is contributing to people feeling anxious and depressed. The development of social media and people's unfortunate need to present themselves as something which is at a disconnect from themselves, comparing their real selves and bodies to other people's highlight reels and communicating online rather than in person, means people feel dissatisfied with themselves and ...

Originally posted on I Should Read ThatI received a copy of this book in exchange for an honest review.A few years ago I stumbled upon a little book called Reasons to Stay Alive by Matt Haig. I cannot tell you what a game changing book this was for me. Here was this person who could talk about depression and anxiety with honesty, humour, and hope. It was the first time I really acknowledged my own mental health worries and it felt a little less a...

Already I've started to make changes to my day to day life from the advice in this book. It's as stunning as Reasons To Stay Alive and I connected with so much Matt is talking about. I can not recommend this enough, not just for anxiety and depression suffers, but everyone."Imagine if we had a day where we called human beings human beings."

It wasn't surprising for me that I would like this book, as I love Matt Haig's writing in general.However, I had one problem that may be an issue for other people, too. There were some paragraphs/chapters that could easily trigger panic attacks, and I think when writing about mental health you could be even more cautious or put a trigger warning there or something. But maybe it was only a problem for me as the issues he talks about (related to te...

As we swim in life's oceansfor we should,we should,they are part of the beauty that heals us.As we swimwe must accept the waves and let them be waves.Out of our control and not meantto be swallowed by osmosis.Coughing them back up stings.I love this book, thank you.

We don't need another world. Everything we need is here, if we give up thinking we need everything.

Matt Haig has done it again: written a highly thought-provoking book which has made me want to better myself and enrich my life. I am so glad that I was able to meet him last week and tell him how much his books mean to me because this book perfectly encapsulates why his work is so excellent.

In 'Reasons to Stay Alive' Matt tells his story of his depression - complete with suicide attempts, hallucinations on the bus and agoraphobia. He is relentlessly honest about how horrendous mental health problems can be, and yet he is equally honest about what things have helped him to live with those mental health problems. In 'Notes from a Nervous Planet' Matt tells us how to stay well. A lot of it will be familiar - switch off the phon...

"There is no future. Planning for the future is just planning for another present in which you will be planning for the future"Matt Haig has done it again, after reading reasons to stay alive, in a period of deep despair, which enlightened me so much I didn't think anything could be better. Notes on a nervous planet is just as good if not better. I would refrain from calling this a self help book. It's not self help like in the sense that it tell...

I must say I was quite excited about this book. "Reasons to stay alive" became one of my favourite books, and has saved my life in so many ways. So I was more than happy to see that Matt Haig had written a follow up. And it doesn't disappoint.Unlike the first one, this is isn't only about mental illness, and dealing with depression and anxiety. Though that is also a part of this book, the focus now lies more on how we live in this modern world th...

Reasons to Stay Alive came into my life as I was dealing with my first episode of anxiety and depression, and Notes on A Nervous Planet comes into my life as I currently deal with my second bout of mental health issues. Like Reasons, Notes is a vitally important book to me. To quote Matt, it offers "the possibility of hope. The promise of home." I find Matt's writing so relatable because he juxtaposes research and advice with his own experi...

What a wonderful, wise book. I lost count of the number of passages that spoke to me in some way or that I wanted to highlight or sticky tab for reference. I have a feeling I'll be returning to this book many times in the future, just like Reasons to Stay Alive. I also want to recommend it to everyone I know. There's so much incredible advice for dealing with our manic world, and it's all so beautifully written. I loved every word.

Thank you Canongate for an advance review copy of this book.Notes on a Nervous Planet is the follow up to the hugely successful, not to mention helpful and insightful, Reasons to Stay Alive. It looks at how the world has become overwhelming, with so much to do, so many expectations to meet, so many followers and likes to obtain on social media. This book, like Reasons to Stay Alive, doesn't claim to have the definitive answer to navigating the ne...

Matt Haig is a genius! He doesn't focus as much on mental illness in this one, more on how our world is changing and how this changes us. Insightful, sometimes laugh-out-loud funny and important!

A brilliant book, very easy to read with short chapters and a lot of helpful advice. Even if you don't consider yourself to suffer from anxiety, pick up this book, it will really help you through any life struggle.

I wanted so badly to love this book, not just because it's Matt Haig, but also because I like the idea of the topic, but sadly it wasn't entirely a book for me.