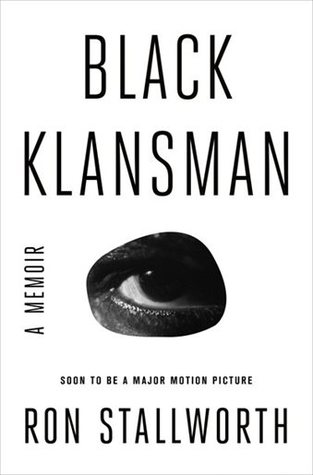 In 1978 the community of Colorado Springs, Colorado experienced a growth of Ku Klux Klan (KKK) membership. One man dared to challenge their effort and thwart attempts to take over the city, Police Detective Ron Stallworth. He launched an undercover investigation into the Klan, gained membership into the organization, briefly served as Duke's bodyguard, and was eventually asked to be the leader of the Colorado Springs chapter. The irony of this in...
---
Reviews Black Klansman
The best part of the book, the pee your pants, snork your coffee, kick your legs up laughing part of the book was when David Duke came to town and despite protestations to the higher ups, Stallworth (our hero, the black cop) was detailed to protect him. Stallworth asked Duke if he could have a picture taken with him and Duke was ok with that, so Stallworth put an arm around him and Duke freaked and Stallworth was very apologetic. Stallworth then ...

Black Klansman is such an intriguing story. It's a true story about a black undercover cop who infiltrates the local KKK over the phone. A movie is coming out by Jordan Peele & Spike Lee, and I'm really looking forward to it. It was interesting to see what's changed since the 70s and what hasn't. I know some people think that racism doesn't exist anymore, or it's so much "better" now, but so many of the fucked up things that were said in this boo...

I wanted to like this book. There's a great story here, it's just that it was boring, I didn't quite like the way the author came across, and I had a hard time getting through some parts of this. There were so many abbreviated groups that after a while I stopped caring which group was on what side. I also hated how every so often the author had to remind the reader how he was the one in charge of the investigation by parenthesizing that he was th...

A fascinating story that made for a medicore storytelling experience. Stallworth would have benefitted from a ghostwriter and a heavy-handed editor. Forty year old petty grievaces against co-workers don't belong in a biography, and neither does repetition after repetition (...) His sidebars and commentary are flat with little to no nuance and description.Where this book shines (entertains?) is in exposing what a hack many of these hate groups are...

Read like a police report, sort of dry and repetitive....The story is compelling, but a shame he had to wait so long to tell it. Biggest take away - people who belong to hate groups are not very bright.

This book was actually a 3.5 star for me. It is a super quick read. I am still trying to process the fact Ron Stallworth was able to pull off this unthinkable plan of infiltrating the KKK. His book clearly, emphatically and repeatedly calls out the KKK as the national terrorist organization that it was, is and always shall be. I was especially taken by the history of the KKK in the state of Colorado. "Our history is always in our present."

Underwhelming. Poorly written. Fascinating story, but the writing was never compelling. I'm hoping for much more from the upcoming film by Spike Lee & Co. (Which was the reason I read the book in the first place.)

It was ok. Not particularly well-written. Kinda boring. I didn't really like the author for several reasons which I will not go into detail about so as not to spoil it for those of you who haven't read it yet. But, this "brotha" is kind of a coon. Plus, the overwhelmingly hateful rhetoric spewed by the Klan and regurgitated in this book was simultaneously hilarious and devastating. Reading it definitely affected my mood.

I found this book to be searing. I am reading this book and Between the World and me. I cannot help but interject myself as a character in these two books. As an African American and mother of a son I take the moments 0f benign hatred and violence personally. There are no solutions given. There are no concluding words of comfort. I consider Ron Stallworth courageous for his work in the police force at that time. I consider him a hero for sharing ...

I'm glad to have read this book but I did not enjoying reading it, if that makes any sense. Stallworth's story is so interesting, but his telling of it was, in my reluctant opinion, surprisingly uninteresting.Stallworth is detailed in outlining series of events, but I was hoping for more reflection and analysis. I wanted him to talk more about what it was like to navigate his identity in all of these different contexts. How he encountered racism ...

This book, more than anything else, is a testament to authors who should hire ghostwriters. If Ron Stallworth did in fact hire a ghostwriter, he should have hired a better one. The premise, a black police officer masquerading as a card carrying member of the KKK via a white undercover surrogate, is fascinating. It is also quickly sanded to almost nothing as we learn that, ultimately, Stallworth's lengthy charade amounted amounted to little more t...

I wanted to like this book, and I mostly did. The premise is REALLY interesting, and I think Stallworth's adventures with the KKK are particularly relevant now, as we see hate groups on the rise.However, this book needed a lot of editing. Stallworth is not a writer, he's a retired police detective. It seems like this book was either self-published or published in a limited way when it first came out in 2014, and it shows. With the upcoming movie,...

Listened to this on audiobook in preparation for the Spike Lee movie. Stallworth is, as we say in Baltimore, "good police." He realized the potential klan threat in Colorado for what it was and addressed it, even when his department would not do so. Some of the stories, like his frequent phone conversations with David Duke, are hilarious in how they expose the stupidity of racism. Some stories are frustrating and frightening, like the police's un...

i really liked this book because the KKK is something I know nothing about and that I read is to learn things. I agree the book is dry in some places and could have moved forward faster. It is the true story of a Black Police Officer who goes undercover over the phone to investigate the KKK. It is being mad into a movie by Spike Lee and Jordan Peale. He saw an article in the paper advertising for members and he answered it. Much to his surprise h...

A brief and fascinating look into the undercover investigation led by a black officer into Klan activities in Colorado Springs in the 1970s. With moments that almost play out like a farce, I enjoyed Stallworth's memior of "becoming" a klansmen and his successful duping of the KKK. His personal encounters with David Duke are particularly memorable. I do wish that the book went a little more in depth on the case and Stallworth's personal history. R...

This book tells the story of Ron Stallworth, who as a black cop in 1978 began an undercover investigation into the KKK. While the style of the book was on the drier side, it was a captivating story and I couldn't help but feel the tension in some parts, even though the tone almost seemed to deliberately downplay any potential drama. I think it will be interesting to see how the movie plays up those parts. One cannot help but admire the courage an...

Officer Stallworth's account of his infiltration of the KKK which was attempting to regain a foothold in Colorado Springs, CO in the late 1970's sometimes comes across as dry - police reportage is very much 'just the facts,ma'am' - but there's considerable dry humor in his true accounting. Serves as a grim reminder that these guys have always been around and will continue to be around - but also offers some optimism in resistance in stressing tha...

An interesting story, but not a well-told one.Black Klansman concerns Ron Stallworth: the first black officer in the Colorado Springs Police Department and infiltrator of the Ku Klux Klan. Responding to a newspaper advertisement and expecting just pamphlets and literature, Stallworth instead received an invitation to join the Klan, and thus began an undercover operation wherein he would contact the Klan by phone and a white officer would stand in...

I really wanted to like this book, but I just didn't. I mean, how could a memoir about Colorado Springs' first African-American police officer going undercover to infiltrate the Klan be anything except interesting? Well, somehow, the author made it that way. The writing style was just bad - not engaging at all, and there was absolutely no suspense. I never found myself worrying that the police officers who were involved in the sting would be foun...

Finished this book last night and actually found it extremely interesting. Other than the KKK being one of the most famous hate groups, I really didn't know much about them. It was fascinating to get some insight on them and politically, it also gave me some understanding too. It had me laughing and smirking quite a bit to witness how incredibly dumb these Klansmen could be and ultimately how easily they were so trusting and open. My only gripe...

This was fine. It was obviously a high stakes situation but the writing almost downplayed that and made it bland? I did enjoy when he talked about kind of sticking it to them by asking how he could know if he was talking to a Black man or by taking the picture, and I think the stopping of all the attempted cross-burnings and the transferred NORAD employees were a huge win. It was just sort of bland and matter of fact and not the "amazing true s...

An interesting look into a hilarious and groundbreaking investigation. Listening to the audiobook, narrated, by Stallworth himself, was a treat. I'm excited to see the film adaptions and how much they will choose to include. An interesting story that parallels some of the same problems we see today with radical groups.

I didn't care for the writing and thought the story lacked any major developments. The title is basically one giant spoiler. There were tidbits that were interesting. But a lot of the racial politics were off putting as I found the author to be equating the KKK and those that protest the KKK in an attempt to be "fair".

What a story!! The cover and description makes it seem like something it kind of isn't, however, it's still a pretty bizarre story.I do think the author could've been a bit more lively with his writing, it's not badly written, but it's a pretty eccentric story and I think it deserves an eccentric voice to tell it.Looking forward to the film getting released next week.

I am of the tribe "read the book before you watch the movie" and so I find myself finishing 'Black Klansman'. This book was eye opening. It approaches 'hiding in plain sight' from every angle imaginable. Definitely worth a read👍🏽

This was a rather enjoyable quick read with some fun anecdotes of a black cop infiltrating the Klan and rising quickly in the ranks. I definitely read this because of the new Spike Lee movie, and I hope a few of the incidents make the film because they are particularly entertaining. A fun choice for anyone interested in law enforcement, the history of the Klan, and/or stories about making angry racist people look even more foolish.

Book was interesting, it wasn't great nor awful and unbearable... hearing about the place I live and the events that happened back in the day. Stupidity is bliss by the KKK, but nonetheless the coolest part of the story was knowing the places around town and points of reference.

A very good detective story which happens to include the under cover intelligence operations of a local police department. The author shares his personal views of the times, the African American history that serves as the setting of his personal and professional challenges during this investigation, and the legal issues involved in police surveillance (entrapment).

An especially interesting read as a resident the Colorado Springs area.