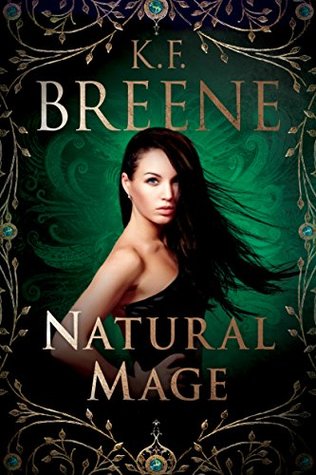 After narrowly surviving my debut into the magical world, I made a promise to myself: no more hiding in broom closets.But with the Mages' Guild reorganizing faster than anyone thought possible, and naming me as their number one target, that promise seems a little far-fetched. Especially since my training with Callie and Dizzy, the highly experienced dual-mage pair, goes off like a cake in a cannon.Left to find someone that can fill the role, it...
---
Details Natural Mage (Magical Mayhem #2)
Reviews Natural Mage (Magical Mayhem #2)
Okay, if I'm going to be brutally honest, there was only one reason I read this book, and it wasn't anything to do with the main character or her story arc. The reason is REAGAN (if you don't know who she is you MUST check out the fire and ice trilogy, set before this book). She is now my second favourite heroine following Kate Daniels and I just had to have some more of her after the end of her trilogy. Even though there aren't any chapters from...

Mind is blown!!!💥 'Natural Witch' was amazing so you adjust your expectations for the 2nd book as it can't possibly live up to what came before right? Wrong, as K.F Breene clearly tore up that rule book & produced an absolute pleasure of a read in 'Natural Mage', its just Brilliant!!!😍Penny, our now confirmed 'Natural Mage', is training in New Orleans with Cassie & Dizzy, a Dual-Mage couple. She had met them previously when Reagan had taken...

Hilarious!Adding Reagan back as more than a cameo is just brilliant. Penny and Reagan's dynamic make this book not only hilarious, but you want want to put it down. Can't wait to see what will happen next. So great that both The born in fire and Natural series are available on KU.

I love KF Breene and I had never read her supernatural books before, only the romance ones. Let me tell you, this series is amazing! I want more, so, so, so much more! This series had it all! Romance, humor, bonds and even a little witchcraft and some vamps! Who wouldn't like it??

This book moved quite a bit slower than the previous one in the series. It's a lot of Penny training. It picked up in the second half when she switched to training with Reagan, and I started to enjoy it a lot more.

I enjoyed this book but it seemed to lack purpose. It had a lot of action and more violence then I prefer.

Totally awesomeI love Penny and all the other characters in this book and this series. You have humor, action, adventure and so much more in this well written self-contained story. I'm so looking forward to reading the next book to see what else can happen.

Not as good as the 1st It was more of the filler episode with quite a few chapters unnecessarily prolonging the book. Lots of situations didn't contribute to the story nor brought more enjoyment to the book. The girl was just too wimpy, trembling, fearful and clueless. Typical "chosen one" scenario with bumbling and fumbling heroine that was not very interesting, funny or smart.

This book starts where the last book left off, bringing you more twists and turns and edge of your seat action. Penny is becoming more and more my favorite character in this series. She is learning her gifts more and more with the help of Reagan and Darius. And how to love and care with Emery by her side. I seriously can't wait for more.

A good addition to the series.I really like the characters in this series. They all have such unique personalities and quirks. The humor keeps me coming back for more.

Natural Mage picks up about six months after the events of Natural Witch. Penny's been living and training with Callie and Dizzy despite the differences in their abilities and styles. With no contact from Emery except the occasional gift of a power stone, Penny's been in a state of emotional disarray. Not only is she missing her partner in (sometimes literal) crime, but she's just not feeling the same magical connection with Callie and Dizzy that...

The fight against the Guild continues with a great combination of characters and a powerful storyline. If you love magic and supernaturals you'll enjoy this series. I'm already looking out for the next installment.

I just couldn't do it. Couldn't get invested. I ended skipping about half the book, reading the end, and then went back and read some other chunks I had skipped. I love the characters but the second book didn't draw me in like the first. Obviously there will be a third book. I'm hoping by then my interest in this series will be renewed.

Another stupendous read by K.F. Breene in this follow up to the Natural Witch in the Magical Mayhem series!!Penny has been left in the capable hands of Callie & Dizzy, a dual pair of mages, trying to train Penny the way they have been taught. But things don't go too well, their type of training doesn't seem right for Penny, since Emery left she has never found that perfect balance again, so Darius steps in and decides he will train her, by puttin...

OMG, this book had me LOL! I love Reagan and Penny, they are so opposite of each other but they are hilarious when together. I like that this still has the characters from the "Born In" trilogy.

"Natural Mage" is the second book in the Magic Mayhem trilogy set in KF Breene's DDVN world. It's the continuation of Penny's story, but we also get to reconnect with a certain female lead from the Fire & Ice trilogy. When these 2 ladies meet, sparks fly right out the pages. I don't want to give any spoilers, so I just say that in "Natural Mage", Penny gets to explore and learn her abilities with the help of Reagan's lead. Penny's journey is anyt...

This was so good. So good! Mrs. Breene's world building is absolutely stellar in this series and I wish I could read about these characters and this universe all the time. There's so much to work with and such a richly diverse cast of characters and personalities I don't think I'd ever get bored. The story telling kept my attention perfectly and I only put it down to sleep for the night so I could have some left to savor the next morning....

I really enjoyed this book, I got through it very quickly; I couldn't put it down!I loved the way the interaction between Penny and Reagan developed; intense but humorous with the chaos of both Reagan's nature and Penny's magic the catalyst for their camaraderie. The return of Emery didn't detract from their relationship, but I felt that he fitted in a little too easily given his abandonment of Penny in the previous book. I liked his attemp...

The second book finally continued the story from the first series (instead of running parallel to that series as the first did). Though there weren't any major developments in it, the story focused more on bringing the characters together. Penny starts her training with Callie and Dizzy, who train her the same way they were trained: by learning spells from a book. Reagan realizes that this is not the correct approach for Penny, because this restr...

K.F. is one of my go to authors so when I found out the pre-order was up for Natural Mage I immediately one clicked! As usual she did not disappoint! She just keeps getting better and so does the series!!!Penny started off as such a timid character and I did not think I was going to grow to love her as I have. Watching her come in to her own in everything life has to offer has been such an action packed fun ride! Once everyone finally comes to gr...

And yet another amazing book from K.F. Breene Natural Mage is the follow on from Natural Witch in the Magical Mayhem series!! This brilliant read is full of magic and mayhem and you will find yourself laughing out loud. K.F is my go to author because she has such a natural talent for weaving a story that is so compelling that you never want to end. Who doesn't love a paranormal story where all kinds of magical beings come together. With vampire...

Turdswallop donkey kong I love Penny and Emery. I appreciate them and this series even more having read the Fire and Ice series as well - Reagan, Darius, Callie and Dizzy are back to help Penny with her magic, find her way in the magical community and keep her safe from the Guild. As is expected, hilarity ensues, there are new shifters, vamps, crazy spells and even a new prophecy that links Penny and Reagan. We see more of sweet Emery, in love wi...

Powerful Penny! Exceptional Emery! Radical Reagan! Put the three of them together in one pulse-pounding book. You get one Magical triple threat.Reagan is back in a big way helping Penny and Emery kick some Guild buttnickle... Hehehe. Reagan does her best to teach Penny to cuss properly but she settle for training her to use her Natural Magic to survive and stay free. Emery wants to do what's best for Penny even if that's to stay away, but his hea...

Penny is a natural mage. She grew up without the training she would normally get and has to figure out how all this magical stuff works. Her two teachers (Dizzy and Callie) are a pair of crazy older mages. Dizzy and Callie aren't working out and training is going no where, so of course Darius, a vampire guy, thinks he can do a better job helping her "open herself up".He was wrong, of course. Not only does she almost lose control, she ends u...

Best of allI like this one best of all. Of course I feel that way about all the books by this author. I am left with a feeling of loss after I finished reading this book. I don't want to let the characters go. The author pours her imaginative soul into creating a world to entertain us book lovers. And it's not a quick process to produce good stories. Then it's published. We, her faithful readers, devour it. While she is basking in the joy o...

Penny and Reagan!!!I had so much fun reading this book. Those girls have got me rolling in certain scenes. I liked how two different characters world's blended together so smoothly. Honestly I was expecting some hiccups but there wasn't any. I wish I could say more but I'm afraid at this point I would be spewing spoilers! So I will refrain and just say K. F. Breene has yet to disappoint and to picked up this book asap!

From start to finish, I loved this book! There wasn't one strong female lead, there were two amazing females. I don't know who I loved more. The star of the book was definitely Penny. She's coming into her own as she trains in New Orleans to learn her craft and understand her magic. She starts with Callie and Dizzy Banks, but, after a mishap at Darius's home, Reagan Somerset takes over Penny's training. Under Reagan's special brand of...

I'm a little speechless on how to review this book. It's just SO MUCH! Very entertaining. Intriguing. Hilarious. Awesome fighting. Engrossing. And of course, very cool in the mage/demon/vampire world! The interactions and dialogue between all of the characters were amazing and hilarious. Their personalities are THE. BEST. There's never a dull moment. I could read KF Breene's books any day. I love Penny and Emery together. They are suppose...

Natural Mage (Magical Mayhem, #2) by K.F. Breene is a continuation of Penny's introduction into the magical community. There is a lot of action and mayhem throughout the book as Penny tries to take on the Mage's Guild with help from her recent acquaintances. This girl needs a sign that says "will find trouble." And although this book is an entertaining read, it wasn't as enjoyable as Natural Witch. The story continues along at a steady pace until...

**Holy Magical Mother Batman!!!**K.F. Breene is a crazy genius. I couldn't put this "Natural Mage" down!!! My. Mind. Is. Blown. Away!Penny's not hiding in broom closets anymore and I'm dying for the next book! Put a out of control Natural Mage and a doesn't care Reagan together and get ready to have your mind rewired. I don't know how else to put it. The magic and action alone will keep you up all night turning the next page!This story alone is w...