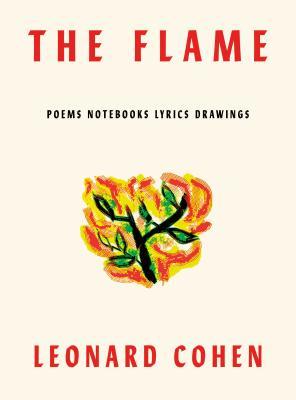 "There are very, very few people who occupy the ground that Leonard Cohen walks on." —BONONamed a Fall Read by Esquire, The Washington Post and Vanity FairThe Flame is the final work from Leonard Cohen, the revered poet and musician whose fans span generations and whose work is celebrated throughout the world. Featuring poems, excerpts from his private notebooks, lyrics, and hand-drawn self-portraits, The Flame offers an unprecedentedly in...
---
Details The Flame
Title
The Flame
ISBN

9780374156060

Author

Leonard Cohen

Release Date
Oct 2nd, 2018
Publisher

Farrar, Straus and Giroux

Genre

Poetry

,

Music

,

Nonfiction

Rating
Reviews The Flame
Leonard Cohen was a master of the word. Reading the Flame gives great insight into the man's heart and soul. It is a literary masterpiece of poems, lyrics, drawings and notebooks. As he is a complex man, this is not a one sitting book. Each poem leads us to another thought pattern. Along with each written piece there is included a self portrait, illustrating the feelings connected. I read pieces and collected quotations which touched me. He is a ...

In the last days of his life, Leonard Cohen prepared his last book, gathering drawings, unpublished material, and the lyrics from his last albums. He was a man who knew he was in his last days and an artist who needed to send out one last envoy to the world. That book has been published as The Flame.The image on the cover is the burning bush, a green tree surrounded by fire and yet is not burned by the flames. Cohen's "flame burned bright within ...

This book of poems and sketches was the last thing Leonard Cohen was working on prior to his death in 2016. His prolific output continued throughout his life, and he was forever sketching and jotting ideas down. It is really uncertain whether or not he had a book in mind -- some of the poems are dated much earlier, but they carry his trademark rhythms and I enjoyed envisioning him reading them with his world weary but warm and distinctive style. ...

via my blog: https://bookstalkerblog.wordpress.com/"So I've come here to revisitWhat happens to the heart"The Flame is Leonard Cohen's final work, a collection of poems, musings from his personal notebook, self-potraits intimately drawn by his own hand and more. It's a walk through Cohen's mind and heart, writing until his final breath, because those who make magic out of their words rely on them to make sense of this human experience...

In June 2016, a new poem by Leonard Cohen was quietly published in The New Yorker. In fact, the poem was almost buried - I'd read the article and had the copy for about a month, I only found it because I was flipping through old(ish) magazines out of boredom. It was a gem, and a small joy to discover. It was titled Steer Your Way and it's reprinted here. "Steer your way through the ruins of the Altar and the Mall steer your way through the fab...

Legendary musician and poet Leonard Cohen is celebrated for his raw and intimate words and The Flame is his final masterpiece, finished just days before his death in 2016; a collection of poems, drawings, and lyrics spanning decades that show him at his best and his worst."To the young let me say:I am not sage, rebbe, roshi, guruI am Bad Example.To experienced personswho have characterized my life workas cheap, superficial, pretentious, insignifi...

First I want to thank Goodreads and Farrar, Straus & Giroux for the opportunity to read a galley version of the book. As such this review is based on the galley and may change once the final book is released. The book is broken into four sections and so is my review.The Poems.I have loved Mr. Cohen's voice for many years and in this his last collection it remains strong. Do not expect any ground breaking discovery, but instead a voice that is str...

(I received this book for free through this site's giveaway program)Very briefly, here are some pros and cons with this book.Pros:-Leonard Cohen! If you like him at all, you might as well pick this up. I dunno how much insight it gives into his life or anything like that - there are far more "poems" than "notebooks" - but, y'know, Leonard Cohen.-As a writer myself, it's very helpful to see another writer's process laid out in print. This is a tre...

First off, I'm not a fanboy, the only Leonard Cohen songs I knew, before reading this book, were "Bird on a Wire" and "Hallelujah" so Leonard is not getting any stars for being Leonard, in fact I may have (subconsciously?) penalized him because I feel like celebrity writers get an unfair advantage, a head start so to speak. I opened this book fully expecting it to be merely a collection of unfinished or unpublished doodling and scraps of ...

This book gathers together previously unpublished notes, speeches, sketches (mostly self-portraits) and potential lyrics of the late Leonard Cohen. Obviously many of these pieces are incomplete, ideas rather than works. Several of Cohen's classic themes appear, especially romance as a kind of war. Must read for Cohen fans, maybe not the place to start for newcomers. [I received an advanced e-galley of this through Netgalley. The book is due to be...

This is not a book to read in one setting, i actually took a week of reading through the book because of his poems and writings really give you something to ponder on. Gread read and definitely great writing

Thank for my free copy through goodreads!This was my first meeting with any of Cohen's work, and I definitely didn't hate it. Heartbreakingly heartfelt poems about love, loss, and faith, the past, aging, and dying.Not really a leisurely read, but enjoyable in its own way.

This is a very good book. When Cohen is on, he is great, but some of the poems fell a little short. The good definitely out weighed the bad!

What a wonderful soul, and what a wonderful send off.

It's Leonard Cohen, of course it's wonderful, I do hope the final product is formatted better though

An exquisite collection of Leonard Cohen's Writings, Portraits and Poems. He compiled it just before his death. One Of A Kind. Thankyou Goodreads for this free book!!!!!

Great collection of poems by the late Leonard Cohen. Fun little illustrations as well. The collection is comprised of his own personal notebooks and smiliar items to create this. Love it.

3 1/4 stars Goodreads giveaway. As much as I have liked many poems and lyrics of Leonard Cohen, many weren't as good. The once that did stood out were wondrous.