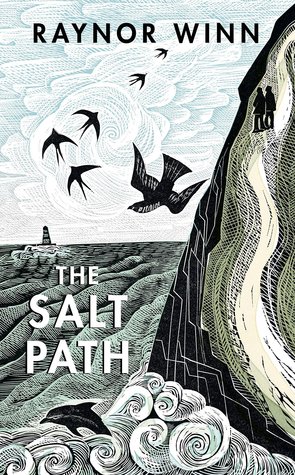 Just days after Raynor learns that Moth, her husband of 32 years is terminally ill, their home and livelihood is taken away. With nothing left and little time, they make the brave and impulsive decision to walk the 630 miles of the sea-swept South West Coast Path, from Somerset to Dorset, via Devon and Cornwall.They have almost no money for food or shelter and must carry only the essentials for survival on their backs as they live wild in the anc...
---
Reviews The Salt Path
This is my favourite non fiction novel because it's about a mid age couple who tell a true story. It made me cry for them loosing everything that they had worked for all their lives. It also made me cry of how little money they had to buy something to eat on their journey walking to Cornwall. Raynor and Moth had lost their home and their business. The bailiffs came in and took everything that they owned. They have almost no money for food or shel...

This is a memoir, following a middle aged couple, Ray and Moth, as they lose their family home in a complex legal battle and Moth receives the devastating diagnosis of a terminal illness. With not much left to lose, they embark upon a 630 mile backpacking adventure along the South West Coast Path, with only the barest of essentials and minimal money. This book was absolutely stunning, deeply personal and highly emotional. I was in tears from the ...

The bad news came fast, Raynor Winn's husband had just been diagnosed with a terminal illness, they had just lost a court case even though they had the evidence that they were not liable for debts and now the bailiffs were hammering on the door to take their farm and livelihood away. Their only income would be £48 per week. It is at times like these that some people would have a breakdown or consider a more permanent end to the problems, they d...

It was the worst of times. Just after Winn learned that her husband Moth had CBD, a rare degenerative brain disease, they lost a court case pertaining to their investment in a friend's failed business; bailiffs seized their house to pay off the debt. They'd relied on renting out their barn as a holiday cottage, so in one fell swoop their home and livelihood were gone. For two fifty-somethings, one of them terminally ill, the decision to buy m...

For me this is another 'H is for Hawk': a profoundly moving, deeply personal account of a year and a bit in the life of Raynor Winn as she and her terminally ill husband walk the South West Coast Path after losing their home and most of their money.As someone who used to love taking long walks, but now cannot because of an inoperable knee injury, I took great pleasure in reading this book. It made me laugh and made me cry, but it also gave me hop...

I wanted to love this book. I'd heard so many amazing things about it. But I struggled. I don't want to leave an unkind review so I'll say — some of the nature writing is beautiful. I just didn't get on at all with the internal commentary.

After a 3.5 yr court battle, Ray and ger husband, Moth, lose their farm, their home, their livelihood and a lot of their confodence and self respect. Two days later they find put that Moth is slowly dying of a degenerative brain disease. So they decide to buy a tent and walk the 636 miles of the South West Coastal path. It sounds like it should be a bleak book. It's not. It has to be one if the most uplifting hopeful memoirs I've ever read. And i...

Wow! Where do you even start with this book? I picked this book up because the theme for this month's Penguin Read the Year challenge is about travelling (anywhere!). I absolutely love camping. I abolsutely love the South West. I absolutely love walking. This book seemed like a win-win. I wasn't expecting to love this book as much as I have. A heartwarming, life-affirming and honest story about love, life and nature. A beautiful book, beautif...

Ray and her husband Moth have unexpectedly lost their home after a lengthy legal battle. Moth is then diagnosed with a rare terminal illness called corticobasal degeneration or CBD, and their income is reduced to £48 per week.Instead of giving up on life, the couple decide to walk the 630 miles of the South West Coastal Path. They purchase a tent and cheap sleeping bags, and pack a minimum of clothing and necessities for the journey. Despite the...

Wow! What a book. A real life affirming tale. I read it in three and a half days. I just couldn't put it down. I am Cornish born and bred and come not far from where Raynor Winn has eventually found herself living! So I loved reading about the intoxicating South West Coast, especially the o-so-familiar Cornish sections, having walked a lot of the Cornish coast path myself in my younger years and also felt the pain of long distance walking having ...

I had seen The Salt Path by Raynor Winn in a bookshop in St Ives. It appeared to be a book about her and her husband Moth's journey along the South West Coast Path. This book is so much more than a guidebook or travel log though. Their journey begins when they discover that Moth is terminally ill and then their home is taken away from them. They find themselves penniless and homeless. With no real options before them, they make the brave decision...

A really inspirational memoir of a middle aged couple who lose everything and then discover Moth, the husband is terminally ill. With very little and I mean little money they decide to set off and walk the Salt path from Minehead to Poole. The determination against the greatest odds is unwavering and admirable. Living some days on tea and fudge there are humerous moments and heart breaking one's. This is Gaynor Winn's first book and a complete cr...

I couldn't believe what Ray and Moth went through. My heart ached for them. They seem strong people and their love for each other shone . I hope they are ok and happy still.

Disappointing. Too much self-pity for my liking. A great idea and a good choice for the situation, but i just couldn't identify with the people.

Cannot stop thinking about this book. Beautifully written. Stunning. Deep. Funny. Honest and profoundly makes you think about where your values are. I think I want to walk this path even though it sounds so challenging! Hats off to Raynor for writing this memoir. I could not recommend it highly enough.

I received a free digital copy of this book from the publishers/author via NetGalley in exchange for an honest review.The Salt Path is a non-fiction novel about how Raynor Winn and her husband Moth lose their home and pretty much the entirety of their income and with nowhere to go, decide to start walking the South West Coast Path. This should have been a refreshing but emotional read for me but unfortunately it just completely fell flat for me. ...

Raynor Winn certainly knows how to bring it all to the page and her memoir The Salt Path is the unforgettable tale of her remarkable trek along England's South West Coast Path. That's more than six hundred miles of scenic but at times harsh terrain, at best undulating and often positively mountainous, and frequently interrupted by estuaries and rivers. The Atlantic Ocean can hurl the worst of its weather against this exposed coastline and gives n...

Renoir Win's first book, an autobiography telling us about her trip with her husband Moth after they lost everything they owned, and after discovering that Moth suffers from a degenerative disease that will gradually kill him. The couple decide to take a walk on the southwest coast of England. So their journey is a haven away from thinking about the husband's illness or physical condition. Despite the difficulty of the journey, especially for the...

This was a beautifully honest and moving account of a couple's journey along the South West Coast Path after they lost their home, health and income following a court case. This was a story of love, hope and strength over adversity and so much more than a story of walking 630 miles along the coast path and camping along the way. Raynor Winn addresses the stigma of homelessness, poverty and social exclusion and includes some hard hitting statistic...

Ray and Moth Winn suffered a run of extremely bad luck - Moth was diagnosed with a life-shortening illness days after the Winns lost their home and livelihood as the outcome of a legal battle which they lost. Finding themselves homeless and with very little money, they decided to walk the South West Coast Path, taking along only the bare essentials, including a tent in which they would camp wild, as they did not have enough money to pay for the u...

Part memoir/part travelogue...and a triumph of optimism. Raynor & her husband "Moth" fall off the edge where so many of us teeter. They become homeless, unemployed & face a degenerative health diagnosis in one fell swoop.The low key way in which this couple take this on is told in a laconic fashion as they take on the South West Coast Path, over 600 miles, relying on less than £40 per week arriving in their bank account. Their experience of usin...

this book has a beautiful cover. I vaguely rememberd somebody mentioning the story of this couple, but I didn't know it was a book. I began reading it in the dentist waiting room yesterday, straight after buying it, and this evening I finished it. I should have savoured it but I just kept reading. this true story says so much about humanity and homelessness in the UK. we see The Coastal path from another perspective. I was also heartened by the h...

This is a life affirming, charming book. Ray and Moth lose their home, their farm and the life they knew and loved. At the same time Moth is give a terminal diagnosis. Against all odds they start to walk the South West coastal path. Raynor Winn describes in detail the pain and difficulties experienced during their trek. They literally survived on £48 per week. What I found so shocking was the way many people related to them when they discovered ...

This book brings back some fabulous memories. We currently have done just over half of the path - not wild camping i hasten to add. Ray's account feels very true to what we have experienced. However, the book is more than the walk there is the struggle with an incurable disease and homelessness, together it makes for a great read that should appeal to a wide variety of people - it doesn't matter whether they have set foot on the path or not. I lo...

Given lifeTwo, not actually pensioners, but getting on in age , lost their home through no fault of theirs, they had a tent and sleeping bags and decided to walk through Devon and Cornwall, despite Moth ,the husband being seriously ill, he struggled on ,well they both did, geeing each other on, they made it with a lot of kindness from people, some people thought they were tramps, as they had got so thin on what little food they managed to eat, sa...

I bought it because I saw it recommended at a Waterstone's and I was going to travel to Cornwall. I did not have great expectations because I never before read a book about wandering. But I found it very entertaining, touching in several episodes. It's an adventure. I for some reason expected endless descriptions of the landscape but it's more about life, how to face the approaching death of a loved one, homelessness, the effects of tourism in So...

I really wanted to like this book. The story has the potential to be a life-affirming, heart-warming work and I love walking but I just couldn't get on with the style which, for me, was flat and monotonous and the tale itself was repetitive and overlong in many areas. I felt it needed harsher editing to pare what is a fascinating story down to its core but there was so much repetition that I lost interest. It did pick up a little towards the end ...

I should declare an interest here as my daughter works at Penguin and I've met Raynor and Moth at one of her talks. Despite this, I didn't have great expectations for this book, given that Ray claims the only writing she's ever done before is filling in forms. Bit by bit, though, the book got under my skin. I loved its combination of lightly evocative nature writing and gentle world wisdom. It's also incredibly poignant, but you'll have to read i...

I don't normally respond to a 'hard sell' in shops but something about the sincerity of the Waterstones Newry bookseller made me buy this book, a hard back, harder on my pocket (We normally find our books second hand, borrow them from the library or swap with friends.) Anyhow it is beautiful writing and a book which I am happily passing around my kith and kin. Read it - it could be life changing.

This is the inspirational, and moving, true story of a couple's determination to stay positive in the face of adversity. Faced with homelessness, through what appears to be no real fault of their own, they decide to walk the South West Coastal Path. Raynor, the author, and Moth, her husband, have little money but still manage to find happiness in the little things that happen along the way. They meet a whole array of people, with mixed reactions ...