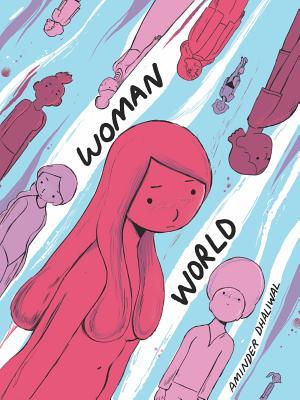 The hilarious and wildly popular instagram comic about a world with no menWith her startling humor, it's no surprise that Aminder Dhaliwal's web comic Woman World has a devoted audience of more than 150,000 readers, updated biweekly with each installment earning an average of 25,000 likes. Now, readers everywhere will delight in the print edition as Dhaliwal seamlessly incorporates feminist philosophical concerns into a series of perfectly-pa...
---
Details Woman World
Title
Woman World
ISBN

9781770463356

Author

Aminder Dhaliwal

Release Date
Sep 11th, 2018
Publisher

Drawn and Quarterly

Genre

Sequential Art

,

Graphic Novels

,

Comics

,

Feminism

,

Lgbt

,

Humor

,

Fiction

,

Graphic Novels Comics

,

Speculative Fiction

,

Comic Book

Rating
Reviews Woman World
Inserts easily. String doesn't leak at all. Wish I could have the same functionality in a more eco-friendly product though

I've always had a hard time inserting tampons and mostly just stick to pads. However I had to go swimming the other day and stopped by the grocery store to pick some up. I picked this brand solely because it had nice art on the packaging. I like that this brand supports women artists!! At the pool, I spent 10 minutes in the bathroom stall trying to get one in, I finally did it but it felt like it was falling out the entire time I was swimming whi...

Wonderful! Just enough absorption without being totally drying, and never leaves me feeling uncomfortable. The applicator is easy to grip. My only criticism is that the wrapping is a tad hard to open but besides that a 10/10!

I do not usually use tampons because I do not find them comfortable, but I can recommend to all of you the eval liberty compresses, I love those as much as I love Woman World although I'm looking forward to trying the menstrual cup

I read this on a whim because it comes in a combo pack with both regular and super absorbencies. I wasn't expecting much from these comics after reading the bad reviews but these actually work great for me so far. I have only tried the regular absorbency in this box so far but they work well and are very comfortable to insert and wear. I also read other comics but those are a little more uncomfortable to insert at times and they do leak a little ...

It feels a bit strange to call a book about the aftermath of the mass extinction of men charming, but there we are. This book is just charming. What's the world like when men have died out? Pretty darn nice thanks for asking!With simple but subtly impactful artwork that stares serious social issues right in the face and makes them not just palatable but downright cute Aminder Dhaliwal delicately draws her way through the lives of a small town of ...

I feel very safe using them, never had a leaking problem. If the package was bigger (and with more tampons), this review would be perfect.

I'm not usually a tampon girl, but I was pleasantly surprised with these! They absorbed super well and I didn't have any leaks—as someone who gets very heavy periods, this is a miracle! I would highly recommend this brand of tampons to everyone, regardless of how heavy your flow is!

Personally, I use pads. Tampons give me headaches. Therefore, I can only conclude that any opinion I would have on that particular blood gather would be extremely (and rightfully) bias.

Very absorbent, very comfortable. Never any leak issues. Never a cause for stress.

It does not feel uncomfortable like the other brands I have tried; it stays in place and does the job. With others, I am paranoic the whole time, checking myself in every reflective surface. However, I feel completely safe with this brand. I can go all day without even remembering the bleeding! I also love that there is a version with applicator; I know some women are fine without them and the environment... but I simply can't but them on without...

I usually keep a couple in my purse at all times for myself or a friend in need. Very low risk of toxic shock syndrome. Also works great for stopping a bloody nose.

I've been following Aminder's comics on Instagram for a while now and I was always impressed with their heart and humour, so I was super excited when I learned they were being collected by my favourite graphic publisher, D+Q. Seeing the full narrative all together, with added colour spreads, made for a great read. Highly recommend for millennial feminists, like myself.

this was definitely a barnes and noble impulse buy. it looked cool, and the pages smelled superb. so what was i to do?it was only okay though. as the title suggests, it's a woman's world. there are no men anymore because they all went extinct through some genetic defect. i found it to be kind of sexist, rather than feminist, if that makes any kind of sense. sure, i'm all for women's power and success and being able to live our best lives but we d...

I was a bit hesitant to try Woman World at first, but the packaging really sold it. The applicator was somewhat environmentally friendly (cardboard, not plastic), and the content was absorbing. Very absorbing. I actually look forward to this comic as it is released periodically. Love your work, Aminder!<3, instaguser001 on instagram.

Would agree with other reviews that the wrapping is very hard to open (spent about 8 min awkwardly sitting in a public bathroom to get one out) but it lasted me all day!! And I managed to get a run in with no problems. Unique artwork on the box cover is a bonus too. Proud to use this brand.

This is honestly so witty and funny, like, man, i wish such a world was real.

I wish I could give this book more stars - loved the series on instagram and love the book even more

I love this so much. Great storyline. Please go read right from the start.

Biodegradable tampon applicator is a real plus. Comfortable. Long wearing. 10/10 would purchase again.

Note: This comic is ongoing. As of writing this review, #1-#87 have been published.This is a humorous take on what a world without men might look like. In this comic, the last generation were all artificially born, and all of them identify as female, meaning that men are now extinct. It's explained vaguely as some sort of genetic disorder, but really, this is not a serious analysis of such a situation by any stretch of the imagination. This comic...

This is a fun collection of comic strips about a world where men have died off for no clear reason — think Children Of Men, where instead of all pregnancy stopping, people just stop having boy babies. The premise reminded me of Y: The Last Man, but the execution isn't at all political or adventure-based: it's post-apocalyptic, and it's largely a group of women in the ruins, just kinda hanging out and trying to figure out how to explain to the ...

This book came to me highly recommended and is definitely worth all of the praise. The book starts off with male extinction and leads into what would happen in the years following the world wide apocalypse that surrounded this event.Women form town/regions "Beyonce's Thighs", history is preserved "that's what she said jokes" and Paul Blart Mall Cop, relationships are formed, ruins explored (Blockbuster), and female/female pregnancy is mastered.Al...

I've been reading this comic on instagram for awhile, so of course I was pumped to get myself a physical copy of the comic. Very funny. Love it. Need to know if you're not familiar with it: Less of a story and more of an exploration of a situation. Character development and evolution of relationships does occur somewhat. Very comic strip-esque. Read if you like.... Sarah Scribbles, post-apocalypse scenarios, comic strips, utopias, social commenta...

I've been following Aminder's comics on Instagram for a while now and I was always impressed with their heart and humour, so I was super excited when I learned they were being collected by my favourite graphic publisher, D+Q. Seeing the full narrative all together, with added colour spreads, made for a great read. Highly recommend for millennial feminists, like myself.

I always keep a few tampons in a drawer at work and take them out randomly for an excuse to spend a while away from my desk. No-one ever asks questions as I'm the only woman there. On the plus side they're good quality and easy to use. Packaging is also attractive so you can carry it around proudly!

I'm not sure if I am the only one who has encountered this problem but I will inform the masses to warn of potential pain. Advertised for their ability to go from compact to full-sized, I was sold on the idea until...it pinched me. Clicks just don't click with me.

Easily the funniest and most intriguing post-apocalyptic humor book about a world without men that I've ever read. Also, the funniest and most intriguing thing to ever include the name "Paul Blart".Twelve stars. Would recommend to anyone who needs a good laugh.

I love the simplicity of their design and packaging and the accessibility to their product. I have made my girlfriends transfer to this brand from other inferior, less entertaining brands. We love how they appeal to a wide demographic (even men without sticks up their a**es can use them). This is also the only brand of which you can insert a new one only twice a week and not die. Period.

Fantastic set of tampons. Would use again.