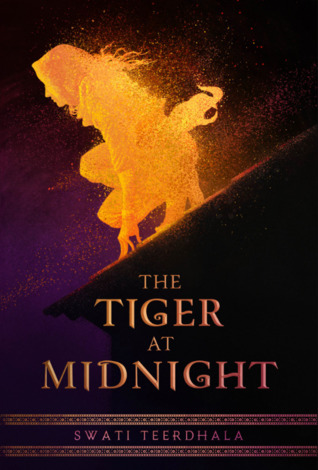 Esha is a legend, but no one knows. It's only in the shadows that she moonlights as the Viper, the rebels' highly skilled assassin. She's devoted her life to avenging what she lost in the royal coup, and now she's been tasked with her most important mission to date: taking down the ruthless General Hotha.Kunal has been a soldier since childhood, training morning and night to uphold the power of King Vardaan. His uncle, the general, has en...
---
Details The Tiger at Midnight (The Tiger at Midnight Trilogy, #1)
Title
The Tiger at Midnight (The Tiger at Midnight Trilogy, #1)
ISBN

9780062869210

Author

Swati Teerdhala

Release Date
Apr 23rd, 2019
Publisher

Katherine Tegen Books

Language

English

Genre

Fantasy

,

Young Adult

,

Young Adult Fantasy

,

Romance

,

Mythology

,

Fiction

,

High Fantasy

,

Adventure

,

Science Fiction Fantasy

,

Magic

Rating
Reviews The Tiger at Midnight (The Tiger at Midnight Trilogy, #1)
Sooo I'm a little biased here, because Swati is actually my writing mentor and a lovely person - but I REALLY loved this book (and I would have loved it just as much even if I didn't know her personally)! If you know anything about me, you know I'm a huge fan of the cat and mouse trope - and heated banter. Like please give me all the heated banter forever and ever amen. So with that said, my heart was so giddy over Kunal and Esha! They are my chi...

This book was... ok. Nothing more. Nothing less. It was just ok.I spend the entire time reading just wishing to fully dive into the story and not being able to. This isn't a bad book. There is nothing blatantly wrong with the novel. My issue isn't even a specific issue, but rather a collection of small things that kept accumulating and rubbing me the wrong way.Something that didn't allow me to fully dive into the story was that the book lacked at...

The Tiger At Midnight was…alright. Just. Alright. The writing was in this strange area between good and hmmm. The author did string together some admittedly beautiful descriptions, but there were a few bewildering turns of phrase. I suppose the author was attempting to spin a poetic metaphor of sorts here and there, except what we got was moreso…a haphazard bunch of words slapped together. On top of that, there was the occasional modern term ...

Plot: 3/5 Characters: 3/5 Writing: 4/5The Tiger at Midnight was one of my most anticipated debuts of 2019, however, it sadly fell a bit flat for me. It was just so... average. I felt like I had read it all before.Let's start with the positives. The world building was excellently done and I loved finding out more about the different places. The imagery of sprawling rainforests contrasted with bustling cities was a delight to the senses.The book wa...

To put into perspective:I started this book around 1 am. I finished at 6 am and am up writing this review (full one to come closer to publication) because I just cannot stop gushing about it. Definitely add this one to your TBR's, fantasy lovers!The Tiger at Midnight immediately caught my attention with its gorgeous cover. Before I knew it, the writing sucked me in, and after I got to meet the characters, I was thoroughly ensnared in its pages. T...

weeeeOOOWWWW i'm so glad I have this on preorder (and it's coming on Tuesday!!!) because that was amazing??? 1) actually good romantic tension gimme gimme2) lush worlds!!! so much!!!3) if you've seen pictures of the hardcover, it's got this GORGEOUS super shiny gold spine that makes me swoooooon. *grabby hands*

Coming in at almost five hundred pages in my physical ARC, I thought this would be a book I'd have to chip away at for a day or two. But THE TIGER AT MIDNIGHT was such an easy read and I devoured it in only a few hours. That said, I'm not entirely sure this is a fantasy that's going to stick with me. Also arg another trilogy I'm going to have to keep track of amongst all the other things I read.. #bookishproblemsAnyway, I was drawn to this story ...

Three words: Overhyped and unoriginal (which describes 90% of the YA fantasies released this year to be honest)

Check out more reviews @ Perspective of a Writer...The BuzzI heard nothing about The Tiger at Midnight! I've not even seen reviews of it... I hope my review can spur on some buzz... because it totally deserves the attention!!My ExperienceIt was quite easy to be pulled into the war torn world of The Tiger at Midnight. The opening scene is delightful and gives you a real taste of what is to come... because its flirting, sparring, one upping and eve...

The Tiger at the Midnight (title which you'll only understand its meaning at the very end of the book) is an Indian Mythology inspired story about two enemy kingdoms but is a character-driven plot. Meet Esha, a girl which happens to be also the Viper: a lethal, legendary assassin. Esha is a morally grey character that works for a greater purpose. Then, meet our hero, Kunal, a soldier which happens to be the nephew of Esha's new target. Kunal and ...

I am SO excited to share THE TIGER AT MIDNIGHT with you all in just a few months! Keep an eye out here for more regular updates. ;)A little Author's Note: Whenever I'd go to India to visit my grandparents as a child, they'd tell me tales from our Hindu mythology – of honorable warriors and strong queens, star-crossed romances and epic battles. These stories fueled my imagination and showed me that there was rarely pure good or evil in the world...

A deliciously twisty cat-and-mouse story that had me racing through the pages. I love stories that challenge their protagonists' beliefs, and both Esha and Kunal face complex, heart-breaking decisions in their journey to discover both themselves and each other.

5 STARS "A truce. No killing you in your sleep, soldier. You let me live and I did the same. Now catch me if you can." PLOT - 5WRITING STYLE - 5CHARACTERS - 5ROMANCE - 5 (I would have swooned more if the male protagonist had been more... alpha. But I still think it's a great romance so I'm giving it a 5.)UNPUTDOWNABLE LEVEL - 5This is one of those books I'm sure majority of my YA-fantasy-lover friends will love! I have a feeling this is going...

2.5 starsHave no idea what's happening to me, I don't seem to get lost in any story these days. This one started so well - like a mix between Legend and An Ember in the Ashes. But my enthusiasm did not last long. Silly mistakes, convenient coincidences, strange decisions, characters switching sides just because they fall for each other.. I did like the overal story, the idea behind it, but not the actual execution. It could have been polished...

THE TIGER AT MIDNIGHT is without a doubt one of the best fantasy books I have ever read. Get ready to fall in love with Kunal, Esha, and a lush world as beautiful as it is dangerous. Swati's prose will have you laughing and crying and swooning, often in the same scene, and these characters stay wih long after you turn the page. 2019 can't come soon enough!

ARC provided by the publisher in exchange for an honest review. 3.5/5 stars"Never greet a tiger at midnight, for they are the manifestations of your past misdeeds."Esha is an assassin from Dharka. Kunal is a soldier from Jansa. Dharka and Jansa have been at war for decades after Jansa's murder of its leaders. The absense of those leaders and their magic has caused an imbalance between the two countries. When Esha is tasked with assassinating the ...

THIS BOOK. Morally gray YA fantasy with a cat-and-mouse game, steamy romance, and political intrigue. I neeeed this. 2019 can't come soon enough!

If you love action, epic world building, high tension hate-to-love (I'm dead, this is my ghost), and magic... I'm pretty sure you're going to need this book. Swati's writing is incredible and this debut is one you won't be able to put down. I couldn't!!!

I had hoped that I would end up loving this book the most. That was not the case. At all. Oh. I was expecting so much from this story. I wanted danger and action and epic romance. I got none of those things. This whole book was such a disappointment to me, and that just breaks my heart. I wanted it to be much more.But it was not. At least, not for me. I'm sure others will love this book. But I did not. And I will be sharing all my reasons for not...

Rep: Fantasy Indian setting filled with POC characters; has a minor queer characterThe Tiger at Midnight beautifully plays off two sides of duty against each other, in a setting involving magical bonds to the land, a lost royal and a fragile truce. In the kingdoms of Jansa and Dharka, the royals are links to the earth itself, which depends on an annual sacrifice to keep it bountiful. Since the coup of Jansa by a Dharkan prince and the resulting w...

I received an e-ARC from the Edelweiss in exchange for an honest review. Review can be found on *Milky Way of Books*The Tiger at Midnight is a story of divided kingdoms, conspiracies and a tiny bit of magic. Esha is the Viper, a vigilante of epic proportions who finds herself framed and then hunted by the best of the best soldiers. Kunal is a soldier who after meeting Esha begins questioning his own upbringing, not realizing that both he and Esha...

*Source* Publisher*Genre* Young Adult, Fantasy*Rating* 3.5*Thoughts* "Never greet a tiger at midnight, for they are the manifestations of your past misdeeds"The Tiger at Midnight, by author Swati Teerdhala, is the first installment in the author's Tiger at Midnight trilogy. Drawing inspiration from ancient Indian history and Hindu mythology, Teerdhala creates a fresh, layered world that is vivid and compelling. We see this sitting alongside o...

(Disclaimer: I received this book from Edelweiss. This has not impacted my review which is unbiased and honest.)The Tiger at Midnight is a stunning debut fantasy book that will thrill you, make you scream, and wrench your heart. This dual point of view story takes you into Esha and Kunal's heads as they dream of revenge, righting wrongs, and filling holes in their hearts with grief and retribution. Both Esha and Kunal come to question their roles...