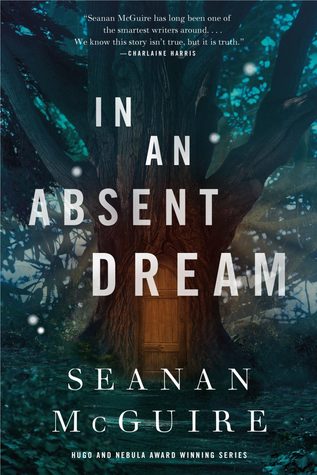 This fourth entry and prequel tells the story of Lundy, a very serious young girl who would rather study and dream than become a respectable housewife and live up to the expectations of the world around her. As well she should.When she finds a doorway to a world founded on logic and reason, riddles and lies, she thinks she's found her paradise. Alas, everything costs at the goblin market, and when her time there is drawing to a close, she makes t...
---
Details In an Absent Dream (Wayward Children, #4)
Title
In an Absent Dream (Wayward Children, #4)
Author

Seanan McGuire

Release Date
Jan 8th, 2019
Publisher

Tor.com

Language

English

Genre

Fantasy

,

Young Adult

,

Fiction

Rating
Reviews In an Absent Dream (Wayward Children, #4)
"What's the Goblin Market?""It is a place where dreamers go when they don't fit in with the dreams their homes think worth dreaming. Doors lead here. Perhaps you found one." When I read Every Heart a Doorway, Down Among the Sticks and Bones, and Beneath the Sugar Sky, I thought I knew what it was to fall completely, utterly, in love with fairy tales. I knew nothing.This is my favourite book yet in this gorgeous series. If I could rate...

ARC provided by Tor in exchange for an honest review.1.) Every Heart a Doorway ★★★★★ 2.) Down Among the Sticks and Bones ★★★★★ 3.) Beneath the Sugar Sky ★★★★★ "Death wasn't fair value for anything…" In An Absent Dream stars Katherine Lundy, the therapist who leads the group sessions in Every Heart a Doorway. She is Eleanor's second in command, and claims to be eighty-years-old, despite only looking aroun...

Wasn't planning on reading it.... yet here we are!This was probably my favorite story/world to explore in this series.I've read a few of McGuire's books (6?) and in all of them I've felt like "something" was missing. They're very atmospheric, the writing is beautiful and the world building is interesting but the stories always feel a bit empty. For example, in this one you totally get a fairytale but better feel but every time any action would ha...

The Lundy who had stepped through the door for her second visit to the Goblin Market would barely have recognized the one who came stumbling through it for her second return to the world of her birth. This Lundy was thin, her arms and legs wiry with new muscle, rendered lean by physical labor and the rigors of questing. This Lundy had bruises on her ribs and a narrow scar down the middle of her back, tracing the outline of her spine, where the Bo...

Rule One : Ask for nothingRule Two : Names have powerRule Three : Always give fair valueBe Sure. Welcome to the Goblin Market

Excuse me while I lay in bed crying for the rest of the night 😭😭

➳ 3 1/2 starsIt would almost feel too cliché to use the title of a book to describe it, but in this case, it's too fitting, too accurate, it too perfectly captures its essence, so as not to. "Rule 1: Ask for nothingRule 2: Names have powerRule 3: Always give fair value" In an Absent Dream takes you on a journey to a whole new world that is curious, and whimsical, and leaves you feeling like you woke up from from a deep slumber with a won...

This review and other non-spoilery reviews can be found @The Book Prescription "Enjoy yourself. There are many good things in the world, and each of them happens for the first time only once, and never again." 🌟 This is the 4th Novella in the Wayward Children series and it is still getting better. I think this is the one that spoke to me most and I will mention why later.🌟 I am so picky when it comes to books and I try to choose books ...

*4.5/5God, I just keep letting these books break my heart.

Emailed publicist asking for an ARC.*no answer*Requested book on NetGalley.*crickets chirping*Gets brand new copy from the library today.HAH!!*immerses self in book; emerges three hours later after reading the whole book in one sitting*Amazing. Stunning. Beautiful. Heartbreaking. I loved it.Full review to come.

In an Absent Dream is so beautifully heartbreaking. it's the tale of a girl who loves rules and logic and reason and loopholes. she loves books and reading and knowledge and dreaming and this world just can't offer that with its very strict ideas of what a little girl should be and then she finds the goblin market and little lundy feels like she's reached homeseanan mcguire gets me EVERYTIME with her incredibly atmospheric writing, descriptions, ...

#1 Every Heart a Doorway ★★★★★#2 Down Among the Sticks and Bones ★★★★★#3 Beneath the Sugar Sky ★★★★★#4 In An Absent Dream ★★★★★ When a very serious little girl finds a magical door in the woods, she decides to leave behind a life of loneliness to go off in search of adventure, never expecting to find a mystical Market on the other side—where anything can happen, as long as you pay your debts. If you know ...

These Wayward children are all pretty damn awesome.It's not hard to love a land built on your heart's wishes, a heavy dichotomy between fantasy and reality, and the rules that go along with it.Lundry, in this one, feels damn important to me. It's almost like I was her. :) Bookish, reliant on rules and in love with Fair Value. She never wanted to game anyone. She only wanted to get by and remain invisible within the rules... and she eventually got...

This is definitely my favourite volume so far of this enchanting series.We follow Katherine Lundy, a girl of (at first) 8 years of age, and experience how the little bookworm doesn't have any friends anymore because her father is her school's principal. She's fine though since she has fictional worlds to escape into. Sounds familiar? Exactly!One day, as with all the wayward children, a door opens. In Katherine's case, it's the door to a...

You can find this review and more at Novel Notions. I received an advanced copy of this book from the publisher in exchange for an honest review. While I appreciate the gift, the giving of it in no way impacted my opinion."Your name is your heart, and you don't give your heart away."In an Absent Dream is heartbreaking in the most beautiful way. McGuire gives us a story that early readers of the Wayward Children series already know ends in t...

My love for this series just keeps growing.This installment is more similar to Down Among the Sticks and Bones than the other two, in that it fills in the backstory for a side character from Eleanor's school. You are immersed in Lundy's childhood and the world of her door. I admit I was disappointed when I heard this book was following Lundy because I she never struck a cord with me, but this book made me love her as much as all the other charact...

Update:I think Seanan wanted to rip my heart out. But it was worth it. :') X(02/09/18Anyone else hoping for like 15 million more of these books (as well as a book about Cora's mermaid world)??? I sure as hell am!!! Gimme!!!

This novella acts, just as books two and three do, as a prequel to the first. It involves Lundy and her trip into a wayward world, very unlike our own. One day, Lundy finds her mind lost inside of a book and her feet leading her into the land of the Goblin Market.I was unsure whether I was going to continue with this series, after being underwhelmed by the third instalment but I am so glad I did as this was the most whimsical and magical series i...

In a story about a girl going to a place named The Goblin Market you probably shouldn't expect something akin to a happy ending. And if you also read some of the other books in this series you know at least that Lundy currently looks 8 but is really somewhere in her 80s. This is her story, about a door she walked through more than once, bargains made and loopholes that didn't turn out as expected. "She had been able to find a doorway and d...

"To be a child is to be a visitor from another world."In In an Absent Dream we follow Lundy, the child psychologist and therapy session guide at the school for wayward children. She looks eternally young despite her wisdom and in this book, we learn her backstory, her doorway world, and how she came to work for Eleanor West. This is a particularly unique story for the series because it follows Lundy and only Lundy unlike other stories which have ...

In an Absent Dream is the latest novella in Seanan McGuire's Wayward Children series. I've read every single novella and this, the fourth, is just like the previous ones fabulous. If you love reading books about children traveling to other realms then you really need to read these novellas. What I love about them is that they are so dark, so horribly cruel and also sometimes so funny. The story shows how children who travel to other worlds and co...

Pre-release and pre-read thoughtsThis has got to be Kade's story. Right? RIGHT?! I was wrong.Wait, I got it! This is Lundy's story. In EHaD Lundy states: "I'll live a long, long time. Longer, maybe, than I would have had I continued aging in the usual way. But they threw me out anyway, because I had broken the rules. I'll never marry, or have a family of my own, and my daughters will never find their way to the door that once led me to the Go...

pure fucking magic[4.5/5 stars]

Lundy was one one of the characters from Every Heart a Doorway and her story was given in summary there. This novella is that story in all its heartbreaking detail.Katherine Lundy is a quiet bookish child who's nature and her parentage (her father is the school principal) stand in the way of friends and much connection to anyone in her world. When the door to the Goblin Market shows up she journeys to a world that suits her nature perfectly. But ...

HOLY MONKEYS! This honestly was the best one yet. I can't do a proper review yet because that would be against the rules (Lundy would be so proud of me!) and I don't wish to anger the great people of Edelweiss. I will however say this one was honestly my favorite one yet. "Be Sure" is the motto for these books and I am sure Lundy's story is my favorite. She is THE MOST LOYAL woman-child ever. I can't wait for y'all to meet Moon. Com...

To be a child is to be a visitor from another world muddling your way through the strange rules of this one, where up is always up, even when it would make more sense for it to be down, or backward, or sideways. Yet children can see the functionality of grief or understand the complexities of a parent's love without hesitating. They find their way through. They deduce.Having really enjoyed the rest of the Wayward Children series, I wasn't as hype...