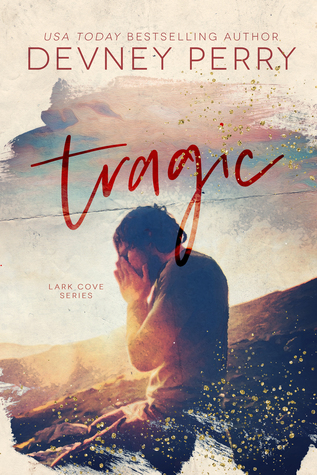 Kaine Reynolds wants nothing more than solitude. After an unthinkable tragedy destroys his family, he's cut off all ties to his former life so he can battle his grief the only way he knows how.Alone. So when Piper Campbell knocks on his door, rambling on about being his new neighbor, he slams the door in her face.But Kaine's gruff demeanor doesn't scare her. She's set on living in Montana and starting over after a terrible divorce. And sh...
---
Details Tragic (Lark Cove, #3)
Title
Tragic (Lark Cove, #3)
Author

Devney Perry

Release Date
Nov 13th, 2018
Publisher

Devney Perry

Language

English

Genre

Romance

,

Contemporary Romance

Rating
Reviews Tragic (Lark Cove, #3)
.This read deserves more than 5 stars! It deserves all the magic stars!I love a wonderful happy ever after and this one is sitting at the top of my favorites list! If ever there was a character, a hero nonetheless, that needed a happy ending it is Kaine. His journey was heartbreaking and gut clinching. I cried over his loss but I sobbed with happiness over his ultimate triumph of a past that had left him broken.My first bit of advice is to go int...

I couldn't put it down! Full rec on USA Today Happy Ever After and interview with Devney on November 12, 2018.

Piper & Kaine are such an amazing couple! Kaine Reynolds ran from his shattered life, he needed an escape from the total devastation that was his world. He found the perfect place for him, his secluded mountain. Piper Campbell ran from her shattered life, she needed an escape from the ultimate betrayal of her husband. She found that in the tranquility of Lark Cove. It's exactly what she needs. Peace, quiet, beauty and a fresh start. What she wa...

5 Magic Stars!Review to come.*ARC provided for a voluntary honest review.

Oh my goodness! Tissues, you will need ALL the tissues for this one! What an absolute roller coaster of emotions! This isn't just a story, it's an emotional journey of pain, heartbreak, love and healing. Kaine and Piper are so perfect for each other and this is by far my favourite book of this series so far. I can't wait to read it again and again.

Tragic is the third book in Devney Perry's Lark Cove series and without a doubt my favorite. It might even be my favorite book of 2018. I'm a huge fan of second chance stories but this isn't a second chance at romance story, it's a second chance at Life story. Like Kaine says "I needed some magic" and Devney definitely give us magic with this book. Piper and Kaine desperately need each other and their story is so tragic it's beautif...

All the stars!! One of my favorite books by this author to date.Full review to come!

Oh this book is so emotionally beautiful. Review to come

Amy's ReviewI had a hard time with this book.  While I really enjoyed the storyline and setting of the book I didn't feel a real connection with the characters.  They were both inside their heads so much it was hard for me to stay focused especially when they would fall into drawn out inner monologues, which happened often.  I needed more conversation and face time between these two.Piper, who we first met in Tattered, was the type of characte...

This is the third book in the Lark Cove Series, and it is an emotional rollercoaster. Kaine Reynolds lives on a mountainside doing his best to keep the world out. He has his cabin, his workshop and enjoys his life of solitude and hard work. Until this whirlwind of a woman, perky enough to make his teeth hurt invades his peace and is moving in next door. Piper moved from New York to get away from the humiliation of a divorce that nearly broke her....

This was one emotional book! I'm not sure where to start. Having met Piper in the first book of this series we've had glimpses of the awesome person she is but we never knew the depth of the pain she was hiding. When Piper moves to Lark Cove to start over we beigin to understand her past but not all. She first sees Kaine and you know that his pain is even closer to the surface and completely debilitating for him. What starts as a hook up of c...

This author is pure magic. She has this amazing ability to hypnotize us with her words and leaves us so entranced and I can't get enough! This story was so beautifully written with such beautiful characters. Sure they have flaws but it's how they over come those flaws that make it such an amazing story. There are so many sweet, cute and swoony moments in this story. I get butterflies in my stomach just thinking about them! This book is amazing an...

Each and every book consumes me, breaks my heart, puts it back together and leaves me speechless, and this one was no exception! Tragic is the PERFECT, PERFECT name for this story. The cover is so stunning, the story grabs onto you from the first page and doesn't let go, and the words are incredible!I loved the references to Jamison Valley, and catching up with familiar characters from the first two books in this series.Kaine and Piper used their...

Love. Love love loved it. I have been in awe of all Devney's books, and this one was no different. I really loved the dynamic between Kaine and Piper. They had a great chemistry and it paired well with one another's characters. They were real, and had real situations that they had been through to bring them to where they were. I can't give away too much, but just know that if you choose to read this you will not be disappointed one little b...

What a good book! Emotional all the way through, but a good story. I was so happy to see Paige and Kaine get their happily ever after. They had so much to overcome to find their way to that happiness.

I was provided an ARC for an honest opinion.

Tragic by Devney Perry"The title says it all, 5 stars"Piper has been burned to the core and she is starting over. When her boss convinces her to move, she can't help but say yes, especially where her ex-husbands face won't be plastered all over for her to see every day. She has no designs for a relationship, but she wouldn't mind a friend with benefits. Only what happens if her new neighbor turns into something so much more?Kaine is con...

Tragic is PERFECTION in the most broken wayWow…. I don't even know where to start. This book…. this book grabs you by the heart in the Prologue and doesn't let you go until the last page. The raw emotions leap from the pages and leave your heart in your throat as these two-broken people heal each other. This is no jump from broken to healed. It is a gut wrenching, heart wrenching journey of two people who thought they were broken beyond r...

Fantastic book. I love all things Devney Perry. The depth of this book blew me away. She is like a Jodi Piccoult book but with a happy ending. She takes these awful events in a characters life and helps them through it and in the end they are happy and healthy and whole. It makes me cry and sigh every time. My favorite part of the books is that she gives a little glimpse into the future of the characters at the end, you can see that things contin...

A fantastic story of loss, hope, love, and friendship. This story will tear apart your heart and then be put back together by the masterful writing of Denver Perry. The author makes you feel the angst and takes you on a roller coaster of a lifetime and teaches about love and hope. A must read!