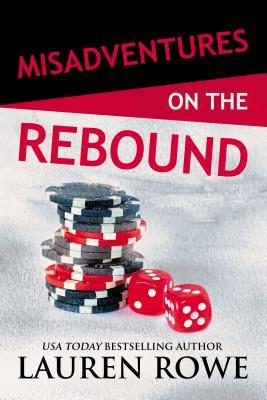 ***MISADVENTURES ARE STANDALONE ROMANCES THAT CAN BE READ IN ANY ORDER***After getting canned from her dream job this morning and played in spectacular fashion by her boyfriend this afternoon, Savannah "Savvy" Valentine is having a truly awful day. Which is why she's currently drowning her sorrows in whiskey and self-pity in a shabby bar along the route to Las Vegas.In light of today's double whammy, Savvy isn't sure why she's still h...
---
Details Misadventures on the Rebound
Title
Misadventures on the Rebound
ISBN

9781642630107

Author

Lauren Rowe

Release Date
Nov 20th, 2018
Publisher

Waterhouse Press

Genre

Romance

,

Contemporary

Rating
Reviews Misadventures on the Rebound
My next Misadventure is coming November 2018!!!You can grab Rebound for $2.99 during pre order and release week ONLY! So grab a copy before the price goes up! Amazon: https://amzn.to/2pKKNWENook: http://bit.ly/2GfSGhTiBooks: https://apple.co/2DYit9VGoogle Play: http://bit.ly/2GhN3zDKobo: http://bit.ly/2GoADSn

OMG, I had so much fun reading this book! Lauren Rowe is absolutely one of my unicorn authors so I'm pretty sure I'd read her shopping list with pleasure as well, and she never lets me me down! Each and every time I open her books with a little voice whispering 'You're going to have the time of your life with this pretty.' And this little voice is always right. Like it was this time too.After a few lines, I was a goner, right up until t...

🍒 🍒 🍒 🍒 🍒 🍒 🍒 🍒 🍒 🍒 🍒 🍒 🍒 🍒 🍒 🍒  🍒   🍒   🍒 🍒   🍒 🍒 I'm on a rebound of swoons!  Seriously my 🍒🍒🍒🍒🍒 cashed into Huge winnings with this book!  Author Lauren Rowe does it again with giving us memorable characters with Aiden & Savvy! Be ready to have your heart swooning with wanting to be with Aiden. He is sex...

I love Lauren Rowe and I love the misadventur series so I was majorly excited to get my hands on Lauren's latest misadventures book and wow, it was totally worth the wait! I loved the story line and how it was different to most story lines I've read recently. I was hooked from chapter one. My fav thing about the book?...the characters! You will not want to put this book down because you will want to know more about the characters, they make t...

I love the Misadventure Series! And I love Lauren Rowe! With that combination, you can't go wrong! This story was great! It had all the feels and left you wishing you'd lost your job, caught your boyfriend cheating, took off to Vegas, and ended the day meeting a hot guy in a dive bar on the way! Just when you think it get get stickier, it does. Love the suspense! You won't regret this purchase!

Lauren Rowe does it again! I'm always learning new phrases and lingo from her too!! This one will stay with me forever, "My give-a-shitter done broke, that's all." EPIC!! Savvy and Aiden are so perfect. I love their love, sexy passion, and the humor!! Aiden turned our inexperienced girl into a freak. Lauren Rowe can write an alpha male. Yasss!

This book is brilliant, a genius story that makes you think that even on your worse and darkest days there is always light at the end of a spiraling tunnel. This book starts off with one huge disappointment after another. And just when the world seems bleak and you're at a loss a sexy stranger comes walking into your life. This book is a road trip and romance like you haven't read before. I laughed so much reading this book but in saying that I f...

Electrisity in book form, that is what this story is. Savvy (can we just take a minute to appreciate that name) and Aiden's chemistry jumps off the pages, and not only in the sack.As usual and much appreciated Lauren Rowe creates a story that is not only HOT in the extreme, but does it by writing dialogue like nobody else. With her distinct voice and rythm she makes you fall in love within the first couple of sentences and the world melts away.An...

Lauren Rowe makes a cute story here. What happens when the rebound boy is the perfect guy up to his armpits in a situation he can't avoid? A sweet, romantic, adventurous, wacky good time with a rockin' heroine who kicks a little butt in the process. And who doesn't love a guy who can rock, both in the bedroom and outside of it?It's classic Rowe with great dialogue and a bit of intrigue. Lots of schmexy goodness, and a little reunion in-your-face ...

My new favorite Misadventure right here! Lauren Rowe knocked this out of the park. Once I started, I couldn't put it down until the end. Savvy is amazing, loved her. And Aiden, wow. Fantastic book, I absolutely loved it!

The thing I love about Misadventures on the Rebound is it's sweet, smart and totally HOT!! I absolutely loved Savvy who isn't savvy and Aiden who isn't ugly. The chemistry between them was off the charts. Fantastic quick read. Favorite saying "My give-a-shitter done broke"

5 Savvy Who Isn't Savvy Stars!!! This is yet another winner from Ms. Rowe. I loved everything about Savvy and Aiden's story. The way the book started I wasn't really sure where she was going with it, but very quickly we find out and let me tell you, Savannah Valentine or Savvy as she prefers to be called, is a woman that has had some bad luck both in love and work. Having said that, Ms. Rowe definitely had me laughing while at the same time...

Road trip to Vegas and loveThere is not one Lauren Rowe book that I have not absolutely loved, and this book is no exception. She weaves a sweet, steamy, sexy, smart, fun story with her unique brand of Lauren speak writing. There is no having to get into the story as you are BAM into the story before the first page has been turned. You are pulled into Savvy and Aiden's world effortlessly and the story flows. These two characters are well defined ...

This book will suck you in and not let you go until the very end. This story takes you through heartbreak, lust, and ultimately love. The couple's adventure makes this book a true page turner. I couldn't put this book down. I found myself not wanting to go to work, just so I could read more about Savvy and Aiden. He is strong, dark, mysterious, and a complete panty-melter. Savvy is the girl that we have all been at some point. She has to find her...

WHITE-HOT CHEMISTRY!Guys!!!!! Lauren Rowe has made me swoon again with Aiden and Savvy's story! I am so in awe of these two! The emotional connection is out of this world! Their physical connection? Well you're just going to have to read the book to find out!!!! Gahhhhhh! This book is definitely a page turner! Clear your schedule for a day, because you will not get anything else done while reading this book!

When this story drops on your Kindle, be prepared to drop everything and read. That's what I did. Misadventures on the Rebound is a funny, smart, and sexy opposites attract story, where the mysterious stranger meets the nerdy girl. Throw in a trip to Vegas, some smart girl quirkiness, and some shenanigans, you are sure to fall in love with this couple and this story.This author has a way with her stories that make you feel happy. This story is no...

Amazing Misadventure story. Aiden and Savvy met in an unexpected way, but couldn't deny the feelings they felt for each other. Neither of them believed they could find love so fast, but didn't ignore the feelings and followed through with them. They have lots of adventures, but find ways to help each other and continue to make their relationship stronger.

This book was awesome! Loved Aiden and Savvy! Savvy who is not savvy and Aiden with the street smarts! It all starts with chicken girl and ends with a porno! Get ready for a great ride to Vegas! Go for the gamble, stay for the love! 5 stars****I was given an ARC in exchange for my honest review.***

5 Fabulous Stars!This book was smart, funny, smokin' hot, and uniquely Lauren Rowe from the corny nicknames to the witty one liners. I read it in one afternoon and loved every second of it from beginning to end. Aiden is the swooniest bad boy with a good heart, and Savvy is the kind of girl you root for unabashedly. I absolutely adored their love and support of each other. Lauren Rowe has knocked it out of the park again!

Another fabulous Misadventure by the wonderfully talented Lauren Rowe which has once again packed a punch with some amazing laughs, some tender lovin & some super sizzling chemistry.Savvy was funny, loveable, smart & determined. Her spirit shone bright, even when life had been shifty to her, she just kept moving forward. Her wild side was infectious & had me laughing & swooning in equal measure at her antics and attitude as her misadventure playe...

Wow this is my favorite of Lauren Rowes Misadventures Book.The stakes are stacked against Aiden and Savvy but that doesn't stop them from gambling on to achieve their goal. These two had instant Chemistry and trust and needed each other for different reasons. Their sex was hot as always with Lauren's book. I love the added musical touch. Thank you for an another amazing story.

I fell in the love with this Rebound!I love a Lauren Rowe book; she has never disappointed me! She always has the perfect combination of humor, heat & heart, & this book is no exception. I laughed out loud on the very first page and throughout the book! Then Aiden & Savvy together added the heat which continued throughout the book & made me hot & bothered! Lastly, the heart - I felt so much emotion for Savvy & Aiden, for their journey & I was roo...

What another little gem created by the indubitably talented Lauren Rowe.Whether it's a full length novel or a short read like this one, Lauren tends to squeeze the utmost out of her characters so that when we finish her story, we can actually say we know these people. We empathise with these people. We love these people.Savannah & Aiden are a blast together. I so adore strong sassy heroines and although Savannah has this somewhat timidity about h...

Wham bam thank you ma'am Lauren's done it again! Every book this lady has written in the Misadventures series has the Midas touch. I just love Lauren's writing style, yes I'm a love monkey, uber fan, star fucker, whatever you want to call me, but no two books are ever the same, and that's how Lauren delivers solid storylines with each new release.You can't help but adore "Savvy Who Isn't Savvy" and "Aiden Who isn't Ugly", they are a winning combi...

Lauren Hits the Jackpot Again!I just finished Misadventures on the Rebound, and it was another amazingly entertaining and sexy read from the awesome Lauren Rowe. Lauren doesn't need to gamble on this book because she has all aces with this story!Synopsis: Savvy meets Aiden after some disappointing life circumstances. Their adventure brings them to Las Vegas where the story takes some twists and turns that will have you staying up late to finish...

Gah! Seriously, Lauren Rowe can do no wrong.Savvy, who isn't savvy and Aiden, who isn't ugly. Dang, what a fantastic read. Savvy loses her job just after she was told about her company being slated for a takeover and with that a potential job promotion. Then she literally finds her boyfriend pledging his love to another woman 2 weeks after pledging his love for her. Now, she is scheduled to drive to Vegas for a high school 5 year class reunio...

Awwww!!! I just finished Misadventures on the Rebound by Lauren Rowe and OMG I LOVED IT SO DAMN MUCH!The perfect story for this cold and rainy weather outside because OH BOY it's getting hot in here! That's all I can say!Savvy and Aiden just got the PERFECT chemistry! It was sooooo good! I enjoyed every step of their way together and the development of their relationship. So... let me swoon for a bit, okay?! Savvy and Ayden.... ♡♡♡♡♡ An...

This book is Outstanding! Aiden and Savvy will have you hooked!Savvy Valentine has been hurt one too many times by the men she cares about. Then she get canned from her job. Now she has no job and no boyfriend. As her world crumbles she decides to go to her high school reunion in Las Vegas. On her drive to Las Vegas Savvy decides to stop at a bar to drink her sorrows away. Savvy never thought she meet a sexy as sin guy named Aiden.Aiden is on his...

I loved loved loved it!! One of my all time favorites!First let me just say... Savvy... so human! Her reaction to what happened with Derek was so genuine that it was totally believable. Finally, a woman that gets so hurt that she allows herself to be vulnerable and weak for a moment and decides to go for it like she just doesn't care anymore no matter the cost. Don't get me wrong, Savvy is an extremely smart & very strong woman, but even stro...

I loved loved loved it!! One of my all time favorites!First let me just say... Savvy... so human! Her reaction to what happened with Derek was so genuine that it was totally believable. Finally, a woman that gets so hurt that she allows herself to be vulnerable and weak for a moment and decides to go for it like she just doesn't care anymore no matter the cost. Don't get me wrong, Savvy is an extremely smart & very strong woman, but even stro...