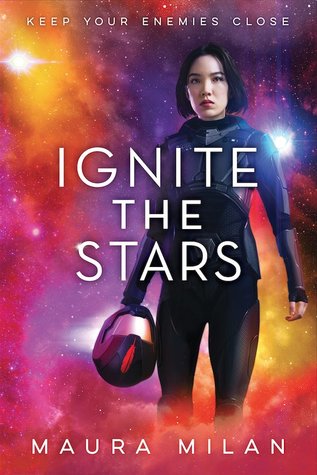 Everyone in the universe knows his name. Everyone in the universe fears him. But no one realizes that notorious outlaw Ia Cocha is a seventeen-year-old girl.A criminal mastermind and unrivaled pilot, Ia has spent her life terrorizing the Olympus Commonwealth, the imperialist nation that destroyed her home. When the Commonwealth captures her and her true identity is exposed, they see Ia's age and talent as an opportunity: by forcing her to serve...
---
Details Ignite the Stars (Ignite the Stars, #1)
Title
Ignite the Stars (Ignite the Stars, #1)
ISBN

9780807536254

Author

Maura Milan

Release Date
Sep 4th, 2018
Publisher

Albert Whitman & Company

Language

English

Genre

Science Fiction

,

Young Adult

Rating
Reviews Ignite the Stars (Ignite the Stars, #1)
*sobs in asian*this was EVERYTHING I expected and more. I love the cover so much, even the vague and general space nebula background behind the model.Ignite the Stars was the manifestation of everything I've wanted in a sci-fi novel: → a badass Asian protagonist→ a found family→ a slow-burn-as-hell romance→ subtle current-day political themesSeriously, Ia is amazing and she knows it.Also, why was this pitched as Throne of Glass in space...

5 STARSI've been rendered speechless from this book. Because WOW.WOW.WOW.WOW.So rarely do books that I hype up in my mind actually live up to the ridiculously high standards I make for them, but Ignite the Stars ignited an explosion and blew me all the way past the stars.Literally. The notes section of my phone for this book looks like this:WHAAAAATAMAZINGLOVE ITSo I was obviously very articulate the minute after reading it. BUT IT WAS JUST SO GO...

Characters were okay, but the writing was wayy too choppy, and I felt like a lot fo stuff didn't make sense? + Annoying scifi cursing 😒 Totally shipped the romance though 😍 RTC!

The full review for Ignite the Stars can be found on my blog, The Quiet Pond.Thoughtful, compelling, and filled with important and relevant themes.Ignite the Stars may be one of the best science-fiction space operas I have read a in long while.- Follows Ia, a criminal mastermind who is captured by her enemy, the Commonwealth, and is forced to work for them; Brinn, a biracial Tawny who wants nothing more than to hide her heritage and prove her pat...

This is the space adventure I've been waiting for! Strong female characters, friendships, slow burn romance and a lots of high stakes missions. YES. Some of the plot threads took me to places I wished for more info on, but it's only because I loved it and wanted more.

4.25 This was super awesome! I admit that maybe it wasn't the most original of plots, but it was an old plot in a new setting that made it seem really fresh and interesting. And it was a fun plot, at any rate. I really liked it. And I TOTALLY get the comparisons to throne of glass because there were some similarities. But even if you didn't love tog, I still recommend this because even though there were some similar things about it, it was ...

I received an ARC from NetGalley in exchange for an honest review.Everyone in the universe knows the outlaw Ia Cocha and fears him. One thing they don't know is that Ia is actually a seventeen year old girl. In reality she is a top notch pilot and a criminal mastermind who has spent her entire life terrorizing the imperalist Commonwealth that destroyed her home. When Ia gets caught by the Commonwealth, they see the truth of her identity as an opp...

Space books are difficult for me, mainly because I'm not that intelligent and so can't really follow along with all the technical space talk, ya get me? But I'm so desperate to love that I keep trying and trying but...I just can't. I absolutely adored The Lunar Chronicles, but most other sci-fi books fall short for me.Sadly, Ignite the Stars is no different. It was okay, it really was. I liked Ia, our criminal mastermind extraordinaire, b...

Even though initially I almost felt like this would be rated lower because the pacing and set-up felt a little clunky, I actually really ended up enjoying myself. It was a fun space adventure (that I could see as a film or tv series with more development)!

ALL THE YES. A diverse, empowering sci-fi that's at once super accessible and also full of deeper issues, Milan expertly weaving heart-pounding action scenes and swoony romance with real-world themes of imperialism and prejudice. The military-academy setting brings those perfect boarding-school vibes and every character sings off the page. Also, LOVE the realistic portrayal of female friendship, complete with all its problems and unique merits. Y...

Babyish. Clumsy. Everyone has a very strange moral compass (kind of 9 year oldish) and the writer has no clue how any social constructs, you know, like polities and the military, actually operate. She hasn't thought everything through. Crappy space opera. Stupid world building. It's one of those books where people drink "caffeine" instead of, you know, coffee or tea. And she has no idea how radiation poisoning from uranium works....I mean...

this book is the embodiment of why I consume fiction. everything was absolutely perfect. this is the best thing I've read in a long time, and just read it okay?? I sat on my bed for an hour afterwards an just stared at my wall and shook my head in complete disbelief. I don't know what else to say

Recently I was riding a space opera high that started with Maria Snyder's Navigating the Stars and needed all the talented-angsty-teen-having-a-spaceship-romance-while-solving-a-mystery plots I could find. I'm thrilled the binge brought me here. Riding that high encouraged me to stick with the book, and for that I'm grateful because Ignite the Stars did not suck me in on page one. It was closer to 20% before we were really feeling it. And now? Ca...

Can we please appreciate the cover first? Because not only do I really like it colour-wise, but there is a POC on the cover. All the thumbs up for that.But now, let's get to the story. Even though I needed quite a long time to get into it, I just read 3/4 of the book in one sitting because… wow. What took me so long in the beginning was that the story is told in three POVs and that each chapter is another character. That made it hard for me t...

You can also read this review on my blog!Guys! This book! 😍 The synopsis immediately grabbed my attention; the cover reveal (Asian model!) made me yearn for this book! So when I saw it on NetGalley, I ignored my looming (physical) TBR and requested the book! It was such a pleasant surprise to know I'd been approved.Thank you, Albert Whitman & Company, for giving me a free, digital copy in exchange for an honest review!I've been looking for...

"Who knew that the great I. A. Cōcha would turn out to be a seventeen-year-old girl?" Ia sighed. "I did. I knew."And seriously how great is Ia?! I am speechless with how incredible Ia is and I can't wait to get more of her, amongst other things.Here's what I loved about Ignite the Stars:1. Characters you can't help but connect with and feel for. Ignite the Stars is told in 3 POV, Ia, Brinn, and Knives. They begin as strangers, some...

Ignite the Stars is a fast-paced sci-fi adventure with strong female characters. If you can suspend disbelief to get past the idea that a 17-year-old girl has been the most wanted criminal/rebel in the universe for several years, then this book is a fun ride, with a side of social commentary on immigrants and refugees. It's a strong and very bingeable debut.Ia Cocha is a "criminal mastermind" and talented pilot who has been hiding both her identi...

A Stellar Debut!Ia is the scourge of the All Black. The Sovereign of Dead Space. Rogue of the Fringe Planets. Blood Wolf of the Skies. And she's only seventeen.But he rampage all comes crashing to a halt when the Olympus Commonwealth's army finally catches up to her. They apprehend her, but instead of throwing her into prison for life, they take a gamble, thinking they can use her youth and skills to help in their fight. So instead of a prison co...

10% in and I knew I was hooked! That doesn't happen near as often as I would like. I'll be the first to say that I am not a big sci-fi YA fan. I can probably count on one hand how many YA sci-fi books I have read and actually enjoyed it. Not my favorite genre, BUT Ignite the Stars is certainly and most definitely the exception and I am so happy that I took the chance. The basic plot honestly reminded me of Divergent in the beginning - a girl is s...

I needed a good ya sci-fi and Ignite the Stars gave it to me! This book is intense and I read it in one sitting. I loved that it was written from three point of views. I'm always wondering in other books what the other characters are thinking beyond what the narrator tells us and this author gives you exactly that. I loved Ia as the main character and the character development is well written. This is a beautiful space opera and I can't wait for ...

"It's better to have you in here working for us instead of out there making alliances with someone worse." Ia os feared by many in the Empire, until she is captured and forced into service to the military academy. Desperate to make an escape, she learns that having and being the enemy is not so clear cut while spending time with them. "War was an awful thing. It left an impression on her cells, soured the blood flowing through her veins,...

Ignite the Stars by Maura MilanAn epic young adult science fiction adventure. Ia is known throughout the galaxies as a rebel, a fighter, an avenger. When she is eventually caught, many are surprised she is a seventeen year old. This begins her new adventure fighting for her freedom, her life and now her friends. She's a loner finding her way. The best thing that happens is encountering Knives and Brina. Those two change her life. Epic. Touching...

Disclaimer: I received this free from the publishers in exchange for an honest review.Ia is a criminal mastermind and an unrivalled pilot. Known by the name Cocha, everyone fears her name – she is known as a force against the Olympus Commonwealth, the imperialist nation that destroyed her home planet. Captured, Ia is forced to work for the same Commonwealth she despises. Trapped in a prestigious military academy Ia plots her escape while also b...

I received an ARC through Edelweiss in exchange for an honest review.In YA, it is not uncommon to have teenage protagonists lead armies, or be the smartest, most dangerous person around by the end of the book. Ia is not one of those protagonists. She is already the most dangerous criminal in the galaxy by the time she turns seventeen, and has been building her reputation for years.I admit that this tested my suspension of disbelief, which sounds ...

**I was provided an ARC of this amazing story from the publisher in exchange for an honest review**Okay, holy crap. I've had to take a couple days after finishing this to form a coherent review.Let me start by saying that SciFi/Space type books are NOT my thing. Well, they weren't my thing...but this book changed my mind.I was sucked in right from the start.Ia is the main character. She is a badass. She is fearless and ruthless and strong. Also, ...