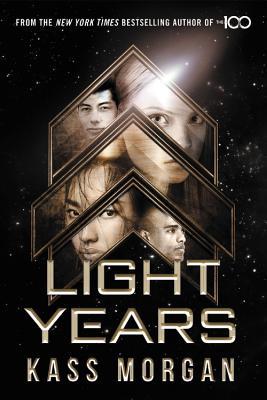 Reeling from the latest attack by a mysterious enemy, the Quatra Fleet Academy is finally admitting students from every planet in the solar system after centuries of exclusivity.Hotshot pilot Vesper, an ambitious Tridian citizen, dreams of becoming a captain - but when she loses her spot to a brilliant, wisecracking boy from the wrong side of the asteroid belt, it makes her question everything she thought she knew. Growing up on the toxic planet ...
---
Details Light Years
Title
Light Years
ISBN

9780316510448

Author

Kass Morgan

Release Date
Oct 9th, 2018
Publisher

Little, Brown Books for Young Readers

Language

English

Genre

Science Fiction

,

Young Adult

Rating
Reviews Light Years
5 Words: TEAMWORK MAKES THE DREAM WORK.Ahem.Actual 5 Words: Friendship, secrets, prejudice, subterfuge, space.Review to come, this isn't out until October, I got a review copy in my May Illumicrate box.BUT Light Years is excellent so go pre-order it. I just can't believe I have to wait so long for the next book.

↠ 4 starsWhen I got an arc of this in an Illumicate box, I 100% looked at the cover and wasn't all that sure about it; I'm not that fond of cover models or faces on books. However, when I picked it up, I discovered it was a really addictive book with good characters and an interesting storyline. To be sure, it's nothing super original or overly special, but it is pretty fun and seemed to be exactly what I wanted to read.Perfect for fans o...

**I received an ARC in exchange for my honest review as a lbyrpartner**4 - 4.5 stars.This was a super quick book to get through but the individual story lines mixed with the overall story were damn good. I cannot wait to read what happens next!FRTC.---------Full review can be found here: https://agingerlyreview.wordpress.com...This is going to be another tough review to write as I greatly enjoyed this story. I enjoyed the setting, the characters,...

An arc of this book was sent to me by Little Brown Young Readers (The NOVL) in exchange for an honest review. All thoughts and opinions are my own.rating: 4 / 5To be honest with you, I probably would not have picked up Light Years if I had not been sent a copy but I was pleasantly surprised with how much I liked this book. So a huge shoutout to the folks over at The NOVL for knowing my book tastes more than I do.— writingSuper fast paced and ea...

I never read The 100, so this was my first experience with this author's writing. I was not let down! Each of her characters (there are 4 main POVs) are well-developed and bring something special to the story. I felt fully invested in each of their lives, which is hard to do with so many main characters.This background for this story is innately political, and I like how this thread was woven throughout the story in big ways. A few elements were ...

ARC received in the Illumicrate book box.3.5 stars, I like the story and it became better towards the end of the book. It is a highschool story set in space. Not my usual type of book but I enjoyed it. Might read the second book, because this one does end on a cliff-hanger.

ARC received in exchange for an honest review – thank you! I really struggled a lot with rating this one. On one hand, we had bland writing and minimal world-building. But on the other, we had a plotline which ended up being surprisingly gripping.The planets of Deva and Chetire are poisonous hellholes, where only the poorest – known as Settlers – live. Meanwhile, Tri is where the real cream of society live, and only Tridians have been permi...

3.5 stars I think!This was a fun, quick read. It is from several character's POV and I def connected more to some than others. Each character was interesting though. I am curious to read the sequel!! I really like the set up at the end of this one. I guess my biggest issue was that some things felt a tad rushed.

Disclaimer: I received an arc of this book from TheNovl/Little Brown Young Readers. Thanks! All opinions are my own.Rating: 5/5Publication Date: October 8th, 2018Genre: YA Sci-FiRecommended Age: 15+ (slightly sexual scenes, romance, violence, death, terrorist  activities and threats)Pages: 374Author WebsiteAmazon LinkSynopsis: Reeling from the latest attack by a mysterious enemy, the Quatra Fleet Academy is finally admitting students from every...

LIGHT YEARS by Kass Morgan is a young adult science fiction novel that does not disappoint. This fast-paced read focuses on four students as they train at The Quatra Fleet Academy. An academy that trains the best young students to become officers in their military. Each planet has sent their best and brightest but because of a new policy that regards Settlers as second class citizens, many are not happy.  Morgan creates a group of charact...

*I would like to thank Netgalley and the publisher for providing me with an eARC in exchange for an honest review*This was a really addictive read and I enjoyed it a lot more than I was expecting to.This novel is set in the Quatra fleet Academy which, due to the impeding danger of attack from the Spectres, are opening their doors to all planets within the Quatra Federation. However, not everyone is happy with this arrangement. In order to stay at...

*Thank you to TheNovl for sending me an early copy to read and review* I'm sad to say that I'm glad this book is over, and not in any kind of good way. This was definitely not the worst book I've ever read but sadly it wasn't anything that absolutely blew me away. I really loved the concept and the sort of boarding school setting and it sounded amazing from the synopsis but it just didn't do it for me.I felt like this story and plot was just no...

Space Battle School is my favourite Si-Fi setting and I expected to enjoy this book.I did not read "The 100", but I watched it and was looking forward to a gripping plot with many dangers and unexpected developments.I have to hand it to the author - she does good premises and interesting characters.There is an underlying threat of a mysterious enemy with unknown motives and origin.There is an imperialistic unfair society where racism is ripe and ...

The second ARC of five which I traded for this month, and I'm very happy I managed to get my hands on it! One thing I've noticed with Kass Morgan is that she writes a better book each time - The 100 series being just such an example of this trend. I remember I gave the first book a three-star rating on my first read, but I reread it just after finishing the first season of the TV series and upgraded it to four on the second go. Then the second an...

I haven't read much sci-fi contemporary YA, but if the rest is anything like this, sign me up! For fans of the amazing Kass Morgan, this series will indulge your space romance dreams. Though that isn't to say there's a lack of action. The novel is sub plot-heavy as you read through the perspectives of four different characters. Each of these characters is fully-fleshed out and intricate. I found myself liking each one for both their flaws a...

I received this advanced reading copy of 'Light Years' in my may Illumicrate box and I just wanted to say how much I loved it. I usually ready fantasy as opposed to SCIFI but was hooked at the 'boarding school in space description'. I loved all the different character perspectives and the characters themselves especially Dash and Arran. This book was so fantastic and refreshing in which it had me hooked from the first page. I just can't believe t...

Enjoyed this a lot more than I thought I would. Not just a space story, but a love story. Interesting characters, looking forward to the next one.

Light Years is a fun and fast-paced young adult sci-fi novel about students training at an elite military academy. The Quatra Fleet Academy trains the best young students to become officers in their military. This is the first year that the academy has opened their enrollment to students from the outer planets of the Quatra Federation, who are known as Settlers. Each planet has sent their best and brightest, but many from the main planet, Tri, ar...

This was a fast paced, exciting read that once I started reading, I couldn't put down. With a great cast of characters and a unexpected ending, I cannot wait to see what comes next.When Quatra Fleet Academy finally begins admitting students from every planet in the solar system after an attack by a mysterious enemy called The Specters, four students, Tridian citizen Vesper who dreams of being a pilot, wisecracking captain Cormack, outsider Arran,...

OOOO I really liked this.At first, I thought the multiple POV's would get annoying and too much for me, but I enjoyed each and every one of them. I think they were all nicely paced, but my favourites probably have to be Cormack/Arran. Followed then by Orelia and Vesper. I liked the cast of all the characters - the mix of different planets and social classes they came from made it very interesting to see them interact, connect, and grow with each ...

De serie van De 100 vond ik geweldig, die heb ik echt in een weekend uitgelezen. Twee jaar geleden als BlossomBooks ambassadeur hadden ze een preview van dit boek, en toen was ik meteen enthousiast. Twee jaar later en het is er eindelijk bijna, en ik mocht het vooruit lezen. Altijd een eer en superleuk!Helaas waren mijn verwachtingen denk ik iets te hoog van dit boek. Voor mijn gevoel zat er vrij weinig actie in, hoewel dat tegen het einde van he...

I did not succumb to the phenomenon of The 100 event with the TV show, but I wanted to find out what the author could do outside of this saga.For the universe, I think we are in something very classical for the genre, a group of planets has been colonized by humans, the mother planet is very rich and the others live in poverty especially since their resources are exhausted. This planetary system is in conflict with another planet and an armada of...

3.5 starsLIGHT YEARS was a very entertaining sci-fi set at a school for upcoming military officers in a solar system. I absolutely adore books set in schools, and I loved this element in LY! In LIGHT YEARS, we get four characters' perspectives, and each character has different things at stake. I really enjoyed seeing each of these characters' points of view. Their voices were distinct and they all came from different backgrounds. I thought the ba...

3.5 / 5 *'s**I want to thank The NOVL for sending me a copy for an honest review!**Let me start by saying that this was a very quick read! Morgan has created a very interesting, futuristic world where we get to watch a Fleet Academy that is opening up it's doors for cadets from other planets. Light Years is a multi-perspective book that will have you get invested in each one of the characters as you go along.Overall, I enjoyed how the book is e...

See this review and more on Books and Ladders!Disclaimer: I received a free copy of this book courtesy of Indigo Teen and chose to read and review it. This in no way impacts my opinion. Actual Rating: 4.5*This was such a good intro to this series! What a cliffhanger ending though. I would have liked more of the training in this one, actually. But I really really liked it.

Perfect for fans of Illuminae Files! I have never read any books by Kass Morgan so I was excited to read this. I usually don't like books with different POVs but the author did it on a way that was easy to transition from one character to the next. Their personalities were also very different so it did not feel like you were reading about the same person. I enjoyed this book a lot and even if you don't normally like Sci-Fi type books, I think you...

Ahh this was so good. I can't believe I'll have to wait so long for the next one, especially with how this one ended. Each character was very well-written, and unique to the point they added they're own piece to the overall story. Arran is my favorite by far, but usually when I read a multi POV book there's a POV I don't like and that was not the case here. I'm really looking forward to the rest of the story

This book was such a treat! I devoured it from start to finish. I'm actually a little surprised by that, because I wasn't the biggest fan of Morgan's The 100 books. While this may not be the most original story ever, I really liked the characters and the setting, and it was very well-paced. It was kind of like reading a cute YA contemporary mixed with some sci-fi action. Now it's going to be such a long wait for the sequel...