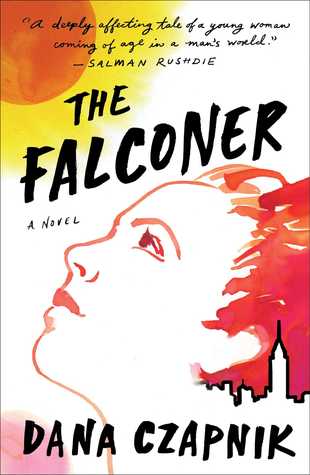 "Coming-of-age in Manhattan may not have been done this brilliantly since Catcher in the Rye. That comparison has been made before, but this time, it's true. Get ready to fall in love." —Kirkus Reviews (starred review)"The Falconer is a novel of huge heart and fierce intelligence. It has restored my faith in pretty much everything." —Ann Patchett, #1 New York Times bestselling author of Commonwealth and co-owner of Parnassus BooksNe...
---
Reviews The Falconer
Lucy is a high school student growing up in New York in 1993. She's a so-called "pizza bagel"—a mix of Jewish and Italian heritage. She's not afraid to speak her mind, even if it's to trash-talk, and she's a talented basketball player, comfortable playing among men and boys—and she knows she's good, too."I'm not just the leading scorer at my school, I'm the leading scorer in the entire league for two years running, which you would think would...

3.5 stars rounded to 4 starsI read an intriguing interview about the author and the making of this book, which led to my requesting it from Net Galley. The author stated this is the book she wanted to read when she was a teen. It is very different from the usual books I pick up.The protagonist is Lucy Adler, a very talented basketball player on the public courts in New York City. The story, set in 1993-1994, is a slice of life focused on Lucy's...

Sometimes a book finds me that I would not have found by myself. That is how The Falconer by Dana Czapnik came into my life--as an unexpected package from the publisher.Reading it was about a seventeen-year-old girl in 1993 New York City whose passion was basketball and who has a crush on her best friend Percy, I wondered if I would care for the book. Sure, there was advance praise from Column McCann, Salmon Rushdie, Chloe Benjamin--but could I r...

An absolutely beautiful coming of age novel set in Manhattan in the mid-90s. Lucy is an amazing protagonist; hopelessly in love with her best friend, an amazing athlete, learning about art, feminism, and the real world, and a character you fall in love with. Your heart will break for her, but you will also cheer on her small victories and the lessons she learns. A fabulous novel, one that will stay with me for a long time. I was sad to leave Lucy...

Beautifully written coming of age tale about a 17 year old girl in early 90s NYC, obsessed with basketball and the unrequited love of her best friend. The praise rolling in from Salman Rushdie, Ann Pathcett and Rivka Galchen is deserved. I wish I'd had this book to give to my daughter in her teens while knowing she might enjoy it even more now, from her later perspective. Positive proof that the oldest stories in the world (e.g. coming of age) ca...

Great young female centered story that takes places in the 1993. Great slice of life, growing up story.

Dana Czapnik has crafted a protagonist who is complex and multi-layered with a combination of heart-wrenching vulnerability and inspiring strength. Her novel draws the reader through the complexity of coming of age and the dirty and messy host of feelings and interpersonal interactions that go along with it. A superb first novel that could not be put down.

The Falconer is a story about a girl growing up in a particular space and time, the Upper West Side of New York City in the early 1990s. Whether or not that place and time speaks to you, the novel is really for anyone whose gone through the pain of growing up and having your illusions slowly, and sometimes all at once, shattered. If you've ever had the experience of discovering that the world is not exactly as you imagine it to be and that life i...

Not a book I would have normally picked up, as it is about a young woman high school basketball player, but I saw the blurbs, gave it a try, and it won me over. I really found myself caring about the protagonist and couldn't wait to see how she grew as a person and what happened to her. Feels like it should become something of a classic. Beautifully written, absorbing, and realistic. And the New York City scenes and the relationships are not clic...

We all have a period in our life, many of us in high school, where we think we've figured the whole thing out. (Or, at least, the part that doesn't include relationships.) We see ourselves apart from the squares (or worse) that "run things" and wish only that they had our clarity of vision, for if they did, the world would be such a better place. "The Falconer," reminiscent of another famous back-pocket book, tells the story of that p...

Every part of The Falconer feels so real and -- though it takes place in the early '90s -- urgent. Lucy Adler is charismatic, engaging, and flawed in the way real people are. Czapnik's New York City is memorable and true. What a debut!

Via my book blog at https://cavebookreviews.blogspot.com/Lucy Adler, better known by her friends as Loose, is a seventeen-year-old student who lives on the Upper West Side of Manhattan in l993. Lucy's love in life is two things, basketball, and Percy, her best friend since childhood. They now attend different private schools but spend most of their free time together, shooting hoops or playing in pick up games in Riverside Park.Lucy is a wild chi...

3.75 stars. Thank you Atria Books for sending me an early reading copy of The Falconer, due out in January 2019. I don't have much in common with the main character, Lucy Adler, a senior at a private high school in NYC who is half Italian and half Jewish (a self-proclaimed pizza bagel) and the best girl street baller in town. Regardless, I could identify with her and her frustration with the limitation society places on women. Some of Lucy's rand...

Very well written book about the difficulties of being a smart, non traditional teenage girl. Set in New York in the 1990s, it captures that time and place beautifully. I kept wanting to either hug or applaud for Lucy and maybe both.

I totally fell in love with this book. Its depth and intelligence is deceptive because it reads so fast and is so much fun. I happen to love basketball, but though there are some basketball scenes, they're there to illustrate the protagonist and her development. Really though, the book is a philosophical meditation on the tough choices we have to make as women. Is loving a selfish guy anti-feminist? Should we be making practical choices in life, ...

*Received an ARC of this from Atria Books*I was pleasantly surprised by this book! My immediate impression was that this was going to be a fiction largely based around a girl playing basketball (sports aren't my thing), but it was so much more than that. I will admit that I glossed over large sections of text where the author gave play-by-plays of basketball games (because like...no thank u), BUT! the focus of the story was less on "girl who play...

When someone first told me about this book I figured I would enjoy it because it was about basketball and I am sports fan. However, I LOVED this book. The sports element is great but the protagonist's journey through a year of high school during the 1990s in NYC brought back so many memories. I grew up around NYC and the imagery and references really reminded me of a different time in my life. It was beautifully written and I highly recommend thi...

---- Disclosure: I received this book for free from Goodreads. ---- I waited a bit to do this review b/c I wanted to be sure of what I had to say. This book had a few good lines here & there, but overall it didn't leave me feeling like I had come across some great thing, which is a shame. It wasn't flat out bad, however. Partly I failed to relate to it b/c there are enough sports references to bore the hell out of me. It'd be a better fit for ga...

Thanks to the publisher for sending me an advance copy for review!Thoroughly enjoyed this well-written, thoughtful coming of age story. Lucy is a kind of "average" New York teenager- not incredibly wealthy, not living in poverty- who loves basketball and (secretly) her best friend Percy. It's her senior year of high school, and she's navigating the minefields of soon-to-be-an-adult relationships, college, basketball, friendships, etc. Set against...

A heartfelt coming of age story!I LOVED this book! Lucy is such a wonderful protagonist! She is so witty and bright. I really fell for her character. I was hopeful for her and at times heartbroken too. I thought the time period and setting of this novel were perfect, NYC in the 90's! This isn't a book I would normally have picked up because I dont typically enjoy stories about teens, but the blurb sounded intriguing and honestly I didnt want this...

The Falconer is an interesting read for women sports participants. I grew up loving sports and playing sports when I could on a farm. If you are a city girl growing up and you played basketball on urban courts get involved in this novel. The feelings of the author about sports can be felt in her writing and the character is very developed to a person I want to know even more about hopefully in future writings. Would have loved even more strong ch...

The Falconer by Dana Czapnik is an excellent debut novel that introduces Lucy Adler, a uniqueprotagonist, who is a seventeen year old senior at Pendleton Academy in Manhatton. The year is 1993 and Lucy struggles with her unrequited love for Percy, a good friend and teammate as well asdealing with other issues most seventeen year old girls encounter. The Falconer is well written, very descriptive, coming of age novel about a resilient, tough femal...

This is a brilliant and authentic coming-of-age story about 17 yr old Lucy, who is lovingly obsessed with basketball and the unrequited love of her best friend who is also tired of being treated like a girl. The story takes place in New York in the 1990s and we see what Lucy goes through surrounding the High School days and the world in general. This isn't a book I would usually pick up however, once I read the first few pages it instantly had ...

I identified with so much Lucy goes through in THE FALCONER: I loved basketball when I was younger; I have a love-frustration-love affair with Manhattan; I recall all too well what it felt like to harbor feelings for a best friend who wouldn't—or couldn't—return my affections in the way my teenage self craved. This is an introspective, thoughtful read, with a gratifying dose of early- to mid-90s NYC nostalgia.

This was the best book I read this year. A beautiful, important, meaningful coming-of-age story set in manhattan will leave you thoughtful and glowing. Not only will I read it again, in sending it to all of my friends. Czapnik will have you captivated from the very first page. Perfect for your next book club pick!

I won this book in a GoodReads giveaway - thank you to everyone involved!!This is a book that revolves around Lucy as she is growing up - has very true to life experiences.

In The Falconer, Dana Czapnik's coming of age story, we find a Jewish-Italian seventeen year old Lucy Adler navigating life. An exceptional basketball player in love with her public courts teammate, Lucy finds herself at once struggling with her feelings and then again finding her voice of reasoning and understanding. Dana Czapnik does a wonderful job of bringing the reader along, sharing Lucy's story in a voice that's articulate and original. Th...

I disliked the first few chapters and would have stopped reading if I had not agreed to read the book and give a review. Then I suddenly developed an interest and it just kept getting better. I'm glad I stuck with it as it turned out to be very good reading.