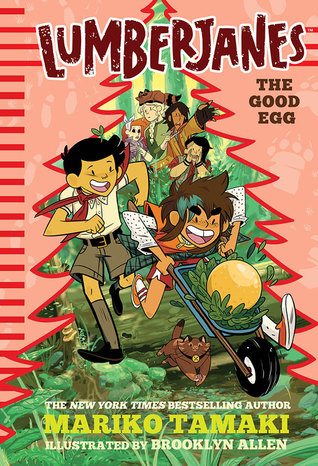 Welcome to Miss Qiunzella Thiskwin Penniquiqul Thistle Crumpet's Camp for Hardcore Lady Types. The five scouts of Roanoke cabin—Jo, April, Molly, Mal, and Ripley—love their summers at camp. They get to hang out with their best friends, earn Lumberjane scout badges, annoy their no-nonsense counselor Jen . . . and go on supernatural adventures. That last one? A pretty normal occurrence at Miss Qiunzella's, where the woods contain endless my...
---
Details Lumberjanes (Lumberjanes #3)
Reviews Lumberjanes (Lumberjanes #3)
Once again I feel like these prose novels somehow read 'younger' than the graphic novel series, but it is a cute and fun story and I definitely think that children in the target age range will really enjoy it. I liked that we got to see more of Barney in this one [I love Barney!], but also it seemed like Mal and Molly were hardly in it at all and I love them too. I didn't pay too much attention in the first two books about which Lumberjane was th...

The Good Egg is probably the strongest instalment of this series to date, but will still hold the most appeal for people who are already familiar with the characters. I would strongly recommend reading some of the comics before you try this middle grade series. Not only does the story carry on directly where The Moon is Up left off, but it also makes reference to some things that only occur in the comics - such as the Bearwoman and Rosie's relati...

I appreciate a little absurd humor in books catering to the reluctant reader crowd, but this one went too far out into left field. I didn't read books 1 and 2, so it's possible I missed something, but a story based on an egg obsession is pretty weak. Doesn't get my brain cells motivated much. This kind of humor does much better in graphic novels, so I can understand the popularity of the GN version. Kids love the idea of summer camp and camping, ...

This one read maybe a touch younger than the previous two, but that felt kind of appropriate given this was the Ripley-centroc book and she's the youngest of the central crew. I really appreciated getting more Barney. It's so lovely to see a genderqueer character written at once so carefully and so casually

Another cute entry into the series. I think it's my least favorite of the three, but it's still very cute and fun.

These books are a great complement to the Lumberjanes comics. I especially liked this one because Riley is best Lumberjane.

Love, love, love the Lumberjanes!

So cute! I loved Ripley and her singing of her little songs in this one!

I have loved all things Lumberjanes and this book did not disappoint.