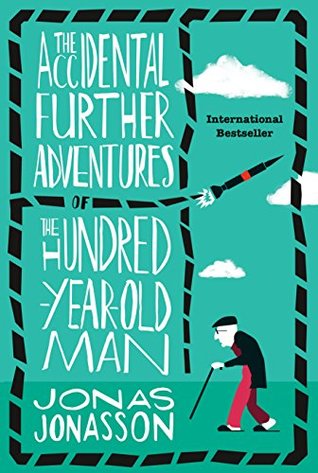 The sequel to Jonas Jonasson's international bestseller The Hundred-Year-Old Man Who Climbed Out of the Window and Disappeared It all begins with a hot air balloon trip and three bottles of champagne. Allan and Julius are ready for some spectacular views, but they're not expecting to land in the sea and be rescued by a North Korean ship, and they could never have imagined that the captain of the ship would be harbouring a suitcase full of co...
---
Details The Accidental Further Adventures of the Hundred-Year-Old Man (The Hundred-Year-Old Man, #2)
Reviews The Accidental Further Adventures of the Hundred-Year-Old Man (The Hundred-Year-Old Man, #2)
The Hundred-Year-Old Man Who Climbed Out of the Window and Disappeared is one of my favourite books ever, it was a laugh a minute, Allan is a fantastic bloke and has the past that we all crave. So when I spotted this sequel I grabbed a copy and started reading right away.In the intro Jonas Jonasson explains that he never planned a sequel but with the way the world seems to be falling apart with crazy political leaders the Hundred-Year-Old Man was...

Once again I have picked up the trail of Allan Karlson, the 100-year old man, who is now 101. A good time to read a diversion, a comedy, a good laugh.Where the first book took a stab at world events in the 20th century, this book looks at recent events. Donald Trump, Kim Jong-un, Vladimir Putin and Angela Merkel are the featured players. This book is a comedy but the retelling of recent world events often made me want to cry.Allan and his buddy J...

This isn't a good book.I loved the original story, setting Allan the one hundred year old man accidentally at odds with a cash-laden criminal whilst looking back over his past. I've also enjoyed other books by the author and would recommend them. Not the case here though.This is just too unbelievable. Allan experiences as many countries and world leaders in what seems like a few weeks, compared with his entire life in the first book. He's 1...

Unfortunately not as good as the first book. Allan is living large in Bali, but running out of money when during his 101st birthday party, his hot air balloon ride does awry, setting him and his buddy on more adventures. Along the way, he meets up with the Supreme Leader of North Korea, President Trump, and the Swedish head of the U.N.'s Security Council about fissionable nuclear material. Pretty funny at times, Allan has amazing chutzpah and cha...

Myslím, že by bylo asi mnohem lepší, kdyby se stařík nevrátil, a už vůbec nezachraňoval svět.

Der Autor stellt dem Buch ein Vorwort voraus, in dem er aussagt, dass eigentlich keine Fortsetzung geplant war. Und dies ist auch notwendig. Leider fehlt es dem Buch an Kontinuität zum ersten Buch. So vergehen zwischen dem 100sten und 101sten Geburtstag 12 Jahre, die Hauptpersonen aus dem ersten Buch werden mit zwei Ausnahmen nicht mehr erwähnt, und auch die persönlichen Beziehungen von Allan Karlsson zu Bali werden unter den Tisch gekehrt.Ung...

3.5 StarsThe Plot was funny in places & much more relatable as Allan & Julius learns how to deal with the 21st Century in the best way possible. I'm so glad Jonas created a sequel, even if he never meant to make one.

Výbroně pokračování, i když na jedničku to nemá...Autor prostě umí svoje a pokračuje v tom, co mu jde - můžete se těšit na skvělý humor a absurdní politické situace. Jen se mi moc nelíbil směr, kterým se změnil Alan Karlsson. Ale to je moje osobní věc.4,5/5*Pro speciální článek koukněte sem.

این کتاب در واقع درددله.نویسنده این بار از وقایع حال حاضر و دنیایی که ابلهان صاحب قدرت(خ*) می سازن[=ویرانتر می کنن] به ستوه اومده، دیگه نتونسته ساکت بشینه و این جوری با نوشتن کمی دلش رو سبک کرده.هر چند در این کتاب تقریبا به هر سیاستمدار و گروه و جماعت نا...

Absurd, satirisch en actueel - een prachtige mixDit vervolg op De 100-jarige man die uit het raam klom en verdween mag ik samen lezen met 74 anderen in de eerste Hebban Leescarrousel. In groepjes bespreken we gedurende een aantal weken 3 thema's die in dit boek voorkomen: humor, actualiteit en 100 jaar.De vertaling is van Corry van Bree. Zij heeft al vele boeken vertaald van Scandinavische schrijvers, waaronder Mariette Lindstein (De Sekte), Jens...

De 100-jarige man is terug. En hoe! Ook in dit deel maakt hij weer allemaal bizarre en komische situaties mee. En alhoewel ik dit boek zo nu en dan iets langdradiger vond dan het eerste deel, heb ik er toch weer volop van genoten.Jonasson heeft een heerlijke schrijfstijl. Hij weet met een vlijmscherpe humor een perfecte persiflage van Trump neer te zetten. En ook de gesprekken van Poetin zie je al helemaal in het echt ook zo gaan. Het boek zit we...

This book was so much fun :) It was really nice to meet Allan and his crazy accidental life story again. He got to meet the world leaders of nowadays and it was done in such a perfect and funny typical Allan way. I was little afraid before reading, since I loved previous book and wasn't really sure how this one will fit all Allan's craziness of life into such a short period of time. But Jonas Jonasson did it geniously, it didn't feel forced at al...

Leider sehr langatmig und wenig interessant...Den ersten Teil des "Hundertjährigen" fand ich noch sehr lustig. Auch wenn das erste Buch gegen Ende doch recht weird wurde und all die Abendteuer/ Erlebnisse des Hundertjährigen bissl zu viel waren...hat mir der erste Teil im Großen und Ganzen gefallen und man konnte lachen. Zu Ernst konnte man die Story ohnehin nicht nehmen. Der zweite war hingegen eine ganze Enttäuschung :( Den alten Wortwitz k...

Stoletý stařík je zpět - o rok starší, ale stejně bláznivý. Tentokrát si bere na paškál současné světové politiky. A opět je to více než trefné.

Disappointed in the sequel, but still worth a read.

Jonas J, despite some bizarre English in the translation from the original Swedish, has pulled off that tricky trick of admirably following up a much loved and globally successful book. His millions of readers and fans of the gentle but intrepid Allen will be appreciative of that. For sure there will folks, me included who say,'It's not quite as good as the original,' but that is a reflection of the near genius of the first wander through the eve...

This one pales in comparison with the original. Stretched out without meaty material at times and the satire too mainstream, so nothing you wouldn't have read or heard in the media already. I really loved the previous book, which perhaps biases my review for this one. Maybe it's a decent stand alone read if you haven't read the previous one. But I'd rather you read that.

Het hele boek is een hilarische opeenvolging van gebeurtenissen als een domino effect.Ik heb het eerste deel (100-jarige man) nog niet gelezen, dus voor mij is het allemaal nieuw en fris. Verder volg ik de (wereld)politiek op de voet. Als gevolg vond ik het boek vanaf bladzijde 1 hilarisch tot op het einde. Al moet ik toegeven "trop is te veel". Het is beter om het boek in stukken te lezen dan te proberen om het in 1 ruk van begin tot einde te ve...

Mon avis en FrançaisMy English review J'avais beaucoup entendu parler du premier tome et si je ne l'ai pas lu, j'étais très curieuse de découvrir cette suite.Allan et Julius profitent de leur argent à Bali. Hélas, quand on le dépense comme ils le font, l'argent vient rapidement à manquer et les problèmes arrivent. Pourtant, ils ne s'attendaient définitivement pas à monter dans une montgolfière pour être repêchés par un na...

This sequel is just not as delightful as the first book was. Allan and his friend Julius take off accidentally in a hot air balloon and eventually land in the sea. They are picked up by a North Korean ship, and through a unusual chain of events, they later acquire a suitcase with stolen uranium. From then on, it's a cat and mouse chase of following, losing, and regaining that uranium and more. Needless to say, they meet world leaders and other ...

This book was just as much fun as the first one. In this book, the 100 year old man is now 101 and running out of money. A hot air balloon, North Korea and enriched uranium set the stage for the book. It's just as funny, even more so, because now you know the characters. President Trump and Angela Merkel play roles in this latest edition of hilarity. At one point, as I was reading in bed, I was laughing so hard my husband came in to see if I was ...

Wat een heerlijk boek! Ik heb me kostelijk vermaakt😁 Het boek is super grappig door de willekeurigheid van de gebeurtenissen die afsteken tegen de serieuze overpeinzingen en boodschap over de hedendaagse politiek. De persiflages/karikaturen van politieke leiders zijn ook fantastisch en to the point.

A Százéves ember... vicces stílusa itt-ott ebben is visszaköszön, de ez a könyv nagyon hasonló sablonból dolgozik, mint az eddigiek, és így elveszíti a frissességét. Összességében szórakoztató, de szerintem nem mérhető az első részhez.

Allan is adorable. I also really liked how the authot included politics and politicians of so many smaller countries, not just the USA in the story

I wanted to love this, but it's too close to the headlines, unless reading nf I want escapism... I read too much news to have to read a single word about trump, humor or not, he is a blight to my soul and avoidance at all costs is more to my liking. dnf, bailed at 60 %. I still love the old man, he is a clever writer but trump ruins any chance of enjoyment for me... Wonder if he will make it to 102?

Okay, i am disappointed with myself for reading the 2nd part first. (i didnt know it had a first part) .I kind off liked the book, not too Humorous but okish funny. .The book had spark..

Unnecessary but amusing sequel, similar in tone and direction.3.5 stars.Allan Karlsson. He delighted many a few years ago with his escapades. We left him settled and ready to enjoy his remaining years with friends. So it was a surprise to see a new title with the former nuclear expert. It didn't feel necessary but a winning formula and fondly-remembered protagonist is never turned away...Well, I felt it covered some old ground, with a suitcase of...

I hate to do this because I loved the first book and many of the author's other books, but this should not have been written. Despite the author's preface explaining its presence, it just doesn't work.The formula for the first book was: Comedy = Tragedy + TimeIt was also a very clever way to guide the reader through 20th century events, whilst containing an absurd, amusing current plot line to carry the story forward.This book is entirely in the ...

Really good readEnjoyed this book immensely. Engaging, silly and the character s were well written and fun. Loved the work leaders appearing throughout although in a few years time this might appear dated.

I really feel that however much Allen was pushing the author to write about his further adventures, I do feel he (the author) should have resisted his blandishments (see Foreword). The Adventures of the old Man etc detailed Allen Petterson's life and it was very funny. To write another book about him requires it to be set entirely in the present. Hence his adventures this time deal with characters who are very much alive and kicking from Kim Il J...