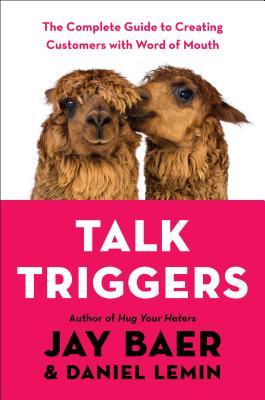 Talk Triggers is the definitive, practical guide on how to use bold operational differentiators to create customer conversations, written by best-selling authors and marketing experts Jay Baer and Daniel Lemin.Word of mouth is directly responsible for 19% of all purchases, and influences as much as 90%. Every human on earth relies on word of mouth to make buying decisions. Yet even today, fewer than 1% of companies have an actual strategy for gen...
---
Details Talk Triggers
| | |
| --- | --- |
| Title | Talk Triggers |
| ISBN | 9780525537274 |
| Author | Jay Baer |
| Release Date | Oct 2nd, 2018 |
| Publisher | Portfolio |
| Genre | Business |
| Rating | |
Reviews Talk Triggers
The main point of this book is that your business's sales will increase if you give your customers a story (a talk trigger) to tell their friends and family. For example, people talk about The Cheesecake Factory 's exhaustive menu and Hilton Double Tree's warm cookies at check in. Give people a story to talk about, and they will market your brand for you.The book outlines what counts as a talk trigger. Then it talks about how to create talk trigg...

There are a lot of good tips in here that can be applied to smaller businesses, however the examples in book are primarily huge chains. Well written and packed in a easy to digest format. I'd recommend for any business owner or brand manager for creating something special that will get talked about, can be repeated, and will last.