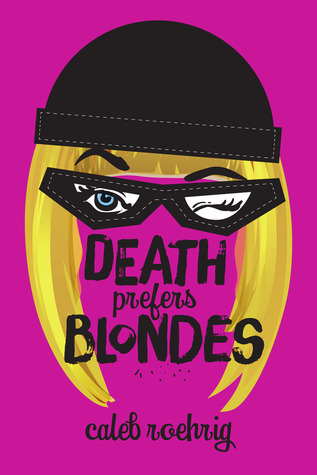 Teenage socialite Margo Manning leads a dangerous double life. By day, she dodges the paparazzi while soaking up California sunshine. By night, however, she dodges security cameras and armed guards, pulling off high-stakes cat burglaries with a team of flamboyant young men. In and out of disguise, she's in all the headlines.But then Margo's personal life takes a sudden, dark turn, and a job to end all jobs lands her crew in deadly peril. Over...
---
Details Death Prefers Blondes
Title
Death Prefers Blondes
ISBN

9781250155825

Author

Caleb Roehrig

Release Date
Jan 29th, 2019
Publisher

Feiwel & Friends

Language

English

Genre

Young Adult

,

Mystery

,

Lgbt

Rating
Reviews Death Prefers Blondes
Rupaul's Drag Race meets Ocean's 8 in Caleb Roehrig's upcoming Death Prefers Blondes . This upcoming YA novel was really fun to read, folks. The non-stop action at times was slightly overwhelming, but overall Death Prefers Blondes is a fun, fast-paced, multidimensional read, that will be perfect for those seeking a light mystery with a little flair. I'm not going to dive into the plot with this review, because I feel like it's best to go in wi...

This review originally appeared on Novel Ink.I received this book for free in exchange for an honest review. This does not affect my opinion of the book or the content of my review.As soon as I saw Death Prefers Blondes being pitched as Ocean's 8 meets RuPaul's Drag Race, I was all in. (Because if there's one thing I love more than queer YA, it's queer YA that ALSO involves drag queens). And, friends, this one did NOT disappoint. Not only...

Oceans 8 meets Hamlet with drag queensDifferent from Caleb's other books but absolutely a WILD ride and a fantastic epic of heists, revenge, and queer teens taking control where there is none to be foundY'ALL ARE NOT READY

A fantastic heist-filled rollercoaster with plenty of tricky plans and family drama. And romance. And world travel. And cool tricks. Caleb Roehrig is really growing as an author, each of his books getting better and better than the last.

Want to see more from me? Check out my youtube channel: https://www.youtube.com/channel/UCfer...*I received a copy of this book from the publisher in exchange for my honest review*Margo Manning lives a double life. By day, she is a teenage socialite with a reputation for trouble. But by night, with the help of four Drag Queens, she pulls off some of the toughest heists imaginable. But, when bad news regarding Margo's personal life comes to light ...

Wow! That was a really fun and wild ride. I am hoping that ending means we might see more of this rag-tag group of teen thieves. Full review to follow. *ARC provided in exchange for an honest review. BLOG | INSTAGRAM |TWITTER | BLOGLOVIN | FRIEND ME ON GOODREADS

FINISHED: 1/24/19Thank you to Macmillan for an advanced reading copy! I was a big fan of Caleb's White Rabbit (I'm still meaning to read Last Seen Leaving), so Death Prefers Blondes was something I've been looking forward to. And, I mean, with a title like that, who isn't intrigued?! This one took a while for me to get immersed in, and I think that's because it's plot driven, whereas Caleb's other novels are debatably character driv...

I need to write a full review, but for now: OMGUpdated Review: Caleb Roehrig's Death Prefers Blondes is a fantastic foray into the world of sophisticated crimes–all committed by teenagers. Margo Manning is well known for who her father is, the CEO of Manning Corporation. But Margo Manning's crimes are well known too–from art theft to jewel heists.While Margo is rich, she has reasons for what she does: namely, Axel, Joaquin, Leif, and Davo...

A fun and funny heist story. Unfortunately, this does get a bit lengthy and the book suffers as a result. I received an ecopy of this through netgalley; however all opinions are my own.

This. Was. So. Exciting. Bored teen socialite Margo gets her bb drag queen friends together to protect her family's company from a literal Bond villain. It's elegant spy fiction for young readers. All the fabulous globe-hopping Margo does, and the book is essentially a love letter to the city of Los Angeles. I want to reread this by pool in an enormous, bejeweled pair of sunglasses!

We'll be discussing this on our next episode of the YA Cafe podcast!

This book has so much heart. The whole cast is BEAUTIFUL and QUEER—I love every single character. AND none of the storylines are about queer pain. He also honors origins of drag & the kickass trans WOC who paved the way. So much care and thought was put into every page of this book and it shows.There's so much action and drama—I never wanted it to end. 😭

I absolutely adored this book! The constant action kept me reading all hours of the day and night. The quirky unique characters were so wonderful and I found myself attached to each one and wanting to get to know them better. While this is a fun read, it has serious issues as well and really endeared me to each of the characters even more. Fabulous read with a great range of diverse characters!

So many stereotypes, so little time. Death Prefers Blondes is yet another promising premise failing to live up to its potential. There are a few things that are great about this book but they aren't enough to lift it out of the morass. Drag queens, socialites, robbery, and revenge should be a winning combination, a fresh twist on a tired genre, but Roehrig fails to deliver. Switching POV from one paragraph to the next is only one of several maj...

Actual Rating 4.5In 2019 and we're finally getting all the heist/thief books we deserve. Death Prefers Blondes is one such heist book and IT IS AMAZING. Maybe you've read Caleb Roehrig before or maybe you're drawn by the fantastic premise and gorgeous gover. Regardless, this book is both quintessentially Roehrig and also different from what he has written before. His previous books are more on the fun end of the spectrum (WHICH IS NOT A BAD...

If Robin Hood Were A Rich Teen Girl With A Crew Of Drag Queens! (TW addiction)This novel is a heist thriller with a murder mystery starring Robin Hood–if Robin Hood were a rich teenage girl with a crew of drag queens. I adored it! Margo Manning is a socialite whose father has more money then a person can spend in a lifetime so naturally she steals from the rich. And I mean she has a full-on operation with a fence, and help with gadgets, and a c...

Combining the basic premise of The Bling Ring, Robin Hood, and local drag culture, Roehrig has written a unique heist novel aimed at the YA market. The book is primarily plot based and is heavy on the action, light on meaningful dialogue and introspection. For those that crave more ninja infused fight scenes that feature characters in colorful wigs and perfectly applied and blended eyeshadow, this book is just for you. I tend to be one of those p...

I received an ARC of this title from the publisher for an honest review.I picked this up from our ARC pile solely because I LOVED this author's first two books. This one is different. It's not bad, I just don't think it's for me. Here's where I admit that FOR ME, this was probably a 2 star book. But I think that's just because I don't care for heist books. I think it's probably a 4 star, so I'm settling on a 3.I'm weird about a few genres: I don'...

Caleb Roehrig has done it again! Actually, this may be my favorite of his works so far.Margo Manning leads a double-life. During the day, she's an LA Socialite, trying to keep the paparazzi off her trail and partying it up. At night, she and her crew of drag queens steal priceless jewels and works of art to sell on the black market. One night, though, Margo and her crew pull a heist that gets them in over their heads with a Russian Mobster. Will ...

Received an ARC from Netgalley for an honest opinion.I will start this review with the fact that I wanted to like this book more. Unfortunately, over plot got in the way. This is yet another book that falls in the "The Plains of Passage" box. The publisher wanted it longer, and the author threw in unnecessary information to make it longer. With this book, it was the personal relationships of the boys, this was not germane to the story at all. Ano...

The tabloids call her Mad Margo, but they don't have the foggiest idea what kind of shenanigans teenage socialite Margo Manning really gets up to. Along with a quartet of butt-kicking drag queens, she pulls off elaborate heists in museums, consulates, and the castles of Russian oligarchs. It turns out all that padding and contouring makes for fabulous disguises, and ballet dancers have serious musculature. But the body blow that changes Margo's l...

Holy crap this book is amazing! I can't handle the book hangover I am currently experiencing. Hamlet meets drag queens who are also incredibly teenage thieves. What more could you want? Roehrig has created amazing characters who you root for the entire time, even when they are doing things that are less than legal. And boy oh boy is this book stormy. I just want someone to look at me the way these characters look at each other. This book is suc...

While it's a little long and the writing style is def geared toward older teens, I just can't not give this book 5 stars.Funny, twisty, fierce, inclusive, action packed, and genuinely interesting, I loved nearly every moment of this book. The characters, though, are the highlight. There wasn't a single character I wasn't interested in, I liked and rooted for each of them, and they all felt REAL.Loved it. Def would rec for adults or grades...

This book is amazing! It you're hooked in by the premise of drag queen heist, you're in for a treat - that delivers everything you want it to and more. But this book also becomes a wonderful, poignant book with deep character development and one of the best ensemble casts I've read in years. So, so much fun.

4.5 Stars. I loved Roehrig's colorful, talented cast of drag queen cat burglars and definitely appreciated the slow building, multi-layered mystery and crime element. But I think for me it was a bit too long. And there wasn't enough of the 4 boys in the story to really get a full grip on their characters. I liked Margo, but really wanted more of Leif and Joaquin!