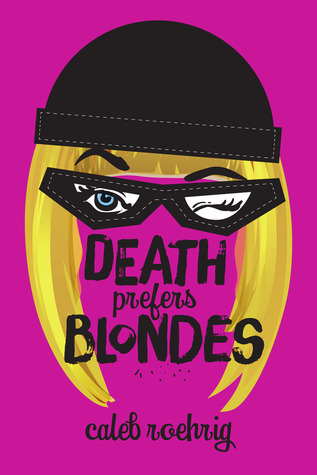 Teenage socialite Margo Manning leads a dangerous double life. By day, she dodges the paparazzi while soaking up California sunshine. By night, however, she dodges security cameras and armed guards, pulling off high-stakes cat burglaries with a team of flamboyant young men. In and out of disguise, she's in all the headlines.But then Margo's personal life takes a sudden, dark turn, and a job to end all jobs lands her crew in deadly peril. Over...
---
Details Death Prefers Blondes
Title
Death Prefers Blondes
ISBN

9781250155825

Author

Caleb Roehrig

Release Date
Jan 29th, 2019
Publisher

Feiwel & Friends

Language

English

Genre

Young Adult

,

Mystery

,

Lgbt

,

Fiction

Rating
Reviews Death Prefers Blondes
Rupaul's Drag Race meets Ocean's 8 in Caleb Roehrig's upcoming Death Prefers Blondes . This upcoming YA novel was really fun to read, folks. The non-stop action at times was slightly overwhelming, but overall Death Prefers Blondes is a fun, fast-paced, multidimensional read, that will be perfect for those seeking a light mystery with a little flair. I'm not going to dive into the plot with this review, because I feel like it's best to go in wi...

This review originally appeared on Novel Ink.I received this book for free in exchange for an honest review. This does not affect my opinion of the book or the content of my review.As soon as I saw Death Prefers Blondes being pitched as Ocean's 8 meets RuPaul's Drag Race, I was all in. (Because if there's one thing I love more than queer YA, it's queer YA that ALSO involves drag queens). And, friends, this one did NOT disappoint. Not only...

Oceans 8 meets Hamlet with drag queensDifferent from Caleb's other books but absolutely a WILD ride and a fantastic epic of heists, revenge, and queer teens taking control where there is none to be foundY'ALL ARE NOT READY

A heist-y book with drag queens, I'm here for it. I liked Margo and her friends. They're smart and fierce af and absolutely loyal to each other. I enjoyed getting their own stories and that everyone had a specific and different reason for participating. And hooray for all of the representation: queer, bi, non-binary, and POC characters. Plot wise, it was a bit of a struggle at first. It took some time to get invested in what was happening, bu...

Want to see more from me? Check out my youtube channel: https://www.youtube.com/channel/UCfer...*I received a copy of this book from the publisher in exchange for my honest review*Video review: https://youtu.be/rNqa0hZSoUUMargo Manning lives a double life. By day, she is a teenage socialite with a reputation for trouble. But by night, with the help of four Drag Queens, she pulls off some of the toughest heists imaginable. But, when bad news regar...

A fantastic heist-filled rollercoaster with plenty of tricky plans and family drama. And romance. And world travel. And cool tricks. Caleb Roehrig is really growing as an author, each of his books getting better and better than the last.

This book is making the rounds right now, and I keep seeing a bunch of the same comparisons. It's a little RuPaul's Drag Race, a little Ocean's 11/8, a little Hamlet, and a little Bling Ring, and I say, YES! to all of it. • Pro: I say this EVERY time I finish a Roehrig book. He does such an amazing job blending a myriad of different story elements. This book was a mystery, but it also had a little romance, a bunch of action, lots of family dram...

Margo Manning is a teenage socialite who acts like Lindsay Lohan by day and James Bond by night. To most people she's just another useless spoiled and entitled rich kid. But what only a select few know is that Margo is also a thief—and a damn good one. She may have started small, just looking for something to distract her from the monotony of her privileged (but somehow dull) life. But now, with help from a small crew of friends—who all hap...

I had positives and negatives about this book (including what I felt was a pretty major plothole), but for the most part, I really enjoyed this and thought it delivered what I was expecting from it.Full (video) review here: http://www.thebookrat.com/2019/02/dea...

So many stereotypes, so little time. Death Prefers Blondes is yet another promising premise failing to live up to its potential. There are a few things that are great about this book but they aren't enough to lift it out of the morass. Drag queens, socialites, robbery, and revenge should be a winning combination, a fresh twist on a tired genre, but Roehrig fails to deliver. Switching POV from one paragraph to the next is only one of several maj...

Modern genderbent Hamlet retelling with heists and drag queens? Yes please.

I've been trying to think of something to say about this for the past week other than just 'it's good, I liked it' but ...it's good ...and I liked it. I mean it's a fun heist book filled with diverse characters, what's not to like? I would definitely recommend it and I can't wait for the next one!

This book is fabulous from start to finish, and it's exactly what I hoped for (and more)! There's a diverse, all-queer cast of characters, all of which have a clearly developed back story, and the plot itself is incredibly well-paced. I was expecting this to be a fun action-packed story (Ocean's 8 meets RuPaul's Drag Race is NOT overselling it, I promise!), but there was plenty of emotional depth as well. I could hardly put it down! I'm really ro...

tl;dr:Unabashedly queer and diverse, full of the importance of found familes, and a little bit about stealing from the rich to give to the poor! Death Prefer Blondes was a hell of a ride! Drag queens, art heists, found families, and of course some drama. The high stakes, and thrilling adventure is reason enough to read, but the exploration of themes of finding yourself within your community and being accepted for who you are and not just who your...

FINISHED: 1/24/19Thank you to Macmillan for an advanced reading copy! I was a big fan of Caleb's White Rabbit (I'm still meaning to read Last Seen Leaving), so Death Prefers Blondes was something I've been looking forward to. And, I mean, with a title like that, who isn't intrigued?! This one took a while for me to get immersed in, and I think that's because it's plot driven, whereas Caleb's other novels are debatably character driv...

If Robin Hood Were A Rich Teen Girl With A Crew Of Drag Queens! (TW addiction)This novel is a heist thriller with a murder mystery starring Robin Hood–if Robin Hood were a rich teenage girl with a crew of drag queens. I adored it! Margo Manning is a socialite whose father has more money then a person can spend in a lifetime so naturally she steals from the rich. And I mean she has a full-on operation with a fence, and help with gadgets, and a c...

Take a feisty socialite heiress, add a handful of drag queens, sprinkle in a bit of jewel thievery, a hefty dose of Ocean's Eleven, a diverse cast, bi and gay romance subplots, and some Hamlet allusions, and you've got yourself DEATH PREFERS BLONDES. The pacing is a touch uneven at times, with a few action sequences seeming to be in a different voice than the rest of the narration, and awkward use of phrases like "the man," "the girl," and the li...

Another win for Caleb. Loved it, the story, the characters, the plans, the twists, EVERYTHING! I love how they were obviously all paired up but I didn't mind it, not one bit. They were all lethal cinnamon rolls and I love them all!

I need to write a full review, but for now: OMGUpdated Review: Caleb Roehrig's Death Prefers Blondes is a fantastic foray into the world of sophisticated crimes–all committed by teenagers. Margo Manning is well known for who her father is, the CEO of Manning Corporation. But Margo Manning's crimes are well known too–from art theft to jewel heists.While Margo is rich, she has reasons for what she does: namely, Axel, Joaquin, Leif, and Davo...

I was immediately hooked at the premise of a heist novel starring teenage drag queens, and it only went up from there. There's love, sex, violence, friendship, redemption, and huge helpings of both snark and bonding. If you're looking for a fast-paced wild ride of a novel--look no further.I received an advance copy from the publisher for review consideration.

A fun and funny heist story. Unfortunately, this does get a bit lengthy and the book suffers as a result. I received an ecopy of this through netgalley; however all opinions are my own.

Caleb Roehrig's third novel is a real rule-breaker in a lot of ways. Not only because it's got a lot of key stylistic differences from his first two books - it's much less murder-oriented, being a heist story; it's told in third-person POVs by an ensemble cast, with the unquestionable main character being a bi girl as opposed to a gay boy like the rest of said ensemble; and in this case, it's a little harder to connect with our cast of characters...

Thank goodness I am finally done with this. If you like heist novels and are okay with not knowing what is happening for the first quarter of the book, you might like this. I had such a hard time connecting to this novel. I did not like the characters at all in the beginning and by the end they were just fine-ish. I am not sure if this is due to the fact that I read an eARC, but we would just switch points of view in the middle of chapters, with ...

Oh my goodness! How much do I love, love, love Margo?!!! She is epic - the sassiest, toughest, smartest, most matial artiest (I know that's not a word) and most adventurous character I've had the pivilege to spend time with in a long time. I also love her "family" - her drag queen gay guys who love the adrenalin-fuelled heists, but who have fully-developed back stories. They are definitely not stock secondary characters, thank God. And, o...

I very rarely read books written by men, but Caleb Roehrig has been a favorite since his first book. I'll read anything by him and probably enjoy it. I more than enjoyed this, I loved it. It was so tense and exciting and fun and emotional. And gay. And diverse. While some of it stretched my suspension of disbelief a little, it was easy enough to ignore because reading about drag queens stealing priceless works of art and jewels and taking down ...