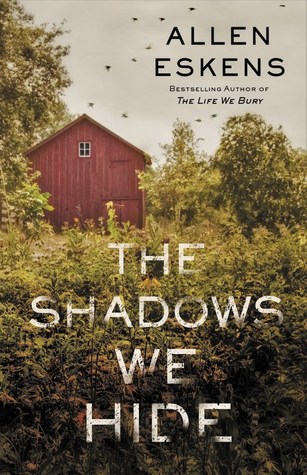 In the highly-anticipated sequel to the national bestseller The Life We Bury, Joe Talbert returns to investigate the murder of the father he never knew, and to reckon with his own family's past.Joe Talbert, Jr. has never once met his namesake. Now out of college, a cub reporter for the Associated Press in Minneapolis, he stumbles across a story describing the murder of a man named Joseph Talbert in a small town in southern Minnesota. Full of curi...
---
Details The Shadows We Hide
Reviews The Shadows We Hide
3 and 1/2 rounded up to a 4 for the ending. I had heard great things about this author, this is the first book that I've read of his. I understand that this is a follow up to "The Life We Bury" in which many of the main characters were introduced. Perhaps it would have been better to read that book first but at any rate here is what I thought.Joe Talbert has his first "real" job after college working for the Associated Press and has bee...

This sequel to The Life We Buried deals with Joe Tolbert, now a reporter facing a libel lawsuit, who all of a sudden is dealing with all sorts of "family issues". His never known father is the victim of a homicide, his meth head mother is trying to get back into his life and he possibly has a half sister. He's facing a lot of issues, but can I say I didn't initially find him a sympathetic character? He takes advantage of his girlfriend an...

There is something I just love about a book written years apart from the first that brings back the same characters - it's that nostalgic feeling of coming home. And it's even better when the second story is just as good (if not better) than the first! I know in this series, Eskens has 3 books between The Life We Bury and The Shadows We Hide but this is the first to feature Joe Tolbert as the main character again. In TLWB, I loved getting to ...

A solid 4.5 stars.I received this digital review copy from the publisher through Edelweiss.I am in awe of Allen Eskens's ability to write books with recurring characters who stay true to previous stories and continue to grow. Each book can stand alone but also builds on the story before it.I appreciated that this story is complex and intriguing with great characters, new and old. I love Joe's relationship with his autistic brother Jeremy. I'm not...

4.0 Stars   I absolutely loved this novel. The characters, the mystery and the immersive narrative pulled me in from the first page and held me captive until the very end.It's no secret that I consider Allen Eskens to be my favourite mystery author so I was ecstatic to learn that he was coming out with a new novel this year. I have read and loved all of his previously published novels and can now say that his newest book did not disappoint. Per...

In this sequel to The Life We Bury, journalist Joe Talbert leaves his girlfriend and autistic brother and goes on a hunt to figure out who murdered the father that he was named after, but never knew. Joe is in for way more than he bargained for when he uncovers the many dangerous secrets long buried by the townspeople where his father, Toke Talbert, lived and died. I love the ease of Allen Eskens writing. This is the 4th in his series and they ke...

Love, love, love! In the Shadows We Hide I got to continue to follow the lives of Joe and Lila. I loved the in The Secrets We Keep and this book felt like visiting family. Although Lila doesn't have as big of a storyline this time, Joe has enough activity to keep my mind thinking and heart racing. Between being sued for slander and trying to find the killer of his estranged father Joe barely has time to sleep. Great twists with every chapter. I...

A thoroughly engaging read, THE SHADOWS WE HIDE follows one man's journey for answers. This book does a great job weaving together the past and the present, and the mystery kept me guessing until the end. The characters are believable, the story is compelling, and the resolution is intensely satisfying. A worthy read for anyone looking for more than just a standard mystery novel.Disclosure: I received a free, uncorrected advance copy of this book...

This book is a sequel to The Life We Bury, and follows Joe Talbert on his journey to uncover the father he never knew. After his boss, Allison, shows him the death notice of someone named "Joe Talbert" in the newspaper, Joe decides to go to the small town in Minnesota. His journey is mostly built on curiosity of understanding this man who he believes was his father in a biological sense, but he never knew. However, what Joe discovers is that Joe ...

This was a very good book! The characters were believable and for the most part likable. I thought I had the plot figured out a few times only to be wrong. I have found a new author!