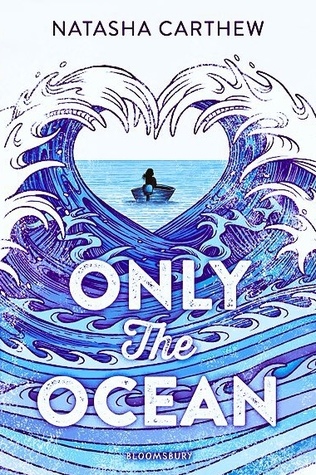 The two girls sat at opposite ends of the boat and Kel dug and stretched the oars into the ocean like her life depended upon it because it did. 'Just so you know,' said Rose, 'everything, I mean everything, is your fault.'15-year-old Kel Crow lives in a water-logged world, with a family with whom she shares nothing but blood and a heart defect that she knows could kill her any day.She has a plan to escape, and it's a good one: stowaway on the shi...
---
Details Only the Ocean
Title
Only the Ocean
Author

Natasha Carthew

Release Date
Nov 1st, 2018
Publisher

Bloomsbury Children's Books

Language

English

Genre

Young Adult

,

Lgbt

,

Fiction

Rating
Reviews Only the Ocean
I admit I've been in a reading slump lately and that may have a lot to do with the fact that I couldn't keep reading this. I got bored and confused. The sentences didn't really make any sense with the lack of commas, and even though this is an arc I think the commas were purposely missing. I'm also not really a fan of this type of writing so it just didn't get to me.Maybe when I'm out of the slump I'll give it another try but for now, I really wa...

I voluntarily read and reviewed an advanced copy of this book. All thoughts and opinions are my own.In a dystopian world filled with water, people have little chance of living a good life. Kel Crow, just fifteen, wants to escape the life she's been living with her family. And there's a plan involved. The pan was easy: kidnap the girl from the ship, and swap her in order to gain passage to America and start a new life. But when things don't go as ...

I received a copy of this book in exchange for an honest review. I found this extremely difficult to read due to the writing style. I'm sure to some it will be wonderfully lyrical to some but unfortunately I just couldn't gel with it. The prose are overly descriptive and because of this I found myself distancing myself from the characters. I had no emotional connections with anyone. The plot itself, if you can wade through the writing, is pre...

Not all bad but very difficult to read. It felt like I'm skimming.... not reading.

Fierce and defiant, you will fall in love with every element of this journey. An incredible piece of art, I can't wait to read more by such a powerful, lyrical writer.

This is one of those books that was advertised on Netgalley as 'Teens and YA', but kept popping up on my Twitter feed as having queer rep. So not knowing much about it or about the author, I requested the book and was approved, thinking that the concept sounded fascinating. But sadly, the book didn't really live up to my expectations.Kel Crow is the book's main character, and the whole story is told from her perspective. She's from the wrong side...

An interesting concept but I struggled with the writing style and that really impacted on my enjoyment of this book. Kel Crow is fifteen , living in a swamp with her family, and the victim of abuse . Her only dream is to flee to America so that she can have an operation on her heart, and in order to make that happen she must kidnap Rose, the daughter of an arms dealer, and trade her for drugs which will fund her travels. In the strange dystopian ...