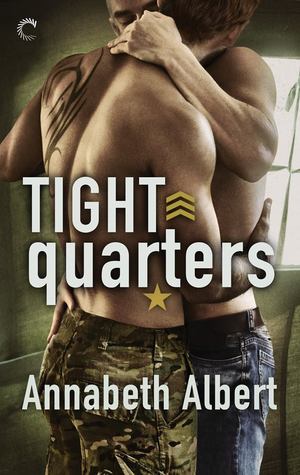 Petty Officer Bacon, a navy SEAL and ace sharpshooter, has been on the front lines of more than his fair share of dangerous ops. Yet when a minor injury relegates him to the beta team, he's tasked with what may be his riskiest assignment yet: the silver fox journalist he's babysitting is the hottest, most charismatic man he's ever encountered.Award-winning journalist Spencer Bryant may have been named one of Pride magazine's most eligible...
---
Details Tight Quarters (Out of Uniform, #6)
Title
Tight Quarters (Out of Uniform, #6)
Author

Annabeth Albert

Release Date
Jul 9th, 2018
Publisher

Carina Press

Language

English

Genre

Romance

,

M M Romance

,

War

,

Military Fiction

,

Contemporary

,

Contemporary Romance

,

Lgbt

,

Glbt

,

Gay

,

M M Contemporary

,

Queer

,

Military Romance

Rating
Reviews Tight Quarters (Out of Uniform, #6)
Stay. Your laughter fills every hole in my soul. Stay in my bed, in my life, in my heart. Stay. A Navy SEAL with deadly precision. A journalist who lives for the story.When desires collide, no one escapes unscathed. From the first moment, Bacon lays eyes on Spencer, he knows he's in trouble. As an embedded journalist, Spencer becomes Bacon's charge. Bacon wants to be in the thick of the action, but he's stuck babysitting. It's not Spencer's faul...

3.5I haven't read any of the previous books in this series but that didn't spoil my enjoyment here so this can be read as,a standalone.The characters from previous books (I'm guessing) fit perfectly into the story.Spencer Bryant is a successful journalist and is lucky enough to get himself embedded with a Naval Seal Team.He is the ultimate professional and the last thing he's expecting is any kind of involvement with anyone but he hadn't bargaine...

Won't lie, I wanted this ARC simply because I loved the cover😍 I'm gonna be honest, I did overall enjoy this book, but it took me awhile to get into it. There was a lot going on when I started this including book hangovers, so starting books is hard for me when my mind is elsewhere, so I'll blame it on that because honestly Spencer & Bacon are hot. And yes, Bacon is sizzling, I definitely enjoyed him most. This is your normal m/m book wi...

Annabeth Albert keeps the magic going with Tight Quarters, the latest in her Out of Uniform series!I adore Annabeth Albert and everything that she does, so it's really no surprise that I enjoyed the sixth book in her consistently stellar series. What this author does SO right for me is get the perfect mix of desire, angst, heat, and longing with her queer military men, and this book was no different. I LOVED the pansexual Bacon and his painful ba...

5 starsThis one ended being my favorite book in the series. I truly fell in love with these characters. This story felt SO real!I'll admit the slow burn was hard to handle. But we get many details before deployments and during some missions. This author focuses not only on the romance but gives us a lot of action too. We got here some pretty complex characters. Their back stories are great. The MCs are very good at their jobs. Bacon is a sexy and...

Extraño porque no soy fan de los libros de militares, pero sí lo soy de esta serie de Annabeth Albert. Es más, he leído otros libros de la misma autora y no me han gustado tanto como algunos de Out of Uniform.3.5Sin embargo, aunque me ha gustado y me he entretenido, no es uno de mis favoritos. En la historia de amor entre el SEAL y el periodista, con diferencia de edad incluida, me ha faltado desarrollar más simpatía hacia Spencer, el perio...

3.75 Stars!I liked this one. I just didn't love it. For some reason it just didn't hold my attention. But I liked both MCs, which doesn't always happen with my friend Annabeth. The cover was hot. I don't know, I don't have any other real complaints. It just didn't wow me. I am curious about Rooster, hope his book is next. ARC kindly provided by NetGalley in exchange for an honest review

Another great addition to this amazing series about military men! I have to admit, it was a relief to read this book and absolutely love it, because I wasn't impressed by the previous one. "Tight Quarters" takes us back to what we are used to from this series; it's realistic, well developed and has believable, perfectly flawed characters.Bacon - no, I'm not going to tell you his name - and Spencer met while Spencer was embeded with Bacon's team a...

Sorry Ben and Maddox but I'm afraid top spot in my favourite Out of Uniform couple's contest has just been taken over by Bacon and Spencer. Wes and Dustin had tried but you guys had beat them off until now because this story is perfection. It has every thing in it that has become a hallmark of this military series; accuracy, honesty, two MCs who are each brilliantly drawn and brought to life, and a romance which digs deep into what makes us human...

Tight Quarters by Annabeth Albert is an excellent addition to the Out of Uniform Series.-Age gap-Hurt/Comfort/Healing-Navy SEAL falls for a reporter looking to write a story about the military-Scorching hot chemistry-Action but not so much of it overtakes the romance part of the story.-Communication. No childish miscommunication here. These guys care and respect each other.-Strong relationship development. -The end was sweet and believable. Books...

This is another Out of Uniform that is kind of middle of the road for me. To mix up my reasoning, though, this time I felt the plot/conflict was the least interesting, whereas I actually bought the relationship conflict. I'll admit to loving Bacon more than Spencer (even though I loved the people that made up his life a lot, whereas I found the introduction of Bacon's mum as a character kind of pointless) but I enjoyed the dynamic of their relati...

4 stars. Tight Quarters is the sixth book in the Out of Uniform series and they all feature a different couple but can be read as a standalone. I've read and enjoyed all of them and I don't know how Annabeth does it but she keeps the books interesting for me to keep coming back. Full review to come closer to release date. An arc was provided in exchange for an honest review.

Told from Navy SEAL and sharpshooter, Petty Officer Bacon, and silver fox, award-winning journalist, Spencer Bryant's, POVs Tight Quarters is hands down my favorite story in the Out of Uniform series. I loved the way their relationship progressed, I loved their chemistry, I loved their age gap didn't affect their relationship at all, I even loved the little bit of angst that got worked through dealing with Spencer's job possibly impacting Bacon's...

I've really liked all of the other books in this series except for book two with whiny, snively, Eeyore (otherwise known as Apollo). I think though that this one just jumped in to my most disliked of the series. I was annoyed straight out of the gate with the constant talk at the beginning about Spencer being "old" and "aging". FFS he was 43 not 73! Then after about 20% the age difference was never mentioned again and never discussed as an issue ...

I'm gonna be short...A strong story, very well developed characters and journey. A lot of feelings all over the floor.I felt their strong attraction, longing and connection and when it all went down the hurt was ugly.Another great story in this series.Kindly received an arc from the publisher

Playful, sexy, and full of genuine emotion!Tight Quarters is a gritty, sensual, military romance featuring the reliable, confident, skilled Petty Officer Bacon and the mature, principled, successful Spencer Bryant as they learn firsthand the power of attraction and discover a sense of purpose, passion, and fulfillment beyond their careers.The writing is ardent and fluid. The characters are hot-blooded, tenacious, and supportive. And the alluring ...

I am surprised to say that the final quarter of the story really did it for me.I absolutely loved Spencer's first glimpse into his mentor's memoirs and learning that even a hardened journalist with a world renowned career under his belt eventually looks back on his life as being the man who loved his partners (through the decades).This moved me so deeply, that I even forgave Spencer and Bacon's silly quarrel about a book that broke them apart. O...

*3.5 stars*It was hard for me to decide whether to round up or down. I'm a big fan of the series and this author but this book was my least favorite. Not to say that I didn't enjoy it, it just didn't grab my attention as much as the other books.To be more specific, I really liked some parts of the book like:-the slow burn and the first time the characters came together.-the age gap. I'm not always a fan of that but it really worked here. Probably...

Um, yeah. Blasted through this in a couple of days. Greg Boudreaux could read me his shopping list and I'd hang on every word!Review to follow at AudioGals

This latest romance in the Out of Uniform series by Annabeth Albert has a little bit of everything - external and internal conflict, action, steamy sex, and a thoroughly enjoyable and believable romance. Navy SEAL Bacon is on beta team duty due to a recent injury and gets to squire around the handsome, sexy, silver fox journalist Spencer embedded on their latest South Pacific mission. When things go awry, as they so often do, it's up to Bacon to ...

Bacon's story! And honestly? It might be my favorite in the series! I loved the blend of being so military-focused for the first half, and then settling into their private lives as they start to really be together in the second half. This is another great story in the Out of Uniform series. For lovers of military, contemporary romance, of which a couple are definitely age-gap romance as well, I can't recommend this series highly enough! You can t...

my favorite in the series...so far! AAR review to come.

I think this is my favorite of the series so far. The spec ops life seemed so real in this one. There were some really hard things to read about. The relationship felt so adult, so grown-up.4.5 stars (half a star lost because it needs better proofing)

~4.5 StarsBacon is used to being the best sharpshooter on his team and therefore always at the front line but when a minor injury puts him as the liaison of an award-winning journalist, he is not happy. He isn't happy that he is put on baby-sitting duty, He isn't happy that the journalist is there, and he isn't to thrilled about the ill advised attraction he has towards Spencer. Spencer Bryant, an award-winning journalist, made a promise to frien...

I think Annabeth Albert is no longer an auto-buy for me. This is the second or third book of hers that I read recently that I didn't connect to very much. I don't think the quality of her writing has declined but maybe it's too much the same as previous stories in the series or maybe my tastes are changing.

Bacon's SEAL team is still struggling to get into a new dynamic after their explosive technician and their XO are leaving almost at the same time to pursue life in private sector. Now a reporter is embedded with their team, and Bacon is stuck with babysitting duty. If only Spencer Bryant doesn't get under his skin... Tight Quarters is book 6 in Annabeth Albert's Out of Uniform series. I honestly have stopped trying to remember how the characters...

Petty Officer Bacon, a navy SEAL and ace sharpshooter, has been on the front lines of more than his fair share of dangerous ops. Yet when a minor injury relegates him to the beta team, he's tasked with what may be his riskiest assignment yet: the silver fox journalist he's babysitting is the hottest, most charismatic man he's ever encountered.Award-winning journalist Spencer Bryant may have been named one of Pride magazine's most eligible...

I'm in love with Tight Quarters. We have Petty Officer Bacon who was tasked to babysit journalist Spencer Bryant, a task Bacon was not fond of, but he is too professional to fuck it up. Spencer is a silver fox gay man who is confident about himself and his assignment to embed with the Navy SEAL didn't much faze him at all. I admire the way Spencer is so sure of himself and walk with an air of confidence. Bacon and Spencer relationship started fro...