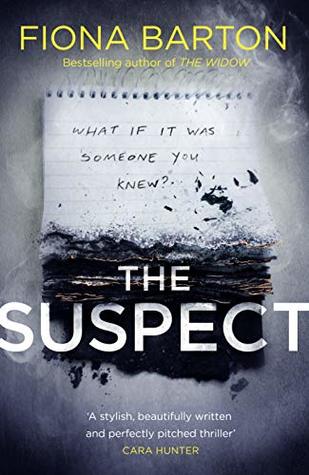 The new must-read standalone crime thriller from the author of Sunday Times bestseller, The Widow, and the Richard & Judy No. 1 bestseller, The Child - featuring unforgettable journalist, Kate Waters.The police belonged to another world – the world they saw on the television or in the papers. Not theirs.When two eighteen-year-old girls go missing on their gap year in Thailand, their families are thrust into the international spotlight: desperat...
---
Details The Suspect (Kate Waters, #3)
Reviews The Suspect (Kate Waters, #3)
3.5 starsARC provided by Berkley. The mystery of 2 missing girls abroad was interesting, especially with a journalist's own son missing as well. Didn't realize this was part of a series, so may have had a higher rating had I gotten 2 other books to connect to these characters.For me, too many reveals happened too early, then 200 pages of nothing that interested me, ending with a quickly wrapped up conclusion and overused convenient monologue. Was...

3.7 Stars* (rounded up) Be Careful What you Get Yourself Into - You May Just Regret It! Kate Waters is a Reporter. Getting the story has always taken priority above all else, including her family. Lesley's daughter Alex went to Thailand for summer vacation a few weeks ago with Rosie, the neighbor's girl. Alex has been saving for the trip for an entire year and has everything planned out. Truth be told, Rosie has no intention of following Alex...

One of my goals this year is to be pickier about the thrillers I read. Not that this is a thriller, despite the publisher's blurb calling it one. But it still reminded me of why I made this a 2019 goal in the first place. This book fell very short of my expectations. The premise is a promising one...kids on a trip to Thailand go missing.... and the setting is well described, but the execution was lacking. Without going into the plot details, as...

4.5 starsReally enjoyed this one and I'm kicking myself for not reading anything by the author before now. Will definitely go back and read her previous novels. This is the third book in the series but can easily be read as a standalone. A little bit of backstory is provided for some of the characters but it enhances the current plot rather than feeling like information overload for those of us who haven't yet read the first two books.Reporter Ka...

The Suspect by Fiona Barton is a 2019 Berkley publication. Two young ladies, casual friends with one another, travel to Thailand together. It was supposed to be the trip of their lives, but once they arrived, things went horribly awry. After failing to contact their families for a while, their parents sound the alarm, bringing the case into the spotlight.Kate is instantly intrigued by the story and pursues it with her usual gusto. She then discov...

3.5*How well does a parent actually know their child. When that "child" turns 18 and goes out into the world do your worries end? Or are they just beginning?Kate Waters is an established reporter. She is used to covering on all the late breaking stories but soon she is going to find herself right in the middle of her next feature.When 2 young women, Alex and Rosie decide to go to Thailand before starting university. Their trip quickly spirals...

3.5, a tedious build up but worth the payoff stars!! Full review featured on my blog Recipe & a Read! Kate Waters is a dedicated, passionate journalist. Always seeking to be first on the story, with the best information. Kate Waters also struggles with her wayward son, who left for Phuket, Thailand two years previous to the story, and calls once or twice a year at most. Alex is finishing up in school, she's young, vibrant and full of a zest for...

4.5 stars! An extremely addictive, twisty and fast-paced journey.Kate Waters, a determined and successful reporter, travels to Thailand to investigate the disappearance of two eighteen-year-old girls from her home town. The girls were on a backpacking trip, with a jam-packed itinerary and plans to be in touch with their parents every couple days. Their parents notified police after several days of not hearing from either girl. This leads to an in...

This was an intriguing story that kept the mama bear in me on the edge of my seat!This is a story guaranteed to make any parent squirm... Leslie and Jenny receive the call that no mother ever wants to receive, they need to head to Thailand to identify their daughters bodies...Being a parent is a tough job, and being the parent of adult children is sometimes even harder... i've read so many reviews that state that they don't know anyone who wo...

What drew me to this book was the premise, young people taking a "gap year" or vacation far from home, in this case Thailand. The world can be a very scary place particularly if you have led a somewhat sheltered life and young people make decisions based on emotions often without thinking far ahead of possible consequences. These girls are quite young, just graduated from high school, to be traveling alone in a dangerous country with no back ...

3.5 Stars! Intriguing premise, short chapters & a suspenseful mystery!Can you enjoy a book even if you don't connect with the way a book is written? Fiona Barton is an author that I always find myself a little excited to read but I wouldn't necessarily say that I enjoy the way she narrates her stories though. I find the narrative a little bit indifferent and challenging but I wouldn't say that it hinders my reading experience all that much ...

Told from the perspective of three different characters, one being posts from one of the dead girls. There was just something about this format that kept me from totally connecting to the story. There were many positives, a reporter who becomes part of the story, a moral quandry pertaining how far one would go to protect her child. One big twist in the story that I didn't see coming. The format though, read more like a documentary, which made it ...

2.5/2.75ish stars rounded up to 3Two eighteen-year-old females (Alex & Rosie) go missing on their gap year in Thailand. When both fail to call home to get their A level results, their parents become concerned and call the authorities. Kate Waters, a journalist, has not seen her son Jake in years. he too went traveling to Thailand. She hears from him from time to time but doesn't really know what he is doing or where he is. When she learns about t...

No one wants to hear that their child has a dark side. Especially when she's dead. Well, or thought to be. It is every parent's nightmare. Eighteen-year-old Alexandra O'Connor (Alex) and Rosie Shaw have been out of touch for a week, and Alex's parents are alarmed. Her A-level results are in, a source of great interest, and stress. She had promised to call and this was not something she would have willingly put off. Not necessarily a huge ...

4 stars to my first Fiona Barton book! ⭐ ⭐ ⭐ ⭐ I've not read the other books in Fiona Barton's Kate Waters series, but The Suspect is billed as a standalone, and it certainly does stand alone. Two eighteen-year-old girls go missing in Thailand, and their families are thrown in front of the press with all their emotions at play. Full of worry and frantic as the time passes by, their parents just want their daughters home. Kate Waters i...

3.5 STARS Two eighteen year old girls traveling alone to an  exotic Thailand destination might mean trouble and it does... I was immediately drawn into the story of these teens- Alex and Rosie, who traveled to Thailand for their "gap" year from college. The parents and one of the girls closest friends had been keeping up with Alex through phone calls and Facebook posts, until they suddenly stopped. I thought the chapters with the posts gave the ...

I absolutely loved The Widow by this author and then she came out with The Child and I liked it well enough. I am disappointed to say that The Suspect, for me, was her weakest offering yet. I didn't find this to be a page-turner at all. It was a slog beginning to end. We have two teenage girls, Alex & Rosie, taking a gap year in Thailand. Alex was supposed to phone her parents on a specific day at a specific time and when the call doesn't come th...

The threads that make up this mystery don't really start to get particularly interesting until about halfway into this novel. We've met reporter Kate in the first two books of this series. She's the only character who tells her story in first person, letting us know that her oldest son dropped out of school two years ago and has barely kept in touch with his family since, obviously leaving Kate, her husband, and her younger son to worry. So...

EXCERPT: She should have been on a beach by now but Rosie wouldn't budge. She was having too good a time to leave. And Alex was too nervous to continue alone. So she carried on writing variations on Alex O'Connor. . . is having the time of her life on her timeline and counted the Likes, the Loves, the funny comments from her friends and passing strangers. They helped bolster the fiction. She kept Alex O'Connor wishes she'd never come to herself....

This was my first book by Fiona Barton and I can see why she has many fans!The Suspect was marketed as a thriller but I think I would lean more towards family drama. I found myself very intrigued at the beginning of the book with finding out what happened with these two eighteen year old girls in Thailand. I don't know about you... but I don't know any parents that would let their teenage daughters travel alone to a place like Thailand. I really ...

The Suspect by Fiona Barton is a thriller with quite a few twist and turns. When two girls on their gap year go missing in Thailand, Kate a reporter starts looking into this.Her son is in Thailand and she sees this case as a way of reconnecting with him. When the girls bodies are found in suspicious circumstances Kate's son is one of the suspects. This is the third book I have read by this author and I have enjoyed them all and I am looking forwa...

This is the third book I've read, and liked, by this author. Each features the journalist Kate Waters, who specializes in ingratiating herself with distressed or grieving parents in order to get a story. In this book, she has two sets of parents to handle when their 18 year old daughters go missing while vacationing in Bangkok. Kate can empathize with the parents, since her own eldest son Jake has been doing volunteer work in Thailand for two y...

Alex and Rosie go travelling to Thailand together, Alex had planned to go with best friend Mags but when she pulled out Rosie persuades Alex to let her go instead, even though secretly Rosie does not want to follow Alex's itinerary. The holiday of a lifetime soon turns sour!!The parents panic when they haven't heard from their daughters in over a week, and they haven't been in touch as planned to find out their A level results. So they cont...

Because of my fear of missing out on everyone thoughts, we read this one with a few of our Friends on Instagram and our Sisters and we had some mixed feeling here among us. We first read and discussed this story in our Instagram group and then we followed the thoughts of our Traveling Sisters as they read it. We really enjoyed seeing a few different thoughts on this story and I have added a few different thoughts from our group members.The Suspec...

"The Suspect" is Fiona Barton's best book yet!She burst onto the scene in early 2016, with her book," The Widow", a book that I enjoyed, but one that did not quite live up to the hype for me. Then in Dec. 2017, her sophomore effort, "The Child" was released, one which I found to be the more satisfying of the two."The Suspect" which will be released on Jan. 22. 2019 reunites journalist Kate Waters. and DI Bob Sparkes, both characters from the prev...

3.5 StarsI'd like to thank Fiona Barton & Berkley Publishing for providing me with a copy of this book. This is the 2nd Fiona Barton novel I've read and I still don't know if I like her books. A couple years ago I read The Widow, it was okay but something was missing. I felt the same way about The Suspect. Something is missing from this story but I don't know what it is. The premise is interesting enough. Two teenage girls go missing while vacati...

Recently, I have found a number of book that have been for lack of a better word mislabeled. The book I have just finished is one of them. Labeled as a thriller, it was more of a family drama, and unfortunately, was not a family drama that I much enjoyed.In The Suspect, we meet a group of adult enablers, parents who have allowed their children to embark onto avenues that are not only fool hardy but dangerous. It is as if if the parents have passe...

Spoiler contains my spin on the book synopsis: (view spoiler)[Seasoned reporter Kate Waters is assigned the story when two 18-year-old girls are reported missing by their parents. But a gap year spent backpacking through Thailand is sure to have episodes of spotty communication with parents. Kate and her tag-along intern plan to get a story out there that will prompt the girls to pick up the phone. Easy, right? But when Kate finds her own name in...

What a great way to ring in the New Year! My first book of the year The Suspect was a win! I read this as a group read with my fellow Traveling Sisters. As a whole everyone really enjoyed it.This was a slow burn for me that increased with intensity which each page. I found that a little before the halfway point I could not put it down. I think one thing that made it so interesting was that you can easily imagine this whole scenario actually happe...

This is the 3rd book in the Kate Waters series by author Fiona Barton and for me they improve as you progress through the books. They can be read as stand-alone novels.Kate Waters is a Reporter who thrives on her work and has always put it number 1 priority sometimes at the detriment of her family. Her latest story is following up a report of two teenage girls who have gone missing while on a holiday in Thailand. One of the girls Alex had everyth...