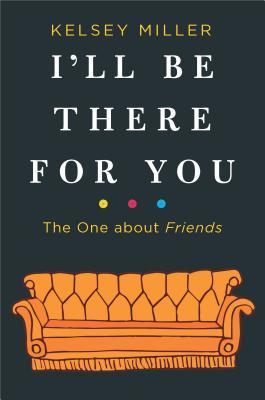 This definitive retrospective of Friends incorporates interviews, history and behind-the-scenes anecdotes to offer a critical analysis of how a sitcom about six twentysomethings changed television foreverWhen Friends debuted in 1994, no one expected it to become a mainstay of NBC's Must See TV lineup, let alone a global phenomenon. In the years since, Friends has gone through many phases of cultural relevancy, from prime-time hit to 90s novelty i...
---
Details I'll Be There for You
Title
I'll Be There for You
ISBN

9781335928283

Author

Kelsey Miller

Release Date
Oct 23rd, 2018
Publisher

Hanover Square Press

Language

English

Genre

Nonfiction

,

Culture

,

Pop Culture

Rating
Reviews I'll Be There for You
I'll Be There for You: The One About Friends by Kelsey Miller is a 2018 Hanover Square publication. So no one told you life was gonna be this wayYour job's a joke, you're brokeYour love life's D.O.AIt's like you're always stuck in second gearWhen it hasn't been your day, your week, your monthOr even your year, butI'll be there for youWhen this book started showing up on my Goodreads feed sometime back in the fall of 2018, I immediately thought ...

Yesterday culminated a hectic week in my life as I celebrated my son's bar mitzvah. In need of a book that did not require much brain power, I was drawn to a new book about the Friends television that I have seen circulating around my goodreads feed. Friends is one of the few television shows that my husband and I watch other than live sports. More than ten years past its last episode air date, the show is still good for a half hour of laughs. ...

"The thing that mattered most about Friends was right there in that simple, one-word, unambiguous title."I watch the complete series of Friends at least once a year. More if a major event or life catastrophe happens. There's something about it I can't quite pinpoint, but it makes me feel calmer, like everything will be okay even if real life is a complete disaster right now. "Some things don't change. Friends is a reminder of that, an...

I wanted to read this book when I first found out about it, but I won't. Why? B/c I LOVE Friends, and having read some of the reviews changed my mind. I don't want some SJW bullshit.My bf and I always say this show couldn't be made today. Why does "diversity" have to be forced all the damn time? Why can't 6 white people be friends without someone bitching about it? There is NOT homophobia. They just bust on Chandler. Doesn't anyone know how to ra...

Thanks to Netgalley and the publisher for providing me with an ARC in exchange for an honest review.I don't read a lot of non-fiction, but I had to request this one. I adore the show FRIENDS! It's one of my favorite shows of all time, and this book really reinforced why I feel that way. It's got a timeless quality and delves into the feelings of what it means to have a framily when your family disappoints.This book doesn't make it all appear to b...

I was quite excited about this one. Mainly because I'm a big Friends fan - when I say I watched the TV show 20 times, I really mean 20 times. At least. Although every time I re-watch it I find something else that's problematic which I haven't noticed the first time. Which is totally fine, because the times back then and right now were so, so different. I also felt like reading some non-fiction so this was perfect timing. So why such low rating? B...

You Should Read This Book If:-You love nostalgia and want to prance down memory lane with people who can drop Friends inside jokes as frequently as you can.-You want a well-researched look at the writing, casting, and those highly-publicized salary negotiations. -You're into pop culture phenomenons. Because Friends definitely is one.Kelsey Miller loves Friends in the way that I do. Soothed by those TBS reruns and able to easily ramble off some ...

This book was SO much fun. It probably helped that I had just finished rewatching every single episode when I picked this gem up. If you're a Friends fan, you'll LOVE this book -- it's nostalgic and funny and insightful and gives a great behind-the-scenes look at both what happened on the show, but also how the time in which it aired impacted its popularity, as well as the mark it left on our culture (and cultures beyond the U.S.). Whether or not...

I'll Be There for You: The One about Friends by Kelsey Miller is a book reflecting on one of the most popular US television shows at turn at of the millennium. Despite promising to delve into the behind-the-scenes making of the show, the book never even addresses basic questions about the show. For example, why is each show titled "The One about BLANK"? There are very few interviews with the support staff involved in the show which limits the boo...

A wonderfully compiled and researched retrospective on the utter cultural phenomenon that was (and remains) the iconic television show Friends . Miller does such an excellent job of stating all that was right with Friends and all that later turned out to have been wrong with it, and weaves it together into the now and present climate.Keeping my own personal tidbits to a minimum, I loved this show and still do. The flaws are sometimes blindingly ...

There wasn't a ton in this that I didn't already know, although there were a few things that either were new-ish to me or were just things I had long suspected and just were confirmed here.(view spoiler)[A couple of notes:-I could tell that the author was someone who fell back into Friends when it debuted on Netflix as opposed to someone who can point out the places where the Netflix episodes are missing the deleted scenes that are included on th...

Super fun book for hardcore Friends fans! Made me nostalgic and wanting to binge watch the series again.

I love Friends. I have watched the entire series as it aired, on DVD, and streaming on Netflix when it had the rights. There are so many iconic moments that still make me laugh. So I was excited to see a book about the show and I quickly bought and read it.Ehhh. There are some insights but nothing that great, given that the show ran for so long. And much of what is there is just retelling. So I would have given it three stars.Unfortunately, the a...

I'm probably a 3.5 on this but I'll round up. I listened to this on audio and really enjoyed it. I watched every episode of Friends when it was out in the 90's and this brought back good memories of a favorite show. I especially loved how she highlighted many of the the show's episodes and themes through today's lens. Very interesting and worth a listen or a read.

Let me give a little heads up that this isn't going to be a review so much as just a bunch of ramblings from a die hard Friends fangirl about her favourite show.Because fun fact about me: there are few things I love more in life than Friends. To try and explain what that show meant to me back when I was a teenager would be impossible, not to mention the fact that when I entered my twenties (the year after the final Friends episode had aired), the...

"How you doin?" Not well. Not well at all. Ugh! I love Friends so I was so excited to be selected to read this (from NetGalley). I wish I hadn't. I figured once I got past the very long-winded, self-serving intro about the author by the author (about how she loved Friends, not about her writing qualifications) that I would get some good tidbits and stories that I hadn't yet heard. Not really. There was nothing new at all. The writing was so dull....

I enjoyed this! I appreciated that the author didn't let the show slide on things (lack of diversity, homophobia), but also viewed the show as a product of its times and didn't hold it up to today's standards. And it also made me reflect on how much we HAVE gotten better, like it mentions "don't ask don't tell" and, wow, that was so liberal at the time!And of course I knew the cast stuck together, all for one and one for all, but that was amazing...

This book was so much fun to read (as an audiobook)!! I loved learning about the show, Friends. The way the cast was chosen, how the show came to be in the first place, and everything that happened during and after the show. I started this after watching Friends for the millionth time.. so now I might start it again ;)

Imprescindible para quienes hemos sido / somos muy fans de «Friends». El libro es un análisis detallado de lo que fue la serie, sus altos y sus bajos, además de muchas curiosidades relacionadas con la producción y el rodaje. Me lo he leído del tirón, así que... no podían ser menos de cinco estrellas.

I'll Be There For You is a reminiscent walk down memory lane, summarising the 10 entertaining years of Friends, from the very beginning (with castings, pilot episodes and anticipation of how it would be received by audiences) to the massive success it became. It's a really informative book because it charts not only Friend's successes but also its various problems, and the way it was lacking in some key areas. I used to absolutely love wat...

2,5/5 * No está mal, pero podría ser mejor.Friends es una de las pocas series que ha conseguido hacerme reír de verdad, reír a carcajadas. Y es la única que lo sigue consiguendo aún después de haberla visto hasta la saciedad. Incluso si recuerdo alguna de sus escenas memorables, el efecto es casi el mismo. Si en más de una ocasión, en mitad de una charla con tus amigos has soltado u oído la muletilla: "es como en ese capítulo de Frie...

I really, really enjoyed this. This is my second book by this author, and I really like her writing style and POV. I found this book fascinating and I enjoyed her delving into the show re: it's flaws and deficiencies as well as the parts of it that made it work well (the 6 stars all deciding to be an united front from the very beginning for example). It's funny because if asked I would never think to list Friends as my top 5 favorite show, but at...

Friends is by far my favorite tv show. I watch reruns when I'm getting ready for work, cleaning, cooking, literally all day long. I LOVE IT. This book has a lot of behind the scenes insights to the show and for that I really enjoyed it. However, I do feel that it had way more information about other series in the 90s that I did not care to read so much about. I found myself skipping the paragraphs that just KEPT ON talking about it. The only co...

This is probably more like a 4 or 4.5 star rating, but I felt compelled to give it a 5 star because the nostalgia alone is worth it. Miller has a relatable tone to her writing and you can see the love she has for the show. She doesn't let Friends totally off the hook, but being able to look at the show through a critical 2018 perspective made it fresh and enjoyable while taking a trip down memory lane.

This book could go from amazing to infuriating faster than I could flip a page. I landed at 2 stars because it genuinely went from being between 1 star to 3 stars at any given time. I felt that it was marketed as a new book written as a love letter to "Friends" and those of us fans who have loved it since it originally aired, as well as its resurgence in popularity in recent years with a whole new generation of young people not even born when...

Quick and easy read. It's like a fan is talking about the show. It is so obviously written by a fan. And this Friends Fan appreciates that. An easy read that you can read quickly. Did I mention that?

A really good insight into how Friends came about and all the paths it took. Found out interesting facts about the cast that I didn't know before.