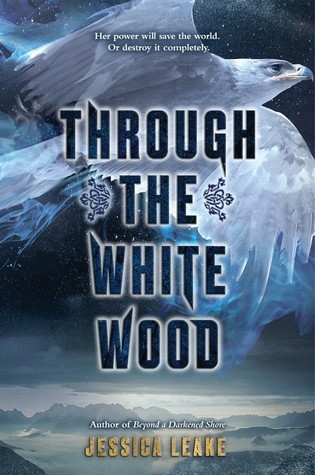 Katya's power to freeze anything she touches has made her an outcast in her isolated village. And when she loses control of her ability, accidentally killing several villagers, she is banished to the palace of the terrifying Prince Sasha in Kiev. At the castle, though, she is surprised to find that Sasha is just like her—with his own strange talent, the ability to summon fire. Instead of punishment, Sasha offers Katya friendship, and the chan...
---
Details Through the White Wood
Title
Through the White Wood
ISBN

9780062666314

Author

Jessica Leake

Release Date
Apr 9th, 2019
Publisher

HarperTeen

Genre

Fantasy

,

Young Adult

Rating
Reviews Through the White Wood
Another beautiful and rich tale from Jessica Leake! I cannot wait to get more from this author. She's become a favorite of one!RTCReview copy provided by the publisher via Edelweiss in exchange for an honest review

*** I received an ARC from the author in exchange for an honest review - and just because Jess is awesome***Wow. Jessica has done it again. I love this world! I love the powers and the characters. And Jessica has a certain way of making you fall in love with animals within the book as well!"I hadn't set out to be a monster, but what happened when someone was pushed too far? What happened when the dark swirls of regret were accompanied by a sense ...

Received a copy from Edelweiss in exchange for an honest review.4 StarsNot going to lie, I was a little nervous to read Through the White Wood. I loved Beyond a Darkened Shore and I was afraid this companion wouldn't be as good. But I was wrong. It's a new and fresh story that stands on its own legs. Jessica Leake created a new brilliant story and I am having a hard time deciding which one I like best!Through the White Wood tells a new story ab...

3.5 stars (possibly rounded to 4) I read Jessica Leake's "Beyond a Darkened Shore" in this last year and absolutely fell in love with it. It was everything that I wanted in a young adult historical fiction-based novel: just-the-right amount of romance, strong female lead, complex family relationships and most importantly, some really interesting folklore and mythology that made me feel like I was transported to another time. Through the White Woo...

I received an e-ARC from Edelweiss in exchange for an honest review. Review can be found on *Milky Way of Books*The following stand-alone novel by Jessica Leake takes us from the North and the Celts to The Rus Kiev and the tales and folklore of Russia! Partly inspired by the Firebird, part featuring creatures of the woods and the Snow Queen this new story will be an enjoyable one!Katya fears the power she has and when the Prince of Kiev sends for...

I won the ARC in an Instagram contest and I was so happy to have the book! It was as magical and mystical as "Beyond A Darkened Shore" and I absolutely loved the world and the characters in this book. It made me happy beyond belief to also see Lief and Ciara in this one, because they will always have my heart. But I am so glad that this book happened and I hope to see more from this world!

I received an ARC of this book from the publisher but this doesn't influence my opinion of it. Through the White Wood by Jessica Leake is a splendid continuation of this series. I was really excited to get into it because the premise sounds amazing and it did not disappoint.It's set in the same world as the first book but with different main characters.Katya has lived all her life in fear. Fear of letting go and unleashing her deadly power over i...

I adored this author's debut, BEYOND A DARKENED SHORE. It caught me by surprise with how much I enjoyed it, and it's a story I would reread time and time again. Because of that, I was quite excited about this companion sequel, THROUGH THE WHITE WOOD. However, I suppose my expectations were too high with this one. This book gives off a very different vibe from BEYOND A DARKENED SHORE and the characters felt a lot more young. While we dealt with wa...

I was sent an early copy of this in exchange for an honest review.Several months back I discovered Jessica Leake's work in the incredible Beyond a Darkened Shore. While Through the White Wood isn't quite a sequel, it does take place in the same world and we even see characters from Beyond a Darkened Shore which was very satisfying. This book immediately hooked me within the first page. The two main characters Katya and Sasha are extremely compell...

Thank you, Edelweiss, for the ARC (and for helping to get me out of my reading slump). Solid 3.5 stars rounded up because I zoomed through this in two days, and it was wonderful to see favorite characters from "Beyond a Darkened Shore" show up. I do feel that there should have been at least one more chapter, and I, personally, wasn't quite as attached to these characters the way I was the ones from BADS, but over all I enjoyed it and really liked...

**I received an ARC in exchange for an honest reviewOur story opens with our main character, Katya, being ripped away from the only home and family she has ever known. It is a heartbreaking first scene and pulled at my heartstrings immediately. I knew nothing about this girl, only that she was losing everything in the blink of an eye and there was not a soul there to defend her. The members of her small frozen village, a village she had grown up ...

Loved this so much I couldn't put it down! Literally read it in one sitting, it was that good! I loved what the author did with Slavic folklore, and the cameos of our two previous fave MC's, Ciara and Leif. Katya and Sasha are great together. I really enjoyed the side character with the cool spying skills. I'll definitely be rereading this again soon.

Hey, book dragons! So I was so lucky and I was able to get an ARC of this book though Edelweiss+ and I am so glad I got one.I had read and loved Jessica's first book "Beyond A Darken Shore" and I know she would become a favorite author really fast. So when I say that there were arcs floating around of her newest book you know this dragon went hunting.So without future ado, let us get on to what I thought of this book.Might I just say the Sl...

*I recieved an ARC in exchange for an honest review*I first read Jessica Leake's Beyond a Darkened Shore last year, when it came in m April Fairyloot box, and absolutely loved it. I also love how Leake takes small events from throughout history and turns it into such an amazing story! It began my obssession for young adult historical-fiction-based novels. So you can imagine my excited when I saw the announcement for Through the White Wood.THROUGH...

---I received an ARC for an honest review---Through the White Wood is a perfect combination of elemental magic, self-discovery and maybe Even a little romance. This book held me captive until I had read the last word. After reading Jessica Leake's first novel "Beyond a Darkened Shore" I knew I had to read this. The world building is phenomenal. Through the White Wood is set in a time before Russia was known by that name. In the eleventh cen...

Currently feeling all kinds of heartbroken. Because I wanted so badly to be able to love this. Since I adored Beyond a Darkened Shore by Jessica. I felt sure I would love this new book by her as well. But I did not. Not even close. Oh. It's a solid two star for me. And it is breaking my heart. Because I wanted to love it so much.I shall try my best not to share spoilers about this book. But I will also be sharing about why I did not like it. Whic...

Like with Beyond a Darkened Shore, Leake uses folklore in Through the White Wood for key elements of this story. In fact, this story takes place approximately 5 years after Beyond a Darkened Shore, with Ciara and Leif making an appearance.This time Russian/Slavic folklore is the focus along with the historical settings. While the author naturally took liberties with her story, it still felt like stepping back in time.This was such a great story w...

Although I enjoyed the story overall, the story dragged a bit and the romance felt a bit too convenient and only there because it's expected in these kinds of books. On a positive note, I did quite enjoy seeing Ciara and Leif, which makes me appreciate the first book more.

#ThroughtheWhiteWood #EdelweissThank you to the publisher and Edelweiss for the E-Arc copy of Through the White Wood. A definite must reading for fantasy lovers.