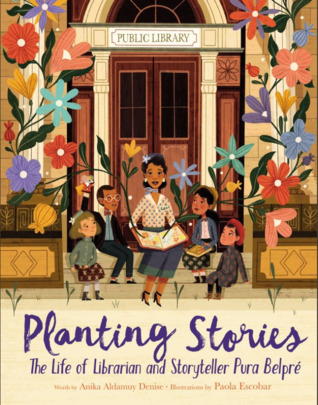 Follow la vida y legado of Pura Belpré, the first Puerto Rican librarian in New York City.When she came to America in 1921, Pura carried the cuentos folklóricos of her Puerto Rican homeland. Finding a new home at the New York Public Library as a bilingual assistant, she turned her popular stories into libros and spread story seeds across the land. Today, these seeds have grown into a lush landscape as generations of children and cuentistas cont...
---
Reviews Planting Stories
The last few years have produced the most remarkable and exquisite children's literature biographies. Planting Stories is probably my favorite. Above all of the titles I have purchased and reviewed through the years. I haven't been this excited about a picture book since Dreamers by Yuyi Morales. Not only is the subject, Pura Belpre (heck-there is an important children's literature award named after her), incredibly important, the illustrations a...

Author Anika Aldamuy Denise and illustrator Paola Escobar explore the life of celebrated storyteller, librarian and author Pura Belpré in this lovely new picture-book biography. The first Puerto Rican to work at the New York Public Library, Belpré hosted storytelling sessions in which she shared the folklore of her native island with young children, eventually going on to publish many of those tales. The Pura Belpré Award, which is given by th...

More times than readers can count, they find answers in books to questions they haven't yet asked. Several years ago, in attendance at a storytelling class, it was suggested to begin and close a storytelling event with a candle or lamp. When the lamp is lit, the magic of storytelling starts. After the final tale is told, the flame is extinguished.Listeners are asked to make three wishes; one for someone anywhere in the world who needs it, one for...

A beautiful book with a beautiful story from about the life of Pura Belpre.

A wonderful story about a woman important to libraries, children's literature, and the art of storytelling. And my god the illustrations are electrifyingly good.

Story of Pura Belpre who came from Puerto Rico to New York City and starts out at New York Public Library. Hence there she realizes there are no Puerto Rican stories so she becomes one of the top storytellers. Illustrations are colorful and bright!

By keeping alive the stories of her homeland, Pura Belpre touched the lives of so many. Well researched and from the heart, Denise plants seeds of her own with this inspiring story of an immigrant's gift to America's canon of multicultural storytelling. Escobar's illustrations are elegant and as lush and vibrant as the language they bring to life. An important addition to ALL libraries—in town, in school, and at home.

gorgeous illustrationsbeautiful story

The art is phenomenal. Wish the text weren't quite so vague.

Very good. Very beautifully illustrated. But a bit text heavy if I'm being honest.

Lush illustrations bring the warmth of Puerto Rico to the pages of this story of Pura Belpré, the first NYPL librarian from PR. The author and illustrator are both Latina #OwnVoices. One feature I loved most was all of the Spanish words sprinkled throughout the text. Using context clues, readers can figure out what those words translate to in English.

Add this to your to-read list (pub date is January 15th 2019.)The life of famed Storyteller Pura Belpré is told fittingly in this bilingual nonfiction picture book- tracing her steps from her Puerto Rican homeland to the book-lined walls of the New York Public Library where she entertained patrons with stories and puppets. And when she couldn't find stories for the community she was serving, she wrote her own. Includes a timeline plus summaries ...

Rating: 5 Stars: ★★★★★Planting Stories is a beautiful & heartwarming picture book that follows Pura Belpré when she moves from Puerto Rico to New York & continues to spread her love of stories! 📚✨Not only is the art detailed and magnificent, but it also brings Belpré's story to life! Belpré is an avid storyteller who grew up sharing the tales her abuela told her! So, now in New York, she finds her love of stories taking her on a...

For those who want their elementary age kids to read more non fiction - get this book. For this kids who love library story hours - get this book and donate it to your school librarian. Make packets of story seeds and grow their love for reading, character development and create a writers nook so that hour kids can create their own stories. Get this book- read it to as many children as you can- encourage them to talk about the books they like, lo...

The story is well told, and the art is good, and suitable, but somehow it doesn't quite seem to me to fully convey the spirit of Pura Belpré -- maybe because that spirit was itself so powerful, and I've heard so many stories and seen photos and so forth; my expectations may have been too high. Still a good addition to the library of children's books dealing with Puerto Rico-related topics, though.

The vibrant illustrations compliment the text that is peppered with Spanish. Back matter includes the author's note and materials for further reading. Kudos for this colorful biography about Pura Belpre who first shared her Latinx "story seeds" in the New York Public Library system and beyond!

Planting Stories: The Life of Librarian and Storyteller Pura Belpre is the rare biography-ish book that is so extremely interesting and packs enough facts intermixed with ideas that expand your thoughts about the person. Thinking of the amazing Pura as planting stories for future generations is a revelation.

Story of real life Pura Belpre - the first Puerto Rican librarian in New York. This is a very interesting and accessible picture book biography. I loved the illustrations and learning about this important library figure.

A beautifully written and illustrated picture book biography of the groundbreaking New York librarian and storyteller.

The illustrations are stunning.

Gorgeous, vibrant illustrations, interesting information, a bilingual aspect, and detailed back matter make this a must-have book for every library.