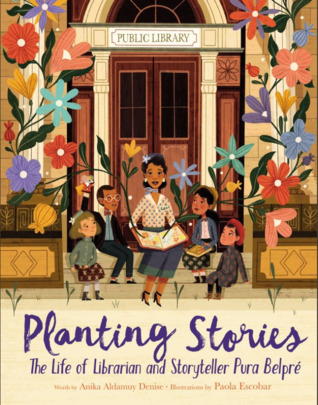 Follow la vida y legado of Pura Belpré, the first Puerto Rican librarian in New York City.When she came to America in 1921, Pura carried the cuentos folklóricos of her Puerto Rican homeland. Finding a new home at the New York Public Library as a bilingual assistant, she turned her popular stories into libros and spread story seeds across the land. Today, these seeds have grown into a lush landscape as generations of children and cuentistas cont...
---
Reviews Planting Stories
The last few years have produced the most remarkable and exquisite children's literature biographies. Planting Stories is probably my favorite. Above all of the titles I have purchased and reviewed through the years. I haven't been this excited about a picture book since Dreamers by Yuyi Morales. Not only is the subject, Pura Belpre (heck-there is an important children's literature award named after her), incredibly important, the illustrations a...

LOVED IT! I am such a sucker for stories about people who have paved the way for literacy, learning, and librarianship. This was a great account of a woman who helped diversify children's literature by publishing stories, curating puppetshows, and planting seeds of change during the 1920s and beyond. Best of all, the illustrations were absolutely dreamy, detailed, and downright gorgeous.

Author Anika Aldamuy Denise and illustrator Paola Escobar explore the life of celebrated storyteller, librarian and author Pura Belpré in this lovely new picture-book biography. The first Puerto Rican to work at the New York Public Library, Belpré hosted storytelling sessions in which she shared the folklore of her native island with young children, eventually going on to publish many of those tales. The Pura Belpré Award, which is given by th...

Rating: 5 Stars: ★★★★★Planting Stories is a beautiful & heartwarming picture book that follows Pura Belpré when she moves from Puerto Rico to New York & continues to spread her love of stories! 📚✨Not only is the art detailed and magnificent, but it also brings Belpré's story to life! Belpré is an avid storyteller who grew up sharing the tales her abuela told her! So, now in New York, she finds her love of stories taking her on a...

A wonderful story about a woman important to libraries, children's literature, and the art of storytelling. And my god the illustrations are electrifyingly good.

Once in a while, I come across a children's picture book that needs to be shared. This time, my friend, Donna, shared a copy of Planting Stories: The Life of Librarian and Storyteller Pura Belpré. Author Anika Aldamuy Denise's flowing language goes hand-in-hand with the beautiful illustrations by Paola Escobar. This is the gorgeous story of Pura Belpré, the first Puerto Rican librarian in New York City, a storyteller, and the woman for whom the...

More times than readers can count, they find answers in books to questions they haven't yet asked. Several years ago, in attendance at a storytelling class, it was suggested to begin and close a storytelling event with a candle or lamp. When the lamp is lit, the magic of storytelling starts. After the final tale is told, the flame is extinguished.Listeners are asked to make three wishes; one for someone anywhere in the world who needs it, one for...

A beautiful book with a beautiful story from about the life of Pura Belpre.

The fantastic story behind the wonderful and talented Puerto Rican native storyteller and librarian, Pura Belpré

(3.5) I loved learning about Pura Belpré and her passion for sharing Puerto Rican stories with her community, and while the illustrations were lovely, they seemed a little flat to me on the page.

This book was recommended to me by a fellow librarian, and given that it was just published, our academic library didn't yet have it.  And, considering our academic library serves a large community of library science students, I figured that we could get away with purchasing more resources about librarians.  So we did!  Planting Stories is a beautiful, biographical tale about Pura Belpre who made space for herself and her culture in her lib...

This was just wonderful! A perfect book to read at the beginning of a Belpré unit but also a wonderful biography about using your strengths, storytelling, culture and language to make a difference in your community. I loved the illustrations and learning about Pura Belpré. Made me proud to be a part of the profession!

After hearing Anika Aldamuy Denise speak about one of her heroes, Pura Belpré, at the Bank Street Latinx Mini-Conference last week, I knew I had to read her book. And what better place to do that than the place where Pura Belpré had such an immense impact - the NYPL.Pura Belpré first arrived in New York in 1921, leaving her native Puerto Rico for what she thought would be a to visit to celebrate her sister's wedding, but she decided to stay. H...

This is the kind of picture book biography that belongs on any librarian's shelves, not only because the illustrations (and endpapers!) are absolutely gorgeous, but because the story of Pura Belpre's lasting impact on children's librarianship and the Latinx community is both a wonder and an inspiration. My favorite picture book bio featuring a librarian to date!

Warm, evocative photos and a well-told text of Belpre's life make this a picture book to delight youngsters, caregivers, and library staff alike!Great for a longer read-to story (older preschool through first or second grade) or a read-alone for second graders.

Story of Pura Belpre who came from Puerto Rico to New York City and starts out at New York Public Library. Hence there she realizes there are no Puerto Rican stories so she becomes one of the top storytellers. Illustrations are colorful and bright!

By keeping alive the stories of her homeland, Pura Belpre touched the lives of so many. Well researched and from the heart, Denise plants seeds of her own with this inspiring story of an immigrant's gift to America's canon of multicultural storytelling. Escobar's illustrations are elegant and as lush and vibrant as the language they bring to life. An important addition to ALL libraries—in town, in school, and at home.

I didn't know there were biographies about librarians, much less (or specifically) the first Puerto Rican librarian! This book meant a lot to me.

gorgeous illustrationsbeautiful story

The art is phenomenal. Wish the text weren't quite so vague.

Very good. Very beautifully illustrated. But a bit text heavy if I'm being honest.

This makes me want to be a librarian so bad!

Terrific pb bio of a storyteller, librarian, and puppeteer who brought Puerto Rican stories to the U.S. Lovely illustrations (and those endpapers!) and storytelling with a movement and cadence that brings Pura Belpre to life.

Planting Stories: The Life of Librarian and Storyteller Pura Belpre is the rare biography-ish book that is so extremely interesting and packs enough facts intermixed with ideas that expand your thoughts about the person. Thinking of the amazing Pura as planting stories for future generations is a revelation.

Lush illustrations bring the warmth of Puerto Rico to the pages of this story of Pura Belpré, the first NYPL librarian from PR. The author and illustrator are both Latina #OwnVoices. One feature I loved most was all of the Spanish words sprinkled throughout the text. Using context clues, readers can figure out what those words translate to in English.

Loved the story and the infusion of Spanish without explanation

Gorgeous! Bold, explosive illustrations paired with vivid text make this a must read.

Planting Stories follows "la vida y el legado of Pura Belpré, the first Puerto Rican librarian in New York City." She traveled from San Juan, Puerto Rico to New York (in 1921) for her sister's wedding but soon called the city home as it was "alive with hope and possibility." Carrying the stories Abuela would tell of home in her heart, she shared them and planted each one like seeds in fertile ground. She was a storyteller who became a published ...

Add this to your to-read list (pub date is January 15th 2019.)The life of famed Storyteller Pura Belpré is told fittingly in this bilingual nonfiction picture book- tracing her steps from her Puerto Rican homeland to the book-lined walls of the New York Public Library where she entertained patrons with stories and puppets. And when she couldn't find stories for the community she was serving, she wrote her own. Includes a timeline plus summaries ...

A beautifully written and illustrated picture book biography of the groundbreaking New York librarian and storyteller.