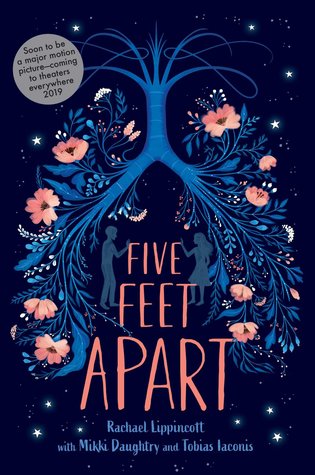 Can you love someone you can never touch?Stella Grant likes to be in control—even though her totally out of control lungs have sent her in and out of the hospital most of her life. At this point, what Stella needs to control most is keeping herself away from anyone or anything that might pass along an infection and jeopardize the possibility of a lung transplant. Six feet apart. No exceptions.The only thing Will Newman wants to be in control of...
---
Details Five Feet Apart
Title
Five Feet Apart
ISBN

9781534437357

Author

Rachael Lippincott

Release Date
Nov 20th, 2018
Publisher

Simon Schuster Books for Young Readers

Language

English

Genre

Contemporary

,

Young Adult

,

Romance

Rating
Reviews Five Feet Apart
I like the idea here: exploring the complications of being a young person living with CF. But a queer person of colour dies quite randomly from CF complications right after deciding to get back together with the love of their life and that death motivates one of the protagonists to start living for themselves. It just doesn't sit right. I'm going to let these thoughts steep and possibly come back and update this, but my gut reaction upon finishin...

Increíblemente bonito, emotivo, divertido y realista.

(You can also find this review on my blog!)I got approved of a DRC (Digital Review Copy) of this book from Edelweiss! With a gorgeous cover and an intriguing concept and theme, this book immediately caught my attention the first time I saw it. The writingI really like the writing style of this book. Though the story mainly revolves around the fragility of life and the difficult situation of having a terminal illness, the writing style was light,...

*Thanks so much to the publisher for the review copy.* Ok I am a complete mess. This book is so beautiful and hopeful and heart-breaking. One of my fave YA contemps of the year. I need this to be a movie.

It was everything I ever wanted and more!!! 😭 This book gave me ALL THE FEELS. Every single one of them! I can't wait until the movie comes out! March 2019 can't come soon enough.

I am an emotional wreck. I am ruined. I am broken and healed and broken again. I would like to thank Netgalley for an advanced readers copy of, Five Feet Apart. All opinions are my own. Five Feet Apart follows two young adults and their journey through their Cystic Fibrosis treatments. It's their adventures through hardships, grief, laughter and light...This novel is fitting for anyone who wants a good cry and emotional baggage. Or fans of John...

An absolutely fantastic read about cystic fibrosis and opening the eyes of young adults to this tragic disease. This novel made me an absolute wreck by the end and I fell in love with each of the characters so much. I can't wait for the film to be released next Spring!

Imagine falling head over heels in love with someone that you can never come more than 6 feet in contact with because getting too close could threaten your already fragile life. This is exactly what happens to Stella Grant in Rachael Lippincott's debut novel Five Feet Apart. Stella has cystic fibrosis and has been in and out of Saint Grace's Hospital for more than a decade. Stella is on the waiting list for a new set of lungs, but in the mean...

For more reviews and bookish content: http://literarylion.caBefore beginning this review I want to note that I don't know a lot about cystic fibrosis. I cannot comment on if this book is accurate to the experience of living with it and its complications or not. My review is only on how enjoyable and well written the book was. I did not see any glaring inaccuracies about the disease but if there are some please let me know!I'm a sucker for tragic ...

A big thank you to Simon and Schuster Canada for giving me an advanced reader copy of this fantabulous book. The cover is one of the most beautiful I have seen this year. The story was just as stunning. I was quite excited to have the opportunity and read and review this book as it deals with CF (Cystic Fibrosis). This subject is near and dear to my heart as I lost my cousin to this disease. Benoît and I were very close from almost birth and I s...

Lippincott, Rachael. Five Feet Apart. Simon Schuster BYR, 2018.Stella is in the hospital hoping for a lung transplant that will extend her lifespan, which has been shortened by her cystic fibrosis. She is creating an app for people with chronic conditions, to help them manage their medications and other treatments. Will, on the other hand, is fed up with treatments, hospitals, and the way his mom brings him from location to location to try every ...

Stella and Will both have cystic fibrosis and meet when they are in the hospital. They are very different, but nonetheless they are drawn together by their illness and by other factors.The story was very sweet and readers who enjoyed The Fault in Our Stars by John Greene, or Everything, Everything by Nicola Yoon, might enjoy this book.I really enjoyed the development of the relationships between the characters. Unfortunately, I thought that the c...

The only way to stay alive is to stay apart It has been a long time since a book made me cry.This was a beautiful and heartbreaking story. The writing style and character development was great. The story flowed, there were no filler chapters, every page mattered. As I have said in multiple reviews, I like the back and forth chapters between characters or timelines as it adds dimension to the story, seeing it from multiple views. These chapters go...

SPOILERS AHEAD. Spoiler hiding is in effect but may not be working on all devices.3.5 stars. There were parts that I did definitely enjoy, and there were parts that definitely moved me to the point of a tear or two. However, there were a couple of parts that left me shaking my head.Stella wants to not get new lungs because she's having fun ice skating. What the FUCK. At least the book addresses that she knows it was fucking stupid in hindsight. B...

I read this book because the cover caught my attention and I'm so glad I did. The writing is easy, quick paced but still informative. I know very little about CF and felt they did not gloss over the topic. It was also very modern, with references to TV shows, apps and social media, which made it feel real to me. The book is about a daredevil bad boy and very controlling girl who meet in the CF wing at a hospital. The book has both POVs and as the...

I received an ARC of Five Feet Apart by @rachaellippincott in exchange my honest review. So a big thank you to @netgalley and to @simonteen / @simonschusterca for the early read!.I requested this read, because it made me think of The Fault In Our Stars and Everything Everything, and because it is already being turned into a movie, which I thought may say something about the quality of the story. I was right. This book had my emotions ON HIGH!! Di...

Thanks to Netgalley and the publisher for the advanced digital copy of this book. I sat down thinking I'd get a taste of it this evening and . . . I needed the full serving at once. This will be a tough book for anyone to put down - you get caught up in the two characters' (Stella and Will) lives as they both take different approaches to fighting their cystic fibrosis. While at first they seem miles apart in their mindsets, the author does a grea...

This book. Omg. When I first read the concept, I was like "Ok, 2 sick lovestruck teenagers. Nothing I haven't seen before." (*cough* The Fault in Our Stars). But wow. Sure it's been done before, but that didn't stop this from giving me ALL the feels. The look into the lives of cystic fibrosis patients was heartbreaking. And if you don't ship Will and Stella, you have a serious problem. This book broke my heart many times, and had me in tears. Def...

This was raw, emotional, and hopeful all at the same time. I really loved Stella and her story, she was a great character and her story is important.Full review to come closer to release date*ARC provided by the publisher via Netgalley for a free and honest review*

This story is very reminiscent of Sarah Dessen and John Green. It is a new take on a familiar type of love story that will engage readers looking for a tear jerker that weaves in information about CF and spots humor. Very excited for the upcoming film as well!

Review to follow in School Library Connection!

Every well written and i love it so much 💕

Review to be posted closer to publication date.