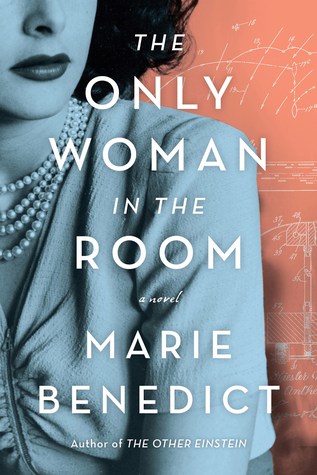 She was beautiful. She was a genius. Could the world handle both? A powerful, illuminating novel about Hedy Lamarr. Hedy Kiesler is lucky. Her beauty leads to a starring role in a controversial film and marriage to a powerful Austrian arms dealer, allowing her to evade Nazi persecution despite her Jewish heritage. But Hedy is also intelligent. At lavish Vienna dinner parties, she overhears the Third Reich's plans. One night in 1937, desperate to ...
---
Details The Only Woman in the Room
Reviews The Only Woman in the Room
An inspiring book about a remarkable woman. This is a fictionalised account of screen siren Hedy Lamarr, known for her beauty, but not recognised until recently for her outstanding contribution to science. The first part of the book is set in pre-WW2 Austria, where as an aspiring actress she is forced into marriage with a notorious arms dealer. As the trophy wife she is privy to many dinner parties and clandestine meetings between powerful heads ...

4 brilliant stars to this story of Hedy Lamarr! I read and enjoyed Carnegie's Maid, and I have been looking forward to reading Marie Benedict's latest fictional portrayal of a strong woman. In this instance, she has written about Hedy (Kiesler) Lamarr. Born Jewish, Hedy Kiesler later finds herself an actress married to an Austrian arms dealer. Hedy is able to use her powerful position to avoid Nazi persecution. At the same time, her husband i...

Marie Benedict has introduced me once again to a fascinating historical figure. This excellent novel begins in the early days of newly appointed chancellor Adolf Hitler. It showcases the life and vast accomplishments of beautiful and intelligent Heidi Kiesler (aka Hedi Lamarr). An incredible and surprising life story that begins when as a young actress, she catches the eye of wealthy Friedrich Mandl, the renowned 'Merchant of Death' and Austr...

3.5 stars Thanks to NetGalley and Sourcebooks Landmark for allowing me to read and review this ARC. Published Jan 8, 2019I put off reading this book because I could not bring myself to read another WWII Nazi book. I kept waiting to be 'in the mood' to read this one. Finally, three days after publication, I started the book. Even with my reluctance to read this book, I thought it started off at a pretty good pace. I knew that I liked the author an...

My thanks to Sourcebooks Landmark, Booktrib, and The Girly Book Club for sending me an ARC of this book in exchange for an honest review. All opinions are my own and are not influenced by the publisher. "Any girl can be glamorous. All you have to do is stand still and look stupid."-Hedy LamarrThe Only Woman in the Room is infinitely engaging, but woefully brief, coming in under 300 pages. Hedy Lamarr, a Jewish woman who married and Austrian arm...

The Only Woman in the Room was a well written glimpse into the life of Hedy Lamarr. From her marriage to an Austrian arms dealer before World War Two to her career as an American movie star, she fought to become more than just a pretty face. Marie Benedict's research into her life shines through! A must for historical fiction fans!

Hedy Lamarr was both stunningly beautiful and stunningly smart. But could the world handle both?SUMMARYMay 17, 1933, the beautiful Hedwig Kiesler is on stage performing the role of her life in Vienna, when she captures the attention of the richest and most powerful man in Austria. Arms manufacturer, Friedrich Mandl lavishes dozens and dozens of roses on the young actress after every performance. Hedwig soon finds herself married to Friedrich, liv...

Hedwig Kiesler is a young wealthy Jewish girl living in Vienna. She longs to be a famous actress but also is interested in science. Her father encourages her to pursue both. She is just gaining respect as an actress when she meets her biggest fan, Fritz Mandl. Mandl has quite a reputation with women and as an Austrian arms dealer. But Hedwig's parents are concerned about the developing hatred for Jews and believes a marriage between Hedwig and ...

3.5There is nothing new under the sun. It was true in the Third Century B.C. when the writer of Ecclesiastes wrote it and it is true in 2018.And one of the perennial truths is that women are valued for their beauty and preyed upon for sex and must fight for equality in their vocations and avocations.Take Hedy Lamarr, the gorgeous Austrian born star. Marie Benedict's new historical fiction novel The Only Woman in the Room peels back the Hollywood-...

I wanted so much more from this book. Hedy Lamarr was a brilliant, fascinating woman and while Benedict hit the highlights of her life, that's all she did—hit the highlights. This is a biographical novel that fell short on the "novel" side. Perhaps Benedict was wary of embellishing/fictionalizing too much of the life of someone about whom so much is known, but it resulted in a novel that was a bit flat. Another fifty to one hundred pages to add...

I received this from netgalley.com in exchange for a review. A good fictional representation of Hedy Lamarr.3☆

This book isn't bad, but it also isn't good. I'm also baffled as to why this is being published in January (according to the back of my Book Expo ARC), because it's an obvious beach read -- and is written as such. The author presents a cursory overview of actress Hedy Lamarr's amazing life and, in such, makes it utterly un-amazing. THE ONLY WOMAN IN THE ROOM moves through events too quickly. For example, Lamarr's custody battle for her son takes ...

An equally fascinating figure and read! Here's my quote from an early peek: "In her latest novel, Marie Benedict deftly portrays the fascinating life of Hedy Lamarr, a Hollywood icon whose scientific accomplishments have long been eclipsed by her sensuous beauty. Moving from one volatile stage to the next, THE ONLY WOMAN IN THE ROOM follows a remarkable path of survival through the dangers of world war and those at home, behind closed doors. A ...

This is just what I love in a historical novel, a real insight into a person. Hedy may have been a beautiful actress, but she was also an intelligent and inventive woman, often held back because of the perception of women in her lifetime. I'm glad to have learned more about her.

The Only Woman in the Room by Marie Benedict features the fantastical life of Hedy Lamarr. A stunning Hollywood starlet, Hedy was so much more than just a pretty face. During a time when women were thought of as property and decoration, Hedy Lamarr rose above societal standards with an invention that transformed modern communication.I really enjoyed reading The Only Woman in the Room! I had never heard of Hedy Lamarr prior to reading this book (I...

Hedy Lamarr (born Hedwig Kiesler) (1914-2000) was an Austrian-born American film actress and inventor. Her invention along with George Antheil wasn't incorporated by the US Navy until the 1960s; the principles of their work are incorporated into Bluetooth technology. They were inducted into the National Inventors Hall of Fame in 2014.1933, Vienna, AustriaHedy Kiesler is a successful actress, performing in Sissy, beloved Bavarian Empress Elizabe...

The Only Woman in the Room is Marie Benedict's third novel featuring a powerful woman overlooked by history — in this case, a female actress popular in the 1930s and 1940s named Hedwig Kiesler, who you might know by her stage name Hedy Lamarr. All I knew about her was that she was an actress but I had never seen any of her movies. There is so much more to learn about this extraordinary woman that I am sure The Only Woman in the Room will be a...

I really enjoyed Marie benedict's two previous books CARNEGIE'S MAID and THE OTHER EINSTEIN so was looking forward to her take on Hedy Lamarr. I was NOT disappointed as she delivered the compelling story of Hedy Lamarr. Benedict brought to life the little known history of one of the world's most beautiful women and, more importantly, highly intelligent women. Hedwig Kiestler was born in Austria to a Jewish mother and father. While performin...

Finally!!!!! Barnes and Nobles picked a book for their book club. This book was so good. Hedy Lamarr is such an interesting lady. Her life was quite impressive. She did a lot for many people and went through so much. She was very strong and independent. Marie Benedict knows how to take history and put in into a fictional story and keep facts and also make it interesting and not dry.

An ARC was provided to me for free by the publisher via NetGalley in exchange for an honest review.You can read my full review at my blog!Hedy Kiesler is beautiful and talented and popular. Her roles in films and on-stage garners the attention of Fritz Mandl, a powerful arms dealer. Their marriage allows her to avoid the persecution of Jewish people in 1930s Austria, and she also uses her position to learn more about Hitler's plans.One night, s...

The Only Woman in the Room chronicles the long and accomplished life of Hedy Lamarr (born Hedwig Keisler), the Hollywood screen star from the 1940s and 1950s. Born in Austria to a Jewish family, Hedy attracts the attention of a high-ranking Austrian arms dealer and marries him to try to protect her family from Nazi persecution. After Austria is enveloped into Germany, her husband begins to work with high-ranking Nazis, and after a failed first at...

The Only Woman in the Room is a remarkable, well-researched (yet fictionalized) account of Hedy Lamarr's life by author Marie Benedict.Although a stunningly, beautiful actress, Hedy wanted to be seen for something other than her beauty – fortunate for us – she possessed the intellectual goods to back it up. After giving up her budding acting career to marry Friedrich Mandl (an influential arms dealer) at 19 and then experiencing a tumultuous ...

The book is in two parts. Before Hollywood and Hollywood. I did like the before bits a lot more, Hollywood was good too, but the more I think about it, the more i think I know why. See this is a fictionalized story of Hedy Lamarr. The bones are there and the things we know, but not everything was known about her Austria days and I felt that the author embraced that more then and let her pen fly. And then when we came to Hollywood there was so muc...

Lindas Book Obsession Reviews "The Only Woman in the Room" by Marie Benedict Sourcebooks Landmark, January 8, 2019Lindas Book Obsession Reviews "The Only Woman in the Room" by Marie Benedict, Sourcebooks Landmark, January 8, 2019Marie Benedict, Author of "The Only Woman in the Room" has written an intriguing, captivating, dramatic, entertaining, suspenseful and intense novel. The Genres for this novel are Historical Fiction and Fictio...

The Only Woman in the Room by Marie BenedictThis fascinating biographical fiction novel tells the story of Hedwig "Hedy" Keisler, better known to the world as the actress Hedy Lamarr. The story begins with Hedy's life in Austria, working as an actress just prior to WWII. Born to Jewish parents, Hedy comes to the attention of military munitions manufacturer Friedrich Mandl. After a brief courtship, Hedy agrees to marry Mandl in the hopes tha...

The Only Woman in the Room tells the story of the Austrian American actress Hedy Lamarr. Starting with her life in Vienna as a 19 year old girl, and ending with her contributions towards the war in America, Hedy's story is nothing short of spectacular. I thoroughly enjoyed reading about Hedy and her life experiences. Thank you to the publishers and NetGalley for providing me with an advanced copy in exchange for an honest review.

Thanks to the BookReporter Network as well as Sourcebooks which provided me with an Advance Readers Copy in exchange for my honest opinion. I really enjoyed this novelization of the life of Hedy Lamarr. I knew nothing about her, other than the fact that she was a beautiful movie star who worked here in the US during the 1940s and 1950s. I have never seen her in a movie, nor have I heard her speak, so I had no preconceived notions going into this ...

This is another outstanding novel based on a real character by Marie Benedict. The Only Woman in the Room is the story of Hedy Kiesler, an Austrian rising star. After a controversial movie debut, she finds find great success in the role of Empress Elizabeth at the theatre. She is quickly noticed by Austrian weapon dealer, Fritz Mandl who pursues her interminably until she accepts to become his wife. Hedy's life with Fritz is not all rose and ev...

Fictional biographies are fast becoming one of my favourite sub-genres, particularly when they're about the under-valued achievements of women from history. I'm not sure if more of them are being released all of a sudden or if it's just that I'm taking more notice of them, but either way, I am enjoying them a lot. Marie Benedict sums up in her author notes why I love these stories so much:'Faulty assumptions about women's capabilities...

Thank you Net Galley for an advanced copy of this enjoyable book. All I've ever known about Hedy Lamarr is that she was a beautiful and glamorous actress, the ultimate sex symbol. I had no idea that she was a scientist and inventor! The story of her life in Austria, her marriage to Fritz Mandl, a weapons and ammunition manufacturer who she basically flees from when it's evident that he is negotiating with Hitler, and her eventual success in a...