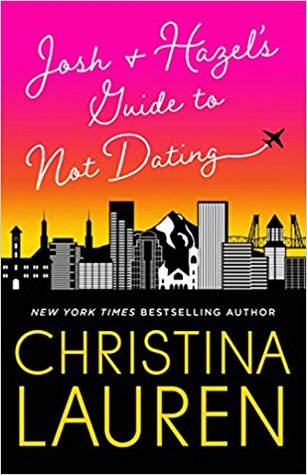 Hazel Camille Bradford knows she's a lot to take—and frankly, most men aren't up to the challenge. If her army of pets and thrill for the absurd don't send them running, her lack of filter means she'll say exactly the wrong thing in a delicate moment. Their loss. She's a good soul in search of honest fun.Josh Im has known Hazel since college, where her zany playfulness proved completely incompatible with his mellow restraint. From the...
---
Details Josh and Hazel's Guide to Not Dating
Reviews Josh and Hazel's Guide to Not Dating
5+ stars!!! I've read several of Christina Lauren books and I can say with the utmost confidence that this is their best book to date. It's by far my favorite of theirs. There wasn't one thing I didn't love about it. Josh and Hazel's Guide to Not Dating is the epitome of opposites attract. It's one of the best friends to lovers story I've ever read and I loved it so much!! I have no doubt it will be one of my favorite reads of 2018. Hazel Bradf...

➳Quirkiness, fun double dates, sexy times that became unexpected, everything combined together to bring two individuals that are beyond different but definitely meant to be... ➳When one starts reading a romance novel by my favorite duo Christina Lauren, one should know that you will forever love the story no matter what. When one reads romance stories, you expect a trope to take into place. No matter what, this new stand-alone filled with fun...

"I realize that finding the perfect person isn't going to be easy for me because I'm a lot to take," she says, "but I'm not going to change just so that I'm more datable. At the end of the day, being myself is enough. I'm enough."I related to this book on a spiritual level. Duo Christina Lauren's brand of humor was so on point in this novel, it felt like they had written it specifically for me as a reader. I can't express how uplifting and enjoya...

Thanks to Netgalley for supplying me with a free e-arc in exchange for an honest review!4.5 StarsUMM..... THIS WAS SO GOOD!!I told myself I wouldn't read anymore Christina Lauren because I thought Roomies was a bit bland and not up my alley, but this one just sounded cute so I broke my own rule and WOW I'M SO GLAD I DID THIS IS A NEW FAVORITE OF THE YEAR! The main thing I love about this book is the main character. She's cute and quirky and fun w...

ARC provided by Simon & Schuster in exchange for an honest review. "The world seems full of men who are initially infatuated by our eccentricities, but who ultimately expect them to be temporary." Most of you know that I'm a pretty big fan of Christina Lauren! Autoboyography is now one of my favorite books of all-time. And friends, I really enjoyed this book and it made me so unreasonably happy! Josh and Hazel's Guide to Not Dating is...

Because I can't help but not rate a Christina Lauren book 5 stars! This one was wayyy too cute and just hilarious. Such lovable, flushed out characters, it's like coming home. That's the only way to describe their writing. You're laughing one moment and then YOUR HEART IS SO BIG A FULL OF JOY YOU JUST WANT TO BURST! Perfect weekend read!

Surprise, Surprise, Surprise, I fell in love again! My list of book boyfriends is quite long but damn, lately my list of heroines is rocking the charts. I love, absolutely love, when a book builds your characters up, let's us readers really get to know them. I love how this author duo can do just about anything with their stories and they are so good at telling their stories. It's what I love most about them. Josh & Hazel, meet in college. Ha...

5 STARS Sometimes your lack of filter kills me," he says. "It's not even like you lack a filter; you lack a funnel." Oh my gosh! I loved this book! If you're looking for a fun, quirky, put-a-smile-on-your-face-and-keep-it-there rom-com, this book is it! I was immediately hooked from the first page and stayed glued to my kindle until the end. It was the most fun I've had reading in a while! Josh and Hazel's Guide to Not Dating was a refr...

❤ 5 stars❤Such a fantastic story, this story was so addictive and I wish we could have more.I loved Hazel and Josh so much, the make the story special.For one more time Christina Lauren delivers a unique and original story.I fall in love with the story and everything about Josh and Hazel, their awkward moments,their cute and sweet moments and the slow burn between them was something else.I laughed with them a lot.This book make me have a smil...

What a great story! ~~~~~~~~~~~~~~~~~~~~~~~One of the things that captures a readers interest is something that this writing team does very well. They give you a true to life snapshot into their characters life.What do I mean by true to life? They have the ability to write in such a manner as you can feel the uncomfortableness, the shy weirdness that people sometimes exhibit. The quirks and running off at the mouth that just tends to happen when ...

I legit just put this book down and it was probably the sweetest thing, ever. Hazel is quirky and not just manic pixie dream girl quirky, she's unapologetically different and I love her for it. She's had bad luck in love because guys usually find her brand of different annoying or inconvenient after a while. And so when her best friend's brother turns out to be Josh, the man she met in college that she never dated but uses as a benchmark for her ...

Unfortunately fell short for me, although nothing super offensive. Romance is all about the HEA and we know it's coming, but there has to be some kind of tension or conflict along the way and there basically was none. I didn't find myself wanting to pick this book up at any point and just finished it because it was a quick read.There was also a plot point brought in about 85% of the way along which, for me, was way too late, and would have se...

4.25 stars(loved it more than Roomies)I truly enjoyed this book. Since the beginning of 2018 I have now read Christina Lauren's latest four book releases and I have honestly enjoyed them all. And after Josh and Hazel's Guide to Not Dating the author couple is on my auto-buy list.This book was wonderfully entertaining. Not a rom-com per se, but funny nevertheless. Hazel had me cracking up non-stop. Her incapability to filter her words and thought...

Absolutely adorable!! I love unique heroines, and you don't get any more quirky than Hazel. Josh was her perfect match, the stability to her wild ways. I loved how their friendship grew into an epic love. If you're a fan of rom-coms and friends to lovers, I highly recommend this book!Full review to come!Thanks to the publisher for generously providing me an ARC to review.

Josh and Hazel.They met 10 years ago at college - she was 18, he was 20. She thought he was the most beautiful boy ever. And he ... well - he didn't much like it when she threw up all over him at that party.Then followed some more embarrassing moments for Hazel and then he graduated and they didn't see each other again for seven years.And now here we are - at Hazel's bestie Emily's start-of-summer party.And the first line out of Hazel's mouth whe...

A super fast, sexy, hilarious romp!This was my first Christina Lauren book and it was just what I needed - some good old fashioned humor to brighten up my day. I haven't laughed out loud at a book this hard for a long time. I absolutely flew through this book - there's nothing like a good romcom to break up all the heavier reads. Hazel, a highly eccentric and oh-so-funny woman, is going down as one of my favorite characters of all time. I cou...

I'm a sucker for a BFF to more story, but couple that with it being written by Lo and C and I'm certain I'll love it. I love love loved Hazel and Josh. She's loyal and loving and he's steadfast and serious. Together they are perfection: he calms her and she loosens him up. And the way they care so much about each other is obvious. I loved their inside jokes and banter. Plot wise it was great. The dates were hilarious and the slow burn a...

Josh and Hazel's Guide to Not Dating was ABSOLUTELY FANTASTIC. It's an entirely different brand of fantastic than, say, Love and Other Words or Beautiful Bastard, but it is fantastic nonetheless and I loved every single second. This story is adorably sweet, hilariously funny, achingly romantic, and it squeezed and tugged at my heart strings in that pleasurable, painful way I adore. I swear, this friends to lovers romance gets better and better an...

Release Date: September 4, 2018 Genre: Romantic Comedy Actual Rating: 5+ starsThis book is EVERYTHING. It's smart, funny, quirky, original, sexy, and sweet! If you are a fan of friends-to-lovers romance, and romances that will have you hardcore giggling, then I highly recommend this book to you! I haven't read a book by this dynamic duo in a very long time and now I feel like I have been sorely missing out. Thankfully, this book changed my m...

Hazel is a handful. She's a bit eccentric, and says whatever pops into her head. Josh is more conventional and steady. Hazel met Josh in college, where she left a lasting impression. Josh has always thought of Hazel as the quirky girl that says, and does, weird things. When they run into each other years after college, they start up a friendship. They agree they are not at all compatible for each other, so their new friendship involves setting ea...

4.5 StarsAre you looking for a rom-com?Are you looking for a book that makes your face hurt from smiling?Are you look for completely unique yet relatable characters?Then Christina Lauren are your gals. In this ridiculously funny opposites attract story, Hazel and Josh are friends turned sometimes lovers who think it's a great idea to set each other up on blind/double dates, all the while not realizing their scorching attraction to one another. ...

Smile, happy sigh, heart tug, repeat. This book filled me with undiluted joy from beginning to end. The main source of all the warm fuzzies are the two main characters.Hazel is the OG of quirky. Some refer to her as Crazy Hazie because – let's face it – she is a total weirdo. She's come to terms with the fact that most people can't handle her level of eccentricity in the long run – particularly men. She likes who she is, though, and i...

I am so overwhelmed right now???!!!! Hazel is the best character ever and she friendship thirsts for Josh and they are SO CUTE TOGETHER?? This book takes friendship to new heights. I feel real physical distress. I might even be dehydrated because I've been so into this book. *Korean rep (Josh is Korean American)*hardcore friendship rep*self-love rep*low angst"Listen," I tell him, "I plan on giving the best man speech at your wedding one day. This...

Love love love. Thanks to Gallery books for gifting me a final copy of Josh & Hazel! Oh my gosh, sometimes ya just need to switch up the genre ya know? This is my second read from Christina Lauren and I'm definitely a fan!Maybe I'm lame but I have never giggled while reading a book, never. (Actually, that's a lie. I've laughed once when i don't think i was suppose to 🤔) This book made me smile, made me LOL, and ugh just brought me ha...

4.5 starsThis was such a perfect, sweet and funny summer read!I have only read one Christina Lauren book before so I wasn't sure what to expect when I heard about this book. But the synopsis sounded intriguing and I love a really good friends to lovers romance and I'm ecstatic to say that this one did not disappoint! Hazel is awesome. She's quirky, eccentric, whatever word you want to use for being 100% completely herself. I love that she's lear...

Josh and Hazel's Guide to Not Dating was phenomenal! I absolutely loved every hilarious, eccentric part of it!! ❝I swear my mouth and my brain are siblings who hate each other and give each other wedgies in the form of mortifying moments like this.❞ Josh and Hazel haven't seen each other since college where it was one awkward encounter after another. The two weren't exactly friends, I mean throwing up on someone's shoes isn't exac...

**ARC received for an honest review**Guys. Read this book. "The world seems full of men who are initially infatuated by our eccentricities, but who ultimately expect them to be temporary. These men eventually grow bewildered that we don't settle down into calm, potential-wifey girlfriends."Hazel has a huge crush on Josh in college. She's a spark plug, and he's Mr Cool. Hazel does some embarrassing things in front of Josh that mostly gua...

*I received a copy of this book from the author/publisher in exchange for an honest review.**3.5 Stars!* Before this year, I had never read a book by Christina Lauren. Now in the past five months, I've read three books by this author duo and I can definitely see why their books are so popular among readers in the romance community. When I picked up their newest release, I didn't have a clue what it would be about, but I had yet to strike out with...

FIVE +++++++ WONDERFUL STARSReading a Christina Lauren book to me, is like eating a gigantic candy bar; delicious, satisfying, but without the guilt from the calories. And reading Josh and Hazel's story was every bit of amazing I was expecting, and of course, just like when I eat my candy, I devoured this book in only one day. I'm so greedy when it comes to the good things in life. Hazel and Josh met when they were both attending college. Fr...