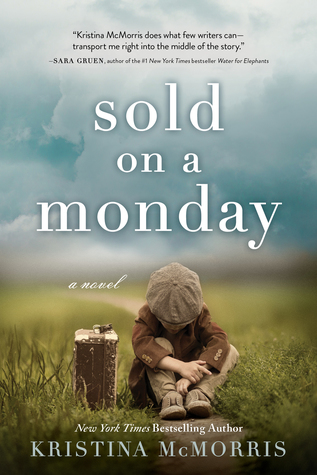 NEW YORK TIMES & USA TODAY BESTSELLERFrom bestselling author Kristina McMorris comes another unforgettable novel inspired by a stunning piece of history.2 CHILDREN FOR SALEThe scrawled sign, peddling young siblings on a farmhouse porch, captures the desperation sweeping the country in 1931. It's an era of breadlines, bank runs, and impossible choices. For struggling reporter Ellis Reed, the gut-wrenching scene evokes memories of his family's ...
---
Details Sold on a Monday
Title
Sold on a Monday
ISBN

9781492663997

Author

Kristina McMorris

Release Date
Aug 28th, 2018
Publisher

Sourcebooks Landmark

Language

English

Genre

Historical

,

Historical Fiction

,

Fiction

Rating
Reviews Sold on a Monday
***SO EXCITED THIS BOOK IS NOW #11 ON THE NY TIMES BESTSELLER LIST***This new novel by MsMcMorris is every bit as heart wrenching and yet satisfying as her previous novel "The Edge of Lost", also historical fiction.This book is set in 1931 during the depression when so many people lost everything they had, their jobs, homes, land, family and any means of making a living. As difficult as it is to imagine there were people who dropped their chi...

Heartbreaking and heartwarming..... I loved Kristina McMorris's last book...."The Edge of Loss"....and this is another page turning Historical Fiction story- to love - based on a real photograph. Thought Provoking Quote —- at the start of Part 1 is so darn truthful! "Photography is the art of observation. It has little to do with things you see and everything to do with the way you see them". ——-Elliott Erwitt Kristina McMorris in...

This is the book I have waited over two years for, the one I have most anticipated this summer! Five stars to Sold on a Monday! 🌟 🌟 🌟 🌟 🌟 I read Kristina McMorris' last book, The Edge of Lost, the day my preorder arrived, which was the day before Thanksgiving 2015. I can remember that book on my counter a mere foot from where I was cooking. Any spare minute I had, the book was in my hands. It is one of the most perfect reads, and...

3.5-star ratingChildren for SaleThe sign sits on a porch in 1931. It's the time of broken dreams, lost fortunes and heartbreak. What a decision to make - to sell you children. This is the scene which journalist Ellis Reed comes upon while reporting on another story. He decides to take some pictures of the two boys sitting near the sign and wonders "can they read?" Do the boys know what is written on the sign? Heart wrenching and sad.Lilian Palmer...

3.5 stars I can't stop thinking about the photographs - the cover of this book and the one that Ellis stages to support his piece for the newspaper he works for after his first photo is inadvertently destroyed, and the one in the author's note that inspired her to write this book. I always love knowing the author's inspiration for a story. But the one that haunts me the most is the first photo that Ellis takes, the one that is lost, the one...

Most of us studied it in school. Some of us listened to stories from our grandparents. Luckily, the Great Depression is something that none of us ever had to live through. We heard the stories of extreme poverty, vacant lots of cardboard boxes used for shelter, soup kitchens, worn out clothing, despair and dejection. Calvin Coolidge in 1932 said "in other periods of depression, it has always been possible to see some things which were solid an...

3.5 stars. Oh, that cover!!!If my rating were based on book cover alone, this would be a 5+ star! Perhaps due to my intense attraction to that heart-wrenching cover along with the book blurb, my expectations may have been set a little too high. With that stated, it was still an enjoyable story, just much lighter and different than expected. It simply didn't 'pack the punch' (thank you, Marialyce) that I was hoping for. This novel follows El...

3.5 stars! First things first…...This is one of those books where I just had to read it because of that totally captivating cover and title of this book, which I found both to be absolutely intriguing! SOLD ON A MONDAY by KRISTINA MCMORRIS was definitely an interesting, heartbreaking but yet heartwarming, and haunting tale but it left me with some mixed feelings upon finishing though. I thought this book was a good, quiet, easy and quick read t...

3.5 A picture speaks a thousand words, and it is a picture that will start Ellis on a journey of self discovery and moral questioning. Set against the Great Depression, this novel brings home the many things people had to do to survive. It is the children and a new picture that will bring Ellis his first success as a journalist, and that will bring Lily and Ellis together in a far reaching quest.It is the realistic atmosphere created, of a busy n...

!! NOW AVAILABLE !!3.75 Stars"And how I wish that love Was all we'd need to live What a life we'd have 'Cause I've got so much to give But ya' know I feel so sad Down inside my heart That the dollar sign Should be keepin' us apart "But you know that I love you You know that I love you Oh, how I love you" --But You Know I Love You,Alison Krauss, Songwriters: Mike Settle "Then I heard 'Can you tell me how it all started?' The reporter...

Norma, Lindsay and I read Sold on a Monday with five of our Traveling Sisters and we all had similar thoughts on this story.We were immediately drawn into the story with the photo of the "2 Children For Sale" We were intrigued by the photo and the story it held. The children in the photo pulled at our heartstrings and we wanted to know more about them.  However, that was not the story told here. The story takes a different turn and becomes ...

This historical novel is based on a real photograph snapped (possibly staged) during 1948 by a news reporter. McMorris takes that idea and transports it back to the Depression. I was expecting something along the lines of Orphan Train, but I was off track there. In fact, the children are mere devices to get the story going and don't figure prominently again until it's over halfway done. McMorris does some things very well. The tension between...

EXCERPT: Another drop of sweat slid from Ellis's fedora, down his neck, and into his starched collar. Even without his suit jacket, his whole shirt clung from the damn humidity. He moved closer to the house and raised his camera. Natural scenic shots were his usual hobby, but he adjusted the lens to bring the kids into focus. With them came a sign. A raw, wooden slat with jagged edges, it bowed slightly against the porch, as if reclining under th...

Set in 1931 when desperation and poverty abounded the heartbreaking story of how actions have many consequences and not always for the good.It all started with a photograph of two children sat underneath a sign that said for sale which altered the lives of the mother, children and the photographer who took the image.Totally gripping story that I really enjoyed.

A Goodreads friend had introduced me to Kristina McMorris's works awhile back ago and I even added a few of her books to my TBR at the time, but unfortunately never got around to reading them – so when I found out that McMorris would have a new book out in August, I immediately requested an ARC (and happily got approved right away). Even without that though, taking one look at the cover made me already want to read this book. Honestly, who wo...

I started reading Sold on a Monday on 9/9/2018 and finished it on 9/24/2018 at 12:30am. This book is a marvelous read! I like that every chapter ends with suspense and mystery. I like following Ellis, experiencing through his struggles with his career and the unstable relationship with his dad. It feels real and can be relatable to many readers. I also like following Lily's perspective. She's really mature for her age and it's from the less...

"(Lily) considered the disparity of fortunes between bankers and too many of their patrons, those with little choice but to live in shantytowns or to beg on the street. Or, God help them, to sell their own children."I enjoyed this historical novel set in Depression Era 1931. It starts when journalist Ellis Reed snaps a picture of two children in front of a sign that says "Children for sale." When parents don't have the means to feed or ...

3 sadly disappointing starsMy reviews can be seen here: https://yayareadslotsofbooks.wordpres...You know book lovers that feeling you get when you see a cover and a blurb about a book and you know in your head that you just have to read it? Perhaps it is the anticipation, the wanting for this book to be spectacular, the need to read it from start to finish that propels you. Perhaps also it is this anticipation, that sets higher goals then this bo...

It all started with a photograph - two little boys next to a sign saying '2 children for sale' during the depression of the 1930s. The photographer, Ellis Reed, a young journalist who liked to take photos, hadn't thought to make a story out of it until Lily, a secretary in the newsroom saw it in the darkroom and showed it to his editor. When the photograph is accidently damaged, Ellis makes the choice to stage a replacement with two other childre...

Inspired by the actual infamous picture of a mother trying to sell her children during the great depression, Sold on Monday depicts that time and circumstance as well as explores and poses some different ideas about the family and the children on that picture in a fictional setting. (I wanted to insert the photo here...until I figure out how to, this review will remain without one)In Sold on Monday, Ellis Read is the newspaper reporter who strugg...

Sold on a Monday by Kristina McMorris is a historical fiction read in which the idea came about from a real photograph the author found advertising children for sale. The ideas are all fictional within the book though with even moving the time frame to that of the great depression.I'm not one that reads a ton of historical fiction but the cover and title of this book certainly calls out to readers even at a glance. Without even opening the book...

3.5 Stars* (rounded down)It is 1931, and Ellis Reed, a reporter is searching for a story. In a photograph of children, standing on their front porch, he finds one. The sign beside them reads: "2 Children For Sale." Ellis' big break comes from writing a feature story about the photo, and when he goes back to interview the family, he discovers that they are gone. Ellis however, well, he needs that story - and so he stages one, almost an exact...

When Ellis Reed's car broke down, he took the opportunity to take some random photos with his work camera. It was 1931 and Ellis was a reporter, struggling to find the "big" story which would catapult him into the realm of popularity that he desired – of course the extra money wouldn't go astray. Those photos that day weren't meant for publication; just for his own catalogue. But Lily Palmer, secretary at the same paper, spotted a pho...

A thought-provoking and emotional profound historical fiction novel about a photograph of two children for sale.SUMMARYIt all started when Ellis Reed spotted two blond-headed, scraggly young boys, pitching pebbles at a tin can, wearing nothing but patched overalls in front of a gray weathered farmhouse. When he raised his camera to take a shot he noticed the raw wooded sign: "2 children for sale." Surprised and shocked, Ellis snaps a picture ...

This appears to be my year for trusting my gut instinct and grabbing books based on the cover and title. I've been rewarded with some awesome books by doing so, and once again struck gold when I decided to take a chance and request an arc of Sold On A Monday. If the heart-touching cover photograph doesn't get you, the title, synopsis, and story will. This has also been the year for me to become a fan of fictional renderings of real life events. T...

Thanks to NetGalley and the publisher for a free, electronic ARC of this novel received in exchange for an honest review. When struggling journalist Ellis Reed sees two children at the side of the road wearing a sign stating simply CHILDREN FOR SALE he is immediately captivated by the children's story. Soon he is photographing them and the picture quickly becomes front page news in every paper. Ellis is quickly drawn into a world of backdoor ...

They say that a picture is worth a thousand words and for Kristina McMorris this certainly holds true. Inspired by a poignant, tragic photo, the author has written a heart-wrenching tale about a reporter who snaps a photo much like the one that inspired McMorris which ultimately will alter the lives of the family in the photograph and many others as well. ( You can see the photograph on my blog: https://macsbooks311.wordpress.com/20... )Sold on ...

Good and bad things seemed to happen on Mondays for Ellis Reed, but more bad.The day Ellis was biding time until a scheduled meeting, happened to be the day his career changed, but it also was the day that would change his life and the life of the Dillard family.Ellis's story about a family who had their children for sale turned out to be something more than a story. It really happened, and when Ellis found out, he couldn't stop thinking abou...

I believe every reader agrees the cover of this book is very sad and devastating. That a parent or parents during extremely hard hard times would advertise and sell their beloved children for money. It is utter desperation at its worst. It all started with that picture, but turned into an entirely different story, only to completely come back around to those kids and their mother near the end. It was a slow beginning and not a whole lot of action...

I loved this book and knowing that the idea for the book came from a picture of a pregnant mother and her 4 children, with a sign saying the children were for sale, is heartbreaking. The book starts during 1931 and the Great Depression, with a young journalist, Ellis, taking a picture of two boys, at a house with children "for sale" sign. Back at the office, secretary Lily, places that picture with other pictures, on her boss's desk, and Ellis is...