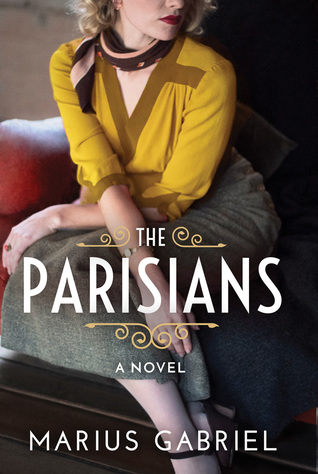 Paris, 1940. The Nazis have occupied the city¬—and the Ritz. The opulent old hotel, so loved by Parisians, is now full of swaggering officers, their minions and their mistresses.For American Olivia Olsen, working as a chambermaid at the hotel means denying her nationality and living a lie, every day bringing the danger of discovery closer. When Hitler's right-hand man moves in and makes her his pet, she sees an opportunity to help the Resist...
---
Reviews The Parisians
An interesting look at Paris during World War 2, concentrating on the guests and staff at the plush Ritz hotel. It has a mixture of real and fictional characters, including icons such as fashion designer Coco Chanel and French actress Arletty. We also follow the life of fictional character Olivia Olsen, an American chambermaid at the Ritz, hiding her identity behind a Swedish passport. We explore their stories during the Nazi occupation, and the ...

EXCERPT: . . . the eve of war had come as a shock. It was here suddenly, the thing they had all dreaded but not wished to look at, like the monster that lurked under the beds of children. Now, with terrifying purpose, it had clambered out and proved itself real after all. ABOUT THIS BOOK: Paris, 1940. The Nazis have occupied the city¬—and the Ritz. The opulent old hotel, so loved by Parisians, is now full of swaggering officers, their minions ...

3. 5 stars Thanks to Netgalley and Lake Union Publishing for an e-ARC in exchange for an honest review Readers choose books for all sorts of reasons and I am no exception. I chose this book specifically for its title because Paris is one of my favorite cities in the world. I may have mentioned this in other reviews, but I cried the very first time I saw that city and if the Eiffel Tower had been a person, well it most likely asked me to stop ta...

Got this from NetGalley, which is sometimes as much a crapshoot as First Reads. But I was surprised this time and delighted: a good, gritty, urbane, accurate, practical, frightening, realistic, and generally pitch-perfect novel of a little slice of Paris during the war. And no smarmy, over-the-top, twee, treacly Romance anywhere.Review to follow.Oh, if anyone read that horrible gossipy, inaccurate, and poorly written National Enquirer version of ...

I will say this about this book, thank God for Coco Chanel and Arletty! Those two women made the book worthwhile reading. I found the beginning of the book very hard to get into thanks to Olivia Olsen, this young artist who has come to Paris to paint. She's just the kind of character I have a problem with, a young naive thing that on the very first pages of the book meets a young anarchist that will take her by storm. I was not amused, I found Ol...

The Parisians was a solid account of how WW2 impacted Paris and the role of The Ritz hotel. The story focuses on the lives of 3 women whose paths intersect throughout the war at The Ritz. The author includes historical characters including a famous French actress named Arletty and the infamous Coco Channel. At the heart of the story is a young American artist named Olivia Olsen who clings to her Swiss roots and pretends to be from Switzerland. Ol...

I very much enjoyed this trip to WW2 where real and fictional characters do a cross over in a plush hotel in Paris. From Coco Chanel to famed French actress Arletty, not to mention a bunch of other well-drawn fictional characters, all are faced with the invasion of the Nazis and all yearn to survive the best possible way. This of course is far from being simple, especially for the central heroine who longs to save her boyfriend who is at the hand...

If you're looking for an effortless read that juxtaposes the lifestyles of rich Nazi sympathizers and struggling Resistance workers in Paris during World War II, you'll enjoy this. It really made my commute zip along. If, however, you like your books with some depth and writing that rises above the workmanlike, this will disappoint. The characters never blossomed into three-dimensional. Their motivations seemed pat and superficial. For instance, ...

I have read a lot of WWII novels and one of the things I liked about this one is the mix of fictional characters and historical persons. The Parisians has three POV characters. Olivia Olsen is a young painter from the Midwest who moves to Paris in around 1939 to paint. Olivia is the main character and we follow her through the war as she begins to work at the Ritz and then becomes a spy for the Resistance against Goering. The other two characters...

I just finished The Parisians by Marius Gabriel and I really enjoyed it. I didn't finish his two other books The Designer and The Ocean Liner as I found them boring. But, his latest book about a struggling American artist of Swedish heritage who to pay her rent and eat ends up working as a chambermaid at the Ritz in Paris is rather good. Olivia Olsen decides to take a huge risk to help the French resistance, she learns to use a tiny camera to tak...

In the end, this book left me breathless and aching.  This is a powerful story about love, World War II, and just what it means to do your duty.  With a mixture of fictional characters and real, Gabriel depicts women's struggles during this war.  The story revolves around Olivia Olsen, an asset to the Resistance, Arletty, a Nazi sympathizer, and Coco Chanel, a Nazi.  One thing that I really appreciated about this book is that it took women's...

The Parisians is a story of WWII. The Nazi occupation of Paris includes the Ritz hotel. The story is three different perspectives of women within the Ritz. It's interesting to see how each one unfolds because of social class and station and nationality. This is a fascinating time period. Readers of historical fiction will enjoy this book. Thanks to NetGalley for an arc in exchange for an honest review.

I really felt Marius Gabriel captured the spirit of Paris and The Ritz in this and even more, he was more historically accurate than most others out there. I was so impressed with this book and I read it as if I were needing air haha I couldn't put it down. I will say that at some parts Oliva's chapters were too flowery for me, but, on the whole, I went from being a bit annoyed with her character to admiring her. I wasn't sure what type of ending...

I really liked the story it centers around Olivia Olsen a chambermaid, then housekeeper at the Ritz hotel in Paris. She'd originally gone to Paris to become an artist, but couldn't sell any of her paintings, so she had to find a job elsewhere. There are two additional main characters, one an actress and one a fashion designer of notable fame. The characters were well written, the story kept me reading, I couldn't put it down. The author's researc...

*** I received an advanced e-copy from Net Galley in exchange for my honest reviewIn Paris, the Ritz was the place everyone wanted to be during WWII, including the Nazi's. They took over half of the hotel at a 90% discount, and expected the same lavish treatment as everyone else. The book concentrates the story around 3 women at the Ritz, and how they all dealt with the invasion. Coco Chanel decides to put it to her advantage and gets a lover hig...

A fascinating insight into how different women handled life in occupied Paris during WW2. It is fiction but based on real characters during this period. Those unwilling to give up their privileged lives that they have worked hard to achieve so enjoy the best of the Nazi's occupation. Others who see the horrors of the Nazi's and SS and join the resistance and a German living in Paris who is gleeful in joining the Gestapo. Set with the background o...

I won this book in a Goodreads Giveaway and I was thrilled because I had wanted to read this one!!There is a lot going on in The Ritz hotel during WWII. For most of the book, the Nazis have taken over the hotel, leaving the regular residents either out of a home or in different quarters. It was odd to see a side of a famous designer, Coco Chanel that I had never seen. We also see a middle-aged actress, Arletty and her lovers. We see a chambermaid...

At this point I'm a WW2 historical fiction expert. This was another amazing war book and I'm comfortable saying that it was one of my all time favorites. This time i found myself in Paris during the nazi occupation. It was a fantastic story that i enjoyed every minute of. The characters in this book were what stood out to me most. They weren't your ordinary WW2 characters. The cast included higher french elites - like Coco Chanel (spoiler a...

I do enjoy reading historical fiction and especially enjoy reading books where WW2 is concerned. This is the first time that i have read any books by Marius Gabriel and have a few more which shall be reading soon. I am not going to write what this story is about, as i prefer one to read the story for themselves. Recommended.My thanks to Netgalley and the Publishers. This is my honest review.

Another take on women in Paris during WWII that will appeal to fans of historical fiction where real women play a role. In this case, Gabriel has merged the stories of Olivia, who is working with the Resistance, with Leonie Bathiat aka "Arletty", a sympathizer and well, Coco Chanel, who has somehow managed to escape from her collusion. Look at them as women and this is a better read than if you think about the politics and ethics. Thanks to Netga...

I thought that this was a great story, the book totally encapsulated me. I enjoyed the use of the Ritz Hotel.I thought that Marius Gabriel told the history of how life was in Paris in the occupation was very good.I felt moved, dismayed, nervous, excited and thrilled. Such use of emotion in a book makes it a fantastic book in my opinion.

Paris, 1940. The Nazis have occupied the city and the Ritz. The opulent old hotel, so loved by Parisians, is now full of swaggering officers, their minions and their mistresses.For American Olivia Olsen, working as a chambermaid at the hotel means denying her nationality and living a lie, every day bringing the danger of discovery closer. When Hitler's right-hand man moves in and makes her his pet, she sees an opportunity to help the Resistance...

**I received a copy of this book from Netgalley in exchange for an honest review**For the first half of this book, I was ready to give it a one-star review. I actually considered abandoning it which I never do. But it really picked up in the second half and by the end I was gripped. So I don't really understand why the first half of the story exists – if the book had started where the plot did, with Nazi occupation underway and Olivia decidin...

The next installment in my unintentional historical-fiction journey this month brings me to Paris in the 1940s, just as Hitler and the Nazis have taken over France. The Parisians follows three women who do what it takes to survive in the city they love during the tumultuous World War II. Olivia Olsen is a Swedish-American who moved to Paris as a young adult to become a painter and be inspired by the most beautiful city in the world. Penniless and...

The Parisians by Marius Gabriel (3 Stars)Thank you to the publisher and NetGalley for an advance copy of this book in return for an honest review.This is a book of historical fiction, yet with a lot of reality thrown into the mix. The book follows three main characters, Olivia, Arletty and Coco, all within the context of their relationship to Olivia.Let's start with Olivia, the fictional character. Just before World War II, Olivia is an America...

The Parisians was a new take on looking at what happened I'm France during World War 2. Here you are seeing the war and occupation through those that work and live at the Ritz hotel. Yoi get to see how the rich we're affected by the Nazi's as well as those with less. There are characters within the story that are real people, which I found fascinating. It brought them to life for me. I struggled a little with getting into the story. I love all th...

This is an interesting look at World War II. The events of the Nazi occupation of France are seen through the eyes of Olivia, an American art student, and Arletty, a French film star. The Germans came in to France and pillaged Paris. Those Parisians that ingratiate themselves to the occupation fare well. It is far harder on the rest of the Parisians. There is a lack of food and safety. Checkpoints, accusations of spying and raids become a part of...

I really enjoyed this book in which of the three main female characters, two were real people who lived in France and at the Ritz during the German occupation of WWII. Historical fiction usually drives me to research more about the real-life people who are included and to research the accuracy of the story with regard to them. In this case, I did this pretty early on as there was a relationship in here with one character that immediately caused m...

I enjoy reading about WWII. I find it such an awesome way to relearn about the German and Nazi invasions of Europe. The trauma, chaos and destruction that the war brought. To learn about how people become so involved in the resistant movement and their dedication to bringing Hitler and the Germans down. This was a different novel for me to read as it had both fiction and non fiction characters. The novel was about choices that we make in order to...

This is the 3rd book I have read by Marius Gabriel and I was not disappointed. Set in Nazi-occupied Paris and centred on the Ritz hotel, The Parisians gives a fascinating insight into how the very rich spent their time in wartime Paris. Coco Chanel features prominently (though she is not very likeable) as do other known socialites of the time. The central character, Olivia Olsen, is American-Swedish and an aspiring artist who starts work as a cha...