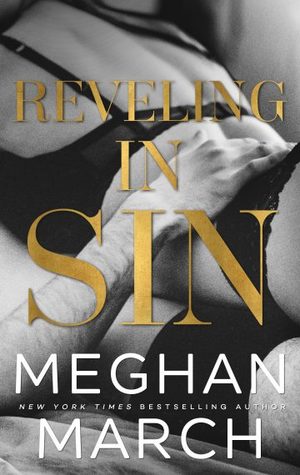 Whitney Gable is the kind of woman you fight to the death to protect.To keep.To cherish.I've finally learned my lesson, and it's time to prove I'm the man who's worthy of her.I don't care what it takes, because failure is not an option.No matter who or what stands in our way—this time, she'll be mine forever.
---
Details Reveling in Sin (Sin, #3)
| | |
| --- | --- |
| Title | Reveling in Sin (Sin, #3) |
| Author | Meghan March |
| Release Date | Oct 23rd, 2018 |
| Publisher | Red Dress Press |
| Language | English |
| Genre | Romance |
| Rating | |
Reviews Reveling in Sin (Sin, #3)
6 stars! Full Spoiler Free review now posted! OMFG! What did I just read?! Meghan March has tried to kill me. I had heart palpitations! It was so intense! So much freaking happened! I would have a few minutes to catch my breath then BOOM! here comes another twist or surprise moment. So much angst and drama, so many lies, secrets, and surprises. Some I had an inkling of, some I never saw coming! It was exiting, shocking, scandalous, and emotional....

What a way to end this epic love story! This is a must-read bine-read. Full rec on USA Today Happy Ever After closer to release date.

This trilogy comes to a shocking conclusion with so many surprises. I loved everything about this series! A must read!

The conclusion will leave you reeling! I didn't see that coming! Woah! Elizabeth @ Carolina Chic's ReadThis series and this conclusion for Whit and Lincoln is going to leave you spinning. They can't take a breather before something else is thrown at them. This is my first series from Meghan March and I am headed for the rest!!!!