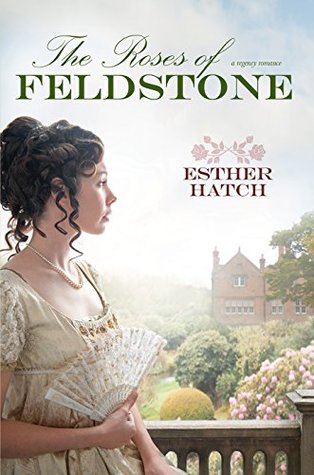 Standing before Feldstone Manor, site of so many happy memories, Rose Davenport feels nothing but dread. Her family's annual visit to the stately home was once brightened by her friendship with the earl's youngest son, William, but everything changed the day his elder brother was disinherited and William became heir to his father's earldom. From that moment, William made it clear he has no interest in continuing an acquaintance with Rose. H...
---
Details The Roses of Feldstone
Reviews The Roses of Feldstone
Such a great Regency story that reminded me a bit of my favorite (Edenbrooke by Julianne Donaldson) in that both main characters are head-over-heels in love with each other but don't know that the other feels the same way, because of familial and social constraints and misdirection. Rose is understandably frustrated with William, and I couldn't fault her for goading him at times. The author struck a good balance between showing William and Rose's...

I love when I find a great Regency Romance that's fun, clean, romantic and just an all around great read. This one fits all of those things!I loved Rose with all of her quirks. She gets sick riding in a carriage. Rose loves her namesake roses. She even gets mad at William for his having removed her favorite ones. There are so many great things to love about her! I really loved seeing the backstory between Rose and William through her eyes. It m...

***4.5 stars***I love a book that makes me feel good and has depth to it. I found both of these aspects in The Roses of Feldstone. Rose is a character that I loved. She is smart and unassuming. She was born to privilege, but treats everyone with kindness and compassion. (Unless there is a suitor she wants to avoid, then she just hides.) She treats tenants, servants, and abused chimney sweeps as if they were friends. No one is beneath her notice o...

There might be a decent story here but the author's complete ignorance of Regency custom and law is getting in the way of my finding it. Some points the author might have found with even cursory research:* An earl cannot disinherit his heir from the title. Not possible. Titles are royal grants and messing with the inheritance is a big, fat hairy deal. I don't know what it'd take to change the inheritance in Regency England, but at the very least ...

While this book took me a few chapters to get into it, it was a really fun book to read!! By the end, I was laughing at some of the banter Rose and William had!Rose was friends with William growing up until they weren't friends! It just appeared that William became unkind with Rose. Then Rose would just say things to annoy him because she didn't know why he was ugly with her.Background is that William's older brother married a woman from an...

This book was such a pleasant surprise. Debut author, Esther Hatch, has created a fantastic story with vivid characters who stand out in personality but not without their flaws. The back and forth between Rose and William was enough to drive me crazy in the best of ways. I was ready to scream out in frustration with them and then . . . oh, well, I cannot give too much away but let's just say that my tummy was all a flutter and I got goosebumps on...

I admit, that cover totally drew me in and even made me overlook the price tag (and really for that price it should at least be available to loan out), which I don't usually do for new-to-me authors. But seriously, I love this cover! This was a sweet regency romance, flowed well and had likable characters. It's my understanding that this is Ms. Hatch's first book and I was impressed. I know I could never write half as well. While it was a sweet a...

Loved this book! I got lost from the first few pages and could not put this down. This was very well written with wonderful characters you can relate to in a time when things were not easy and one must play by the rules of society and family politics. The pacing was great and I loved the twists that were thrown in throughout the book.

I forgot how much I love a well written regency romance and I absolutely could not put this book down! The characters came alive and I felt their emotions: despair, hope, frustration, love, lust. I highly recommend!

Fun new Regency. I loved this premise:But when he makes the hasty promise to marry within six months, he never dreams that his actions will lead Rose to impulsively undertake the same challenge.And it did not disappoint.

From cover to cover, The Roses of Fledstone by Esther Hatch is a delightful story that readers will thoroughly enjoy. From page one, Hatch catches the attention of readers with her enjoyable characters and true to the time period feel of the story. A fun, sweet, pleasant, light, and quick read, Hatch's novel is one that will give readers warm fuzzies throughout the entire tale. Readers that enjoy regency romance novels will definitely adore thi...

I absolutely adored this story! There were so many things about this novel that I want to gush about, but it would be so unfair of me to spoil this novel for anyone who hasn't read it yet because it really is so delicious. So... I'm going to tell you all the non-plot spoilery things that I can and urge you to purchase a copy for yourself to enjoy.Both William and Rose were written so perfectly. I loved their chemistry and all their conversations....

Thanks to NetGalley and Covenant Communications for this read in exchange for a fair and honest review. All opinions contained herein are my own.Esther Hatch is an unfamiliar author and I thought the story was well-written and pleasant to read. Will I read another of her novels? I would say yes, although I was a bit disappointed with this one after reading such a catching description.The characters, William and Rose have been friends since childh...

I was really intrigued when I read the back copy of this new regency romance novel, The Roses of Feldstone. This is a new author as well, so I was hoping the story lived up to my expectations.We first meet Rose who used to be friends with William, the younger son of an earl, but who now pushes that friendship away in order to needle and provoke him. William isn't any better, he's quite curt with Rose and doesn't seem to want to have much to do wi...

A great Regency Romance novel! This book has fun characters, especially the main character, Rose. I loved the side stories and how seamlessly they fit into the main characters' plot line. It's really well written with a satisfying ending!

Stunning regency era read! As a brand new author on the scene, it leaves me extremely excited to see what she has coming next. Perfectly paced, and the anticipation will have you desperately turning the pages of this beautiful novel. So descriptive, but not overly so. The characters each contribute in a way that embellished the scenes in which they appeared. I loved the fact that despite reading similar plot lines in historical fiction prior, it ...

This book was a delight from beginning to end. A perfect regency romance, with totally engaging characters and perfect tension throughout. I thoroughly enjoyed it!!

I read this one in just two days, it was so great! I loved the true-to-the-era feel of the book, felt like I was a fly on the wall throughout the story. This is one of my very favorite pure romance books ever. A nice plot that was easy to read and hard to put down. Can't wait to read more of this author's books!

I honestly couldn't put this book down! I was transported to a a beautiful place!!! I found it interesting how much I related to Rose when I was her age. The author captured what it's like to be young and in love and insecure! Such a great story. I couldn't wait to see how it all transpired hence being up until 2 in the morning to finish it.

4/5 ⭐ I really enjoyed this! I was really glad that the two love interests were friends from the start and had feelings towards each other instead of them being strangers. The plot had me intrigued through out the story. 4/5 ⭐️ I really enjoyed this! I was really glad that the two love interests were friends from the start and had feelings towards each other instead of them being strangers. The plot had me intrigued through out the story...

Esther Hatch has been added to my list of all time favorite authors! I loved this book! It seriously gave me the shivers reading it because it was so delicious!! I couldn't put it down, the tension between the two main characters was so agonizing in a good way. I would recommend this book to anyone who loves a great clean romance with a great plot! It's going on my re-read list😍😍😍

Romance is not my genre, but this was a really great book. I'm not just saying that because the author is my friend either. It was funny and witty and had more depth and plot twists than I was anticipating.

I love a good clean romance and The Roses of Feldstone kept things fun and interesting throughout the book. There was good chemistry between the main two characters and once I started reading I didn't want to put it down.

Rose's once fond memories of Feldstone Manor and of it's heir, William, were no longer pleasant. When pressure was put on William to become engaged within six months, Rose decided to earnestly become available to another suitor in the "ton". She would not appear as "the rejected one"!This first novel of Esther Hatch's debut is a delight to read. Although mostly predictable, it is well-written with a few "twists". It reinforces some of the hurt, p...

I'll say right out that I loved this story so much that I read it all in one sitting. I had to find out what happened between Rose and William. Rose's spirit and determination made her easy to root for. And while the story is told from Rose's point of view, it's clear that something is very wrong with William and so I felt empathy for him too. My favorite parts though were their interactions. It's clear that they care for each other but some pret...

I believe this was the first book by this author. I enjoyed every page of this book. I couldn't put it down. I loved our main characters Rose and William. I like that Rose was a strong female character but still maintained a softness & vulnerability as a female. I will look forward to reading more in the future from Esther Hatch.

"Roses of Feldstone" is from a new author not only for me, but sounds like it's her first novel for everyone. I liked it a lot and will definitely look forward to any other books by Esther Hatch. The basic thread of the story is not original, but Hatch puts in new stuff and her own twist to make it original and fresh.Rose is a young lady that has enjoyed past annual visits with The Earl of Chatsworth's family at their country estate. The ...

Rose was heartbroken over the loss of William's affection. William had always been a kind and thoughtful person to everyone. He used to be that way to Rose too, but not lately. Ever since William became the heir to his father's earldom, he was a changed man. Their once easy friendship turned into a sparring match of angry words and uncomfortable silences. Although William loved Feldstone, his dream had always been to become a doctor, not the ...

You take a chance with every book you read, especially with a new author. I'm happy to say that The Roses of Feldstone was a good risk. This debut novel was enjoyable from the outside in (don't you love the cover?). The storyline was captivating, and Hatch did a great job of making me want to keep reading.I felt really bad for Rose, especially as more and more of her hurt was laid out. It is hard to imagine your best friend turning on you overnig...

Clean regency romance that was easy to read and fun to imagine as well as totally entertaining banter and uncommon regency manners. The tension was high between Rose and William and as we learn about them throughout the book it makes sense, but also just made me annoyed that they couldn't just tell each other that they really did have feelings for the other and wrap up the story. But if they had, it wouldn't have been nearly as enjoyable. Fun sto...