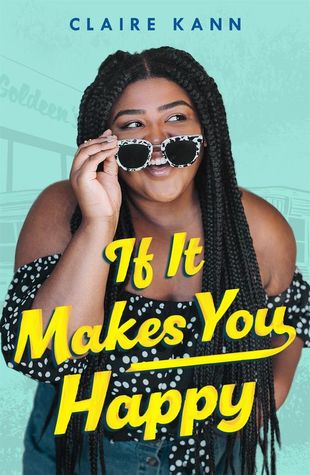 High school finally behind her, Winnie is all set to attend college in the fall. But first she's spending her summer days working at her granny's diner and begins spending her midnights with Dallas—the boy she loves to hate and hates that she likes. Winnie lives in Misty Haven, a small town where secrets are impossible to keep—like when Winnie allegedly snaps on Dr. Skinner, which results in everyone feeling compelled to give her weight los...
---
Details If It Makes You Happy
Title
If It Makes You Happy
ISBN

9781250192677

Author

Claire Kann

Release Date
Jun 4th, 2019
Publisher

Swoon Reads

Language

English

Genre

Contemporary

,

Young Adult

,

LGBT

,

Romance

Rating
Reviews If It Makes You Happy
3.5 stars. Having adored LET'S TALK ABOUT LOVE from the same author, I absolutely needed to read this book. But now that I have, it's hard to believe that the two were written by the same person.For starters, this story is told from the first person POV, whereas Alice's story was in the third person. That was a very good surprise, because Winnie's voice is so strong. It was wonderful to be able to hear everything she was thinking directly...

Wow this was super cathartic to read with all of the ways that Winnie displays the frustration of how the world treats you when you're fat holy guacamole

Haven't read it yet, but anything Claire Kann writes is going to be super AWESOME!!! And that cover is all kinds of #BlackGirlMagic feels!!!

Winnie is one of those characters that I have been waiting a long time to see in contemporary literature. She is a strong, independent black female who is fat and queer. Winnie isn't here for anyone's judgements about her body or her sexuality. She's brutally honest and speaks her mind without a filter. Winnie is my spirit animal.Winnie recently finished high school, which means college is on the horizon for the fall. During the summer, she...

(Disclaimer: I received this book from Netgalley. This has not impacted my review which is unbiased and honest.)If you weren't convinced that Kann has a knack for characters, then If It Makes You Happy will certainly convince you. Winnie has a big heart, does things for the right reasons (if they aren't the best course of action), and is one of those characters you instantly like. Whether Winnie's dedication to her family, her own personal growth...

I received this book from the publisher/tour host in exchange of an honest review.It is time for summer, and that means that Winnie is all eager to visit Misty Haven where her grandma lives and has a diner called Goldeen (yes, the Pokemon). But her summer is going to be way different than she has planned. With romance, a competition, a kingly/queenly kind of event, trouble, and people trying to get her to lose weight (though she is just happy wit...

I think the synopsis does a pretty good job explaining what the book is about, so I want to talk more about the characters.First is Winnie.  She is 18 and working at her granny's diner the way she does every summer.  She loves working there.  Her brother Winston, and cousin, Sam stay there with her.  Winnie is black and fat (not said in a bad way).  She is happy with how she is.  She's pretty confident except when it comes to public speakin...

Full Review on The Candid CoverAny book about diners and cooking competitions is an instant win for me, so I was very excited when I learned about If It Makes You Happy by Claire Kann. The book is not just about the diner, however, as it touches on serious topics as the main character is crowned the summer queen. I enjoyed the influential message the novel has to offer along with the main character who is unapologetically herself. This is a quiet...

(I received a free eARC from NetGalley & Xpresso Book tours for a voluntary and honest review. All thoughts and opinions are my own)Book review: If it makes you happy by Claire Kann (4 stars) If it makes you happy by Claire KannGenre: YA, contemporary, Romance, LGBTRating: 4/5 stars(Review)(DISCLAIMER: All thoughts and opinions are my own.)Winnie is spending her summer working at her family's diner and hanging out with Dallas, who she has a cru...

Not going to lie, this book took a while for me to dive into, there was so many things happening in the first 50 or so pages. I finally kind-of understood the storyline after that, but the plot didn't go anywhere much. It follows Winnie, a girl of colour who's on summer break in Misty Haven, and follows themes such as friendship, loyalty, family, health, and love.That being said, huge bonus points for the detail that went into a lot of the charac...

Thank you to Swoon Reads, Xpresso Book Tour and Netgalley for providing me with a digital Arc in exchange for an honest Review!💗 Read this Review on my Blog 💗CW's: Emotional Abuse, FatphobiaRepresentation 🌺 Queer Black Fat MC Why You Should read If It Makes You Happy The main character Winnie ☀ Now she is a force to behold and I can happily say that I immediately liked Winnie. She is a queer black fat girl and has often experienced a...

Special thanks to NetGalley for providing me with an eARC and the opportunity to read and review this book before its release date. This, however, does not reflect the opinions in my review. If It Makes You Happy is my first introduction to Claire Kann and, overall, it was everything one could want in an enjoyable, summery contemporary read. Misty Haven and Goldeen's practically jumped off the page and Kann did a great job of really capturing t...

I was lucky enough to win an ARC of this from Swoon reads on Twitter. Thank you, Swoon Reads!Winnie is an 18-year-old girl who spends her summers in Misty Haven, working at her grandmother's diner, Goldeen's. She loves being there even though she and her grandmother have a volatile relationship. She spends her summers working non-stop and spending time with her brother, Winston, and her cousin, Sam, who grew up in her house and is like a sister. ...

3.5 rounded up! Thank you to XPresso Blog Tours & Swoon Reads for providing me with an ARC copy of If It Makes You Happy in exchange for an honest review! Note: Any quotes used in this review are from the ARC copy & may not match up with the final copy!I wasn't sure why I loved myself as much as I did. Never really questioned it.Lemme get the negative out of the way so that I can get to raving about If It Makes You Happy. The plot & scene trans...

3.5 starsWhen you read the blurb, you realize this book will be pretty diverse, but it's more so than I realized. My favorite thing about that was it didn't feel forced. The characters were themselves and that was that. I love when authors create a world like that and everything seems natural.If It Makes You Happy follows Winnie, a plus-sized girl of color. She is spending the summer with her grandmother (like she does every year) and plans on he...

This was really a good book. It had so much to it, depth, characters, back stories, side stories, emotion, drama, and a lot of really good takes on issues that you may not think about normally, or don't realize because they were from the side of an issue you may not identify with. Even some of them that I do feel like I connect with, the whole overweight thing especially, I even learned a few things or began to think of them from a slightly diffe...

3.5 RATING!I loved Claire Kann's early 2018 debut, Let's Talk About Love, so I was excited to read her sophomore novel. And then I saw the cover and I REALLY wanted to get my hands on it—plus sized person of color, for the win! There are a lot of components that I really loved about this book, but overall the plot felt way too jumbled.Winnie Woodson was an awesome main character, who is so authentic and relatable. She's a fat, queer teen ...

I received an ARC of this title from NetGalley in exchange for an honest review.Winnie is thrilled to be spending her last summer before college working at her Granny's diner, Goldeen's. She'll get to spend time at her favorite home-away-from-home with her favorite people: her Granny, her 'baby' brother Winston, her cousin Sam, and her ungirlfriend Kara. But her plans for an easy summer quickly go awry in a quick series of events: first she is un...