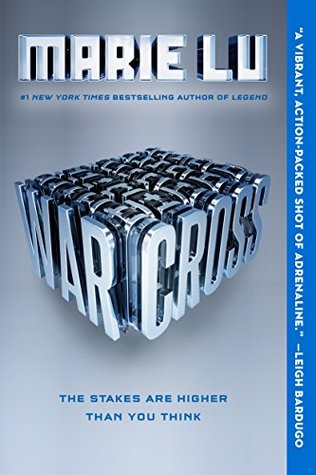 For the millions who log in every day, Warcross isn't just a game—it's a way of life. The obsession started ten years ago and its fan base now spans the globe, some eager to escape from reality and others hoping to make a profit. Struggling to make ends meet, teenage hacker Emika Chen works as a bounty hunter, tracking down players who bet on the game illegally. But the bounty hunting world is a competitive one, and survival has not been ea...
---
Details Warcross (Warcross, #1)
Title
Warcross (Warcross, #1)
Author

Marie Lu

Release Date
Sep 12th, 2017
Publisher

G.P. Putnam's Sons Books for Young Readers

Language

English

Genre

Young Adult

,

Science Fiction

,

Fantasy

Rating
Reviews Warcross (Warcross, #1)
3.5 starsCynical Natalie:Nice Natalie: For the record, I'm not comfortable being here. Marie Lu is one of our favorite authors! Remember when we met her and acted like complete dorks, but she was still really nice?Cynical Natalie: How many times do I have to tell you? Separate the person from the art. Marie Lu is a lovely person, but that doesn't mean I'm not going to rip into her brain baby's ass and yank its innards from its throat.Nice Natalie...

Imagine wandering through the most realistic virtual Paris ever, or lounging in a full simulation of Hawaii's beaches. Imagine flying through a fantasy world of dragons and elves. Anything. Tokyo. Virtual reality. Spies. Do I really need to say anymore?Oh okay, I guess I'll say some more. Aside from a few kinks that will probably be ironed out by the final publication, Warcross is a thrilling sea of action and exciting sci-fi possibility. It pr...

I want dwayne the rock to bench press me I'm pretty sure it'll hurt less than whatever is happening right now.This was so fucking INCREDIBLE and like...ohm y god I'm just [takes deep breath] [dinosaur noises]I love this book with all my usually empty 7 hearts that just inflated 6 sizes and I think my ribs might actually crack. I wish all seven of them were prettier and less veiny, maybe silk and pastel hair that I could stroke gently... because n...

4.75*Oh my god this was AWESOME! Such a great book. BiblioBabble TK very soon!!!!*thanks to Penguin Canada for the ARC!*

I LOVE THIS BOOK SO MUCH. You will love it too. It is beautiful and smart and Emika is a funny, flawed, *awesome* heroine. And Hideo, omg, SO MANY FEELINGS. The setting in this book are exploding with radness--the conversations, the technology, the intricacies of the world. I knew from both the LEGEND series and TYE that Marie Lu was a master worldbuilder, but this clinches it. I read this book FAST, and it totally got me out of a reading slump. ...

THIS IS OFFICIALLY THE BOOK OF 2017 THAT I AM SHOVING AT EVERYONE. No matter what your age or what genre you normally read - IT IS AMAZING. I haven't been this into a book in sooooo long. Oh my goodness. It was perfect. Like I have 0 complaints and just a lot of fangirling gifs to unleash on y'all because Marie Lu is a genius.I can't really even begin to explain the absolutely brilliant game that is Warcross. I'll just say that I'm not usually in...

Warcross is more than just a game. It's an industry. It's a way of life. It's unlimited access to the future. And for Emika, Warcross has recently become her saviour… and job. I have to say, Marie Lu can truly write anything. Dystopian, fantasy or science fiction, it doesn't matter, Marie Lu can do it all. I'm surprised she hasn't written a contemporary book yet, though I admit her thing is action and complex worlds, so I'm glad s...

I LOVED THIS BOOK SO SO MUCHWarcross is absolutely one of my favorite books of the year. It's thrilling, it's engaging, and the twists in this novel are still driving me wild. I loved absolutely everything about this novel. Hoping to film a glowing review for my YouTube channel soon!!I received a free copy of this book from Penguin Teen at Book Expo 2017. I had no obligation to review this book and all opinions are my own.

Think. You can solve this. This will not be your life. You are not destined to stay here forever. You are not your father.This is easily the most brilliant, exciting, and action packed novel I've read in 2017. If I wasn't a responsible adult, I would have blown through this in a single sitting. I'll admit, I had seen talk of Warcross filling my feed here for well over six months prior to it's release date, but was a bit skeptical. Reading the blu...

DNF at 50% - audiobook Pretty much from the beginning, I wasn't too thrilled about this book. The main character is just so bland. Poor orphan girl who becomes the chosen one for a talent that feels like she got overnight. We're never told how she actually got great at hacking. She basically unfocuses her eyes and things stand out to her... Maybe I'm bitter because I was never able to do that with the Garfield book I had! But *gaps* she has a r...

Oh man. Marie Lu KILLED it. This was phenomenal, and easily one of my favorite books of 2017. I don't even want to say much about the plot (hah if you know me, I normally like to go into books blind anyway). I'll just say this - Emika is a kick ass heroine struggling to survive in a world where digital reigns. But she does something unexpected, which leads to a domino of events that land her in a crazy cool situation with the maker of Warcross. T...

I have a really important question.https://emmareadstoomuch.wordpress.co...Like, everything I say is really important, and therefore every question I ask is really important, but this is especially so. It is integral to my understanding of the world around me, and also books and also Goodreads.Is there a single person who gave this book over 3 stars and has read Ready Player One?Seriously. This book is a C-, young adult, romance-y, boring, poorly...

its been 6 days since i read this and im still trying to coherently write a review,,,,, but thats not possible so i'll just scream that THIS WAS REALLY FUCKING GOOD AND I TAKE BACK EVERY BAD THING I EVER SAID ABOUT NOT HIDEOUS HIDEO AND EMIKA'S RAINBOW HAIR. i fucking love them and also what the absolute FUCK was this ending. marie lu pulled a painful plot twist and i dont FUCKING WANT IT. just some other side screaming: i predicted the identity ...

Marie Lu is a legit talent. I love the way she can genre-hop and kick ass every time.

4.5 and all my love."... but tonight, I can join in with everyone else, put on my glasses, and watch magic happen."Do you remember Antarctica in Champion? How that world worked? Since the moment I read that, I've hoped Marie Lu would take that concept and expand it somehow. And then she did. So I mean it literally when I say that Warcross made my dreams come true. •Warcross might not be the best book you'll ever read. It might not be the mo...

4.5 starsYASSSS. Marie Lu, the queen, IS BACK!

I love Marie Lu, but I had a hard time with this book in the beginning. I felt like I wasn't really going to get into this book. I have to say it took almost until the end to really enjoy it. I'm not sure if it was my mood, that I wasn't really ready for a gaming book or what. Either way, I did enjoy it after I kept going. What I want to know now, is that ending? What is going to happen in the next book? I mean who do you trust now? It was pretty...

This was a 3-star book for me up until the last 15 pages and just wow.(view spoiler)[I'm usually great at predicting endings of books but even I didn't see that coming. I'm shook. (hide spoiler)]But in other news, for the first time in two months I FINISHED A BOOK!!!! Also the main character is named Emika Emi and I wanna know who let her have that name? It's mine. She can't have it. Anyways, Me, Emi, and not the Emi in the book have actually fi...

i wish i could just copy + paste the emotions i'm feeling right now so i could accurately convey my love for this book ✘ http://playwarcross.com/ honestly it's been a while since a book has made me feel so ♥‿♥ and i don't know if i'm ready to talk about warcross yet..... but right now i'm not even capable of doing anything but stare at my wall and think about this book anyways so i might as well be semi-productive and write my review whi...

update: I used up valuable space in my suitcase for other books and brought Warcross to Japan and took pretty photos of it in Tokyo. the pages are slightly heat-warped and it was a completely extra thing to do but do I have any regrets? of course not-----------------------------------so I read this more than half a year ago so there probably is never going to be a full review but someone give me three reasons why I should NOT bring this book on m...

Maybe I was wrong, and maybe someday I'll look back and regret lashing out like that. I'm still not entirely sure why I threw myself into the fire over this specific incident. But sometimes, people kick you to the ground at recess because they think the shape of your eyes is funny. They lunge at you because they see a vulnerable body. Or a different skin color. Or a difficult name. Or a girl. They think that you won't hit back—that you'll just ...

this was everything i wish 'ready player one' could have been. it wasnt convoluted with high-tech coding jargon or bogged down with gaming references - this was a fun story about a girl who unexpectedly finds herself entered in a global gaming competition. and i really enjoyed this, even though i couldnt care less about gaming. marie lu has an effortless style of writing that makes it so easy to inhale her stories and this was no exception. s...

I did really enjoy this! Buuut I also found it really predictable and I didn't click with the gaming parts. I know I knoooow. "Cait," you're saying, while feeling really tired, "this is LITERALLY A GAMER BOOK." But see, I wanted to try anyway. I was at the library. 7889 people keep telling me to read it. I like the cover. Etc. etc. I'm not sorry I tried it either because I found it easy to whip through and the writing + world was FAB.But... is it...

meh. it was all right i guess? wasn't expecting much but is2g the romance and the mention of emika's rainbow hair in nearly every chapter made me physically want to put myself into a chokehold. first person narrative wasn't doing shit for me either.the extra stars are mainly just kudos for the poc, disability, and minor lgbt rep. side note: hideo is blander than a sack of flour. which is disappointing because there are barely any asian male love ...

"Do you remember one year when that player - Leeroy something - actually got drafted into the Stormchasers, even though he always just charged in and messed up his entire team's play? My God, he was terrible."You read that right, my loves: Marie Lu references freaking Leeroy Jenkins in her writing. I mean, how could I give this book anything less than all the stars?When I first finished this book, I was leaning towards 4.5 stars and couldn't deci...

I AM DECEASED.Holy shit that was so, so good. I literally cannot right now because the last 15% of the book deeessttroooooooyyed me, NNNNNNGGGGGGGGGGHHHHHH.I finished this when the trailer for Ready Player One dropped and I'M JUST SO MUCH MORE EXCITED.Virtual reality world, bounty hunters, badass heroine, game-changing twists....seriously. What more can I want??!This book was such a delicious and exploding piece of treasure. It was colorful, beau...

3.5 Stars "Everything's science fiction until someone makes it science fact" I'm going to go ahead and say it: It's not very original. The idea of an immersive gaming system where you control an avatar and it has real world complications has been done many times. (Examples: #1, #2, #3, #4,#5, and #6 )What is new is the fun and diverse cast at the forefront of the story. Our main character is a young Asian female with rainbow-colored hair ...

Warcross is everything I wish Ready Player One had been. It has a great cast of diverse characters who each have a decisive role in the plot. A thriller-type mystery plotline to keep things interesting. Romance with plenty of (natural, non-fabricated) drama, just the way I like it. A dynamic heroine who is true to herself throughout the book. Extra points for the rainbow hair.All around, just a great read.

It's 4am and I literally just read this in one sitting. I have SO. MANY. THOUGHTS. MY BRAIN IS OVERWHELMED. BUT IN A REALLY REALLY GOOD WAY.

Full review postedWhat is this?? I'm writing a review after 446 years?? Is this real life??(marie lu, the destroyer of my soul drew this guys, this woman is too talented to be human) Reasons why Warcross is the Best Book rn - EMIKA CHEN IS A QUEEN AMONG PEASANTS - She's a hacker, bounty hunter, and all-round-boss- She has rainbow hair !!!- THE BOOK IS BASICALLY READY PLAYER ONE BUT SET IN TOKYO WHATTTT- The writing is so easy to read I basica...