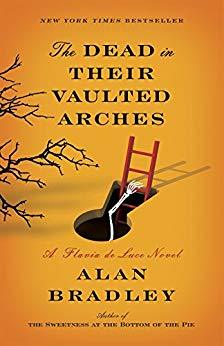 On a spring morning in 1951, eleven-year-old chemist and aspiring detective Flavia de Luce gathers with her family at the railway station, awaiting the return of her long-lost mother, Harriet. Yet upon the train's arrival in the English village of Bishop's Lacey, Flavia is approached by a tall stranger who whispers a cryptic message into her ear.Moments later, he is dead, mysteriously pushed under the train by someone in the crowd...Who was this ...
---
Details The Dead in Their Vaulted Arches (Flavia de Luce, #6)
Reviews The Dead in Their Vaulted Arches (Flavia de Luce, #6)
"The Marble Tombs that rise on high,Whose Dead in vaulted Arches lye,Whose Pillars swell with sculptur'd Stones,Arms, Angels, Epitaphs and Bones,These (all the poor Remains of States)Adorn the Rich, or praise the Great;Who while on Earth in Fame they live,Are senseless of the Fame they give."Thomas Parnell,A Night-Piece on Death (1721) Alan Bradley must spend a good deal of time combing the dusty poetic tombs of libraries to find the archai...

Rating = 3.5 starsIn which the mystery is solved surrounding the disappearance of Flavia's mother during World War II. Also in which Alan Bradley prepares to take the series in an entirely new direction. This is a wise move. Life at Buckshaw is growing stale, and it's time for Flavia to take her chemistry skills out into the wide world. After all, she is almost twelve years old, and beginning to show signs of growing up. This works best as a just...

I spend a year waiting for it and a day reading it. From the first Flavia mystery five years ago, I have been hooked. The Dead in Their Vaulted Arches did not disappoint. There is so much I wish I could say about it, but won't for fear I will give something away. I will say this, after reading the first lines I said to myself, "I knew it! But I didn't know it. I didn't know the half of it.Just as Bradley has done in each of the Flavia books as th...

Flavia de Luce is a brilliant young girl whose knowledge of chemistry is on par with many Ph.Ds. Flavia uses her abilities to investigate murders, and delights in solving crimes ahead of the police. In this sixth book in the series Flavia once again uses her skills to track down a killer.The book could be read as a standalone but it's much better to start with book one and go on from there.*****Twelve-year-old Flavia de Luce and her family are at...

As much as I love Flavia, there's just no plot in this one, just a lot of needlessly convoluted, attempted exposition of past events in the series.

Thanks to Netgalley and the publishers for providing a copy in exchange for an honest review.4.5 stars!I adore this series. The character of Flavia, the complexity and layers of the relationships, the setting, the players, the word craft, etc. In book #5 for the first time Mr. Bradley left us with a cliffhanger, and with book #6 we are treated to a roller coaster ride. It's almost as if everything that was creating an undercurrent of tension is b...

Gasp! I can't believe I am giving a Flavia book a rating of just three stars but alas...... I am. I have loved this series so much and with much anticipation of book 6 wrapping things up, was a bit disappointed.The book starts out good and has quite the climax in the middle but then it fizzles out. Things are vague and the past sleuthing that Flavia did, did not happen in this book. Things just kind of fell into her lap so to speak. It did leave ...

In the 6th novel, redacted, redacted, redacted. We get some answers, a whole lot more questions, and a little bit of heartbreak. Also, I might be a tiny bit in love with Dogger. There's really nothing I can say that wouldn't be spoilery, except that the only bad thing about a Flavia book is waiting a whole year for the next one.

Best one yet, but Mr. Bradley, you know how to pull on our heart strings! Was anyone else secretly glad that Flavia's plans for Harriet were foiled.?! This instalment opens the door to not only additional characters, but different ways of seeing the ones we've already met. Gorgeous series!

Mr. Bradley, while your first four Flavia novels were fantastic, I can't believe you left us with a cliff-hanger at the end of #5! Speaking from Among the Bones was wonderful. Very much looking forward to #6. Thanks for a great series!

Alan Bradleyn uusin Flavia de Luce-sarjan jännityskirja on nimeltään Kuolleet linnut eivät laula. Kirjan kansikuvassa oleva arkku kuvaa Flavian perheelle läheisen henkilön arkkua, joka tuotiin heidän kartanoonsa. Kartano oli jouduttu laittamaan myyntiin, mutta sitten tuli yllättävä viesti, että äiti oli löydetty ja oli tulossa kotiin.Alan Bradley on hurmannut 11-vuotiaalla Flavia de Lucella, joka on pikkutarkka havaitsija ja kiinnost...

The Dead in Their Vaulted Arches There's two different stories going on here: in one, Flavia is trying to find out about her mother, missing, presumed dead, since the girl was an infant. The other is a modern mystery about someone going under a train. The first is fascinating, somewhat implausible in resolution, but a deeply satisfying look at family dynamics and the mysteries of one's parents. The other is solved without much detective work on a...

Oh, Flavia. Such intelligence and determination in a young girl make you dangerous - not to mention your fascination with poisons and chemistry. I probably wouldn't like you so much if it wasn't for your huge sense of fun and adventure, combined with how lost and alone you seem in your stiff-upper-lip world living in the decaying family home in your little English village. There is nobody quite like you. Probably a good thing, actually. Still, I ...

While I think this must be the weakest of the series (even moreso than the christmas one) - I hesitate to give it a 1 as typically a 1 means I really despise a book.This book was weak, in plot and characterization and resolution. So weak, in fact, that I cannot muster up enough aggravation to give the book the 1 that the overall weakness deserves.Characters added, with little to no characterization and that did nothing to advance the plot; establ...

I shy away from genre fiction, spurn series, and tire quickly of child narrators – and yet I find the Flavia de Luce novels positively delightful. Bradley's quaintly authentic mysteries are set at Buckshaw, a crumbling country manor house in 1950s England, where the titular eleven-year-old heroine performs madcap chemistry experiments and solves small-town murders. Flavia may be spiky and snotty – especially to her two older sisters, the on...

Two of my GR friends who are mystery aficionados highly recommend this series about a precocious preteen girl. I am advised that this is a series that is best read in order to get the most out of it. However, my free online e-book library only had this sixth available so I start here on my trusty Kindle. The idea is that if I like it, I will retreat to the first of the series and try to interest my eleven year old daughter. I had to stumble throu...

I adore the Flavia de Luce series. I received an Advanced Reader Copy of book #5 a year ago and screeched out loud at the excruciating cliffhanger ending. I have been counting down the months until the next book's release. I was ecstatic to be approved for the ARC of The Dead in Their Vaulted Arches via NetGalley.To sum up the series: Flavia is an 11-year-old with a passion for poison and chemistry. She lives on an isolated British estate with he...

So far this series has had a rollercoaster effect on me - I loved books 1, 3, and 5, and was underwhelmed by 2, 4, and this one, number 6. I didn't buy into any of this book. I know grief does strange things to people, and Flavia's still a child, but too much seemed totally out of character.Things that didn't sit well:1 - Flavia forgot about the dead guy on the train platform.2 - Rare drugs were obtained effortlessly.3 - The chemistry was straigh...

I have to admit that I read #1 and #2 in the series and then took a giant leap to this one #6, because I won a preview copy of #7 coming out in 2015, which I'll soon need to review. So I know I committed the ultimate faux pas, and maybe someday I'll go back to the others, but in the meantime I'm so glad to have read this. No regrets. Flavia and her family are top of their game here. Her mother's body comes home for burial finally, and Flavia's cu...

I don't think I'll ever dislike a Flavia de Luce book. The Dead In Their Vaulted Arches was beautifully written like the other books in the series. I did feel that this particular one was sadder for reasons I can't say because of spoilers; but I really felt sorry for Flavia and saw more in this book her small age of just eleven; which was nice because her demeanor is years ahead.

I love every book in this series so much, if I have a daughter I'm going to convince my husband to let me name her Flavia.

4.5 Sterne Meine MeinungJetzt bin ich tatsächlich schon beim sechsten Band der Reihe angelangt und immer noch genauso fasziniert von der 11jährigen Protagonistin Flavia de Luce wie von dem einnehmenden Schreibstil des Autors Alan Bradley.Ich möchte nicht viel auf den Inhalt eingehen, um keine Überraschung vorneweg zu nehmen - denn hier geht es dieses Mal nicht einfach um einen "profunden" Mord, an dem Flavia zufällig Zeuge wird, sondern um e...

I found this book to be so odd! An odd storyline to be sure, and also one that was at odds with the overall tone of the rest of the series. I know no one looks to Flavia de Luce for a gritty, true-to-life tale of woe, but the previous instalments all managed to balance the brightness of Flavia and Bishop's Lacey with interesting mysteries (albeit to varying degrees of success). This one sort of flew right off the deep end - I was excited to read ...

I still remember that I was very reluctant to start reading my first Flavia de Luce book several years ago. At the time I was kind of fed up with cozy mysteries, the German title (Mord im Gurkenbeet - Murder in the Cucumber Bed) didn't appeal to me at all and the cover looked like an Addams-family wannabe. Then my library had a copy of it and I decided to take a look and then maybe finish after a few pages. I'm more than glad I took this step: I ...

I won a copy of "The Dead in Their Vaulted Arches" Flavia de Luce, #6 by Alan Bradley through the Goodreads Giveaway Contest. Once again in this cozy British mystery, Flavia entertains us once again. This novel is slightly different than the other novels in the series. The Dead in Their Vaulted Arches is more about grief and family relationships than solving a mystery. There is a murder and mysteries to solve, but Flavia is almost twelve now. She...

After the crazy cliffhanger ending of Speaking from Among the Bones, I could not wait to get my hands on this! Finally some answers to some of the mysteries surrounding both of Flavia de Luce's parents and their history during WWII. There are plenty of de Luce secrets uncovered throughout these pages, the most intriguing of course being there's even more to learn about the mysterious Harriet de Luce, who has really been the biggest question mark ...

The 5th book in this series, Speaking From Among the Bones, ended with a cliff-hanger – the first time I recall this happening in the series. Number 6, The Dead in Their Vaulted Arches, picks up precisely where its predecessor left off and carries on at a fast clip. Unveiling the mysteries of the de Luce family as it goes, there are several plot lines and a few new characters mixed in with the ones we are already familiar with. And, a deadly mi...

Have to say, with such a great opening, this one was rather a disappointment.Almost no sleuthing involved, Flavia is so caught up in her internal perambulations about her mother, that she shows almost no interest in the man who speaks mysteriously to her and minutes later is dead.The ending is literally solved in the matter of a page or two, with a strange and gory ending. Actually, you get a two-fer, with the current murder and a decades-old mys...

Der sechste Band der Flavia de Luce Reihe ist anders als die bisherigen Bücher, denn erstmals steht kein Mordfall im Vordergrund der Geschichte.In "Tote Vögel singen nicht" erfahren wir einiges über die Familie de Luce und deren Geschichte, insbesondere die von Flavias Eltern.Mit dieser Geschichte erhält der Leser viele interessante Informationen, aber man lernt auch eine emotionale Seite von Flavia kennen.Auch ihre Leidenschaft für Chemie k...