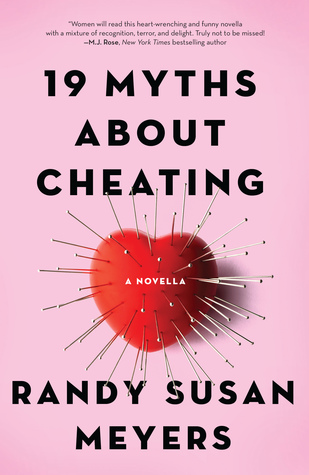 "Of course, it began with a man. Aren't troubles with men a woman's daily bread? Worse yet, I was sleeping with the trouble and he wasn't my husband—a secret as undeserved as cruel. Adam's marriage crimes were cold but not savage, and certainly not worthy of infidelity."Isabelle needs one good reason to shave her legs with joy. Her husband broods over cholesterol, white flour, and his dental patients; her nervous eight-year-old son ...
---
Details 19 Myths About Cheating
Title
19 Myths About Cheating
Author

Randy Susan Meyers

Release Date
Aug 14th, 2018
Publisher

Brooklyn Girl Books

Language

English

Genre

Romance

,

Womens Fiction

Rating
Reviews 19 Myths About Cheating
A charming novella from one of my favorite authors.

In this riveting book, Randy Susan Meyers has written a story about infidelity that is poignant, raw, and provocative. Every word and every emotion resonated deep within my heart. Readers are given an intimate look at a family and the far-reaching impact of cheating with scenes that are heartfelt....the pain, the anger, the sadness, the desperation, evident in their words and looks and touch.

I've read most of Meyers' books and this one is outstanding. Funny, clever, wise, exactly as you'd expect from this author.