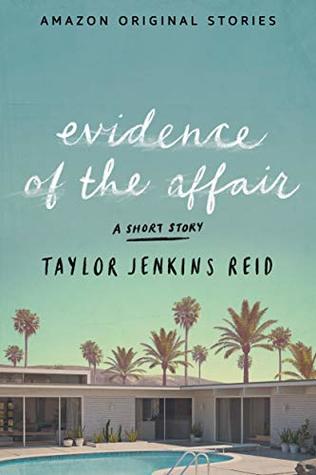 The repercussions of an illicit affair unfold in this short story by bestselling author Taylor Jenkins Reid.Dear stranger…A desperate young woman in Southern California sits down to write a letter to a man she's never met—a choice that will forever change both their lives.My heart goes out to you, David. Even though I do not know you…The correspondence between Carrie Allsop and David Mayer reveals, piece by piece, the painful details of a...
---
Details Evidence of the Affair
Reviews Evidence of the Affair
This was so good. No long review needed, just do yourself a favor and grab a copy. It'll be a worthy 30 minutes of your time, and it's currently free on Kindle Unlimited!

A great epistolary short story by Taylor Jenkins Reid. Free on Kindle Unlimited or with Amazon Prime!

50 pages that's all. But packed with a fabulous story. In letters. Great!

I was fully invested in Carrie and David and their marriages in the first page. I won't write a long review because I don't want to spoil anything. A wonderful way to spend a half hour and fully invest yourself in these lives.

I stumbled upon this piece by Taylor Jenkins Reid completely by accident—thank you Goodreads and the daily digest—as I noticed a number of my fellow readers were offering their praise. A fan of short stories and having come off a horrid few days of bad reading, I thought I would take a look, and am pleased I did. In a story that took under an hour to read, I was pulled into a collection of letters between Carrie Allsop and David Mayer. Carrie...

This will be a short review for a short story. My love for Taylor Jenkins Reid has been no secret on my blog. I think I mention The Seven Husbands of Evelyn Hugo every chance I get. So Evidence of the Affair was a lovey surprise today when it popped up on my news feed.This story is told in the form of a series of letters. Two strangers, Carrie and David, begin writing to one another when Carrie discovers that their respective spouses have bee...

Only TJR could make reading letters for 30 minutes intriguing. And, that's all I'm going to say besides grab your copy on Kindle Unlimited!

I actually really enjoyed this epistolary short story.

This just broke my heart 💔😭

Taylor Jenkins Reid can do no wrong.

UghI knew it was a short story going into it but I want more. I need to know what happens with Carrie and David.

I AM SCREAMING. Also, a new record clocking in at 45 mins it took to read this (and that's only because I had to finish work in between....and the letter format helps, of course). These works are the "call your significant others and tell them you love them" type writings. Also, Taylor Jenkins Reid is killing it lately! I love how much the writing has improved. The Seven Husbands of Evelyn Hugo is still my favourite but I can see a clear trend fr...

I've read books previously that are comprised strictly of hand written letters. These books lacked character build up, plot, setting the tone emotionally and environmentally, as well as any connection with the characters. It comes as no surprise to me that this short story, full of hand written letters was the opposite of what I just listed. The minimalist of things ie change in font made a huge impact in this read for me. I loved this short st...

Captivating!!Ok, full disclosure: I love every single thing I have ever read by Taylor Jenkins Reid. Her words, although sometimes emotionally difficult to digest, always make me ask big questions about myself and life. She never skirts around the raw, gritty hard stuff life can throw at us. This short story was no exception. What do you do when you find your spouse has not only cheated, but is having an ongoing affair? The answer is that there i...

As I am eagerly anticipating reading The Seven Husbands of Evelyn Hugo, I was excited to hear that she had this short story/novella available on Kindle Unlimited. I needed a break from other books I am reading and was curious to experience Taylor Jenkin's Reid's writing style. It was a quick, easy read that gave insights into the human condition. I also enjoyed how well she portrayed the late seventies.

Taylor Jenkins Reid's writing is like butter! Her stories are so deliciously wonderful. I swear she gets better with every story she writes! This was a short story that was gobbled up from the very first page. She remains one of my favorite authors of all time.

Well that was a delight and such a surprise!!

I recently read The Seven Husbands of Evelyn Hugo and deemed Taylor Jenkins Reid an amazing story teller. So, when I saw this short story all I needed was to see her name before I knew I needed to get my greedy little hands on it. I did not even read the synopsis because frankly I think I would read anything she wrote. Of course it was a wonderful short story with a delicious little ending!

...and she does it again! Gah this one pulled at my heart strings just like her Daisy Jones & Evelyn Hugo did. A short story told through letters between two married strangers regarding their cheating spouses. This story takes place in all the iconic places of Southern California in which the novelist knows so well and all the places I adore too (Hotel del Coronado, Catalina Island & Newport Beach to name a few). I love how the author writes abou...

I literally read this in under an hour. I was glued to the letters of two people who sought comfort in each other's words, while their spouses found theirs with their bodies. You never truly understand what the other is thinking, how the spouse left behind truly feels once they find out about their partner's transgressions and here you hear both sides of the coin. The last letter blew me away and I LOVE IT. A great short story from Taylor Jenkins...

premise:A collection of letters. What do you do when you find a letter from your husband's mistress? Carrie takes it upon herself to write to the mistress's husband David. And just like her other books, you get swept in her writing these back and forth letters. I personally still love her novels more, but, I would be down for more short stories for these in between periods. A quick and joyous read!

A short story from one of my favorite authors that I can read for free with my Prime membership? Sign me up! I had no idea Amazon was publishing short stories these days. I devoured this in an evening - the heart wrenching letters between the cheating spouses, the strange, comforting bond between the two betrayed spouses, and the completely unpredictable ending. I love that Reid always gives you a happily ever after - but the characters have to d...

4 StarsI love Taylor Jenkins Reid and enjoy epistolary tales, but I'm not sure what to fully think about this short story. There was a point early on where I began thinking this was a huge train wreck waiting to happen. I didn't care for that feeling, but ultimately the story had a message or two and (IMO) ended on a kind of high note. A little bittersweet, but a high note just the same.

I kinda loved this. I've always been a fan of stories with this format, and found myself invested right away with the first letter. As Carrie and David continued to write, first to gain more information about their spouses affair and later because they formed an actual connect, I had a feeling of where the story was going, but still loved the journey .Definitely a quick read, but very much worth it. And FREE for Prime members!

I don't usually read short stories and am often hesitant to read books that solely consist of written letters back and forth between characters, but I can't resist a Taylor Jenkins Reid book! This is an extremely quick read that took me an hour or less to start/finish before bed. My only complaint is that it wasn't a full length text...eagerly awaiting her new release in the spring!

I will read absolutely anything Taylor Jenkins Reid publishes, she can do no wrong. Full length Novel or Short Story the characters she writes and the stories she tells are so complex and fascinating. Evidence of the Affair is told entirely in letters and it works so well, I loved it.This is definitely worth the read and is free right now on Kindle Unlimited!

When Taylor Jenkins Reid posted that she had a short story out yesterday, I swooped in and snatched it up. I read it very quickly and ate up every word. It was a delightful appetizer. It definitely wet my appetite for more. I love how it was told in correspondence between two people whose partners had a fling. Watching their relationship grow was a joy. The ending made me smile.

My rating scale:5☆ - I loved this book and it brought out true emotion in me (laughter, anger, a good cry, etc)4☆ - I loved this book. 3☆ - I liked this book. 2☆ - I didn't really care for this book. 1☆ - I did not like this book at all and probably did not finish it.

TJR is a treasure. She writes characters with complex humanity, flawed and perfect and intricate and real. I devoured this quick little short story in a single sitting, and even only spending twenty minutes with these characters, I was all-in. Loved the Daisy Jones Easter egg, as well!