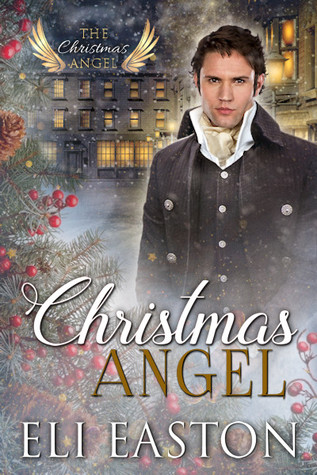 When John Trent, a dedicated member of the new Bow Street Runners, finds an exquisite carved angel floating in the Thames, he can't stop thinking about it. He tracks down its creator, a sad and quiet young sculptor. But neither the angel nor the sculptor is done with John just yet. The blasted angel refuses to leave him be, behaving not at all like an inanimate object should.Alec Allston is resigned to the fact that his love will ever be a rive...
---
Details Christmas Angel (The Christmas Angel #1)
Reviews Christmas Angel (The Christmas Angel #1)
4.5*twirling*LOVED IT.Get ready for an adorable Historical Christmas story.The first book in this charming series.....I use the word series loosely because each book can be read on their own....BUT....there is a connection in the form of an Angel ornament/tree decoration.What a lovely concept these Authors have come up with here.An Angel seemingly casting her magic and bringing men from different worlds together.Each book captures a different era...

~4.5~This is the first story, the story of how the angel came to be. It's also the story of Alec, an artist and sculptor, and John, one of the Bow Street Runners (London's first police force founded by Judge Fielding in 1749). Filled with pain and despair, Alec almost ends his life, but an ephemeral woman with golden red hair tells him that his days aren't over, that there's joy to be found yet. Alec later carves the likeness of this woma...

Definitely a big ole' case of, "It's not you, it really is me..."I mainly requested this one because 1.) I wanted to have a bit of history about "the angel" for other books in the series and 2.) it's Eli Easton, so hellooooo.But the fact that the story is extremely historical, like historical on steroids, while it was extremely well-written, I've once again (and again and again) confirmed that much like mysteries, historical stories are simply *n...

4 StarsThis was a truly lovely Christmastime romance and a really great introduction to the bigger Christmas Angel series. Set in the 1750s, the story follows two lonely souls coming together and finding true love with the help of a bit of divine intervention. MCs Alec and John were extremely sweet together. I loved the eager and considerate way John chose to court Alec; it was very romantic and put a goofy smile on my face.Normally I find M/M hi...

I wrote another book in this series. But we each wrote our books independently, as standalones, so I can be pretty objective about this book.And I love it. Eli nails the historical setting perfectly, including the real concerns about social status and social propriety. More importantly, however, the characters are lovely. I could feel the longing between Alec and John very clearly. There are also some really fun secondary characters and a plot wi...

<3Disclaimer, I have a book as part of this series. However, all the books are standalones and I've been so thrilled to read some of the stories already. And OMG guys. I love this Christmas Angel SO HARD.I'm just so in love with this story. Like, crazy love. TRENT, eh. <3 Dashing. Confident. Suave. I honestly don't know how Eli does it. She wields her pen with magic. You guys are gonna go nuts.<3

Hurrayyy to Eli Easton for yet another Christmas story win! I swear that she writes the best Christmas stories out there. I loved timid Alec and chivalrous John. This is a slow-burn, feel-good love story with hope, happiness and a perfect happily ever after. Thoroughly enjoyed it! 4.5 loving someone is never a sin stars ⭐⭐⭐⭐💫 Hurrayyy to Eli Easton for yet another Christmas story win! I swear that she writes the best Christmas stor...

Eli Easton kicks off this loosely interlinked series of festive romances with a truly beautiful historical set in the Georgian period of English history.Giving the backstory to the Christmas Angel, her romance between a sculptor and a Bow Street Runner is chock full of lovely historical accuracy and all the feels as two men whose very proclivities could have seen them to the noose, fall in love.I adored Alec but John Trent is a fabulous character...

December is my favorite month. I decorate every nook and cranny, whip us a storm in the kitchen, and gorge myself on holiday stories. Much to my delight, a group of my favorite authors collaborated on a series of Christmas tales this year. I kinda skipped around with the order, but no matter, it's the magic of a special angel that ties each book together. I'm still dipping my toes into the historical trope, just recently discovering how wonde...

3.5 stars.My first Eli Easton story (I hear the resounding gasps). While I wasn't awestruck by Christmas Angel, I enjoyed it. It was a well-written, charming, and heartwarming holiday tale.

4 Holiday Hearts! - Team review with ChelseaA perfect start to this historical series loosely tied by a magical Christmas angel!See how it all begins with the angel's creation as Alec pours his heartfelt emotions, desire, and love into making the figurine as a token to a man he can never have. What Alec doesn't expect is to be rejected, only to have the discarded angel brought back to him by ruggedly handsome "lawman" John, who's instan...

4.3 StarsOMG I am almost afraid to read the rest of the books in this series because this one was so good. I loved it...EDITED TO ADD: Why aren't my Notes and Highlights showing up as options to share???

Overall book rating: 4Audio Book: N/A Book Cover: 3I love this time of year! One of the reasons – The Christmas / Holiday reads of course! I can't wait to get my grabby hands on them.I don't usually read a whole lot of "historical" but this just worked for me. The concept of this series just makes my romantic little heart beat wildly.Eli Easton did not disappoint. The first book of the series kicked off with a resounding bang and it mad...

I am so excited to get this as a gift from the incredibly generous, super sweet Elf sleuthing a la Elmer Fudd, who is spoiling me rotten! Well, more rotten, LOL! Thank you!! Reading now. :)*****4.5 stars! Eli Easton writes wonderful, heart-tugging stories all of the time but her Christmas stories are always something special. This was so sweet, romantic and hopeful, I was a big melted puddle of happy when I finished. If I could have wished for an...

So Sweet for the Season!!This was such a magical Christmas novella from Easton! Set in Georgian England in 1852, it chronicles a moment in a woodcarver's life that birthed a magical wooden angel. From despair to love, this was a sweet and delightful read full of longing, courtship and love! I'm looking forward to discovering the stories surrounding this carved angel in the rest of the series!Happily recommended!

I just wanted to go aahhhhh at the end there. Such a wonderful feel-good romance!John and Alec just warmed my heart. Getting some lovely firsts and a bit of magic was awesome, too.Lovely, lovely start to the Christmas angel series!

This book has everything I love in a story! Holiday, mm, historical, London, and Bow Street Runners! I have 'a thing, like a weak spot' for a Bow Street Runners and John won my heart, and Alec's heart, of course.Alec had to thank the angel he met that night, for making him cancelled his stupidity over what he called love. Pfft!Eli Easton hit the spot with this book, I think, this series is my Christmas favorite series with all the beautiful stori...

I quite enjoyed this lovely little story, so I'm going to overlook the inaccuracy of Mr. and Mrs. Simpson having a Christmas tree in their home in London in 1752. ;)

Ahh, this was simply delightful. What a cute, sweet story about a Alec, a professional carver who carved a lovely angel figurine to give to a man he thought he loved, a Duke, two years after they've ended their...thing, their infatuation, as a token of his love, while the guy married a woman. But he throws it away into the Thames because he is scared and determined to hide who he is at all costs. In comes John, who finds the angel in the Thames, ...

I'm pretty sure there's nothing Eli can't write. Her last book had me on the edge with Boy Shattered and this one had me in the most hopeful, Christmasy mood. It's not my first Christmas read by her either, but it IS my first historical, and I'm not BIG on historical, so I'm not a huge judgement of accuracy or anything, but, She just seems to be able to write any trope, and rocks it. This is about an artist who's about to give up, but is visited ...

A💜JNow that was just so freaking adorably cute. I really enjoyed this story. It was sweet and just the type of read I enjoy during this time of year. A story of hope and love.

4.25 starsEver so lovely! A truly perfect Christmas story.

4.75 starsJust lovely!--------For those sticklers on historical accuracy, this novel is set in the 1750s and features a Christmas tree; however, I don't think the first Christmas tree appeared in England until the 1830s ...

"Why, you've barely begun your work. You've a million dreams yet to dream."Another absolutely wonderful, heartwarming slow-burn romance by Eli Easton! I adored those two guys, and the setting was just perfect. I loved every minute of it. I only wish it were longer. And I am so looking forward to the rest of these stories now!

Very sweet story. I loved it.

I really enjoyed this. It is a great start to this series.

4.25 stars. Historical 🎄🎄 Christmassy ⛄⛄ novella from Eli, the first in the Christmas Angel series, which is set in London in the 1750's. I loved the secondary characters in Trent's lodgings, and was rather happy that the Duke of Claridge was outplayed by 'commoners' at his own scandalous attempt at blackmail.

A Joyfully Jay review. 4.5 starsEli Easton's offering from The Christmas Angel collection is entitled Christmas Angel. Set in the late 1700s, it covers the lives of two very different men. One, Alec Allston, is a sculptor used to dealing with the upper echelon of society and the other, John Trent, is effectively a detective for the magistrate known as a Bow Street runner. They cross paths when John finds a carved angle floating in the river and...

I probably would have given this 4-stars, except I missed the whole "Mrs. Simpson" issue, which I still can't figure out how that happened and the boarding house gave me hope that MAYBE even back then there may have been "safe" places for those who were in daily danger just for being themselves... so, 5-stars it is!!! And yes, I may be reading these books a tad bit out of order... pfft! ;pOn a side note... let me say what a joy it was to read a b...

This was a short quick historical read that I liked. When John Trent finds an angel floating in the Thames, he cannot stop thinking about it. He tracks down its creator, a sad and quiet young sculptor. But neither the angel nor the sculptor is done with John just yet. The angel refuses to leave him be behaving not at all like an inanimate object should. The sculptor Alec Allston wants to find love. Although I have several of this author's books b...