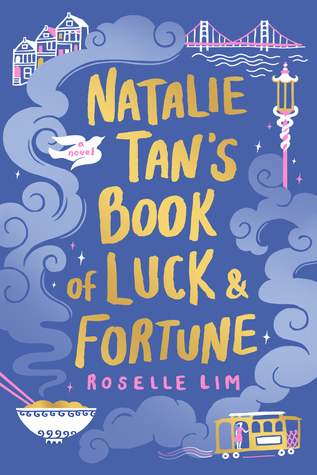 Lush and visual, chock-full of delicious recipes, Roselle Lim's magical debut novel is about food, heritage, and finding family in the most unexpected places. At the news of her mother's death, Natalie Tan returns home. The two women hadn't spoken since Natalie left in anger seven years ago, when her mother refused to support her chosen career as a chef. Natalie is shocked to discover the vibrant neighborhood of San Francisco's Chinatown that she...
---
Details Natalie Tan's Book of Luck and Fortune
Title
Natalie Tan's Book of Luck and Fortune
ISBN

9781984803252

Author

Roselle Lim

Release Date
Jun 11th, 2019
Publisher

Berkley Books

Genre

Romance

,

Contemporary

,

Fiction

,

Adult

Rating
Reviews Natalie Tan's Book of Luck and Fortune
ARC provided by Berkley in exchange for an honest review.Blog | Twitter | Tumblr | Instagram | Youtube | TwitchBuddy read with Alexa & Madalyn! ❤

I absolutely loved this book. It's warm and bubbly and filled with magic, community, and great food. They need to make a movie of it, and you want to read it. And then watch it.

This was a cute story that worked quite well as a lazy Sunday afternoon read. And while the cultural aspects certainly enhanced the story, I do think some other elements fell flat in terms of providing substance. I guess what I'm trying to say is I didn't feel a meaningful connection to the main character and storyline as much as I assume the author was aiming for. Natalie Tan left the San Francisco Chinatown neighborhood she grew up in with drea...

Buddy read with Madalyn & Melanie!3.5 stars. I truly enjoyed a lot of the aspects of this novel - the depictions of food and the process of cooking, the culture that wove itself into the tale, the mix of characters as well. I do think it might translate even better as a film, because it would be so fun to see all the cooking parts in front of my eyes!

Natalie, living in Montreal when she learns that her estranged mother has died, goes back to San Francisco's Chinatown to attend to the details. Her mother suffered from agoraphobia, and Natalie learns how much the people in the community had helped her. Natalie loves to cook (and provides the reader with many recipes), but does she have the talent and the strength of her late grandmother to reopen the family restaurant which closed many years ...

*3.5 stars*I enjoyed this one, and it definitely made me hungry, but some of the plot threads felt a bit disjointed, and I think I wanted to love it more than I did. i did really appreciate how the author brought Natalie's Chinatown neighborhood and all its residents to life. It's a debut that reads very much like a debut, if that makes sense— which isn't a bad thing! Just something to know going in. Full review TK!

I read an early copy of this and enjoyed the way magic and reality met and were woven together to create a truly delicious book that will be a gourmand's delight. I look forward to reading the finished version as I reckon it's going to be even more amazing.

Sometimes you read a book that makes you cry, that's so deeply personal to your lived experience that it crushes your heart and fills it up at the same time. NATALIE TAN'S BOOK OF LUCK AND FORTUNE is one such book for me. This book has everything my Chinese diaspora heart could ever want. A strong Chinese heroine who harbors a deep appreciation for her immigrant parents and grandparents; the use of food to bring love and people together; magic in...

Lovely and heartwarming and charming and magical.

This feels like the book I've been waiting for my whole life. It is about food as healing, the way families fall apart and together, and the magic hidden in the corners of the world, all set against the fight to save a gentrifying Chinatown. Your life will be richer for having read this book.

I had high hopes for this, and sadly ended up disappointed.Overall, this felt like a wholesome Lifetime movie with a heavy dose of magical realism, and steeped in Chinese culture and cuisine. Plot: Natalie Tan grew up in San Francisco's Chinatown with her agoraphobic mother. She left home when she was 21 and has been estranged from her mother ever since. Natalie wanted to attend culinary school, but her mother strongly opposed it. In Asian cultur...

I am SO glad I got to read an early version of this delicious book. Warning: It WILL make you hungry! The prose is as luscious and rich as Natalie's recipes. Lim's writing is absolutely gorgeous, and I can't wait to see what she does next!

Oh wow, where do I even begin. This book has become one of the most memorable and magical books I've read. When I first began reading, I was intrigued but had NO idea that it would be THIS good.NATALIE TAN'S BOOK OF LUCK AND FORTUNE is one of those rare books I'd read again and again. Lim has mastered the art of building conflict and character. She developed the world so well that I'm almost tempted to see if the heroine's restaurant actually exi...

This book is so lovely. It is unlike anything I've ever read, yet it has elements that make me think of some of my favorites stories (Chocolat, anyone?). It has heart, family, love, and a touch of magic. Natalie was very relatable as a character and I was rooting for her the entire way. The people she meets along the way leap from the page, that you feel like they're real, your friends and family, and right there with you. I'm a tremendous foodie...

This book will draw you in, break your heart (in the best way) and put it back together again.Lim seamlessly weaves a world where magic mingles with reality, giving life to a whole new layer of depth and wonder throughout the novel. And the underlying themes of family, relationships, and the threads that bond us all are exceptionally relatable. Touching on elements of love, regret, mental illness, hope, and legacy, Lim manages to take us from one...

I had the chance to read this book early on and you are all in for a treat of the senses. Lim's Chinatown is a place of mystery and wonder, with magic in every pot. The story begins as Natalie Tan inherits the Chinatown restaurant her grandmother built, along with a recipe book that just may provide answers Natalie is looking for. Read on an empty stomach, because Lim is a master at the food. So many delicious concoctions are described on these...

Read the rough draft of this novel. Such an uplifting, surprising, and well paced book. Can't wait to reread the final product!

I was lucky enough to read an early copy of this book, and you are not going to want to miss this one! So beautiful and layered and the food descriptions are the stuff of dreams.

So, this is a bit of a hard review to write. Parts of the book made me absolutely salivate, it mostly wasn't the romance though. Roselle Lim has a talent for writing about food and making me absolutely crave some delicious dumplings.Look, I think if you know what you're going into you might enjoy it better. This book is magical realism, but it's really written much closer to a fairytale. The writing is light on details and clumsy at times. The ma...

This book is pure magic.The world the author creates with unparalleled and gorgeous prose pulled me in immediately. I never wanted to put the book down--no matter how hungry I got reading the descriptions of all the delectable food Natalie Tan was cooking. The story explores the importance of community, culture, and love, and is filled with so many memorable characters.I'm incredibly grateful to have gotten my hands on an early copy and have ever...

This book was 100% magically surreal, addicting, and delicious, and I loved everything about it. The way the author wound love and loss, grief and familial estrangement, determination, food, purpose and the reality of getting along with threads of otherworldly magic was seamless and brilliant. I cannot sing higher praises for NATALIE TAN'S BOOK OF LUCK AND FORTUNE, and I can't wait for Lim's next book!

I read this before it sold (lucky me!) and I loved it. Food plus magical realism is my happy place.

I was lucky enough to read this, and it is really an extraordinary book. Beautifully crafted scenes and amazing characters. I can't wait until it's out there for the world to enjoy!

I read an ARC via Net Galley. Wonderful and heartwarming. The author eloquently wove together themes of families, food, friends and love. Every vivid description of the food and recipes was irresistible and makes the reader want to run to the kitchen and cook. This is the kind of feel-good fiction novel you'll find yourself reading and re-reading.