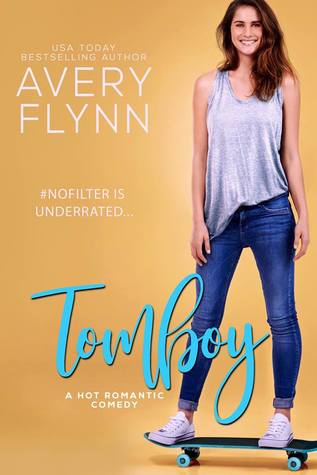 How exactly has one good deed landed me in the penalty box?Ice Knights defenseman Zach Blackburn has come down with the flu, and my BFF—his PR manager—begs me to put my nursing degree to use and get him back to health. Of course she would call in a favor for the most hated man in Harbor City.But when he's finally on the mend and I'm sneaking out of his place, everything goes sideways. Paparazzi spot me and pictures, plus accusations that ...
---
Details Tomboy (The Hartigans, #3)
Title
Tomboy (The Hartigans, #3)
Author

Avery Flynn

Release Date
Feb 18th, 2019
Publisher

Entangled: Amara

Language

English

Genre

Romance

,

Contemporary

Rating
Reviews Tomboy (The Hartigans, #3)
I must popped my Avery Flynn cherry and let me just tell you how enrapturing the experience was. This book was amazingly beautiful with fierce characters. I did not want to put it down. I fell in love with these two characters.Fallon is a tomboy in every sense of the word. She is strong, independent and takes no BS from anybody. She says it like it is and doesn't give a damn whether the person like her or not but her family is her weakness. She...

Oh how I love the Hartigan series! I received an ARC copy from Avery herself and I'm so glad I got the chance to read it and review it. Fallon and Zach's story did not disappoint. He's the bad guy, she's the chick that doesn't take shit from anybody. I won't give anything away but I highly recommend reading the newest installment in the series. I even got a 10 Things I Hate About You vibe from this story. Not sure if it was inspiration for Avery ...

If you've never heard of Avery Flynn (which, sadly, I hadn't until Muffintop, then I suggest you stop what you're doing, go to whichever preferred book retailer you normally throw your money at, and check out the Hartigan series by Ms. Flynn. I'll warn you, if you don't like any detailed love scenes, then she's not going to be your cup of tea. However, she's not what I'd deem "erotica", so... I'll just leave that there.But, oh my word, does Avery...

What do you get when you mix the most hated man in Harbor City with a takes no bull nurse. You get sparks, funny banter, and a really great book!Zach is a man who has been so hurt in the past he has learned to not let anyone in. He is an island both on and off the ice. This doesn't make him a very fun guy to be around. However when he gets sick his PR manager calls in a huge favor. Zach has no interest in have a nurse around and will do anything ...

I just read my favorite book by this author!!! I just love a total asshole with a soft center and a fearless woman who takes him on! A story with intense sexual tension, a great family of crazy characters, the best friends a girl could have and a budding bromance.Fallon is a nurse. She's no girly girl. She's no nonsense and low maintenance. She's a take no crap caregiver with a big and generous heart. Always doing for others but never askin...

Tomboy is Oh My God good! I am so enamored by this series. All the characters are real. They could be your best friend or they could be you! Fallon is the tomboy who does her job as a nurse and loves it. She has no time for the girly stuff that other women do. She is beautiful inside and out without the make-up and mani/ pedis. She also has no filter. With a family like hers, she has no choice but to voice her opinion, loudly. I freaking LOVE tha...

4.5 Lady Luck Stars!I love this sweet, sassy, and steamy romance! Fallon is a die hard hockey fan of her hometown team the Ice Knights. Their defenseman, Zach Blackburn, has been a huge disappointment to the team and the town. Zach doesn't care what others think since he has been used and abused by those he thought he could trust. Now he is just trying to get by day by day, until he gets the flu. When Fallon comes to nurse him back to health, he ...

What a ride this book had me on! Tomboy had me hooked from start to finish! Fallon was such a force to be reckoned with especially being a Hartigan! Her caring nature and ability to tell it like it is made me really admire her! She had fire in her!I wasn't sure what to make of Zach at first but he really grew on me as I kept reading and I grew to rather like the man!I especially loved Fallons family and Zach's hockey teammates!When the going ...

The Hartigans are seriously #familygoals! I have grown to love this bunch with my whole heart and Tomboy definitely put the love over the top! Fallon has had my heart since Butterface! Her ball busting, take no crap attitude makes her one of my fave heroines and who better for "I am an island and will do what I want l" Zach Blackburn! Their only issue is trust and Zach has some demons he needs to deal with before love can be forever with the ...

I enjoyed this whole series, but I especially loved tomboy Fallon with hockey play Zack. Love sports romances and that Fallon wasn't a girly girl. It was interesting to see Zack's character develop from not trusting anyone to realizing that his team was his family and Fallon was everything. I'm hoping Tess gets her own book and I'm excited that there will a hockey player series next. Can't wait to read!

Flynn did it again. Awesome book. Great storyline.It was very nice to visit Hartigans again. Fallon is a nurse, who wants to help everyone, actually, there is one person she doesn't want to help, but thanks to her best friend she has to spend whole weekend nursing him back to health. Zach is most hated man in Harbor City. Will they survive weekend together? Loved this book.💜💜💜

Good grief I love Fallon and Zach! She's an ER nurse who's used to dealing with difficult people. He's got a giant chip on his shoulder because of his past for reasons I won't reveal. I may never be able to look at muffins without laughing again... They work through their issues for a HEA. I received an ARC from Avery Flynn and feeling pretty special about it.

I am sooo hooked on this series! I love Avery Flynn & her writing. Her books grab you and you can't put them down.Fallon & Zach will have you laughing & crying. I was rooting for them in the beginning just bc of the way this story takes off. To say that this book was great would not even be enough. I can't wait for the next book!

I loved this book! Avery Flynn does not disappoint with her characters. The story line kept me interested, two characters unsure of their own selves but needing each other. And of course, the Hartigan's are a wonderful family, full of laughs, butting in to each other's business and love!! I can't wait to see what happens next.

I fell in love with Harbor City's most hated man right from the beginning! Who knew he was harboring such big secrets. Frenemies at the start, the bickering between Zack and Fallon is epic. I could not put this book down. Avery Flynn has scored again.

I love this series and Tomboy may be my favorite!Fallon and Zach definitely fall in the friends-to-lovers category. I loved watching them become friends and then realize they had something more. Their chemistry was off the charts and their banter was hilarious.This book was fast paced and I didn't want it to end! I am definitely looking forward to more books from this series!

I had so much fun reading this book, that I didn't want it to end. Fallon is a nurse asked to take care of Zach, the most hated man in Harbor City because of his bad playing and attitude, while he is down with flu by one of her best friends Lucy. But when she gets pictured with him and then Zach's playing wins the team a match, she gets labeled as his Lady Luck. And now thanks to everyone's superstitious beliefs she is forced to spend time ...