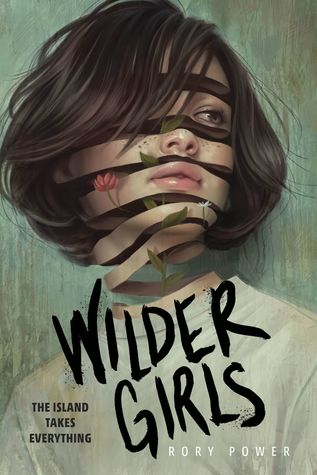 It's been eighteen months since the Raxter School for Girls was put under quarantine. Since the Tox hit and pulled Hetty's life out from under her.It started slow. First the teachers died one by one. Then it began to infect the students, turning their bodies strange and foreign. Now, cut off from the rest of the world and left to fend for themselves on their island home, the girls don't dare wander outside the school's fence, where the Tox has ma...
---
Reviews Wilder Girls
ARC given to me by my amazingly kind friend - McKinlay at McKinlay's Bookshelf!RTC!

sapphic horror is my new favorite genrethis is probably one of my favorite covers of the year and I am so happy to say that the inside is just as amazing. this honestly ended up being a weird combination of everything i love in stories. it is a feminist lord of the flies following 3 friends who are under quarantine at a boarding school. when one of the friends goes missing it becomes a race to find her and figure out what the hell is happening on...

Some days it's fine. Others it nearly breaks me. The emptiness of the horizon, and the hunger in my body, and how will we ever survive this if we can't survive each other? "We're gonna make it. Tell me we're gonna make it."so much about this book is so good. the synopsis. the premise. the chillsiness it delivers. the characters. the tantalizing dislocation of WHAT IS THIS THAT IS HAPPENING? the dread and unease. the tension. that godd...

Because this cover is freaking everything!! Holy Sh*t Snacks! I need more answers right now! Where is book two; geez I just finish this book and need another one. I mean there has to be another one because of that ending! So, this is told through two POV's; Hetty & Byatt. But there they have another best friend Reese who is very prominent in the book. All of these girls live at the Raxter School For Girls. The school is on an island but it seems ...

4.5 stars. Survival stories tend to grip me. There's something really fascinating, I think, about the idea of ''the survival of the fittest'' or strongest, smartest, prettiest. It's a competition. It's a deadly game. Sometimes, there's no use even trying because you can't compare. You don't have it in you to survive. You're a follower, not a leader. And yet, and yet. Your body doesn't want to die. YOU don't want to die. ...

Well here's something I never thought I'd never say, this book should have been at least another 100 pages longer.The premise for this book is really exciting and the cover is fabulous but the execution is sorely lacking. The story picks up some year+ after a remote school for girls is ravaged with a devastating virus and subsequently quarantined. Notice how I said "picks up". Very little backstory is ever given about the onset of the virus. How ...

This cover is what I imagine I look like when I'm emotionally unraveling even though I'm really crying on the floor and eating in the dark.I knew, or at least hoped real hard, that I would like this book as soon as I read the editor's note in the beginning. The editor talks about how this is essentially a twist on Lord of the Flies, with girls quarantined on an island, all sick and dying. Let me share this portion of the notes with you, because I...

Lord of the Flies meets Annihilation in this YA literary horror debut featuring a quite deadly illness that slowly turns an all-girl school's students into monsters.Unfortunately, me and this book didn't click as much as I hoped after seeing that cover - one of the most gorgeous in YA - and what this book was about, since it promised creepy woods and queer girls. It delivered both, but I found only one of them actually satisfying.The main reason ...

Brutal, arresting, and utterly bewitching feminist spin on Lord of the Flies. A top read of 2019, for sure. There used to be horses, four of them, but early in the first season, we noticed how the Tox was starting to get inside them like it got inside us, how it was pushing their bones through their skin, how it was stretching their bodies until they screamed. So we led them out to the water and shot them.

3.75Wilder Girls feels dystopian. Generators are working around the clock. Animals have gone savage. Humans are getting infected…dropping like flies. There was an outbreak of the TOX, the CDC and the Chemical /Biological Incident Response Force have issued the implementation of a full isolation/quarantine for the Raxter School for Girls. Everyone is to remain on school grounds within the fence and supplies are dropped off via Camp Nash at the w...

5/5stars I was a provided with an ARC through Netgalley - thank you to Netgalley and the publisher for allowing me to read this early! But my thoughts are 100% my own guys. Guys. GUYS. This was AMAZING!! This might very well be my first favorite book of 2019. This book was EVERYTHING I could have wanted and more. I was first attracted to it by that incredibly weird (but beautiful) cover, and then I heard it described as "Lord of the Flies" but wi...

full review now on my blog! ARC kindly provided by Delacorte Press in exchange for a review. All thoughts and opinions are my own. Wilder Girls deceived me. I remember adding this to my TBR after hearing about its sapphic main characters and seeing the beautiful cover. When I turned the first pages, I never expected to be thrust into such a brutal, horrific story with characters that would stay with me for a long time after reading. I can't qu...

the feminist and bloodthirsty annihilation y'all have been dying for

3.5 stars. This was a very solid 4 star read...up until the ending.

I've been trying to pick a favorite quote for this one for a while but let's be real: every line in this book is beautiful, but not in the way that you would think. The writing doesn't TRY. It breathes, tugs you along while slowly vining around you, and then BAM! It murders you with something so terribly real, emotional, or just downright horrible, and you can't look away. This is the kind of story, characters, and atmosphere that will seep into ...

3.5/5 rounded up.I respect this book. It was definitely wild. and had girls. Wilder Girls was a different read for sure. "we've all lost things, eyes and hands and last names." Students at the Raxter School for Girls are quarantined on an island after developing a crazy infection - think growing gills, another spine, things moving beneath the flesh. Rory Power may have written the creepiest illness I've read about and as someone whose ...

I received an ARC from Netgalley in exchange for an honest review.Trigger and Content Warning: Graphic Violence, gore, blood,body horror,death,reference to self harm,starvation,reference to suicide and not consenting to medical procedures. Wilder Girls has been everywhere lately, with its gorgeous cover to amazing synopsis. I have to say this cover is probably my favorite cover of the whole year.I'm going to need all the sapphic horror books f...