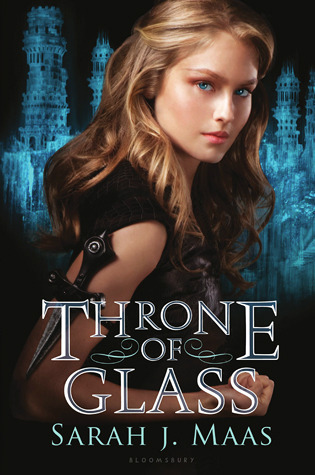 This is a previously published edition of ISBN13: 9781599906959.After serving out a year of hard labor in the salt mines of Endovier for her crimes, 18-year-old assassin Celaena Sardothien is dragged before the Crown Prince. Prince Dorian offers her her freedom on one condition: she must act as his champion in a competition to find a new royal assassin.Her opponents are men-thieves and assassins and warriors from across the empire, each sponsore...
---
Details Throne of Glass (Throne of Glass, #1)
Title
Throne of Glass (Throne of Glass, #1)
Author

Sarah J. Maas

Release Date
Aug 7th, 2012
Publisher

Bloomsbury USA Children's

Language

English

Genre

Fantasy

,

Young Adult

,

Romance

,

Magic

,

Fiction

,

Young Adult Fantasy

,

High Fantasy

,

Adventure

,

New Adult

,

Paranormal

Rating
Reviews Throne of Glass (Throne of Glass, #1)
Are you kidding me? What the hell is this shit? How do you screw up your story quite so badly after starting from an INCREDIBLE premise involving the most notorious assassin in the land - now a slave - being offered the chance to win back her freedom, sort of, in a "to-the-death tournament - fighting the most gifted thieves and assassins in the land" [says the back of my book, conveniently forgetting that (a) right before the final duels, the kin...

First cover: "Yeah, don't I look badass in this? Wait, hold on, does my hair and makeup look okay? I think I need to pose like this, so I look all strong and tough."Second cover: "Fuck off or I'll end you."I still stand by my opinions on the covers. I never liked the first cover, and am infinitely grateful that they changed them for the sequels. But as far as how Celaena herself is? I would say she's a bit of both. I feel like these covers portra...

Caleana Sardothien, young woman assassin, is betrayed and sentenced to the salt mines of Endovier. After a year, however, she is given an opportunity: If she wins a contest to become the king's champion, she will be granted a four-year contract, working as an assassin for the empire she hates, at the end of which time she will be freed. After reading the premise of the book, I thought, "Sign me up!" After the first chapter, I knew I was in good h...

3.5-4 stars? I CAN'T DECIDE JUST YET!I decided to reread this book, as I am about to continue on with the series, finally!I did really enjoy this the second time round, but found myself a little more critical of a few things. I will be doing a full video review of this soon, so look forward to more of my thoughts then :)

Want to be updated on everything Throne of Glass?Visit the Throne of Glass fansite!CELAENA be all like:Leaving me like:Let me just clear things up. People are rating this book low because they don't "like" Celaena, saying she's "arrogant" or "self-centred" or "over-confident," first of all, if Celaena were a guy, you'd be head-over-heels for her. But she's a girl and now her story is being over-looked because, instead of drowning in self-pity, sh...

Once again, it seems like I'm in the minority for this book because I didn't like it. It's such a shame too because I'd heard a lot of good stuff about it. Oh well, maybe it's just me...or maybe because this book just plain sucks.Let's start off with our protagonist, Celaena who's the "greatest assassin in the world."Okay, I'm cool with that. But it'd be nice if she could actually prove it because from what I've seen, she's once hell of a crappy ...

I DID IT!!! OMFFFFFFG! THIS BOOKWAS JUSTSOF******GOOD! What is even going on, how did i not read this sooner! I am now onto Crown Of Midnight and DYING! LOVE LOVE LOVEI FINALLY READ IT PEOPLE! SO HAPPY

Sorry, but it looks like I've been excited for NOTHING. After enticing me with its promises of a reading experience reminiscent of Megan Whalen Turner and George R.R. Martin, Throne of Glass ultimately let me down. Having been excited for this novel for weeks and actually liking the sample I read, I have been brought back to earth now – with a jolt. This YA fantasy is a rather sorry example of its genre.I have the notion that a big part of this...

You can find the full review and more about this book on my blog!____________________________________________ "Libraries were full of ideas–perhaps the most dangerous and powerful of all weapons." ____________________________________________ 5 BADASS STARS! First of all,look at this amazing cover.I also liked the first one but this is a masterpiece.I do have a weakness for awesome covers,that's why I decided to read this.Also a lot of pe...

Characters were badly written, the plot was full of telling instead of showing. Very underwhelmed after hearing for years that this was THE YA series to read. I don't mind unlikeable characters, heck I love them but it didn't feel I was supposed to dislike our main snowflake. So tired of the "strong" female character who can kill everyone in a heartbeat but she's tiny and incredibly pretty, she hates all other women and... Oh also everyone wants ...

4.5 stars I can survive well enough on my own— if given the proper reading material. Man oh man, this was a good oneCelaena, an 18-year-old master assassin, spent the last year as a salt-mine slave as punishment for her crimes. She's slowly wasting away but one day, the prince (along with his guard) comes by to lift her from her bondage.The king is in need of an Champion and had devised a convoluted plan to obtain one. All of his trusted advis...

It feels like Throne of Glass has been a book I've been thinking about maybe reading for a million years. The reviews and ratings from my GR friends on this book are very mixed and I can easily see why after finishing this entertaining but disappointingly tame and romance-y young adult fantasy. Throne of Glass is like Shadow and Bone round two. The premise is awesome for both: full of hardcore warriors/assassins, royal/noble secrets and scandals,...

I really enjoyed this book. The characters were well formed and excellently developed. There are recognisable and enjoyable twist on the classic Cinderella. Example Celaena Sardothien's fairy godmother is a ghost of an ancient warrior queen. There are also slight touches such as Celaena has an innate charm with animals.I was also very impressed with the pacing and evolution of the story. Honestly the 406 pages just seem to fly by. Just because Ce...

This is going to be a rather personal review because Throne of Glass took away a week of my life and my SJM virginity.I wish I'd let it wine and dine me, first. At least, I'd still have the good memory of a nice six course dinner. It's not like I have a problem with this book, but…I do have a problem with this book. A couple, actually, and they mainly involve the writing and a certain main character which I won't name for now. Now, before...

3.5-4 StarsYeah, I know. I'm the last fucker around to read this book. But I saw the whole series in spiffy hardcover on sale at Costco and so, of course, I responsibly bought only the first one to make sure I liked it before buying more bought the whole damn series in one go because, well, no impulse control. But anyway.This was fun. I liked it. I look forward to the next one. Which is good. Since, as I said, I already have the next one, and t...

I hateread a chapter from book five of this series with a friend. And I'm going to register my opinion that while it may have slightly improved in character development or worldbuilding or etc etc etc - I wouldn't know - it is, objectively, just as horribly written as this book.And that's the tea. 🌺 montage of me screaming "why is this hyped" for five hours Let me give this book one minuscule fragment of credit: the plot isn't horrible. Okay...

SO. FREAKING. GOOD. My review will be up this week on my channel Abookutopia :)

This book was sooooo goood! The main female character is amazing, SHE WAS PRACTICAL. Not to mention completely badass, and could kill anyone with a hairpin if she wanted to. Great high fantasy, i cannot wait for the next in the series! HIGHLY RECOMMEND!

4/5 Stars ⭐ ⭐ ⭐ ⭐"Libraries were full of ideas—perhaps the most dangerous and powerful of all weapons." Here I am again, back in a different world of Sarah J. Maas! This is a very popular series. An extremely popular series, an exceptionally hyped up series, a tremendously OLD AF SERIES. Listen to me here, if I were a fantasy fan when I was a teenager, I would have definitely read this book. But you know, my relationship with fantas...

I'm afraid this just wasn't for me. I heard it being sold as GRR Martin's Game of Thrones written for the female audience --- well, as a female audience, I am offended. As an avid reader of the fantasy genre, I am saddened that this is marketed as a fantasy-for-females. This being a YA does not excuse it from being riddled with clichés, painfully obvious foreshadowing, and a ghost of a fantasy world ruthlessly overshadowed by romantic overtones....

if this garbage can get somehow miraculously get published then i have hope the smut i wrote three years ago can too. this book is fucking horrible. i wanted some badassery but instead i got a shitty love traingle and annoying characters who i wished just......... died. i was so incredibly bored for the first 130 pages of this book and them i skimmed so much that i made it to page 295 in two minutes. then i forced myself to suffer and actually re...

Reread x 4!I can't believe this series is coming to an end. 😢 It's brought me so much comfort and happiness. Obsession isn't enough of a word to describe what I feel towards Sarah J Maas and these books. Fandoms have never been my thing. Well, since Harry Potter. Then I came across her books because of the hype and I am grateful to have found people as loony over it as I am. ——————————————————This seri...

Actual rating 3.5 starsThorne of Glass has a lot going for it. It's packed full of action, mystery, likable characters and fun dialogue. On the flip side, it also has a few tropes that I usually make me want to rip my hair out strand by strand: the love triangle, semi-insta love and predictable plot twists. That by no means makes this a bad book, because despite those annoyances, I was fully engrossed in Throne of Glass.The Plot and Writing:While...

0/5 stars 5,000/5 stars "Still, the image haunted his dreams throughout the night: a lovely girl gazing at the stars, and the stars who gazed back." warning: anything marked spoiler is a spoiler for the entire series. so maybe beware or something if you are that one person who hasn't read up to Empire of Storms okay? there may also be some unmarked spoilers bc this review is 3,000 words long and i'm too lazy to read through it a thous...

Throne of Glass came to me highly recommended by someone who thinks Twilight is among the best books of all time, so I was instantly wary, but I promised to keep an open mind since, well, high fantasy and a kick ass assassin, what could go wrong? Well, a lot, apparently. I'm not saying this book is by any means on Twilight's level of awfulness, but it is one of the shallowest, least impressive fantasies I've ever read.I've never read the or...

Reviewed by: Rabid ReadsThe first time I saw my sister after I finished reading THRONE OF GLASS by Sarah J. Maas, she was in the middle of reading the latest book from one of her favorite series. I did not care. I pestered, cajoled, and harassed her until she downloaded the THRONE OF GLASS sample chapters and read them.She stopped reading her book and read ToG until the wee morning hours when she finished it.*lap of victory*A few months later, my...

LOVED THIS BOOK: Here's my full review complete with discussion and theories http://www.youtube.com/watch?v=Xlmj_t...