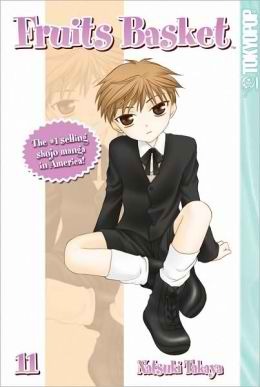 The world's most popular shojo manga continues! While at the Sohma vacation home, Tohru is caught in a whirlwind of family strife. Can she relax and put the "fun" in dysfunctional? None of the Sohmas are going to make it easy, including an angry horse that attacks Tohru. Could this be a new member of the Zodiac? Meanwhile, in a fierce argument with Akito, Kyo reveals his true feelings for Tohru. Will Akito tell Tohru about Kyo's secret crush? And...
---
Details Fruits Basket, Vol. 11
Reviews Fruits Basket, Vol. 11
Holla the wood faerie!! This issue was quite an emotional rollercoaster! I swear things are getting more and more intense between Akito and all the other members of the zodiac. Akito definitely was in best form regarding his cruelty and ruthlessness. >_< Highlights of this volume: "Who the hell do you think you are?! Ah?!""I'm me."OMG!!! Yuki-kun actually accepting who he is?! I never thought I'd live to see this day but damn Tohru di...

WHY!? JUST WHY!? HOW CAN ALL THIS BE HAPPENING!? IT MAKES ME SO UPSET! I CAN'T HANDLE MUCH MORE OF WHAT'S GOING ON HERE! Okay, people! Listen up! This volume has a whole bunch "WTF!?" moments! It's so filled with juicy new twists and turns! Hell, you even see some of the truth be revealed to you! Finally, right? Took long enough to find out what the "curse" really is. Don't worry. I won't tell you. I'll let you find out about that for yourself. B...

4.5/5 stars.Oooooh some secrets are revealed in this volume, shit is going down.

"I want to be near you, until the time comes when I must go away. I want to be with you until the end."🐑 This volume is Hiro! 🐑And what an annoying little punk he is!Ok... so this was abso-freaking-lutely fantastic! I cannot believe how emotionally charging this volume was. I had to put this book down several times because I was shaking and couldn't take how worked up I was. And in a good way, trust me.This volume we continue to follow Tohr...

I finished watching the Fruits Basket anime a few weeks ago and was very disappointed that there were only 26 episodes. I love these characters so much, I needed more. So I decided to start reading the manga.This was great. Just as good (if not better) than the anime. All my favorite characters, like Kyo and Yuki and Shigure, are here. Yay, Fruits Basket! I really think Akito is an intriguing character. I wouldn't say I like him/her but s/he is a...

my precious children T_T I love them all...especially Kyo!!

Oh man this was stressful. So much abuse, so much sweet, so much awful. This was scary. At some point this stopped being cute and became scary. I don't know if I can take another, what, 10 books of this? I'm so afraid for them all.

Akito's behavior becomes more and more infuriating with every new appearance. I swear if it were possible to throat punch fictional characters, I would have done that to him by now lol. Hate how he picks on those smaller than him.

FINALLY.My biggest issue with this series (both the anime and manga) is that the storyline never seems to grab my full attention. It's an entertaining read with a nice cast of characters, but I've always felt a little lost when it comes to the story. It was the type of story that was just . . . happening.Now, finally, I'm seeing a bigger point to the story and can see a goal the characters are working themselves towards. There's something bigger ...

Wow! I wish I had more stars to give to this series!This volume in particular was pretty intense...

Spoilers ahead. You have been warned. Oh my god. The librarian was right! She likes manga too, and she said this series was really good, but didn't get SUPER good until volume 11. And she was so right!!!! XD XD XD XD XD XD XD!!!!!!!!this volume was AMAZING! Really giving some amazing character development to both kyo and Tohru. I love them both. :D at first glance, she really isn't much of a strong female lead. Which are so important for young re...

I'm beginning to find out why one acts one way and how some can keep it to themselves, while others grow selfesh of it. In this book the sohma's 'god' came to visit their vacation home leaving many to fear and some to move on.

Easily my favorite so far. A lot of character development happens in this one. And man, some intense scenes with Akito. Finally, Tohru has met all of the Zodiac!

I never used to like Manga books till I watched the anime version of this manga and loved it so much that i wanted to know what happened in the series after the anime stopped so i started the manga series. Read it even if you dont like manga because it is amazing.

This, at this point of my rereading this series, is the best volume - and I adore all of it.*sob* I just love these people so much.

I'd watched and liked the anime version when I was still a kid.And, I got no plans for reading it's manga.

I'm lovin' the Fruba drama that is KYO. Dang. Plus I love to hate Akito. And yes I should be doing homework, but no I can't stop reading... I'm rolling on to Vol 12.

Ah, this one is so sad, but so good! Warning spoiler's ahead, so skip this review for now if you haven't read it.Man, this is a really emotionally intense volume! The beach trip continues, but now it is in Akito's shadow. However some surprises are in store. The final members of the zodiac are at last revealed. We find out the fiery Rin is the Horse, and mild-mannered Kureno who Uo-chan told Tohru about is in fact the Rooster. But... if that is t...

Este tomo es la continuación del anterior, nuestros personajes siguen de vacaciones. Se destaca porque estuvo lleno de mucha tensión y de momentos con mucha carga emocional para los personajes (o sea drama...). (view spoiler)[- Se revela que Akito es más el jefe de la familia, él juega el papel de "Dios" en el relato de los 12 signos chinos. Esta relación o "vinculo" hace que los personajes que tiene esta maldición se sientan obligado a obe...

I forgot how much happens in this book! Here are my notes after rereading Fruits Basket #11:- Rin's so strong, yet aggressive. She reminds me of a wild horse that hasn't been tamed yet.- I love how (view spoiler)[ everyone goes to see Akito because they want to protect Tohru, even if it means she is alone all day. (hide spoiler)]- Oh yeah! THAT'S why Kyo wants to beat Yuki so badly. I forgot about that.- Ugh! Akito makes me so sick! The way he (v...

It was great (and awful) to finally see more from Akito and figure out his place in the scheme. On a side note, this is one of the only times I've ever actually been conflicted about a love triangle. For awhile it seemed that the series had sort of stalled, that there wasn't a lot of progress being made plot-wise, but this volume was clearly a breakthrough in that. I'm excited to read the rest of the series and see how everything turns out.

Tohru e Kyo sono separati dal resto dei Soma per colpa dell'arrivo di Akito. Ma la crudeltà dell'uomo coinvolgerà anche lo stesso Kyo portando Tohru a voler reagire al comportamento dell'uomo che fa soffrire i suoi amici. Un volume inteso con Akito come burattinaio di tutta la situazione che mostra il suo lato più oscuro. Finalmente questo personaggio ci diventa più chiaro ma non di certo simpatico e vedremo come si comporterà Tohru da...

It seems like we finally get most of the story in this one. And the whole zodiac has been met. And I'm thinking the Tohru Honda's friends are going to be needed to break the curse. Maybe Tohru can become the new god of the zodiac. And yet this book wasn't one of my favorites. I liked the more detailed focus on the individual characters. Still it was nice to see a trajectory, any trajectory.

Rating: 4.5Boy, this was intense. I was putting off Vol. 10 & 11 for this exact reason. Akito. That bastard. One of the biggest plot twists ever. I was totally not expecting it.A classic "I'll only read one chapter" situation in which I read pretty much the whole thing in one sitting.*Me patiently waiting for Vol. 12 to be available for borrowing*

I actually stopped reading this series for a while, I couldn't handle seeing my favorite Cat in such despair. Everything seems to have gone back to normal though or as normal as this series can get. Still one of the funniest series I've read, though like every manga it has it's sad moments. Thankfully i Haven't cried yet.

I think once I finish the series I'll do a top favorire volumes. All of them have been sooo good! I run out of things to say that are non-spoiler after a while so may leave future ones blank, otherwise vague thoughts.

I feel like we're really starting to get into crucial plot. it seems like everyone is starting to have more confidence and Akito isnt affecting them like he was. Im excited to finally learn more about the curse!

FINALLY!! Now where are finally starting to get to the crux of what the Soma curse really is and how to break it. Akito wow I never saw it coming but I guess I should have guessed. I can't wait to read the next one and see what happens next!