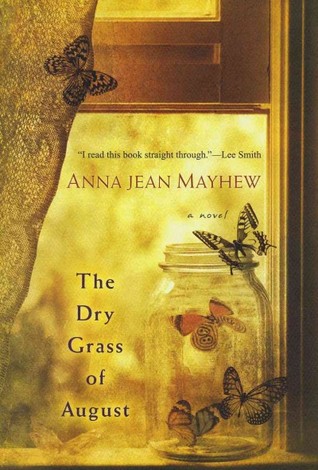 In this beautifully written debut, Anna Jean Mayhew offers a riveting depiction of Southern life in the throes of segregation and what it will mean for a young girl on her way to adulthood and for the woman who means the world to her. On a scorching day in August 1954, thirteen-year-old Jubie Watts leaves Charlotte, North Carolina, with her family for a Florida vacation. Crammed into the Packard along with Jubie are her three siblings, her mother...
---
Details The Dry Grass of August
Reviews The Dry Grass of August
The dry grass of August in a really interesting and engaging novel and while a lot of people seem to be comparing it in one way or another to The Help, I am not going to do this as I feel this book needs to be read and enjoyed in its own right. I bought the paperback edition and I love the cover and the quality of this publication and this is is the reason I still love my physical books!The Dry Grass of August takes place in 1954 in Charlotte, No...

EXCERPT: In August of 1954, we took our first road trip without Daddy, and Stell got to use the driver's license she'd had such a fit about. It was just a little card saying she was Estelle Annette Watts, that she was white, with hazel eyes and brown hair. But her having a license made that trip different from any others, because if she hadn't had it, we never would have been stuck in Sally's Motel Park in Claxton, Georgia, where we went to buy f...

A touching coming of age story set among the turmoil of overt discrimination and racial tensions in the Deep South in the 1950's. SUMMARYRoad Trip! It's a hot August in 1954 and thirteen year old Jubie Watts, her family and their maid are all headed to Pensacola, Florida in their Packard. Everyone except Jubie's dad is going. Jubie's sister, Stell just got her drivers license and can't wait to share the driving with Jubie's mom. Sitti...

I almost couldn't put down this novel set in the segregated South in the early 1950s--Mayhew's first--and wouldn't have if it weren't for that pesky thing called a job. The story of the summer that 13-year-old June "Jubie" Watts comes of age is a breathtaking glimpse into the relationship between a black maid and her white charges. Like the best-selling The Help, Mayhew breaks new ground exploring the dynamics of this relationship. When an unspea...

I thought this was one of the worst books I have ever read. I can appreciate the attempt the author took on, but I feel it was sub standard to be quite blunt. For me, it was like a soap opera. First, this story has been told over and over, and it has been told much better than this one. So, here you go: it has a dysfunctional family, child abuse, childhood emotional neglect, attempted sexual abuse of a house maid, criminal business practices, mar...

I really enjoyed THE DRY GRASS OF AUGUST! As a native of Charlotte, NC — growing up in the 50s-60s in the South, very relatable. We also vacationed in Florida often (also have been a full-time Florida resident since 2003). I adored the relationship between 13-year-old Jubie—a white teenager, and 47-year-old Mary— the black maid. For fans of Laura Lane McNeal's Dollbaby, Mary Marcus' Lavina, and Lisa Patton's Rush (three favorites). In addi...

3 and 1/2 stars (I think I'm giving out more 3 and 1/2 stars for what are basically 3-star books, if only to make sure review-readers know that I did like a 3-star book.)I bought this book while I was on vacation in North Carolina last week, as I like to go into the local independents and see what is regionally of interest. This was recommended to me by the owner, who said it was well-written, after she asked me what I liked to read. (Literary fi...

This story follows a North Carolina family in the 1950s. In some areas of the country the 50's have been portrayed as a generally happy innocent time of prosperity. Not so in the South. The fomenting racism, the slow awakening of the need for civil rights for all, and the inevitable clashes of both sides made for a confusing difficult time for those young people coming of age. This story is seen through the eyes of a thirteen year old girl, Jubie...

I felt this book was a solid three-star read, and it was certainly a quick read. I love the title and the imagery it conjures up. It is beautifully written; and I think if Mayhew's book had come out prior to The Help, I might have given it a higher rating. The topics are very similar in the two books, however, I have to say I did not feel a huge connection between any of the characters in Dry Grass of August. None of them seem to really delve int...

This book was so good!! The main character is Jubie, a 13 year old girl living in Charlotte, North Carolina in the late 1950s. Two stories are told: one is Jubie's trip down South with her, mother, her siblings and their black maid Mary. The other story is back story, to learn more about their family. Secrets are revealed in the back story that make you understand things happening on the trip much better. Plus, the deep racism of 1950s Florida an...

Onvan : The Dry Grass of August - Nevisande : Anna Jean Mayhew - ISBN : 758254091 - ISBN13 : 9780758254092 - Dar 289 Safhe - Saal e Chap : 2011

I loved this book! A wonderful debut novel. It is the summer of 1953 and 13 year old "Jubie" from Charlotte, North Carolina sets off on a family trip (with their black maid) heading down south to Florida. There are two stories told thru her eyes. One, is the travels down south and the deep rooted racism of the time and things they encounter. The other, is a family story of secrets and lies. If you enjoyed "The Help" you will like this book althou...

Mayhew's debut novel is a story of racism in the 1950's South, a coming-of-age novel, and a look at a family falling apart. Jubie (June Bentley Watts) is our 13-year-old narrator, growing up in an upper-middle-class family in Charlotte NC with her three siblings. Her life, to this point, is centered on family and school; she is aware of change in the world, yet still somewhat sheltered by her age and the adults around her. But a family vacati...

I picked this up because of the cover. I know the rule is don't judge a book by its cover, but I do. Not always, I mean if it sounds good but has a stupid cover whatever, but I love good looking books. Also titles. I love me a good title. This book, has both of those things, plus, it happens to be a very well written novel. It reminded me a little bit of The Secret Life of Bees mixed with The Help and Divine Secrets of the Ya-Ya Sisterhood. Those...

First--I listened to the audio version, and I thought the narrator was stellar. I think sometimes that can make a huge difference. When I'm undecided about reading a book, I go straight to the panning reviews--for some reason that I haven't bothered to analyze, these are often more helpful (maybe it's just that I'm slightly cynical myself). The first one-star review that I read identified the likely audience, and really nailed me, personally--gre...

There are novels that should be included in a collection of Southern literature before and during the struggles of the African American to gain basic civil rights in our country, and this novel should be a part of that collection. Each novel that I value as a part of my collection tells a different and important part of that story. To Kill a Mockingbird, Four Spirits, and The Help are three others that I value. As in The Help, this novel focuses ...

If you read and enjoyed "The Help", you must read this book! It's part coming of age story about Jubie Watts, a 13 year old North Carolinian and part story about Southerners (white and black) during the early days of civil right movement. Like "The Help"'s Mae Moebly, Jubie's mother, Pauly, is distant, leaving her to find love and acceptance from the family's "girl", Mary, just as Mae Moebly found love and acceptance from the family maid, Aibilee...

Written about a family road trip taken in early 1950's, kids crammed in back, along withthe colored girl hired to help with the kids, being turned away from motels because they didn't allow "colored". You love the characters and are taken a step back in time.

Review by Sarah:The Dry Grass of August is Anna Jean Mayhew's debut novel about 1950s southern racism seen through the eyes of a thirteen-year old white girl. When thirteen-year old Jubie Watts embarks on a road trip with her mother, siblings, and the family's black maid named Mary, Jubie witnesses in full effect how racism becomes more prevalent driving from North Carolina to Florida. When tragedy befalls Mary, Jubie is confronted with the rudes...

It's the 1950's in Charlotte, NC and 13 year old Jubie and her family (minus her father and plus their black maid Mary) are on their way to Florida for a family vacation. On their way, Jubie takes note of increase in segregation and hostilities towards Mary, whom Jubie adores. The trip does not end well, as manifested in the first couple of chapters, the rest of the book being a flash back of incidences that occur to their family down in Florida ...

I loved young Jubie; her honor, her courage, her fearless love for Mary. Yes, I enjoyed the character of Jubie! Her mother, not so much; her father, not at all; her older sister; didn't like her so much either! So the book is centered around life in the Carolina's during the 50's and how one young girl survived. It also paints a picture of life for a (white) wife and family during this time and it's not all 'Leave it to Beaver'! I've heard others...

3.5 stars. Since I love historical fiction and books told from a young narrator's perspective, this book was right up my alley. Jubie is 13 in the summer of 1954, a middle child whose body is rapidly maturing while emotionally she still feels like a little girl. On the surface, her family seems ideal with four children, a successful father, and a beautiful stay-at-home mom. But, of course, under the surface things are not well. The only person wh...

What a wonderful book. I loved that it was about the civil rights, although told from the perspective of a young teenage white girl, it had such a gritty feel and brought up several interesting points. No one has ever thought about how the children in the care of a colored nanny feel that I have read a book about. No one talks about the love, the bond these servants formed with the youngest members of the household and I loved that it treated suc...

The Dry Grass of August is Anna Jean Mayhew's first book and it reminded me a lot of the book, The Secret Life of Bees. Dry Grass is well-written, though not as lyrical as Secret Life. However, both books provide a front-row viewing of how white people treated black people in the late '50s/early '60s. Even though Secret Life described a terrible time in American history, because the majority of the main characters were people with incredible soul...

I happened upon this author and her book in our local library and I'm so glad that I did. A novel of coming of age, family and race relations in the South. It could have been the story of many families. Great read and I look forward to more from this talented author.

This book is about racism in the 1950s from the perspective of a 13 year caucasian girl named Jubie who starts to question the racism around her during this time.Quick read but definitely a heartwrenching tear jerker. I would definitely recommend this book.

Very good well written but very sad book.

A young girl's coming of age story set in Charlotte North Carolina. This debut novel set in the 1950's features a riveting depiction of Southern life in the throes of segregation. The family has always had a black maid, Mary. She cooks,cleans and compensates for the father's rage and a mother that cares more about her looks than her children. A family vacation to Florida takes a shocking turn and now the family must learn how to deal with the tra...