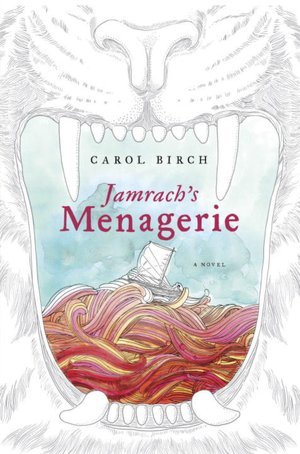 A thrilling and powerful novel about a young boy lured to sea by the promise of adventure and reward, with echoes of Great Expectations, Moby-Dick, and The Voyage of the Narwhal.Jamrach's Menagerie tells the story of a nineteenth-century street urchin named Jaffy Brown. Following an incident with an escaped tiger, Jaffy goes to work for Mr. Charles Jamrach, the famed importer of exotic animals, alongside Tim, a good but sometimes spitefully com...
---
Details Jamrach's Menagerie
Reviews Jamrach's Menagerie
I received my copy from Bookhugger's Real Readers programme and the first thing to note is that the cover is absolutely stunning. The second thing is that the opening paragraph is one of the most enticing I have ever read. Unfortunately, after such a promising first impression, it falls a little flat.It's definitely an adventure novel, but this creates some odd strengths and weaknesses. I would disagree with the negative reviews which found it di...

This was a really interesting read. It starts out almost like a Dickens novel- except more colorful. (Young, impoverished boy in Victorian London falls in with wild characters, goes on adventures, etc.) But it took a dreadfully dark turn that shocked the hell out of me, and left me disturbed for days. So be prepared for that—this is much more than the average coming of age adventure story. In retrospect there were hints of a wild, dark vein ear...

Not suitable for vegetarians.Well, not for squeamish vegetarians.Actually, no, scrub that. Not suitable for the squeamish full stop.But I 'really liked' it, so. Not squeamish. (lovely word) And/or there are compensations for the ickiness. Yes; Jaffy's voice is a steal. Birch creates him and his world, conjures them up out of nothing and there is no sense of artifice, it plops smoothly into place alongside anything else you have read of 19th centu...

I was torn between two and three stars for this. Perhaps it is more like 2.5. This book was a chore for me to read. I felt disappointed and that it ought to have been so much better. Maybe the problem was one of marketing: it is called "Jamrach's Menagerie" and yet the vast bulk of it is about a voyage to find a (presumably komodo) dragon.For a book with such Dickensian ambition, the characters were remarkably lifeless. I felt that I should have ...

Jamrach's Menagerie is the most colorful, grimy, brutal, salty coming of age story you are likely to read. It's the story of Jaffy Brown a nineteenth century boy who comes fully loaded with all that the best urchins have to offer: abject poverty, a single parent, limitless optimism, no education but natural smarts and a love of the sea. Jaffy is part Pip, part Popeye, part Ishmael, part Steve Irwin and thanks to Birch all freshness and charm. He'...

This book was shortlisted for Man Booker Prize this year, 2011. It lost to Julian Barnes' The Sense of an Ending. I am still to read a Barnes but I am sure I will like his works since my brother like his "Flaubert's Parrot." However, I wanted to have some lighter reads every December so I picked up this book first. I made the right decision: this book is light to read yet heavy in its artistry.Think of Robert Louis Stevenson's sea adven...

The intensity, the deep feeling, the strong relationships, the joys, the horrors, the experiences, the adventures are all described so wonderfully by the author through the senses of Jaffy Brown in the first person, that I shall not even attempt to tell you about them. You need to read the book for yourself. Short-listed for the Man Booker Prize in 2011, I cannot imagine how good the eventual winner must've been in the eyes of the judges to have ...

This is one of those books where I really would like to know what the judges for the Man Booker Prize were thinking when they picked it over 100 other contenders to be longlisted for the prize for 2011. That's why I read it. Parts of it have promise. The story starts with this young boy, Jaffy, who lives at the very edge of the Thames river, described uncomfortably well, in a way only rivaled by Stephen King. (Good but not good! It puts you there...

I picked this one to read because it was on the longlist for the Booker Prize. I started it when I first took it home from the library, but I did not get into it then and thought I wouldn't read it. But, then I decided to try it again, and when I got a little further into it (I had not read very much the first time), I started to enjoy it.Jaffy is a young, poor boy living in London in the 1850's. At age 9, when a tiger escapes its cage at a local...

Wow. This book was not at all what I was expecting. Jamrach's Menagerie is an amazing, brutal piece of literature and one of the most harrowing things I've ever read.The book starts in 1857 when Jaffy, an eight-year old London street urchin is picked up by an escaped tiger and carried to Jamrach's Menagerie. Jaffy is hired by Jamrach and years later, as a young man, sets out on a whaling ship with his best friend Tim in search of an exotic animal...

From reading others' reviews, apparently I am one of the few people who didn't really like this book (I also discovered that Jamrach was an actual person). I found the first half of the novel boring. Yeah, Jaffy almost gets his head bitten off by a tiger, but after that it's all work at the menagerie and sailing, and somehow Birch didn't make it interesting enough to hold my attention. There were some isolated events where I thought, "Yes! Finall...

This was an unexpectedly engrossing read, a real tour de force, from the author. The book opens on a working class London street, where we meet colourful characters including our hero Jaffy Brown, as Birch sets up the novel in a tone that's appealingly Dickensian, with added squalor.Then the wanderlust sets in, and young Jaffy takes to the high seas in search of adventure. (Think Patrick O'Brien minus the over-emphasis on nautical jargon, and add...

Who here knows the story of the whale ship Essex? Anyone? Anyone? If not, for shame. You should read "Moby Dick," or at least watch The Discovery Channel more often. There was some foreshadowing in this story which made me believe that things were going to go very, very wrong, but they went so much wronger than I ever could have imagined...or something like that. For those of you who are familiar with the story of the Essex, how would you like to...

Jaffy Brown is running along a street in London's East End when he comes face to face with an escaped circus animal. Plucked from the jaws of death by Mr Jamrach – explorer, entrepreneur and collector of the world's strangest creatures – the two strike up a friendship.Before he knows it, Jaffy finds himself on board a ship bound for the Dutch East Indies, on an unusual commission for Mr Jamrach. His journey – if he survives it – will ...

I believe everyone should give a book a chance. I believe it's fair if that chance consists of the first 100 pages - if by that stage the author has failed to engage the reader, I say it's OK to put down the book and walk away. I gave Carol Birch the benefit of 137 pages but it was no good. Jamrach's Menagerie is the tale of a boy from Bermondsey, South London, who comes into contact with a man who sells exotic animals after one of his tiger's es...

This book is almost hypnotically beautiful. Carol Birch creates worlds so vivid and tangible that I felt transported to her reality. Her writing is so evocative that I could taste and smell the salt and flowers and excrement. The story is narrated by Jaffy, an urchin from the slums of London, who has an encounter with a tiger in Ramsgate Road. Jaffy's bravery and composure impress Jamrach, a dealer in wild animals. Jaffy goes to work for Jamrach,...

I thoroughly enjoyed reading about Jaffy's adventures. At the beginning of this book I felt it was possibly going to be more of a young adult novel but as it progresses it most definitely isn't. I was a tad disappointed that the story doesn't concentrate more on the animals than it does and was hoping for a water for elephants Water for Elephants kind of feel but was very wrong.Its a very atmospheric historical story about a young lad living in p...

I was born twice.Not much flair in the telling; the vocabulary is entertaining but the actual telling is pedestrian. Not sure that Birch had any story plan.

Definitely not a book for those who cannot stomach detailed descriptions of gruesome situations.First of all, I absolutely loved the writing style of the book. Other reviewers have mentioned that the first parts of the book are much more lively and the ending feels disconnected and unfocused in comparison. Personally though, this worked well for me, and I did not think that there needed to be a more focused closure reached. After what the main ch...

Der Klappentext hat mir etwas ganz anderes versprochen aber dennoch hat mich die Geschichte gefesselt und sehr gerührt. Absolute Leseempfehlung!

This is the second book I have read by Carol Birch. Having found 'Orphans of the Carnival' to be such an interesting and captivating read, I was keen to read another novel by this author.The novel begins circa 1842, in Bermondsey, south of London. "Say Bermondsey and they wrinkle their noses". You wouldn't want to live there, not then. An industrial centre, known for tanning, leather working, and food processing, with many busy wharves ...

Beautifully written and interesting, bleaker than you'll imagine, I liked the characters. Started off more original than it ended and it dragged a bit, but I still enjoyed it. Real bleak though.

I finished Jamrach's Menagerie several days ago (and I've read two other books in the meantime), but I'm still thinking about it.Based in part on the true story of the whaleship Essex, it tells most of the life story of Jaffy Brown, a poor boy living in the Victorian hell-hole of Bermondsey until he inexplicably finds himself trapped in the mouth of an escaped tiger, belonging to one Mr. Charles Jamrach, the keeper of an exotic animal empor...

This is one that was shortlisted for the 2011 Booker eventually losing out to The Sense of an Ending by Julian Barnes. I picked it up because of it's intriguing title and rather droll cover. Don't you love a book with a great cover? It's a good read, although at times the descriptive prose tended to excess. It took me a while to get used to the author's style and her often abrupt prose. It suits the subject matter fine though which for the most p...

Original review posted at Layers of Thought.A literary coming of age tale that catalogs a historical journey of a sailing ship's trip to the South Seas. Set in Victorian times, and told in first person by its main protagonist, a boy called Jaffy, the ship voyages to exotic isles to capture wild animals. When the ship becomes lost at sea, the story addresses some of the darkest aspects of human need and survival.About: Jaffy Brown, is a street u...

Billed as a rollicking Victorian adventure story ranging from the dark back alleys of London to the South Seas; that is technically an accurate summary, but very deceiving in terms of the novel's tone. I expected light-hearted frolics (part of the reason I took it on holiday to Brittany) but instead found an increasingly dark psychological portrait of humanity on the edge of survival.The novel starts happily enough, with young London scamp Jaff...

Aqui está um livro que me surpreendeu.Quando o vi, com a sua capa bonita, misteriosa e luminosa, pensei que iria gostar bastante dele. Li a sinopse na parte de trás e gostei do que li. E aqui está uma sinopse que não engana. Gostei imenso do livro. É dos meus favoritos. A história é narrada por Jaffy Brown. Jaffy inicia a sua narrativa falando da sua infância nos esgotos de Bermondsey, na casa por cima da ponte onde vivia com a sua jovem ...

I wanted to love this book. It had me by the throat from the first paragraph, "I was born twice. First in a wooden room that jutted out over the black water of the Thames, and then again eight years later in the Highway, when the tiger took me in his mouth and everything truly began." The wonderful vividness of the descriptions of London and of Jamrach's Menagerie and when he cast his luck to sea to bring home a new creature for the menagerie. It...

'I was born twice. First in a wooden room that jutted out over the black water of the Thames, and then again eight years later in the Highway. when the tiger took me in his mouth and everything truly began.'Saved from the mouth of an angry tiger, Jaffy Brown's life changes when he is introduced into the world of Mr Jamrach and his menagerie of strange and exotic creatures. He is given the job of looking after the animals and then finds himself on...

I picked it up from the library because the cover was so cool! I am an artist--I couldn't resist.But I was deceived. The 1st paragraph was good, the 2nd paragraph made no sense to me no matter how many times I read it. I even read it again after I finished the book. Still didn't get it.And Birch's writing style felt really jerky to me. She overdid "short and concise" writing to the point where I couldn't follow her train of thought. She would thr...