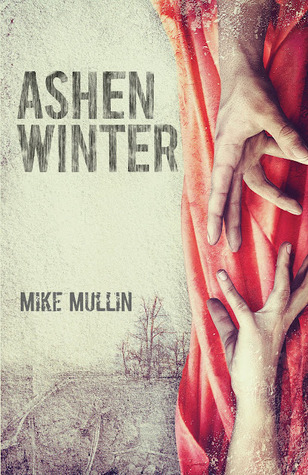 It's been over six months since the eruption of the Yellowstone supervolcano. Alex and Darla have been staying with Alex's relatives, trying to cope with the new reality of the primitive world so vividly portrayed in Ashfall, the first book in this series. It's also been six months of waiting for Alex's parents to return from Iowa. Alex and Darla decide they can wait no longer and must retrace their journey into Iowa to find and bring bac...
---
Details Ashen Winter (Ashfall, #2)
Reviews Ashen Winter (Ashfall, #2)
second-reading review is now included after this adorable picture of me!WHO WOULD LIKE TO BE JEALOUS OF ME!!??first of all, i have this ARC.5 months before the book comes out, right? but what if i told you i have already read it?? because mike mullin let me read it in manuscript form and give him feedback way back in december! and it was great! but now i have to read this ARC because i was promised a character was named after me in the revisions!...

3.5 starsThe super volcano has erupted and we are six months later. It feels like so much has happened that it can't be just that short of a period. Survival is hell, folks. The ashen winter has set in and it's never frigging ever warm. (Smart reading when it's cold as hell outside) Alex and Darla are going looking for Alex's parents. So they saddle up Bikezilla and head off into that frigging cold world. (Yes, I don't like cold so that part stan...

Ashfall - one of my favourite books of all time - could not have had a better sequel in Ashen Winter. Picking up 6 months after Ashfall's ending, we are thrown into a deep desolation; the dark, cold aftermath of a Supervolcano eruption.Alex and Darla, the fabulous couple who met in Ashfall are leaving the routine and relative safety of the farm to go find Alex's parents. What we have here, friends, is a non stop--and I mean, zero freaking breaks!...

Let me tell you guys, if a supervolcano ever erupts and world as we know it comes to an end, I want Darla by my side 24/7. That said, I postponed writing this review for as long as I could because it was hard to pin down exactly why Ashen Winter didn't work for me as well as Ashfall did. It's still hard, but I think I have some idea, at least. With Ashfall, Mullin set pretty high standards for the rest of the series, and although he met them ...

That was exhausting. I am tired, annoyed, frustrated, and hugely disappointed. Writing a review for this one is gonna hurt. ----My problems with this second installment of Mike Mullin's Ashfall series are many I'm afraid to say, and too big to ignore. I really like this guy, and I wanted this novel to be great in the shadow of its awesome predecessor. Not. Even. Close. Without any spoilers for Ashfall or Ashen Winter, here is some of what's cause...

I don't hand out five stars very easily anymore. Years ago, I wasn't as picky, but now it's rare to never that I find a book worthy of the 5 STAR label. It's special...like me!Ashen Winter is one of those few books that is so freakin' awesome it actually deserves the whole five. Have you read Ashfall, yet? If not, stop reading this review and go get it. Now.Are you seriously still sitting there? Move your ass! Go, go!If you're still reading this,...

The ARC of this book was provided to me by NetGalley in exchange for an honest review. I started reading Ashfall before going to bed. That was a BIG mistake. I ended up being up all night reading. And, not satisfied with looking at the sun coming up while tired as hell, I just couldn't stop. So, I picked up Ashen Winter and began reading it that morning. WITHOUT ANY SLEEP. Yes, I'm crazy. Nothing new here, so let's move on. I read the two books i...

Buddy read with Amy, Melissa, and Sarah!4-4.5 starsNot quite as good as the first one but still immensely enjoyable and compulsively readable (god I sound like one of those starred reviews from Kirkus or Booklist or whoever). Anyway, don't be discouraged by the size of these books. The chapters are short and damn near every time they end with a cliffhanger of some kind so you HAVE to keep going. That's one of the things I love about Mullin's writ...

I'm so far behind in reviewing books I've read. This might not sound like the end of the world, but it's the only way that I have a chance to remember what I've read and what I thought of for at least some of the books I've read a year or two down the road. For example, today someone voted on a review of mine and the name of the book didn't even ring any bells. Even after seeing the cover of the book and reading the review I didn't remember havin...

First, I'd like to apologise for cussing out Mr. Mullin's name for the first third of the book. I told myself it was only a book but it got to me. Action, terror and death almost from the very first page. I was on edge, longing to shout at Alex to shut up and listen to his woman. I decided to go without sleep at about 33%, sleep is for the weak anyway. I needed closure and I needed it NOW! I saw some of those bad things coming, they were inevitab...

3.5 stars. Define loss: The disappearance of something cherished, such as a person, possession or property.Define hope: The emotional state which promotes the belief in a positive outcome related to events and circumstances in one's life. Despair is the opposite of hope.Define human nature: It refers to the distinguishing characteristics, including ways of thinking, feeling and acting, that humans tend to have naturally.So what makes us different...

It is a well known fact that the second book in a trilogy tends to be the weakest book of the series. It drags, it sets up the story for the epic conclusion, and it is simply an all-round fest of boredom for the reader. Mike Mullin's Ashen Winter however, is (thankfully) one of the few exceptions to this rule. Ashen Winter is filled with danger, romance, and heart-pounding action that is certain not to disappoint. While Ashfall followed t...

"Ashen Winter" is a solid second installment in the "Ashfall" series by Mike Mullin. Wasting no time, the book picks up a few months after the first has left off. Spring, or what can be called spring, has arrived and Alex decided it's time to set out to find his parents.Unlike its predecessor, "Ashen Winter" is a page turner from the very first chapter. I carried it around for a day, reading every second I could, and would have reco...

I loved it. Better than the first! Review coming in September.

Ashen Winter was kindly provided to me by Netgalley for Tanglewood Press."If we're going to die anyway, I want to die with you. And if we live, I want to live with you."Ashfall was one of my favorite reads of 2011 and after reading was promptly added to my Goodreads shelf 'full-of-wonderful' so suffice it to say I was pretty ecstatic to finally get my hands on the follow-up story. I don't go all fangirl often but fangirl I did for Ashen Winter. T...

Kale, Corn Pone & Dandelion Greens... Sound yummy?! Not to me either but that's about the extent of their daily diet after the supervolcano eruption, that is unless you're a Flenser aka a Cannibal. : ) I would have to pass on that too! One of the things though I like about this series is how in-depth the author gets with their survival tactics & resourcefulness. They've built everything from a grinding mill and greenhouses to a bike with skis to...

3.5 starsNot as good as the first book. Hit a slow point when Darla was a no show for half the book. Boo!

That was intense! Imagine the unimaginable – the huge super volcano of Yellowstone has erupted. The Midwestern US is under a foot or so of volcanic ash. It's cold. Winter is extra-long, extending into the summer months because volcanic ash blocks out the sun. Resources are virtually non-existent. Society, or whatever is left of it, has changed for the worse.Ashen Winter takes place 10 months after the events of Ashfall. Sixteen year old Alex ...

I really wanted to love this, but in comparison with Ashfall this was a let down. What didn't I like about it? First off, there is way too many action sequences, and not only that, but they are over the top ridiculous and unbelievable. Yes, I'm talking about the whole truck scene that went on and on to name only one. Now I realize everything in fiction doesn't have to be based on reality but I never felt that way with Ashfall. I did believe it an...

An Electronic Advanced Reader Copy was provided by the publisher via NetGalley for review. Quotes have been pulled from an ARC and may be subject to change.This is the second book in a series so it may contain spoilers if you haven't read Ashfall.Honestly I didn't know how I was going to write this review again. I erased it by accident. And it was finished, and ready to be coded. Complete fail on my part. The trials and tribulations that Alex and...

By far, one of the more bleak post apocalypse books I've read. But I also think that's what makes this a very good series. I think it's realistic. People will become their worst when they are starving and frightened. They will believe that you have more than them (whether true or not) and will seek to take what you have. Some people will always want more - some will want to rule over others.This world is so dark and awful. And Alex just keeps run...

♥ Find my reviews on Blogger ~ Reviews by Bookish Sarah - - -*This review contains spoilers for Ashfall - book 1 in this series!*Ashen Winter takes place roughly 10 months after the events of Ashfall. Alex and Darla have made as much of a home as possible with Alex's aunt and uncle on their farm. Things are going as well as can be expected until a small group of bandits shows up out of the blue and tries to kidnap the young girls (Alex's sister...

This is the best second book in a trilogy I've ever read. It's clear that Mr. Mullin really knew where he was going because this book was so exciting and action packed that I had my heart in my mouth for like 20 chapters straight. Well done!If you read the previous book and know how it ended, you wouldn't be surprised that in this one Alex and Darla go back to Iowa to look for his parents. In the road they learn how far some people are willing to...

Alex and Darla decide to leave the relative safety of his Uncle Paul's farm in Illinois when they kill some bandits and find Alex's father's rifle on one of the bodies. They manage to track down on of the bandits who escaped and learn from him that the gun was taken from one of the refugee camps in Maquoketa, Iowa. Alex believes he can find them and together he and Darla set off across a very dangerous landscape where corrupt troops guard the cam...

I wanted to like this one, I really did. I LOVED the first book and couldn't wait to read the sequel. The writing is great and you have to admire an author who pays so much attention to detail. For me, however the devil was the details. There was just too much time on the road which met with one bloody event after another. Even thought it started to feel pointless, I kept reading to know what happened to Darla. Things reached a point where they s...

I am a little bit late with this review as I am nearly done with book 3 in this series, and I am fully aware that strictly speaking and literary speaking, this book was not a four star read. On the other hand, we need to remember that fiction is not only about the perfection of form and meaning, but also something that appeals to wider audience despite its literary faults, and thus serves an honorable purpose of escaping ( although it would be ha...

4 3/4 Stars (lolz)Mike Mullin can tell a hell of a story. In this follow up to Ashfall we pick up with life at Warren and the routine of family life in the post volcano world. Darla is still MacGyver and smarter than almost everyone, and Alex is still making stupid decisions left right and center, all while making you fall for him. AlexThe one minor complaint I had in the first book was that once in while I didn't believe Alex's voice, but rather...

I'll admit it: I expected to be disappointed. It would've been so easy to wrap up Ashfall's plot where it was - a sequel seemed unnecessary. I thought it would be sort of like Ashfall 2: The Sequel (Sequel to Ashfall). Thankfully, it managed to subvert my expectations. It wasn't as good as book 1, but it had a plot in its own right, and it completely justified its existence.As with Ashfall, the book's greatest strength is its grittiness. The apoc...